« Saturday Gardening, Puttering and Adventure Thread, September 24
|
Main
|
Saturday Hobby, Craft and Bodging Thread »
September 24, 2022
Ace of Spades Pet Thread, September 24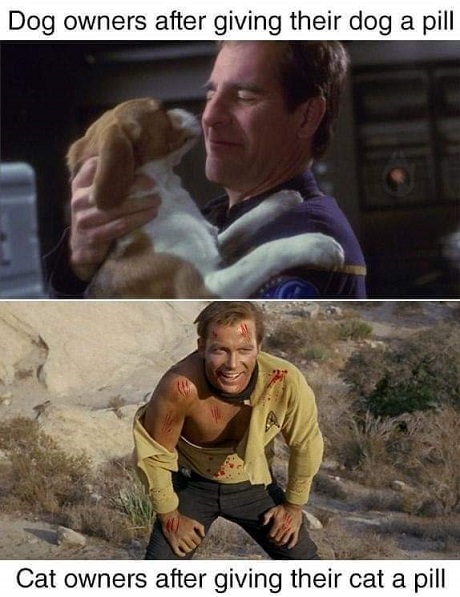 * * *

Good afternoon and welcome to the almost world famous Ace of Spades Pet Thread. Thanks for stopping by. Kick back and enjoy the world of animals.
Would you like a treat?
Let's enjoy the world of animals and leave the world of politics outside today.
* * *
mindful webworker sent along something special from this week:
Hi, K.T. Thanks for minding the pet thread! Nice work. The pet thread is always full of happy and sad. Here's a nice pic I thought you might want to include - on the sad side. Also happy..
That's a good description.
I think that was c/o Top 20 Tweets.
I guess Twitter isn't always horrible.
Meet The PetMorons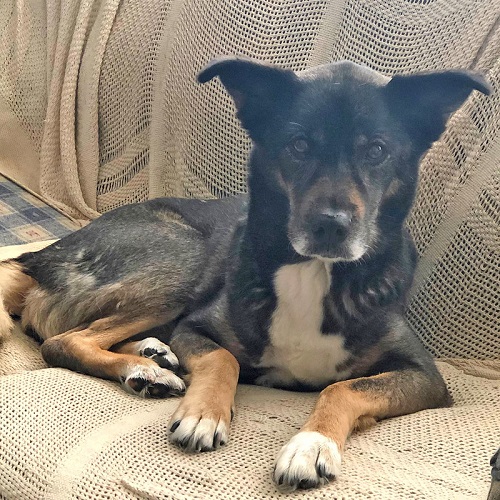 Betsy was around four or five years old when we welcomed her into our family in 2014. The people at the pound said she was a shepherd/husky mix. Normally, our pound keeps animals for two weeks, and then euthanizes them if no one claims them. But they kept Betsy past that date because she was so gentle and friendly, and they wanted to place her with a family. We were that lucky family.

Betsy rarely barked, and never whined or complained about anything. Her greatest joys were a daily walk and handouts at the dinner table. She was the best of companions and a comfort in our times of stress and worry. We were forced to say goodbye to Betsy recently, as hip problems and a sudden intestinal problem proved to be too much. If there are dogs in heaven, then Betsy surely will be there. And as Will Rogers said, "If there are no dogs in heaven, then when I die I want to go where they went."

Thank you. I have attached a photo of Betsy. Please sign my submission as R. Wilson.
How you must miss Betsy. What a great dog.
* * *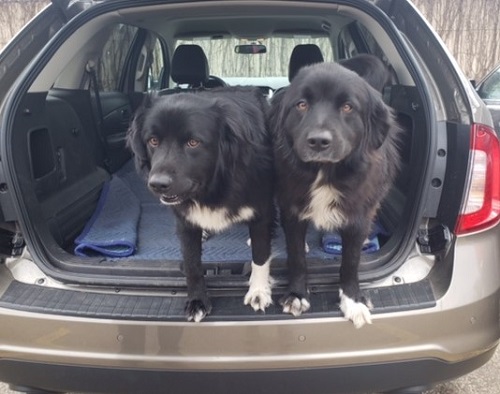 Fellow morons-

Brothers Gus and Bart are Newfoundland and Australian Shepard (we call them mini Newfs--"little faces to die for"). Gus (on the right) came to us with Parvo Virus, a disease easily prevented by vaccination, highly communicable and frequently fatal. When the brothers arrived at our home, Gus didn't seem his normal gregarious self. By the next morning he was seriously Ill. He survived after a week in veterinary intensive care. We thought Bart would end up as sick as brother Gus but never showed symptoms. Gus had to be kept separate from Bart for 30 days but they then had a joyful reunion, and have been living large and raising hell together now for (almost) 8 years.

Regards,

Mr. Starr
* * *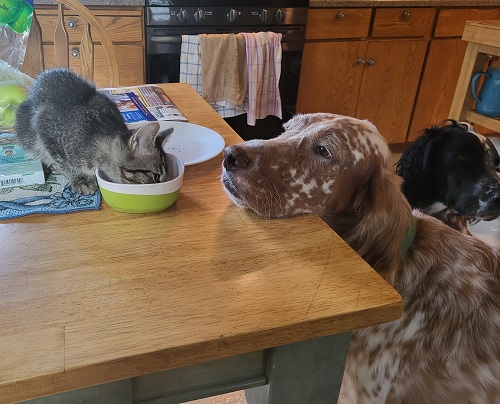 Levon and Tallulah meet their new kitten, Maxipus Maximus. Max for short. Good thing they're not allowed on the table. Cheers Tom
They will be friends when the dogs realize that the kitten is THEIR kitten. What great pets!
* * *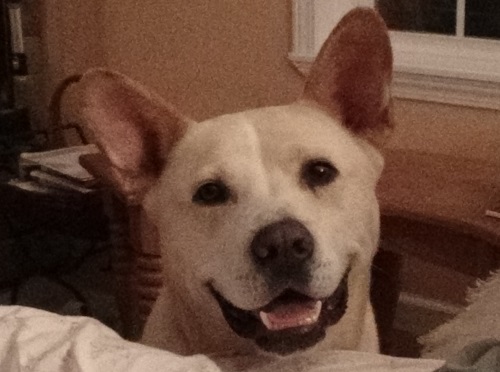 This is Blondie Bear. She is an 80 pound, 13 year old mix of Staffordshire Terrier (aka PitBull), Yellow Labrador, Basset Hound, and maybe German Shepherd (the ears). She was my 5th rescue dog and my second foster failure. Hers was a sad story and she was nearly euthanized because she was deemed "too broken".

But we fixed her and she has been my companion, assistant, and body guard for 10 years. She's too old now to help with training the foster dogs, but she insists on going out with me just to monitor. She also handles our Facebook page, and helps out in the office.

I thought you might like to meet this sweet, gentle, loving soul.

Regards,

Dadofmanydogs

What a great story about how a "broken" dog became a working dog! And what a great face!
* * *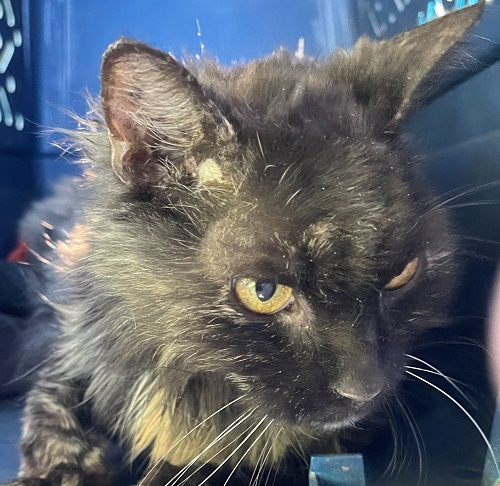 Leelo- LHD

Born April 2006

Died September 2 2022.

Her brother Stitch is still with us.

Lord Whorfin
Such a beautiful cat. So sorry that you have lost her. Happy that you still have her brother.
* * *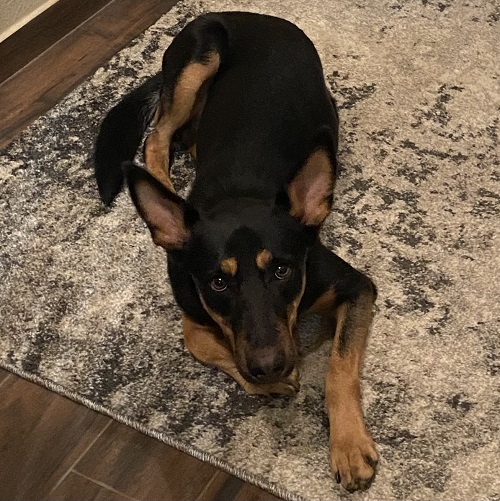 I have two dogs. This is not one of them. I found this puppy roaming the neighborhood. I've posted electronic notices, flyers in the neighborhood, and had her scanned to see if she was chipped. No dice so far. She's sweet and will one day be a good dog, but she's in the midst of puppy madness right now. I don't know her name. I've just been calling her Bonus Dog. I've only had her for four days, so maybe we'll find her owner. If not, I guess I got a third doggo.

bear with asymmetrical balls
We've had things like that happen. Nice-looking dog.
* * *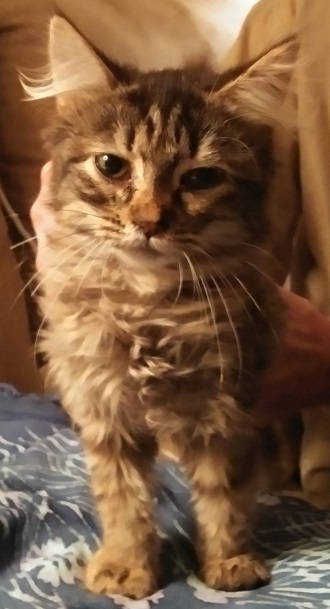 &&&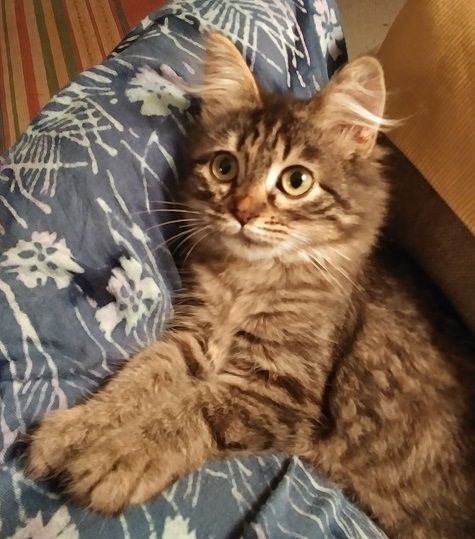 Attached are 2 recent pics of Dagny Sophia, my new Siberian kitten. She is too new to Chez Wolfus to have earned a nickname yet, other than "Tiny" (at almost 6 months of age she weighs only about 3 pounds!). She is a brown torbie: She has tabby stripes but also at least one tortoiseshell marking, a tan patch on one hind paw. In some lighting she looks brown; in others, dark gray. She is bright and alert, a strong eater now that's she's settled in, has learned her name, and loves to pretend she's killing toy mice and crumpled bits of copy paper. Named for Dagny Taggart of Atlas Shrugged (and our own commenter dagny) and for her mother Sophia, she is my 3rd Siberian. All have been from the same local breeder.

This weekend, after his snip, we plan to introduce her to Stirling the Black Kitten of War and Pestilence. At 6 months he's almost as big as an adult cat. It ought to be . . . interesting. (I have every reason to think they'll get along; both have been raised with other cats as well as by humans. Of course you never know.)


Wolfus Aurelius
A royal kitten that likes boxes . . .
A wonderful collection of pet stories today. Thank you each and everyone for sharing your pets with us.
If you would like to send pet and/or animal stories, links, etc. for the Ace of Spades Pet Thread, the address is:

petmorons at protonmail dot com

Remember to include the nic by which you wish to be known when you comment at AoSHQ, or let us know if you want to remain a lurker.
Until next Saturday, have a great week!
* * *

If you start feeling nostalgic, here a link to last week's Pet Thread, the Ace of Spades Pet Thread, September 17. Some special PetMoron stories and photos there.
I closed the comments on this post so you wouldn't get banned for commenting on a week-old post, but don't try it anyway.

posted by K.T. at
03:21 PM
|
Access Comments