« Is This Something?
|
Main
|
Monkey Heroics Cafe »
August 23, 2022
Quick Hits
At Twitchy, David Frum's thread claiming that Russiagate is Real.
I told you all of these guys were Russiagate Truthers, didn't I? They're all intellectual narcissists, but, get this -- they're all intellectual mediocrities.
That's why they can never admit error. Their fragile egos would burst into pieces.
Speaking of dum-dums, Noted Conservative Amanda Carpenter just accused a couple of people wearing "1776" hats of being subversive White Supremacists. Particularly the black one, Ken Blackwell.
She then shrieked at Ron DeSantis handing out, you guessed it, hats at a rally.
After this dum-dum was told what a dum-dum she is, she's now whining that she's being "purged" and that, in reaction to that, she'll just start supporting Democrats, which she's been doing for six years.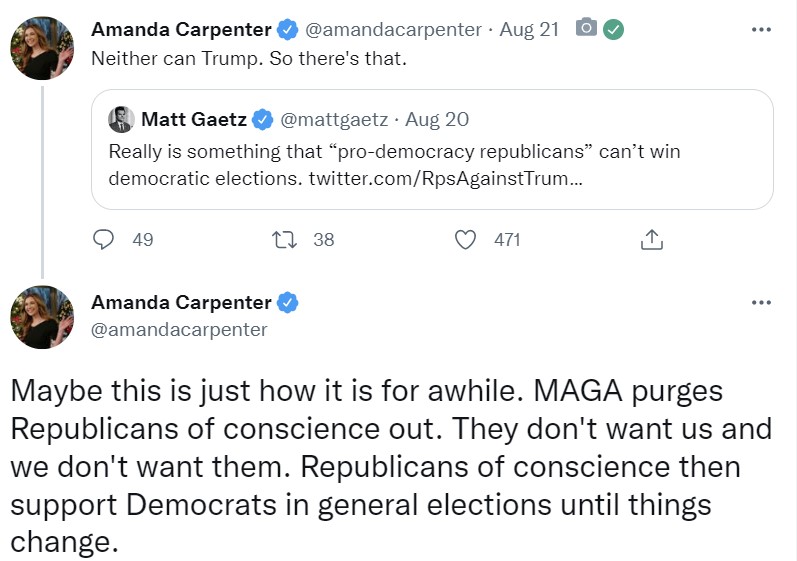 As I have been pointing out for quite some time, Amanda Carpenter called for anyone supporting Trump to be "blackballed" from the party in March 2016 -- when he was about to wrap up the nomination, meaning, more than half the party supported him.
And would have to be "blackballed."
Has anyone compiled the definitive list of conservatives who should be blackballed for supporting Trump? I will if it doesn't exist.

-- Amanda Carpenter (@amandacarpenter) March 16, 2016
Who first brought up the idea of blackballing and purging dissenters, Amanda?
She's deleted that now, the little cowardly stupid bitch. But I've been quoting that forever, back before she decided to delete the evidence so she could cast herself as a martyr.
Update: an archived copy has been dug up by antisocial justice beatnik.
Amanda is just full of blowsy hysterias. That's why she works for the other neurotic grifter-gals at The Bulwark.
By the way, Noah Rothman claimed to disagree with dum-dum's call for a "blackballing."
Instead, he wanted a purge plus denunciations of past heresies plus a loyalty oath as the price of readmission.
Noah Rothman claimed he didn't want such a purge -- but did want Trump supporters to be "made to" confess and denounce their prior heresies. And if they didn't -- the obvious implication is that they would then be purged, because he calls this confess-and-denounce requirement a "modest" "price of admission."

Once they confessed their wrongthink and swore allegiance to the Cruise Ship Wing of fake conservatism, they would be re-admitted with probationary and junior status:

Republicans need to start thinking about the fallout from 2016 and how to heal the lingering divisions from a fractious year defined by internecine conflict.

This project is necessary because so many on both sides of the lingering divide over Trump within the GOP do not particularly want to reconcile. Currently, Donald Trump is underperforming Mitt Romney among white voters. While Hillary Clinton is having a bear of a time reassembling Barack Obama's winning coalition, Republicans are unlikely to see gains among minorities, women, and young voters. Trump will have run the campaign that Republicans warned against in the oft-maligned 2012 "autopsy" and proven every one of its recommendations correct. His loss should finally put to rest the idea that the GOP can win the White House on the shoulders of "missing white voters."

Note Rothman was completely wrong in those last two prognostications and also now seems wrong about Trump never picking up support from minorities.

And yet he persists.

After stating that Trump supporters cannot be ejected en masse from the party, he nevertheless demands a "reckoning."

...

Republicans of all stripes must be made to acknowledge and accept that Trumpism is an experiment that failed. That's the price of admission, and it's a modest one given the great costs associated with sacrificing a winnable race for the White House.

Once again, he claims he's not for a "petty" war of vengeance against his enemies -- but he will not permit his enemies to return a state of peace unless they "renounce their cause."

That is, they are to be subjugated to the winning side, which he thought at the time would include himself and other ridiculous softboys.

...

The petty, vengeful prosecution of a feud long after one side has been unambiguously defeated is not just unproductive but morally questionable. The vanquished must furl their flags and renounce their cause, but they should be left to keep their side arms and return to their fields.

That is not to say that there can be no reckoning. While the average voter seduced by the promise of #MAGA should be returned to the fold, there are those who collaborated with Trump or whose narrow self-interests led them to believe he would preserve the comfortable order of things. For some, examples must be made.

...

Those who legitimized Trumpism with all its self-evident warts must be made to confront the fruits of their labors.
So Commentary's insipid little cvckbag Noah Rothman demanded a "reckoning" of the "collaborators" and that some "examples [will have] to be made."
He said that when he thought his side of dainty-wristed pansies and angry sexually-frustrated Wine Moms would win the interparty struggle.
What does Noah think should happen now that he's lost it, I wonder?
Same? Or nah?
So yeah: I'm plenty comfortable with going Full Buckley and now purging these liberal dimwits. We gave them over six years to get their temper tantrum out of their system, and to seek psychiatric help for their nervous breakdowns.
It's not our fault if they persist in a state of psychological derangement, with brains marinated in venom.

AP lays down the law in its new stylebook diktat: only use biological gender in determining the proper pronouns to refer to things.
APStylebook @APStylebook

Our style: Don't use the pronoun "she" in reference to nations, ships, storms or voice assistants except in direct quotations. Use "it" instead.
Does this refer to just ships, storms, and nations, or can it apply to, you know, living beings as well? Because I have some questions about the "they/them" Ezra Miller and the "he/them" (that's not an error, that's what he/them said) "Elliot" Page.
Content warning: pictures of what the butchers are doing to children to "affirm their gender."
Jack Cashill @jackcashill

John Danforth's Shameful Subversion of the Missouri Senate Race https://spectator.org/john-danforths-shameful-subversion-of-the-missouri-senate-race/

BREAKING. Wood Withdrew! Kudos also to @ChrisStigall and @NiceDeb!
@TheLastRefuge2 @Eric_Schmitt
John Wood @JohnWoodMO

I made the decision to run for the United States Senate when Eric Greitens was the favorite for the Republican nomination. That would have been unacceptable, embarrassing, and dangerous for my party, my state, and my Country.

I believed Missouri voters deserved a truly principled, conservative choice this November and so did more than 22,000 Missourians who helped secure my position on the ballot.

Circumstances have changed.
John Wood

While I think I could have beaten Eric Greitens, Missouri no longer faces the risk of Greitens as our next U.S. Senator.

While I have significant differences of opinion with both the Republican and Democratic nominees, it has become evident there is not a realistic path to victory for me as an independent candidate.

Today, I am announcing that I am withdrawing my candidacy for the United States Senate.

Many Missourians, as well as Americans across the country, have expressed their support for the noble causes of uniting our Country, defending democracy and protecting our Constitution.

While my candidacy is ending, my commitment to these causes endures. I will continue to work in other ways to promote these causes, which are dear to my heart.

I have been inspired in this campaign to follow the example set by great and courageous leaders such as Ronald Reagan, Jack Danforth, and Liz Cheney.

I hope others who seek elected office will endeavor to set aside the extremist rhetoric that is dividing our Nation and begin the critical work of restoring public trust in our democratic institutions.

I am extremely appreciative of everyone who has supported my campaign, especially family, friends, campaign staff, volunteers, contributors, and other supporters, including all those who helped secure my position on the ballot.

I am grateful for your belief in my campaign and for your commitment to healing our country.

While my campaign for the US Senate is ending, my fight for our democracy is not. I will continue to stand up for our democratic republic and oppose those who prioritize party and self-interest over the needs of our country however I can.
Deb Heine believes the real reason he is withdrawing is that everyone on the internet is now calling him "dough-faced."
No but the real reason is that there is real money to be made, in the form of Liz Cheney's new grift, and John Wood's attempt to get a Democrat elected would make that grift too obvious.
She announced that grift on ABC "News." Her new grift will be going after "the election deniers" and raising lots and lots of money from Democrat mega-donors to do so.
She allows that this means she'll be attacking Republicans. While she doesn't say it explicitly, this means she'll be working to elect Democrats.
She says she'll be working against Ted Cruz and Josh Hawley. And that they've proven themselves "unfit" for "future office." She says one must have "real pause" about Ron DeSantis, as he's campaigning for "election deniers." She has previously stated that she cannot support him, even to stop Il Lupo Trump.
And, what a surprise, she's talking with Biden about "putting the country above partisanship" to stop these "election deniers."

Lincoln Project advisor:

Rep. Marjorie Taylor Greene🇺🇸 @RepMTG

"Conservative" Dan Crenshaw runs to CNN to beg Democrat activists like Jake Tapper to take him seriously.

Comparing our great men & women in local law enforcement who put their lives on the line to corrupt deep state FBI operatives like Peter Strozk & Lisa Page is shameful.

posted by Ace at
06:51 PM
|
Access Comments