« Mid-Morning Art Thread
|
Main
|
Paul Sperry: The FBI Team That Ran Crossfire Hurricane -- Currently Under Investigation by IG John Durham -- Is of Course the Team That Ran the Mar-a-Lago Raid »
August 19, 2022
THE MORNING RANT: When the Left Abandoned Salman Rushdie; Destroying the Environment to Save the Environment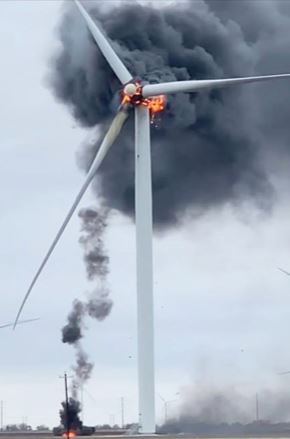 *****
When the American Left Abandoned Salman Rushdie Post-9/11
Back in the late '80s and into the '90s, Salman Rushdie was "the current thing." His book "The Satanic Verses" was a smash best-seller among the types of people who bought books such as Rushdie's to make a virtuous statement about themselves, even though it was highly unlikely they'd ever read it. (It was ideally situated on their bookshelves right next to "I Know Why the Caged Birds Sing.")
The stabbing of Salman Rushdie has been well covered, so there is little about that awful attack that I can add. However, in my binder of potential writing topics, I've been kicking around this idea for several years, but I never got around to writing it: "The American Left's Abandonment of Salman Rushdie in the 21st Century." With Mr. Rushdie back in the news, maybe it's time.
After the Iranian hostage crisis that occurred during Jimmy Carter's presidency, the American left was not supportive of Iran's mullahs like they are now. Ayatollah Khomeini had humiliated Democrat Jimmy Carter, which helped Republican Ronald Reagan win the 1980 presidential race in a landslide.
In addition, liberals liked to make the comparison that Christian conservatives here in the US were the theocratic equivalent of Iran's mullahs. The liberals' embrace of Salman Rushdie was not just because of the fatwa placed on him, but because he represented to them the fate of America if their fears came true and social conservatives succeeded in turning America into a Christian theocracy.
Then 9/11 happened in 2001.
I'll be careful not to state that the American left was sympathetic with the hijackers, but protecting Muslims (of all sects) from criticism soon became a cause for them. Apologizing for Islamic violence had become more of a priority for the left than protecting the intended targets of such violence. (By the way, I am fully aware of the differences between Sunni and Shia, and Al Qaeda and the Ayatollahs. I am well aware that 9/11 was not orchestrated by Iran. That is not the point I am making.)
Mr. Rushdie's star was now fading in the eyes of American liberals, who were becoming enchanted with radical Islam. Muslim prisoners from the terror wars had now become the darlings of the American left.
Then Obama was elected in 2008.
I still don't understand Obama's deep infatuation with Iran's mullahs, or why he sent them pallets-full of currency, or why he desperately wanted to get nuclear technology to Iran. But I suspect his enthusiasm for providing nuclear technology to Iran was in equal proportion to his enmity toward Israel.
So how was the American left supposed to keep championing Mr. Rushdie when Barack Obama, their Lightbringer, was such a fan of the mullahs who wanted Rushdie dead? Barack Obama had taken American tax dollars and sent it to the mullahs so that they could then turn around and use that money to pay the bounty to whomever successfully pulled off the fatwa against Rushdie. To stay true to Obama, America's liberal elites had to now ally themselves with the men trying to murder Rushdie.
Conservatives, of course, always supported Rushdie's right to free speech and always decried the fatwa on him. But for those who matter most in elite society, the fatwa now reflected poorly on Rushdie, not those who imposed the fatwa.
Rushdie was abandoned by the left, because they were now aligned with the mullahs who wanted him dead.
*****
Destroying the Environment for Green Energy
Climate cultists are now fully on board with destroying the environment…to save the environment.
Scotland cut down 14 million trees to make way for wind turbines [Energy News Beat – 8/12/2022]

Scotland, site of the recent United Nations 26th Conference of the Parties (COP26) climate summit, has cut down 14 million trees to make room for new wind power installations. As reported in The Herald, the tree removal was for 21 wind turbine projects.

The tree removal seems especially ironic given that world leaders supposedly agreed to end deforestation by 2030 at the recent COP26 climate summit in Glasgow, Scotland.
Even more comical, Europeans have come up with a green name for the practice of cutting down a tree and burning it for energy – they call it "biomass."
It gets even funnier. It's trees in the United States that are being cut down, then reduced to little wood pellets, then shipped across the Atlantic on petroleum-burning tankers, then burned in European furnaces to produce energy. They call this green and sustainable, even though the carbon emissions from this process dwarf those of nuclear energy and domestically drilled natural gas.
Europe Rethinks Its Reliance on Burning Wood for Electricity [NY Times – 5/17/2022]
In recent years, Europe's power plants have slashed their use of coal by burning something else instead: Millions of tons of wood, much of it imported from the United States.

A controversial European Union policy called the Renewable Energy Directive drove this transition by counting biomass — organic material like wood, burned as fuel — as renewable energy and subsidizing its use. A trans-Atlantic industry developed, logging American forests and processing the material into pellets, which are then shipped to Europe.
Back to wind turbines…
Wind Turbine Collapses: "Leaking Oil Everywhere!" [CNS News – 7/18/2022]
"Wait, these 'green' wind turbines use oil?" an astonished Swedish journalist asked, reporting that a wind turbine collapsed Saturday and people were being told to stay away - because it was leaking oil.
Sources I've read indicate that the typical wind turbine requires about 80 gallons of oil for lubrication. Just where do anti-petroleum greens think that oil is going to come from when they outlaw all oil drilling. They do know that "synthetic" oils are still made from crude oil, right?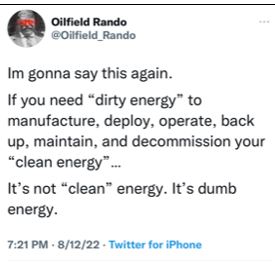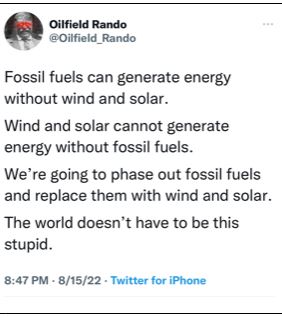 Read that line again from Oilfield Rando: "Fossil fuels can generate energy without wind and solar. Wind and solar cannot generate energy without fossil fuels." There is no green energy without fossil fuels. Our credentialed elites do not understand just how preposterous their goals are.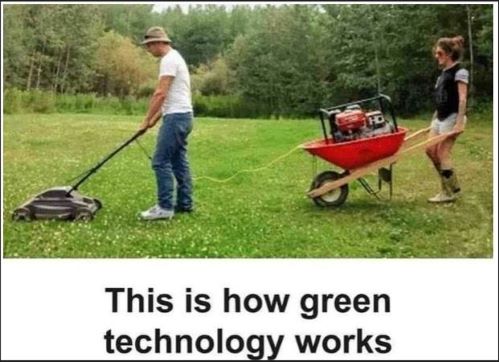 (buck.throckmorton at protonmail dot com)


posted by Buck Throckmorton at
11:00 AM
|
Access Comments