« The Morning Rant: Minimalist Edition
|
Main
|
Crybaby Bitch Middle School Girl Adam Kinzinger Doxes and Attempts to Cancel a Former Fellow Air Force Pilot Over a FaceBook Spat »
August 11, 2022
Kyle Shideler: For the Rule of Law to Reign, The FBI Must Be Destroyed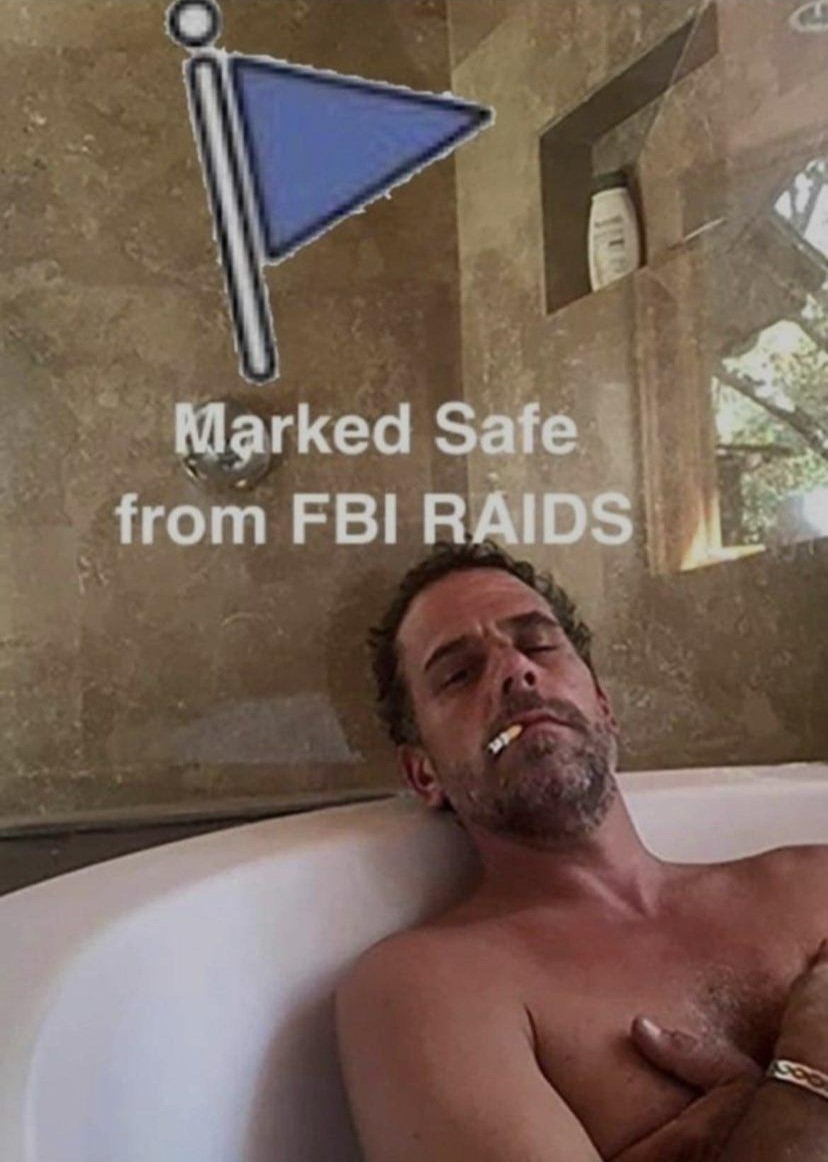 Shideler first establishes that -- like so many of us -- he grew up as a huge fan of the FBI, and remained so into his early adulthood.
And then, unfortunately, came bitter wisdom.
The solution to the abuses we now endure is not just to subject the FBI to another fruitless inspector general investigation but to dismantle it completely. The bureau cannot be the focus of yet another congressional hearing. FBI Director Christopher Wray, like his predecessors, is more than happy to sit smirking while a handful of grandstanding congressmen and senators pound the table and yell on C-SPAN. Then he'll jet off for a holiday vacation on a taxpayer-funded private jet while the same congressmen vote to increase his budget. Again.

No, the FBI must be rendered into component parts and distributed to the four winds.

The bureau has always had its problems and its detractors. Since the days of J. Edgar Hoover keeping his own "private" files on elected politicians and famous persons, the FBI has had a political streak. As an agency it has always been savvy about its reputation, bureaucratically out-dueling federal departments that sought to infringe on the bureau's perceived preeminence in the fields of federal law enforcement and counterintelligence. But most of the FBI's politicization had to do with maintaining its own administrative superiority and independence, not serving as muscle for a particular political party.

That's no longer the case.

The FBI's actions over the past six years make perfectly clear that the FBI is more than willing to serve as the enforcement arm of the Democratic Party. It serves as its patron's shield in matters large and small. It exonerated Hillary Clinton for her illicit server. It raided James O'Keefe and Project Veritas when Joe Biden's daughter lost her diary. It eliminated investigation into Black Lives Matter and other black identity extremists because those pursuits annoyed the Democrats' Congressional Black Caucus. It refuses even to utter the word "Antifa" while churches and pregnancy centers are fire-bombed. It continues to cover up for Hunter Biden's corrupt dealings with enemy nations, along with his indulgence in criminal prostitution and drug abuse.

But the FBI has also served as the Democrats' sword as well. It knowingly laundered the Russian collusion hoax, lying in order to secure FISA warrants. It ambushed the president's sitting national security advisor in a nonsense perjury trap. The FBI hunts down January 6 protesters while dodging congressional inquiries about the role of federal agents in provoking the incident. The FBI ginned up a fake kidnapping plot in Michigan to instill fear of right-wing terrorism, manhandled the former president's lawyer, and shackled one of his former high-level aides.

And it has now raided the former president's home under a mere pretext, while the Democrats openly crow on cable news about using a political prosecution to prevent Trump from ever again being able to serve in office.

Other attempts to rein in the FBI short of its abolition have failed. The FBI shows nothing but contempt for those authorized to oversee it. It routinely ignores inspector general investigations. It fails to prosecute or punish those who overtly violate established policies. It refuses to answer legitimate questions from Republican committee members. It doesn't even respond to congressional letters of inquiry. It punishes FBI whistleblowers and seeks to purge from its midst those agents who aren't in lockstep with its new praetorian guard role.
Hit the link to see his plan. It's a more detailed plan of the quick suggestion I made -- break up the component pieces, like the crime lab, and make them independent.
One critical point that has to be kept in mind is that when you do a massive reorganization, there are no federal guarantees about civil servants' jobs, I'm pretty sure, because the old jobs are being eliminated. They can't just claim the "new jobs" are just the "old jobs" in a new form. If the FBI is broken up into pieces and new agencies are created to contain the broken up parts, all of the new positions in those agencies are new.
The former agents of the FBI may apply for those jobs -- but they have no civil service guarantee of them.
What I'm saying is that any bust-up of the FBI presents a golden opportunity for an enormous purge without having to be concerned about the civil service protection racket.
The leftists that now inhabit the FBI may apply for positions in any successor organizations. And they can be turned away, for "just not fitting in" with the new agencies' missions.
...

Admittedly, a GOP-majority Congress may not have the stomach for even the lightest pushback against the bureau.
This, of course, is where everything falls down. The GOP is an authority-worshipping retarded leathergimp (which also requires transfusions of corporate money every two hours).
Nevertheless, Shideler is firm:
To save the rule of law, the bureau must be destroyed.
This must happen.
If you are allowed to launch coup after coup against the duly elected President that the people of the United States fairly and freely elected, then it's not a coup.
It's now just Part of How the System Works.
Meanwhile: The FBI delivers more subpoenas to more congressmen, demanding their records.
UPDATE: This post has been updated with a statement from U.S. Rep. Scott Perry in which Perry said his lawyers have been told he is not a target of an investigation that resulted in an FBI seizure of his cell phone earlier this week.

Federal investigators delivered subpoenas or paid visits to several House and Senate Republican offices in the Pennsylvania Capitol on Tuesday and Wednesday, according to multiple sources.


At least some of the individuals receiving subpoenas were told they were not targets of an investigation, according to at least six sources reached by PennLive, but that they may have information of interest to the FBI. All of the sources had been briefed on the investigative moves in some way, but demanded anonymity in order to discuss them.
And if you told the FBI to deliver subpoenas on Nancy Pelosi and her husband and son -- more on that later today -- they'd refuse, saying that would be "unprecedented" and "destabilizing."
Today's FBI
Smug Twitter Liberals with Guns.
* Diversity * Conformity * Akshually *
Below, Missouri's AG Eric Schmidtt -- soon to be Missouri's based Senator, no thanks to Trump -- tells the FBI to go search itself.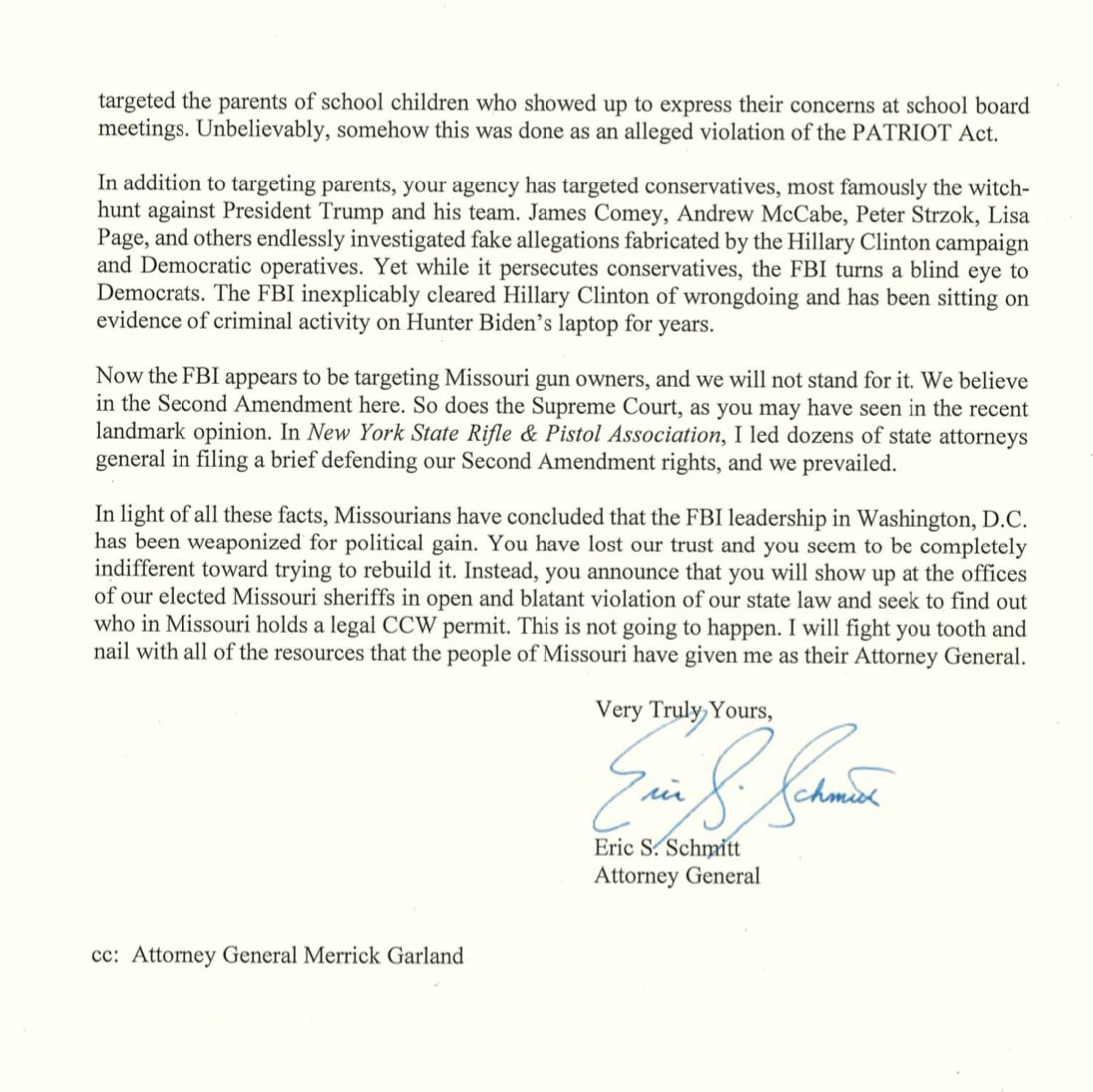 posted by Ace at
12:02 PM
|
Access Comments