« Kyle Shideler: For the Rule of Law to Reign, The FBI Must Be Destroyed
|
Main
|
Corrupt Attorney General of the Democrat Party Merrick Garland To Deliver Statement Simultaneously Empty and Deceitful Any Moment Now
ABC News: Anger Over Raid is Just Nazis and White Supremacists Angry At Jewish AG »
August 11, 2022
Crybaby Bitch Middle School Girl Adam Kinzinger Doxes and Attempts to Cancel a Former Fellow Air Force Pilot Over a FaceBook Spat
Sean Davis @seanmdav

You're doxxing a vet and trying to get him fired for criticizing you in a private Facebook group?

It sounds like his description of you as an "anti-American POS" is pretty accurate, you pint-sized crybully.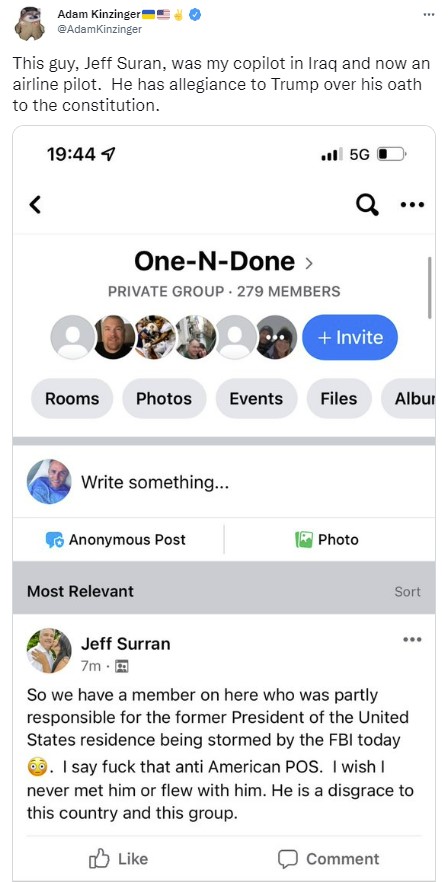 This little dick-nibbler of a twink is taking his FaceBook fights to twitter to get a cancellation like a fucking fourteen-year-old girl.
Which sounds exactly right for this pissy-eyed little pillow-chewer.
You better watch it, Adam -- Your "brand" depends on you being some kind of "butch" pilot. They don't need another weepy gayboy at CNN or MSNBC. They're lousy with those.
And every single thing you do comes off less manly than Don LeMon's Hello Kitty anal plectrum.*

* It doesn't mean anything. A plectrum is a guitar pick. I couldn't think of anything funny, so I thought I'd just go with "baffling."
And speaking of soibois who have known the pleasing ache of a man filling the deepest corners of their need-holes, Noted Cultural Appropriator Robert Francis O'Rourke started cursing like a West Village Drag Queen at a kindergarten Pronoun Pageant.
Ed Morrissey describes the reason for the gales of laughter: It was "Beto's" exquisite miming of Stalking Charlie in the Bush.
While discussing some details of the tragedy, somebody in the crowd laughed, prompting O'Rourke to swiftly turn around.

"It may be funny to you, motherf--er," he said, "but it's not funny to me."

O'Rourke earned a round of applause from the crowd for the response.

O'Rourke wasn't discussing "details of the tragedy" when the laughter occurred, as The Hill reports. He was talking about how the AR-15 was designed to kill Charlie in 'Nam and offering up his version of a combat stance. All of that was eminently laughable, as Beto clearly has no idea what he's talking about here.
I'll tell you, the people whose pronouns I really need clarification on never tell me.
Say, remember when Establishment Liberal pansies used to get the vapors over Trump cursing? Then they themselves started doing it, and promptly began praising the practice as showing "passion" and "authenticity"?

The 'Nam
Don't even get Beto started on the 'Nam, G-Friennnnnd!
It was Kuh-Raaaaazyyyyy!!!

posted by Ace at
01:03 PM
|
Access Comments