« DOJ Source Calls Trump Raid a "Spectacular Backfire;" DOJ Distances Itself from Raid, Claiming Merrick Garland Never Signed Off On It
|
Main
|
Quick Hits »
August 10, 2022
Legal Insurrection: This is a Provocation. Don't Take the Bait.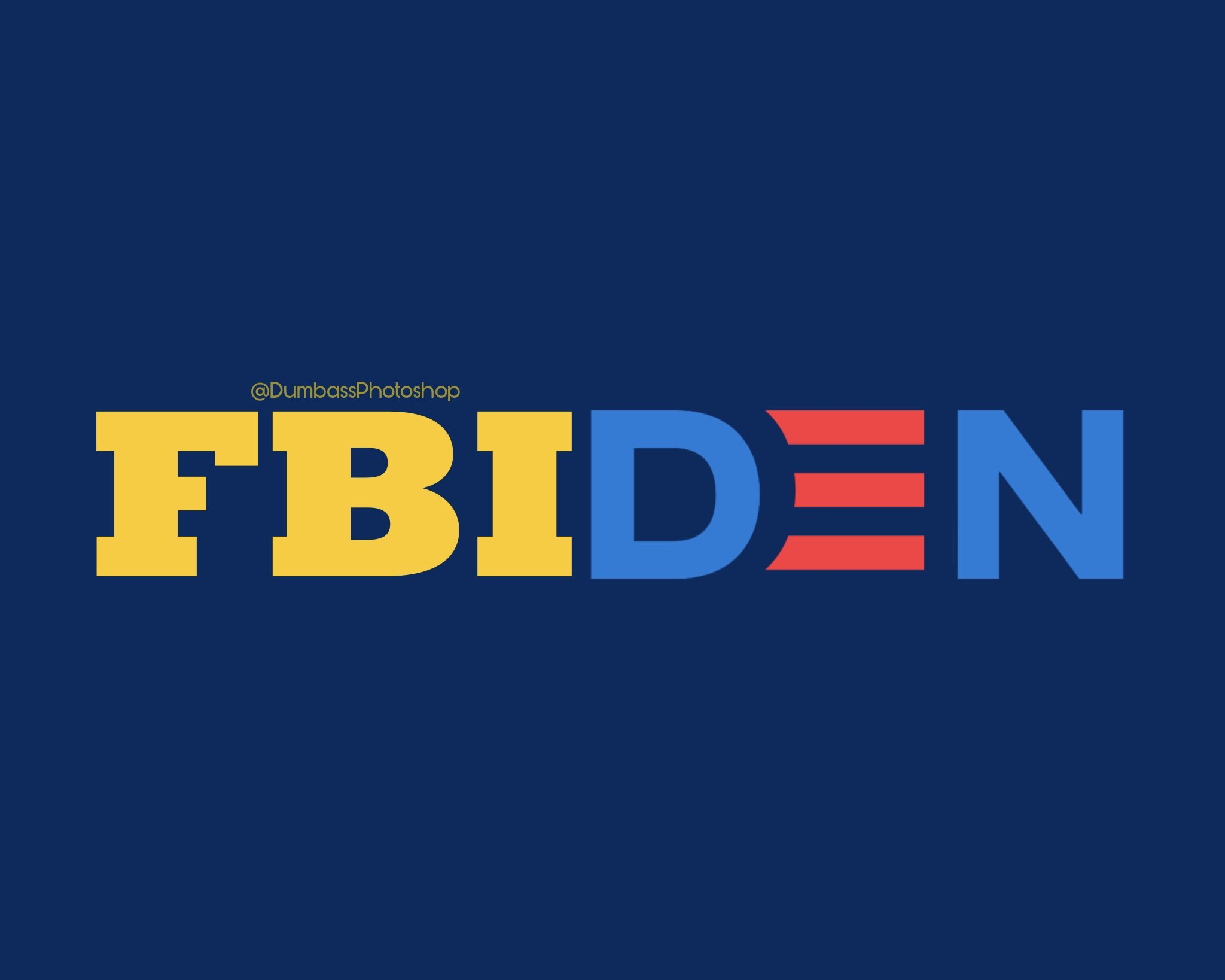 I don't know if this is right, but... maybe:
This is a provocation. They are trying to get a reaction that allows a further crackdown.

Don't take the bait.

My overall sense of what happened at Mar-a-Lago is that this is a provocation.

If New York Times reporting is right -- and they never err on the side of being soft on Trump -- then this raid was over documents the National Archives thinks Trump should not have, or perhaps classified documents in his possession. That is not something the FBI raids major political candidates over -- See, In Re Hillary Rodham Clinton.

This is a provocation. They are trying to get a reaction that allows a further crackdown. See, In Re J6.
There's more, but it's a short post and I can't quote it all.
Certainly The Regime has defined virtually anything that a conservative might say as a "sign of domestic terrorism" now.
If you mention Waco or Ruby Ridge, you're a domestic terrorist.
If you post the Gadsden flag, you're a domestic terrorist.
If you cite the spirit of 1776, you're a domestic terrorist.
If you complain about the government's killing of Ashli Babbit, you're a terrorist.
No really. See below.
You are allowed to put out the racial-hatred stirring false claim that Michael Brown was "murdered" -- a false claim that caused violent riots, and which was proven false by Eric Holder's own racialized DOJ -- but if you say that Ashli Babbit was murdered by a cop who killed an unarmed woman, then you're a "terrorist."
You know who aren't domestic terrorists, according to the FBI and DOJ, right?
Antifa. They don't even exist.
See, they're anti-government, but The Regime approves of leftwing anti-government groups, because leftwing anti-government groups burning down cities, looting stores, and murdering people give The Regime cover to move to the leftwing.
Which is what The Regime wants.
But right-leaning groups expressing criticism of government?
Those are terrorists.
Project Veritas was leaked the FBI's guide to "Violent Extremists'" language and symbology. Ted Cruz cited this in his interrogation of a DOJ thug.
FBI Whistleblower LEAKS Bureau's 'Domestic Terrorism Symbols Guide' on 'Militia Violent Extremists' Citing Ashli Babbitt as MVE Martyr


Leaked document is labelled as "Unclassified/Law Enforcement Sensitive" that is for "FBI Internal Use Only."

Under the "Symbols" category of the document, "2A" is listed with the following explanation: "MVEs justify their existence with the Second Amendment, due to the mention of a 'well regulated Militia,' as well as the right to bear arms."

"Revolutionary War imagery" such as the "Gadsden Flag" and the "Betsy Ross Flag" are cited in the document under "Commonly Referenced Historical Imagery or Quotes."


In the document, the FBI cites symbols, images, phrases, events, and individuals that agents should look out for when identifying alleged
...

Right below that, under the "Commonly Referenced Historical Imagery and Quotes" section, Revolutionary War images such as the Gadsden Flag and the Betsy Ross Flag are listed. Each flag displayed in the document comes with a brief description of what it means.

Under the "Common Phrases and References" section of the leaked document, Ashli Babbitt is cited as a person that MVEs consider to be a Martyr.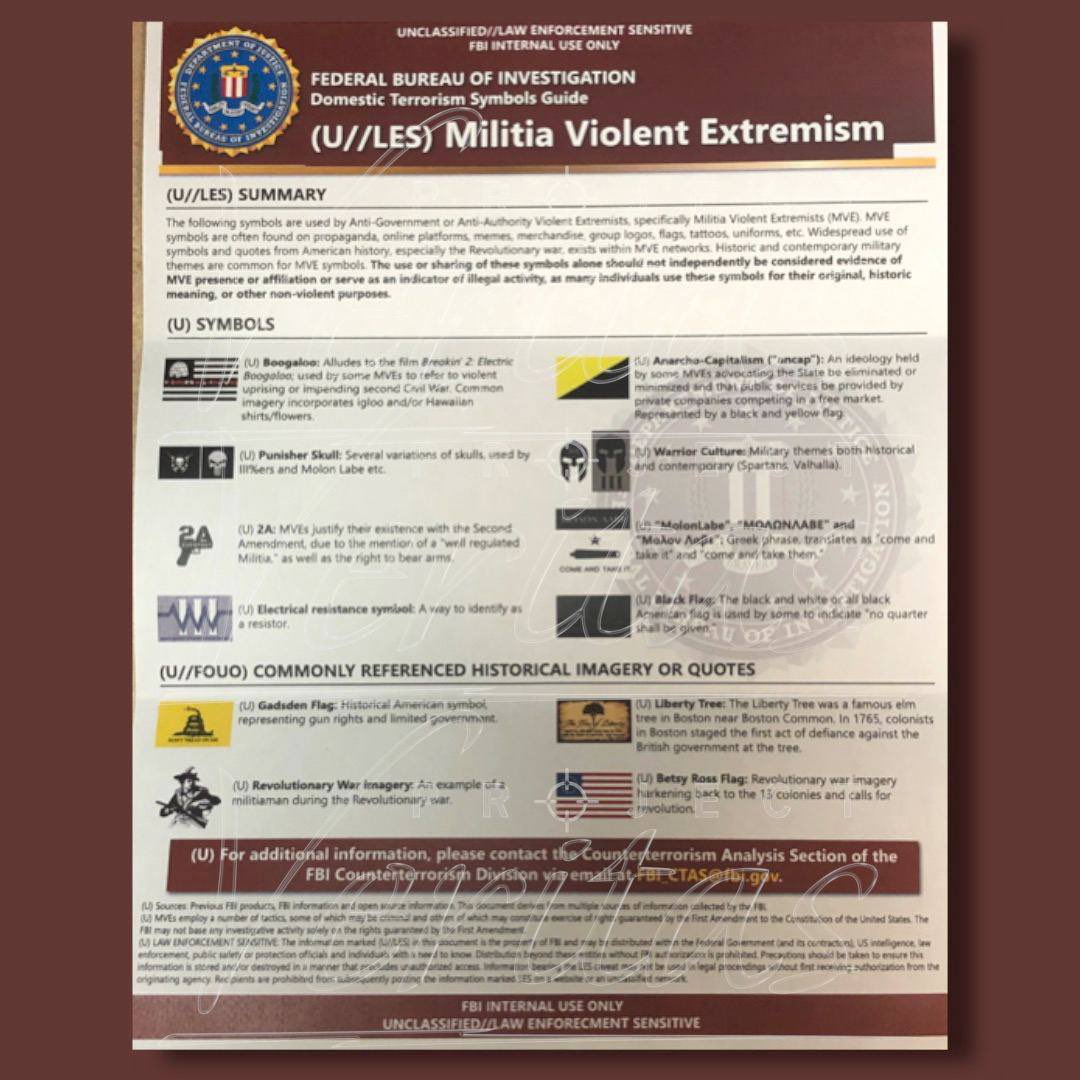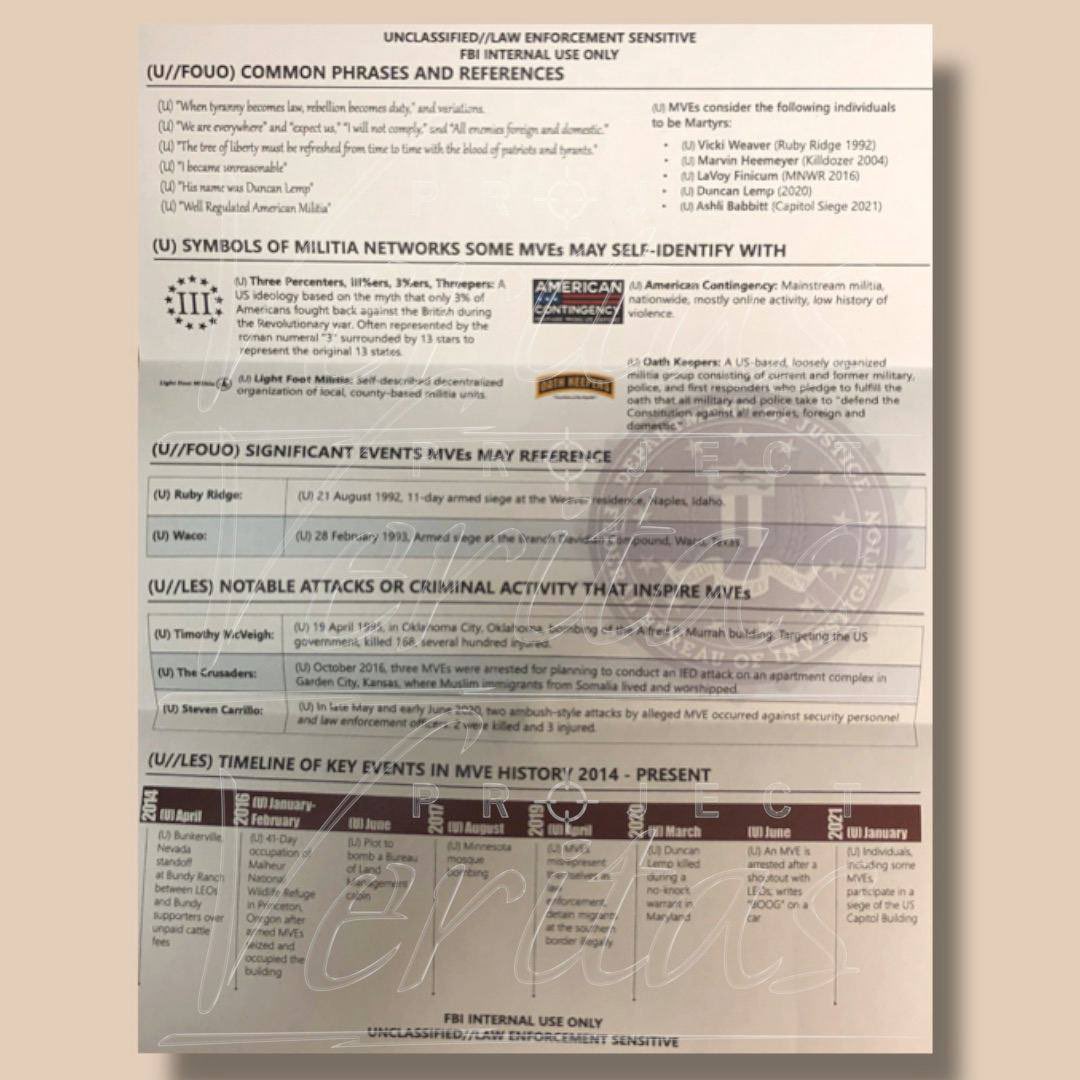 As Viva Frei points out: It was the criminal Obama's habit of claiming that he only found out about every sleazy thing he did "from the newspapers, same as you did."
Leadership: President Obama now claims he doesn't watch the news after telling the public he learned about all his scandals from the news. He is a man of many contradictions.

Obama told donors at a Democratic fundraiser Tuesday that he doesn't watch the news because, "Whatever they're reporting about, usually I know." Really? That's big news coming from our bystander in chief.

Obama's go-to defense during times of scandal -- from the IRS targeting Tea Party groups to Fast and Furious gun running -- is he first learned about it from the news.

"I heard on the news about this story that Fast and Furious, where allegedly guns were being run into Mexico and ATF knew about it but didn't apprehend those who had sent it," Obama said in 2011. "Eric Holder has -- the attorney general has been very clear that he knew nothing about this. We had assigned an IG, inspector general, to investigate it."

Asked last year about the IRS scandal, Obama responded, "I first learned about it from the same news reports that I think most people learned about this," adding later, "I certainly did not know anything about the (IRS) report before the report had been leaked through the press."
Will Cain mentions the National Divorce.
He must be one of those Violent Extremists. Of course, when the left wing pushes this idea, as they did from 2015 to 2020, it's a defensible idea which informed Americans should seriously consider.
But when right-leaning people mention it, it's Violent Extremism.

posted by Ace at
05:32 PM
|
Access Comments