« Legal Insurrection: This is a Provocation. Don't Take the Bait.
|
Main
|
F*** Around and Find Out Cafe »
August 10, 2022
Quick Hits
Twitter permits radical congresswoman Jayapal to push the race-hatred disinformation that Michael Brown was "murdered" without being forced to delete it, and without a "disinformation" warning -- despite the fact that this racist lie provoked riots and murders, and an attempted assassination of the innocent policeman forced to kill Brown in self-defense.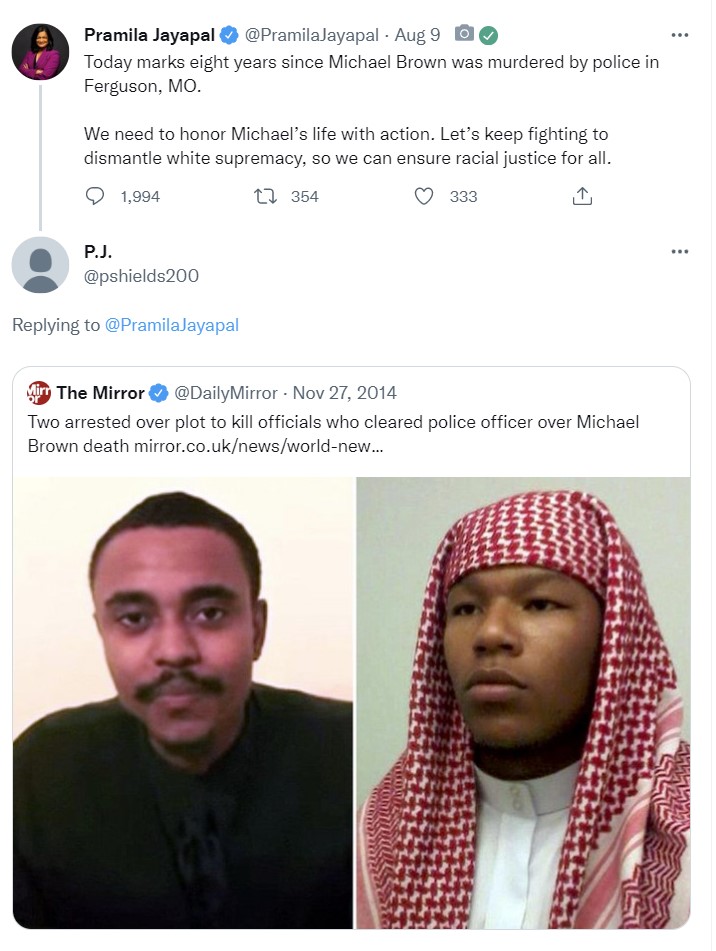 I reported her to Twitter. I suggest everyone else do likewise.
We need to begin building a case for why s.230 needs to be revoked for the social media monopolies.
And when Twitter permits this lying whore to spread racially-toxic lies without penalty while speech-patrolling every conservative within an inch of his life -- that's proof they are not "moderating" speech "in good faith," as the Communications Decency Act requires, but that they are acting as publishers pushing an editorial line and are not entitled to immunity to lawsuit.
The Jeffrey Epstein Lawyer should have recused himself -- but instead jumped at the chance to sign a warrant to get Trump:
In a status (emphasis added and archived here for posterity) sharing a Dan Rather post taking issue with President Trump's tweets, Reinhart popped off and quoted degenerate Clinton administration official Robert Reich:

I generally ignore the President-elect's tweets, but not this one. John Lewis arguably has done more to "make America great" than any living citizen. Last August, I took my son to the Edmund Pettus Bridge in Selma so he could understand the kind of courage and sacrifice required to live in a democratic society. John Lewis embodies that spirit. Although I've never met him, he is one of my heroes.

Thank you, Robert Reich, for saying what many of us feel, "John Lewis is the conscience of America. Donald Trump doesn't have the moral stature to kiss John Lewis's feet."

Or, as Joseph Welch said to Joseph McCarthy, "At long last, have you left no sense of decency?"
In related news, Jeff Sessions recused himself from overseeing anything having to do with Russia because he once met, as a Senator, with a Russian Ambassador, while Merrick Garland continues insisting he should be the overseeing prosecutor of his boss's son's investigation.
And of his boss's political opponent.
NeverTrump demanded special prosecutors for Trump -- but the demand none for Hunter Biden, and demand none for Trump now. That is, they refuse to call for an independent and politically-neutral prosecutor to take this matter out of the hands of sleazy partisans like Joe Biden and Merrick Garland.
Regime flack is asked -- why do you claim Biden has nothing to do with skyrocketing gas prices, and then when they fall ten cents, you claim Biden should get the credit?
From last week: Paul Krugman claims he overheard a butcher in the supermarket saying that beef prices aren't going up.
Paul Krugman @paulkrugman

Conversation overheard at supermarket meat counter:

Customer:"Meat just keeps getting more expensive"

Butcher: "Actually, prices have been coming down"
Paul Krugman is not a scientist; he's a political hack. If he were a scientist, he wouldn't pass off an anecdote as data. (An anecdote he almost certainly made up, of course!)
It would have been easy enough to look up the actual data, of course.
But Kruguman didn't want the actual data -- he wanted to make up an anecdon't (see what I did there, I'm a fucking genius like Walt Disney or Tesla) and put it in the mouth of a safely anonymous, and purely fictional, butcher.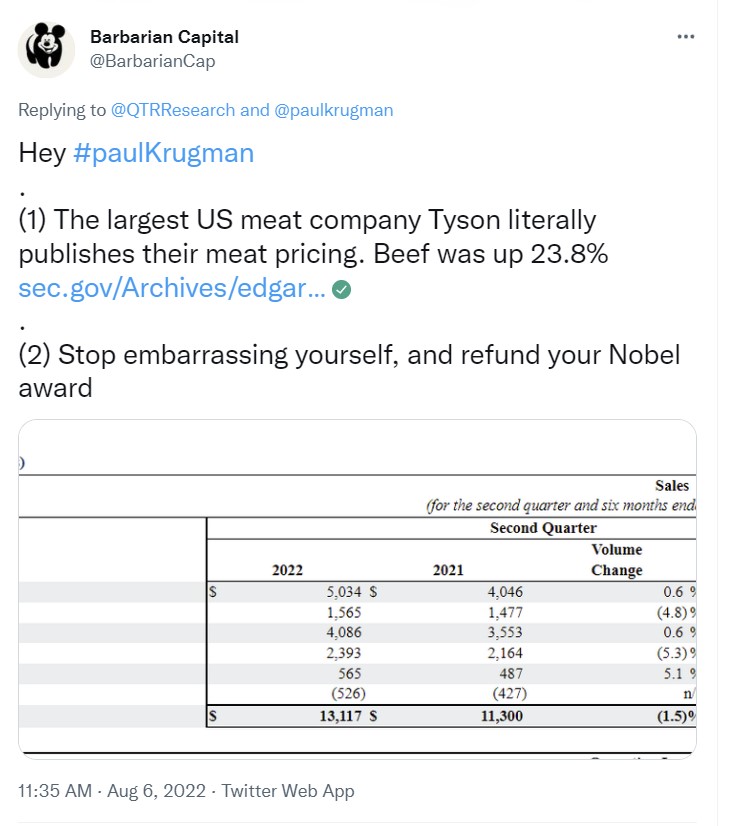 Via Instapundit, Domino's exits the pizza market in Italy. I don't know how good the pizza is in Italy and I suspect a lot of the people laughing don't know, either. I do know that what we think of as pizza is an Italian-American dish, not Italian. "Pizza" in Naples used to be flattend dough fried in oil and dipped in a little sauce with dry cheese like parmesan sprinkled on it.
Sophia Loren serves it up, there, in L'Oro di Napoli. *
Sounds tasty -- the pizza fritta, I mean -- but that's obviously not what we've come to know as "pizza."
So I have no idea if Italian pizza is good or not.
Here's something you wouldn't expect: Coffee in Paris was bad until... Starbucks came. Paris cafes were for sitting and smoking and people-watching, not for quality coffee. They had old machines and prepared it indifferently. But Starbucks forced the country to up its coffee quality.
Anyway, that's why I'm not necessarily laughing at the idea that an American pizza company could make a splash in Italy. Even Domino's. (They offered a different "authentic" recipe in Italy.)
Domino's Pizza Inc.'s footprint in the home of Pizza proved to be short lived with Italians favoring local restaurants over the American version.

The last of Domino's 29 branches have closed after the company started operations in the country seven years ago. It borrowed heavily for plans to open 880 stores, but faced tough competition from local restaurants expanding delivery services during the pandemic and sought protection from creditors after running out of cash and falling behind on its debt obligations.

The US chain entered Italy in 2015 through a franchising agreement with ePizza SpA and planned to distinguish itself by providing a structured national delivery service along with American-style toppings including pineapple.
Okay 880 stores sounds like a lot, man. And I don't know if delivery is as big a thing in Europe, where it's easier to get around.
And come on, pineapple is a gimmick, not a mainstay.

Alex Stein #99 embarrasses a Fake "Journalist" from Vice at CPAC.
From Andy Ngo: Antifa threatening violence to shut down LA Council meeting, to stop them from voting to ban homeless encampments from the vicinity of elementary schools and day cares.
Antifa is not a Domestic Violent Extremism organization, according to the Criminal Wray. They're just some idealistic young people who have some things they want to get off their chests.
John Cooper
@thejcoop



"Inflation is transitory."

"The border is secure."

"Afghanistan withdrawal was successful."

All this administration does is lie.
Mollie @MZHemingway

Only in a tinpot, third world dictatorship does a sitting president of one party use law enforcement to attack a former president and potential 2024 candidate.

A decorated veteran friend of mine says, "I am literally ashamed ever to have served this nation."
I wonder if she means Noted Warfighter David French.
Pedro L. Gonzalez
@emeriticus



It's difficult for the right to hear this but it's true and more people need to accept it. The country you are patriotic about is gone. The thing that took its place is shameful and deserves to be destroyed. You're going to have to rebuild something to be proud of.

From July 4:
100-year-old World War Two veteran Carl Spurlin Dekel shared his emotional outlook on the US today:

"I've lived a good life. I've had a lot of love and happiness. Smiling, telling everybody that everything was beautiful every day. If I went into my church and didn't think everything was beautiful they would think that I was sick. I'm not that way. I sincerely believe in this whole world that everything is beautiful. If I wake up in the morning and see these plants out here and all those flowers that are in there and green grass on the ground that's beautiful. People don't realize what they have. They bitch about it.

Nowadays I am so upset that the things we did, the things we fought for, and the boys that died for it are all going down the drain. Our country is going to hell in a handbasket. We haven't got the country we had when I was raised, not at all. Nobody will have the fun I had. Nobody will have the opportunity I had. It's just not the same. That's not what they died for. Just not it...It's just not the same. This isn't what we fought for."

posted by Ace at
06:23 PM
|
Access Comments