« Mid-Morning Art Thread
|
Main
|
Kyrsten Sinema Agrees to $730 Billion Build Back Brandon Bill »
August 05, 2022
The Morning Rant: Athletes Being Benched for Refusing to Promote LGBT, Both Here in the US and Abroad
Is it OK for white colonizers to impose their culture on Polynesians in the South Pacific? How about if the white colonizers actually compel the Polynesians to betray their own religion and publicly endorse the Anglos' religious practices? And what if the Anglo colonizers prohibit the Polynesians from even participating in society if they will not comply?
That's the situation for the "Manly 7" who play for the Manly Sea Eagles rugby team in Australia.
Pride jersey triggers boycott by seven Manly players [Reuters 7/26/2022]
The Sydney-based Sea Eagles announced on Monday the team would wear the pride jersey, which replaces the team's white stripes with rainbow bands, for the National Rugby League (NRL) clash against Sydney Roosters on Thursday.

But championship-winning coach Des Hasler said seven of his players were opposed to wearing it on "religious and cultural" grounds and had pulled out of the match at Brookvale Oval.
The "Manly 7" are John Aloiai, Tolutau Koula, Haumole Olakau'atu, Jason Saab, Josh Schuster, Toafofoa Sipley and Christian Tuipulotu.
Manly lost its match without the "Manly 7," and it likely cost them a shot at the rugby championship.
Manly's finals bid is dealt a huge blow as Sea Eagles narrowly lose to Roosters after SEVEN players boycott game because of Rainbow jersey [Daily Mail – 7/28/2022]
Manly's makeshift NRL side kept their pride but points proved their biggest issue as they were outgunned 20-10 by the Sydney Roosters.
None of Manly's players have objections to gay teammates nor do they seek to discriminate against homosexuals. But that tolerance and acceptance of diversity is still not enough for the activists. Refusal to celebrate and promote LGBTetc is now a punishable offense.
By the way, it's not just Polynesians being punished and discriminated against by woke white cultural supremacists in Australia. They're also repressing Muslim women. Or at least they tried to.
Haneen Zreika's AFLW Pride Round absence tricky to navigate for league bosses [ABC News – 02.02.2022]
Zreika, a practicing Muslim, sat out the league's Pride Round as she believed the rainbow-themed uniform did not represent her faith.

The head of the AFL's inclusion and social policy, Tanya Hosch, told the ABC's The W podcast that inclusion was a complicated matter.

"Obviously this is one of those situations where there's an intersection of rights," Hosch said.
In this case, LGBT had to yield to Islam at the "intersection of rights." Ms. Zreika stood firm and the league relented. She is playing again and will not be forced to endorse actions her religion doesn't approve of.
By contrast, the Manly 7 are Christians, so no such tolerance will be shown to them.


(Credit to Jon Gabriel of Ricochet for creating the Comply sticker)
*****
Is this level of intolerance and coercion coming to the US? It's already here.
A player for the North Carolina Courage of the professional National Women's Soccer League was not allowed on the field because she chose, for religious reasons, not to wear the rainbow colors on Pride Night.
Christian Soccer Player Gets Benched for Refusing to Wear an LGBT Jersey [Red State – 7/30/2022]
Jaelene Daniels, 29, refused to emblazon her chest with the Rainbow. Subsequently, she was sidelined.

The team released a statement prior to the game: "Jaelene will not be rostered tonight as she has made the decision to not wear our Pride jersey."
What kind of hate-filled bigot is Jaelene Daniels? Just listen to the venom she spews against homosexuals:
"I remain committed to my faith and my desire for people to know that my love for them isn't based on their belief system or sexuality. I pray and firmly believe that my teammates know how much I cherish them, respect them, and love them." – Jaelene Daniels
How did management respond? They issued an apology for not permanently removing her from the team.
In response to the recent news of re-signing Jaelene Daniels, we as a club acknowledge the impact this announcement has on our community. We've spent the past few days reading your messages and reflecting on our actions. We are very sorry to all those we have hurt, especially those within the LGBTQIA+ community.
We'll leave the last word today to Ms. Daniels. This is her pinned tweet dating back six years.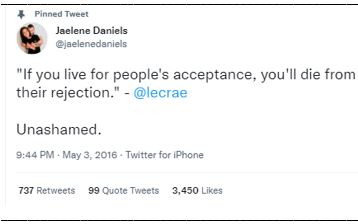 (buck.throckmorton at protonmail dot com)

posted by Buck Throckmorton at
11:00 AM
|
Access Comments