« The Morning Rant: Minimalist Edition
|
Main
|
Ted Cruz Forces Criminal Wray To Admit the Head of the Office In Charge of the Disgraced, Entrapment-Riddled Whitmer Investigation Was Then Promoted to Take Over the Washington Field Office, Where He Supervises the January 6 "Insurrection" Investigation »
August 04, 2022
Governor DeSantis Suspends Democrat State Attorney Who Refuses to Enforce Florida's 15-Week-Limit Abortion Law
Andrew Warren announced his refusal to enforce Florida's recently passed law, imposing a 15-week limit on abortion.
He has also announced that he will seek as little jail time for criminals as the law will allow. And maybe a bit less than that.

Here's a ringing endorsement from a a liberal rundown of the fifteen most powerful politicians in Florida:
Warren uses every constitutionally granted power he can to change the justice system from within.

"Social justice warrior" has become somewhat of a pejorative in the political lexicon. But if one were to describe what an effective social justice warrior might look like, you're likely to get something close, if not exactly, like Hillsborough County State Attorney Andrew Warren.

...

Major reforms have marked Warren's tenure as the top prosecutor in the county, to Hillsborough's justice system and bullish stance against bills like 2021's HB 1. The bill, filed in the wake of civil unrest following George Floyd's murder by Minneapolis Police, was a priority of the Governor. Warren called the bill unconstitutional and unnecessary because the state already had sufficient anti-riot laws.
That was DeSantis' anti-riot law, of course.
Warren didn't just publicly proclaim he wouldn't enforce the law, he refused to prosecute 67 protesters arrested in early June after Tampa protests turned violent. He also sought to expunge the arrests from each person's record and praised protesters for calling for reform.

...

Warren was quick to indicate he wouldn't wait for the Legislature to reform the criminal justice system. He began using every constitutionally granted power he could to change the system and keep youth and low-level offenders out. Warren took steps to decrease the number of people arrested and incarcerated for first-time, nonviolent offenses, and he worked to disarm domestic abusers and increase the use of problem-solving courts. Annually, his programs keep about 700 children and 850 adults out of the system.


If you can believe this, this guy was funded by George Soros:
At least that's what DeSantis and his team say. I haven't found independent confirmation of that -- but certainly this is the type of guy who would be funded by Soros.
Or maybe they're just emphasizing that Warren is a progressive prosecutor like the Soros prosecutors who routinely nullify the laws. Maybe that's what they mean.
So Governor DeSantis announced he was suspending him as an attorney. DeSantis declared that leftwing prosecutors were not permitted to act as "a law unto themselves."
BREAKING NEWS: Ron DeSantis SUSPENDS 'Soros-funded' Democratic Florida prosecutor for 'ignoring the law' and refusing to prosecute cases violating 15-week abortion ban and sex changes on children

Florida Governor DeSantis accused progressive state attorney Andrew Warren of acting 'above the law' during a press conference on Warren's home turf


...

Florida Governor Ron DeSantis on Thursday suspended a progressive state attorney who he accused of 'ignoring the law' for refusing to enforce several recent conservative reforms.

'State attorney for this Judicial Circuit, Andrew Warren, has put himself publicly above the law,' DeSantis said during a press conference on the prosecutor's home turf.

'In June of 2021, He signed a letter saying that he would not enforce any prohibitions on sex change operations for minors.'

DeSantis, who accused Warren of being funded by billionaire George Soros, also said that after the Supreme Court overturned abortion rights, Warren 'signed a letter saying he would not enforce any laws relating to protecting the right to life in the state of Florida.'

Florida was among the states to limit abortion access amid the fallout over Roe v. Wade being overturned, reducing the legal window to 15 weeks.

The governor rationalized the firing by claiming he was stamping out a 'pathogen' of activist prosecutors that he blamed for rising crime rates in multiple Democrat-run cities.

'We've seen across this country, over the last few years, individual prosecutors take it upon themselves to determine which laws they like and will enforce and which laws they don't like,' DeSantis said.

The result, he added, is 'catastrophic.'


'We are not going to allow this pathogen that's been around the country of ignoring the law, we are not going to let that get a foothold here in the state of Florida,' the governor said.


...

In addition to his activism on Florida's abortion laws and transgender medical treatments, Warren also refused to prosecute 67 Black Lives Matter activists arrested in June 2020 at a protest in Tampa that turned violent over anger about George Floyd's police murder in Minneapolis.


From Twitter: DeSantis appointed a Breakfast Tacox to serve in Warren's place:
"The Governor has appointed Susan Lopez to serve as State Attorney for the period of suspension. She has most recently been serving as a Judge on the Hillsborough County Court."
Video of DeSantis' statement below. He makes a good point: Warren says he'll enforce no limits on abortion. None at all.
But DeSantis points out that Florida has for a long, long time forbidden third trimester abortions, which has long been permitted by the superlegislature we call the Supreme Court.
So apparently Warren is not only cancelling laws passed since Dobbs, but he's looking back to laws passed decades ago and nullifying those as well.
He also compares Warren to "Soros prosecutor" and son of terrorists Chesa Boudin, and then brings on cops and prosecutors who discuss the mayhem Warren has unleashed by refusing to prosecute criminals.

Flashback: the leftwing state attorney Andrew Warren -- a rather low-level political flunky in the scheme of things -- announced that he alone would decide what the law is.
But every leftist is a tyrant, because leftism is a Will to Power demonic religion. L'etat, c'est moi.
You will not be surprised to learn that Andrew Warren has not previously been a fan of freedom of choice of one's private medical decisions!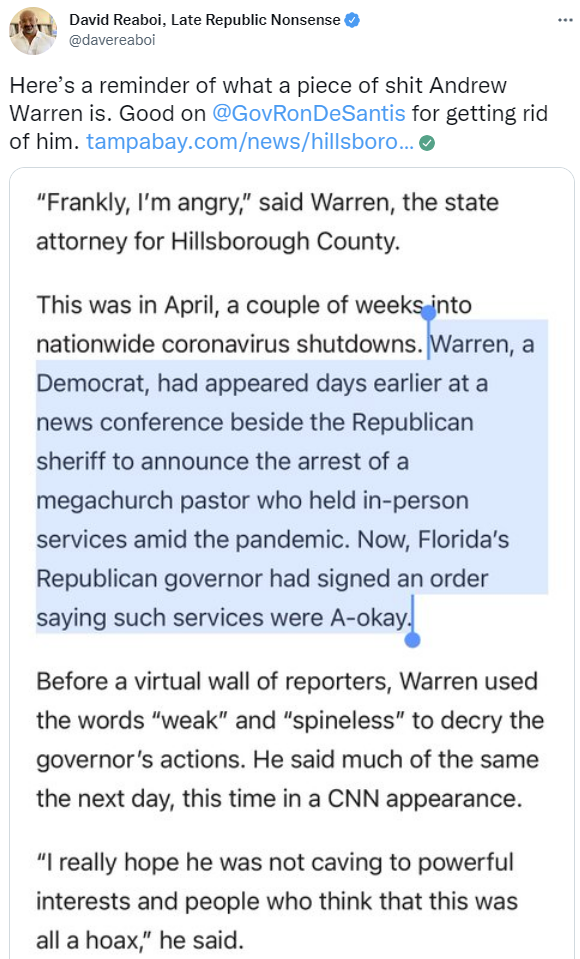 Bonus: Also from the Daily Mail article, on Wednesday, DeSantis called for doctors who perform "gender-affirming care" surgeries on minors to be sued.
DeSantis comments came while discussing his state's substance abuse recovery model - and were met with fierce applause in response.

'One of the things that they are trying to do, is they talk about these very young kids getting gender-affirming care,' the governor said.

'But they don't tell you what that is, is they're actually giving very young girls miss double mastectomies. They want to castrate these young boys. That's wrong.'

When asked by DailyMail.com who 'they' refers to, Pushaw replied it was 'the powerful institutions and people who push the false narrative that so-called "gender affirming care" (experimental medical and surgical interventions) is the best way to deal with gender dysphoria or confusion in children and youth.'

'Moreover, "they" -- the politicians, doctors, and activists who promote "gender affirming care" -- falsely claim that puberty blockers are safe and should be given to children who are confused about their gender.'

DeSantis continued during his press conference, 'We've stood up and said, both from the health and children wellbeing perspective, you know, you don't disfigure 10, 12, 13 year old kids, based on gender dysphoria.'

He highlighted a 2011 study frequently referenced by opponents of gender-affirming care for children and teens, which suggests that a majority of transgender youth grow out of it by the time they are adults.

Critics of the study have insisted that it presents an incomplete picture.

'Eighty percent of it resolves, anyways, by the time they get older,' DeSantis said. 'I think these doctors need to get sued for what's happening.'


posted by Ace at
12:05 PM
|
Access Comments