« For the Left, the Only Political Imperative Is That We Never Cross the Gay and Trans Lobbies
|
Main
|
Democrats' Star Witness in Abortion Hearing Is a Furry and a Witch Who Posts Her Best Spells On Instagram »
July 27, 2022
Palace Guards, Assemble! Biden Rallies His Media Praetorian to Push His "There Is No Recession Unless We Admit There's One" Propaganda Strategy
Politico reports the Biden Disaster is "arm-twisting" all of their allies and sycophants to "fortify the election" one more time.
The White House is scrambling behind the scenes and in public to get ahead of a potentially brutal economic punch to the face that could give Republicans the chance to declare that the "Biden recession" is under way.

Wall Street analysts, economists and even some in the Biden administration itself expect a report on Thursday to show the economy shrank for a second straight quarter, meeting a classic -- though by no means the only -- definition of a recession.


Senior administration officials are hitting the airwaves and arm-twisting reporters in private, imploring anyone who will listen that the economy -- despised by majorities of both Republicans and Democrats fed up with inflation -- is still healthy.
So it's the Council of Economic Advisors who gets to declare a recession?
Gee, I wonder what kind of impartial, detached experts sit on that?
"I don't think any of us are trying to convince anyone that their feelings about the economy are wrong," Jared Bernstein, a member of the Council of Economic Advisers and one of Biden's longest-serving aides, said in an interview. "What we are trying to do is explain things in a much more nuanced way than most people are getting from the daily news flow."


Bernstein's CEA and the Treasury Department are cranking out blog posts and studies arguing that the current post-pandemic moment -- while strange and disconcerting to many Americans -- is nowhere close to a recession.
Wait, I think I'm wrong about that -- I think it's people on the Bureau of Economic Analysis or something that declare a recession.
Still: Deep State Democrats.
Sorry about that premature Pouncing.
They keep claiming that it can't be a recession because the economy is -- or was -- still adding jobs, but that's a red herring. The economy was regaining jobs it had shed due to the artificial conditions of a government enforced shutdown. It wasn't growing in a real way. It was just adding back jobs which had been artificially lost. Artificially lost, then artificially gained.
Not job growth at all.
And no jobs have in fact been "created" -- we're still well short of Trump's employment peak, and way, way short of the jobs we'd need to equal Trump's jobs peak plus population growth.
So Biden's henchmen are looking at the lockdowns in exactly the wrong way. They don't show that Biden's doing a great job; they show he's doing a shit job.
And isn't it funny that Biden's own cronies are the people who are now trying to Jedi Mind Trick us: "These are not the back-to-back quarters of economic contraction you're looking for!"
Ed Driscoll at Instapundit points out that AP is all too willing to Re-Fortify the Election for Biden by jumping on the New Math bandwagon.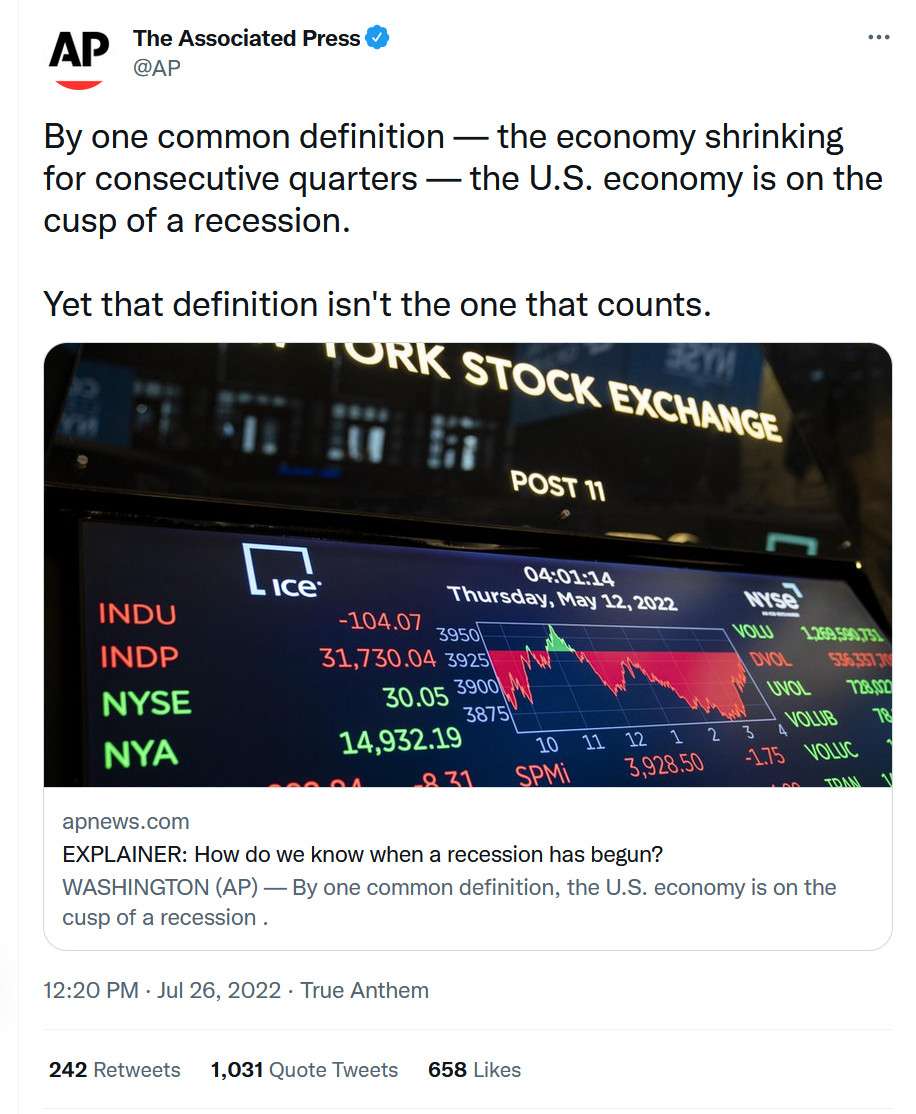 But he also Seizes and Pounces on AP having used the Old Math in January of this year, deciding that two quarters of back-to-back contraction was in fact the definition of a recession for a president they didn't cheat to get into office: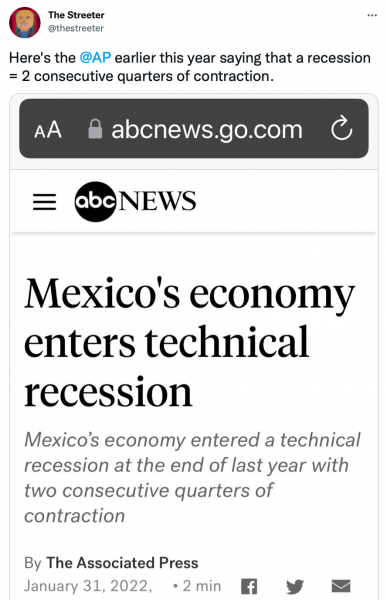 He also quotes this from AP's own stylebook:
A recession is a falling-off of economic activity that may be a temporary phenomenon or could continue into a depression. A common definition is two straight quarters of economic contraction. A more official determination is made by the National Bureau of Economic Research, which considers a range of indicators in declaring a recession. The bureau's determination is typically made well after a recession has begun and sometimes after it has ended.
As Dave Harsanyi pointed out yesterday, the definition of a "recession" is only a little wobbly because the two-quarters-of-negative-growth is underinclusive. That is, you can have a recession even if you don't have two quarters of negative growth. For example, you can have a quarter of tiny, tiny growth -- say, 0.1% -- and then negative growth, and they'll say that's a recession.
Or you can have negative growth, a quarter of tiny growth, and then another quarter of negative growth, and they'll say that's a recession .
But, as was pointed out yesterday, whenever there has in fact been two quarters of negative growth -- shrinkage, is the Costanza approved term -- it has been deemed a recession, in ten of the last ten times we've seen that.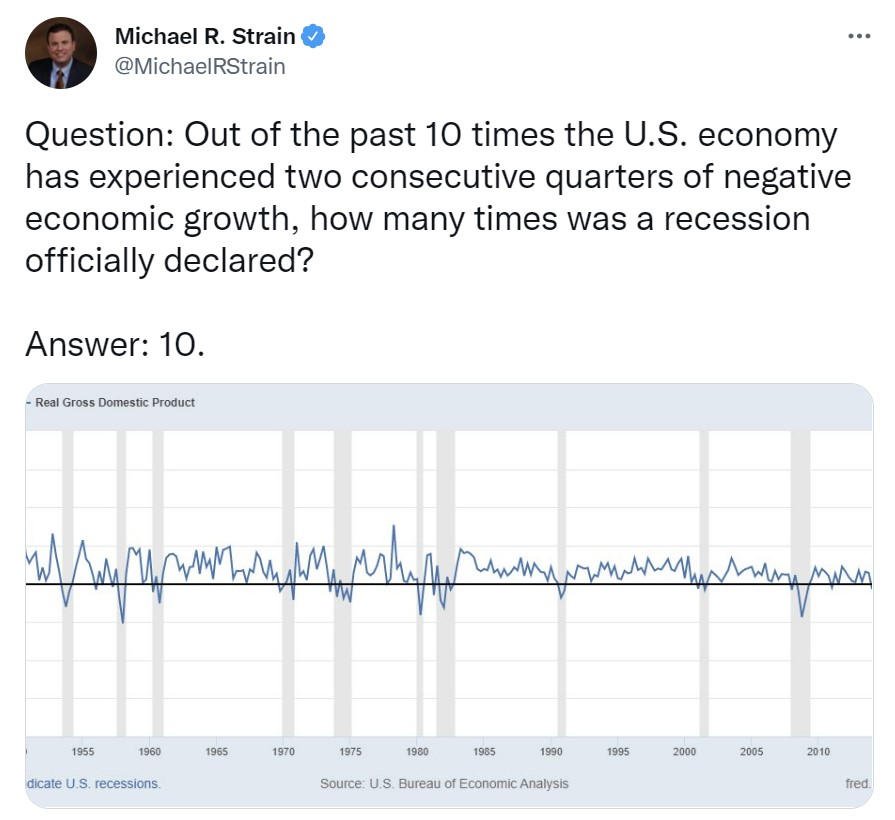 posted by Ace at
03:45 PM
|
Access Comments