« GAINZZZ and THRILZZZZ
|
Main
|
Beyond the Valley of the Libs of TikTok »
June 24, 2022
Quick Hits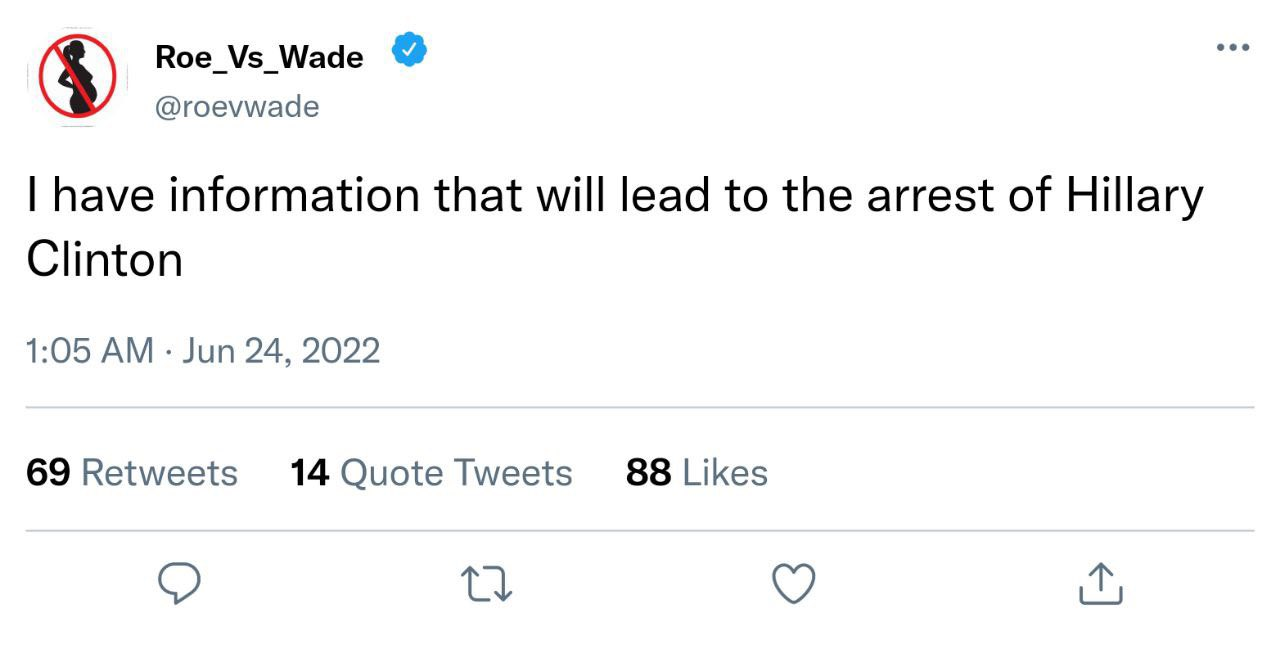 Michael Malice @michaelmalice

It's a good thing George Floyd isnt around to see this
He always had a special place in his heart for pregnant women

#RestInPower
#RoeVsWade
St. George Floyd once blessed an unborn baby by sticking a gun into the belly of a pregnant woman.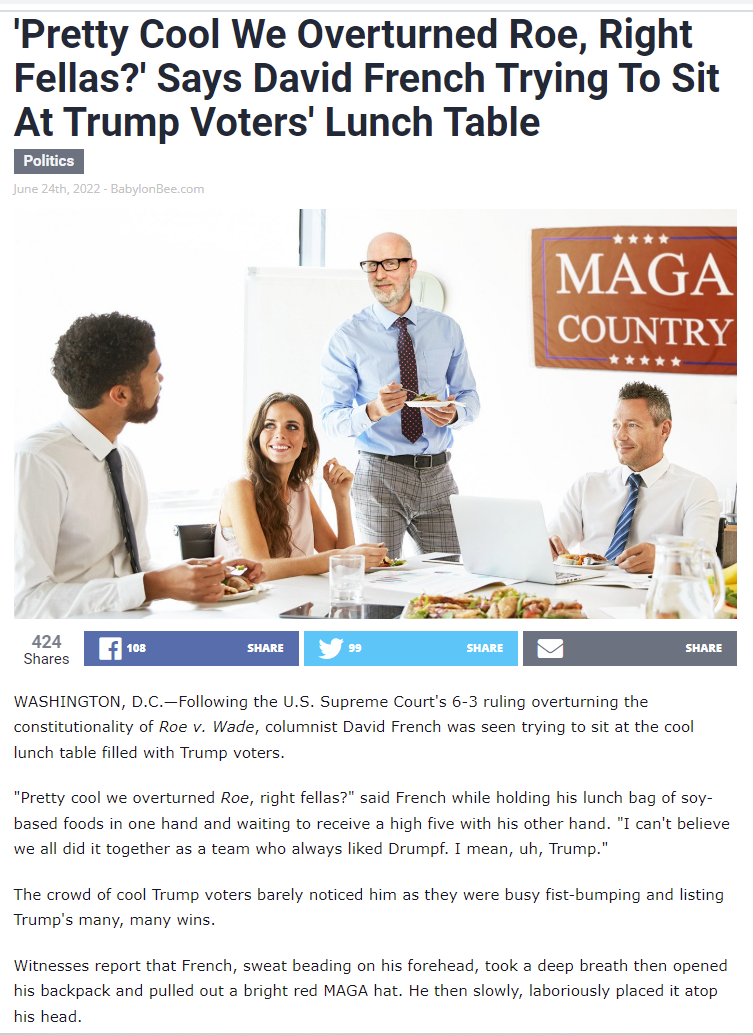 "Mangina Guy" shuts down Frederick Douglas Bridge in DC.
Horrific: Just one call for the murder of Clarence Thomas and other Supreme Court Justices after another on Twitter (but mostly Thomas, even though he didn't write the opinion -- leftists are racists), and of course twitter does nothing about it.
Thanks to bonhomme.
Surprise! Liz Cheney is asking Democrats to fake-change their party registration so that they can vote for her in the primary, so that she can run as a fake "Republican," actually a Democrat-supported anti-conservative, in the general election.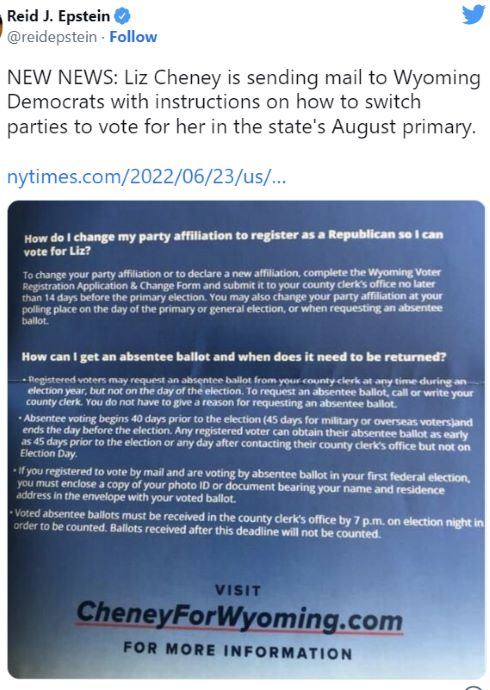 Allahpundit is spinning like a top that it's totally, totally normal for Republicans (well, "moderate" Republicans) to seek out Democrat votes to beat actual conservatives.
He also spins this latest vote by Cheney, to please her would-be Democrat voters: voting to continue the vaccine mandate in the armed forces.
He claims it's just about Liz Cheney attempting to preserve the authority of the Secretary of Defense.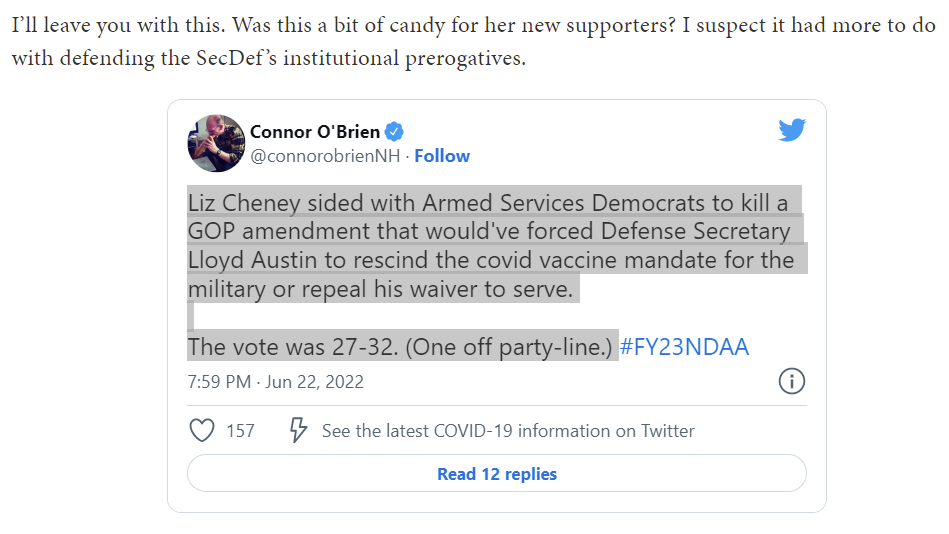 Allahpundit does a lot of pretending. He pretends to look down upon "culture warriors," when he is an obsessive culture warrior himself, and cannot help himself from getting bloody in every single culture war controversy. He's just on the left in the culture war, and, being on the left, uses the standard leftist line about the culture war: This shouldn't matter to you. Why do you even care about this?
But that question can easily be turned around on the left, and Allahpundit, who is a leftist: Why do you even care about this?
The left says, "You shouldn't care about drag queens in the schools, and should just accept them there." Okay, well, let's turn that back at you: YOU shouldn't care about drag queens in the schools, and should just accept the rule that prevailed for 250 years of American history, that drag queens had no business in schools.
And they say, "Oh, we can't have that."
Turns out that the Drag Queens in Schools Issue is very important to them.
But they like pretending to be oh-so-above-it-all, putting on this Fake Libertarian act, pretending they don't even care about the issue, and you shouldn't care, either.
Well, AllahPundit, I don't care to the same extent you don't care. When you stop obsessively chasing every single culture war story that comes across your Twitter transom, so will I.
He's a typical Fake Libertarian -- he's just a standard boring dour leftwing social liberal, but that doesn't sound exciting or sexy enough for him (and it would get him fired from his current Grift), so he claims he's just another Fake Libertarian, who -- stop me if you've heard this one before -- just happens to come down on the Standard Boring Dour Leftwing Social Liberal side of every culture war issue.
He's one of those "Libertarians" who was in favor of every single draconian government control measure during the pandemic. Lockdowns? Yup. Forced masking? Of course. Forced vaccinations? You betcha!
Almost all of the Fake Libertarians followed the same Standard Boring Dour Leftwing Social Liberal line on all of these issues.
Because this isn't about ideology. It's not about freedom. It's about tribalism. AllahPundit desperately wishes to belong to the Professional Managerial Class, and so he passionately adopts every single one of their tribal shibboleths.

As I've repeatedly stated: Those whose qualifications for a class's membership are the most suspect become, by necessity, the most passionate and zealous chanters of class doctrines.
Someone who is comfortable and secure in his class membership status (or who doesn't even care about his class membership at all -- which is the securest form of membership of all), can afford to be a bit heterodox about class shibboleths and mores, even iconoclastic about them.
But someone whose class membership status is in doubt, like Professional Managerial Class washouts who have become second-tier bloggers (as almost all of the keyboard-tapping class are), the failed aspirants to the Ruling Class, the aristocrats manqués, must shout their Membership Credentials as loudly as possible and at all times, and that means showing themselves to be the most dedicated and indefatigable repeaters of received class wisdom.
The other thing he lies to himself is on display here with Liz Cheney. He likes to pretend he's a jaded cynic who views politics through jaundiced lenses.
In fact, as you can see, he's the most hyperemotional little gasbag, forever shrieking about Fascism Descending when he's not getting his way, and waving his pompoms like a lunatic for his Democrat faves like Liz Cheney.
Speaking of Fake Libertarians who are really Standard Boring Dour Leftwing Social Liberals-- S.E. Cupp.
She wrote for Oprah Magazine (lol) that her brand of pro-life is the brand of pro-life that accepted Roe v. Wade as the settled law of the land, forever.
I'm Pro-Life and I Believe Roe v. Wade Should Not Have Been Overturned

Women's health is being sacrificed and our fears exploited for political gain, says CNN political commentator S.E. Cupp.
I don't know if you've noticed this, but it turns out almost all of the people who have been on the payroll of Conservative, Inc. for decades turn out to be Controlled Opposition working for the left.
This former GOP consultant straight-up says that the whole point of the GOP establishment is to keep the crazy hobbits deceived and therefore under control.
Until Trump gave the crazy hobbits an alternative.
And it is that that the AllahPundits and the David Frenches and the David Frums really hate Trump for -- that he gave a captive pool of voters an alternative to the liberal Fake Republican Establishment.
For decades, the Democratic Party had commanded a majority of Florida's registered voters. But the state was changing, as Trump's election helped energize a shift in political affinities. The Republican Party's rank and file became increasingly radical, and G.O.P. leaders appeared only too happy to follow them. "There was always an element of the Republican Party that was batshit crazy," Mac Stipanovich, the chief of staff to Governor Bob Martinez, a moderate Republican, told me. "They had lots of different names--they were John Birchers, they were 'movement conservatives,' they were the religious right. And we did what every other Republican candidate did: we exploited them. We got them to the polls. We talked about abortion. We promised--and we did nothing. They could grumble, but their choices were limited.

"So what happened?" Stipanovich continued. "Trump opened Pandora's box and let them out. And all the nasty stuff that was in the underbelly of American politics got a voice. What was thirty-five per cent of the Republican Party is now eighty-five per cent. And it's too late to turn back."
At National Review, Michael Brendan Dougherty seeks to limit the damage of this admission by proclaiming that "Republican consultants are dumb and evil" and always have been."
Really, Michael? This is just a problem of Republican consultants, huh? Is that what you're saying?
That's what you're selling us?
You can't think of any of your fellow writers in Conservative, Inc. who nodded vigorously reading that passage about the need of the establishment to keep the crazies down and their destructive energy focused on the issues that matter, like delivering government favors to well-heeled business interests?
You can't think of any of your "conservative" think tank drinking buddies that agree with that statement?
None of your... National Review colleagues who agree? Kevin D. Williamson, for example? Jay Nordlinger? Ramesh Ponuru? To say nothing of former colleagues like David French and Jonah Goldberg?
You can't think of any politicians beloved by National Review who held the view that the Hobbits had to be controlled by the "smart" people of the Ruling Class?
Liars.
Tucker completely reverses his opinion on Kamala Harris!
Has Tuck cvcked? Watch to find out.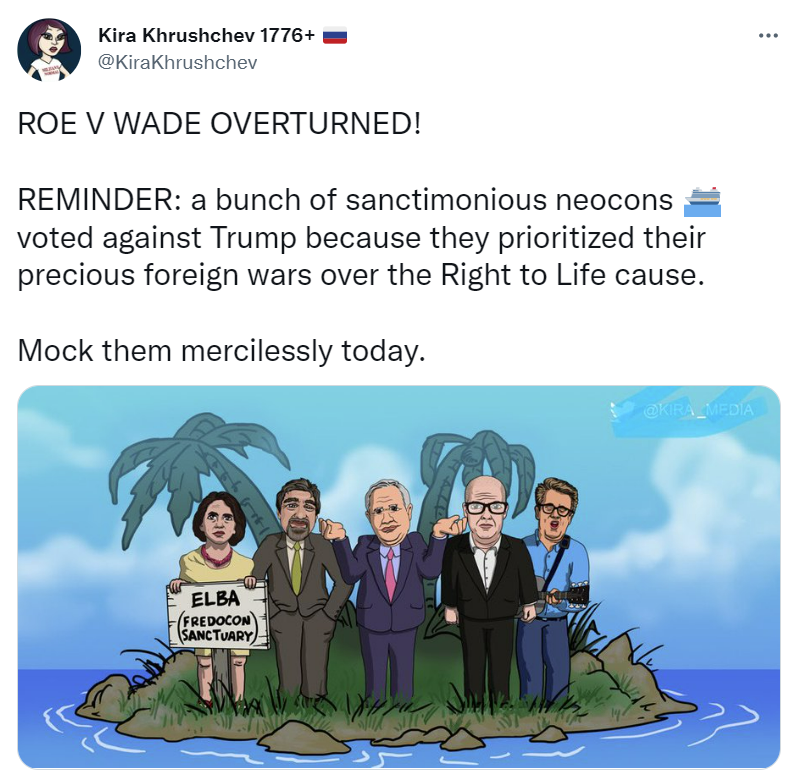 Jen Rubin, Tom "Pizza Nipples" Nichols, Bill "Li'l A'm'ral" Kristol,
Max Boot, and Joe "Rock N Roll Killer" Scarborough

posted by Ace at
05:38 PM
|
Access Comments