« Disney's "Buzz Lightyear" is Such a Huge #Woke Flop that Pixar Faces a Reckoning?
|
Main
|
Quick Hits »
June 24, 2022
GAINZZZ and THRILZZZZ
Study: coffee can reduce the risk of death.
I take this to mean that drinking a moderate amount of coffee regularly can reduce the risk of death from 100% to 100%, which, you know, I now accept as a tremendous benefit. I've readjusted my understanding of "reduced risks" after two years of dealing with "Covid Math."
A new study shows that coffee's potential health benefits persist, even if you add a bit of sugar to your java.

People who drink any amount of unsweetened coffee are 16% to 21% less likely to die early than those who don't imbibe, based on data drawn from more than 171,000 British participants without known heart disease or cancer.

And even folks who take their coffee with sugar saw some health benefits, researchers found.

Sweetened coffee drinkers who downed an average 1.5 to 3.5 cups a day were 29% to 31% less likely to die during an average seven-year follow-up than non-coffee drinkers, according to findings published Tuesday in the Annals of Internal Medicine.

...

Participants were tracked for an average seven years to see whether coffee drinking affected their overall risk of death, as well as their risk of death from cancer or heart disease.

Researchers found that unsweetened coffee reduced participants' risk of death regardless how much they drank, with a "sweet spot" of maximum benefit around 2.5 to 3.5 cups a day.

Sweetened coffee also had health benefits, as long as the person drank fewer than 4 cups a day. Folks who drank more than 4.5 cups of sugary coffee a day had a slight increase in their risk of early death.


Sweetened or unsweetened, coffee also appeared to consistently reduce the risk of death from specific causes such as cancer or heart disease, the researchers found.

There are lots of theories about why coffee might be good for you, experts said.

...

Finally, he added, coffee has been shown to improve alertness, memory and mental function. "These effects would certainly help us be more aware and make less mistakes," DiMarino said.

Wee noted that coffee also contains chlorogenic acids, which have an anti-clotting effect in the blood. That could potentially prevent heart attacks or strokes caused by clots.

Coffee may specifically protect your kidneys.
There's more good news for coffee lovers who already reap its other health benefits -- your favorite beverage may also help protect your kidneys.

"We already know that drinking coffee on a regular basis has been associated with the prevention of chronic and degenerative diseases including Type 2 diabetes, cardiovascular disease and liver disease," said study author Dr. Chirag Parikh, director of the Division of Nephrology at Johns Hopkins University School of Medicine.


"We can now add a possible reduction in AKI [acute kidney injury] risk to the growing list of health benefits for caffeine," he said in a university news release.

...

The researchers found that people who drank any quantity of coffee every day had a 15% lower risk of acute kidney injury, and those who drank two to three cups a day had a 22% to 23% lower risk.

The study was published recently in the journal Kidney International Reports.

"We suspect that the reason for coffee's impact on AKI risk may be that either biologically active compounds combined with caffeine or just the caffeine itself improves perfusion and oxygen utilization within the kidneys," Parikh said. "Good kidney function and tolerance to AKI -- is dependent on a steady blood supply and oxygen."
Remember when they were trying to get you to Eat the Bugs?
Now they're trying to get you to Eat the Bacteria.
"Microbial Beef Substitute could cut deforestation in half.
If just one-fifth of the meat from cattle was substituted with microbial protein, it could cut deforestation in half by 2050, a new study suggests.

According to the Potsdam Institute for Climate Impact Research, this fungi-based market-ready meat alternative is similar to meat in taste and texture and involves much less land resources use.

It would also reduce greenhouse gas emissions from agriculture and land-use change.

...

The U.S. Food and Drug Administration approved a microbial protein meat alternative as safe in 2002.

...

"Alternatives to animal proteins, including substitutes for dairy products, can massively benefit animal welfare, save water and avert pressure from carbon-rich and biodiverse ecosystems, said paper co-author Alexander Popp in a statement.

But as microbial biotech food substitutes scale up, Popp said, it also requires a large-scale decarbonization of electricity generation to achieve the full climate-protection potential.
Ohhhh. It always comes right back to that, huh?
They're scheming to get little kids to eat bugs in the UK.
Would you eat bug bolognese? Primary school children in Wales could be offered EDIBLE INSECTS including mealworms and crickets as scientists urge the next generation to embrace eco-friendly meat substitutes

Scientists hope to feed children food products made from insects

This could include bug protein bolognese, edible crickets and mealworms

They hope to gauge their opinion on environmental issues surrounding food

The Cardiff University and UWE teams will survey kids, parents and teachers

The project aims to educate families on nutritional benefits of edible insects

...

While chicken nuggets and chips may be the current favourites at the school canteen, scientists hope to trump this with a new kind of 'tasty grub'.

Researchers are planning to feed bugs like house crickets and mealworms to children between the ages of five and 11 from four primary schools in Wales.

They are also planning to serve up 'bolognese' made from insect and plant protein, and potentially encourage them and their parents to move away from meat.
It's so strange that I never see them eating bugs at Davos.

Bill Gates has demanded that "rich countries" move to eating 100% synthetic beef instead of real beef.
Want to help save the planet? Stop eating beef. At least, that's what Bill Gates says. In a recent interview with MIT Technology Review Gates said, "all rich countries should move to 100% synthetic beef" in an effort to cut down pollution.

Now, you might be wondering what "fake meat" has to do with pollution. Turns out, cows release methane, which is 84 times more potent than carbon dioxide, according to the Environmental Defense Fund.

Gates' solution? Ditch the real beef for the fake stuff. "You can get used to the taste difference, and the claim is they're going to make it taste even better over time," he added.
You can get used to the taste difference.
Bill Gates will continue eating 100% real waygu.
I will not Eat The Bugs.
I will not Eat the Bacteria.
I will not Eat the BeyondMeat.
I will not Eat the Lab-Grown Fibers.
This Podcast of the Locust Eaters discusses the global elites' push to get the proles to Eat the Bugs.
I don't have much for GAINZZZ. Do you have any GAINZZZ?
Any BOOKZZZ or MOVIEZZZ to recommend?
I watched a few older movies this past month. I had a real jones for thrillers.
Last Embrace. Quentin Tarrantino mentioned liking this in this podcast about all the movies he saw in 1979, then I randomly saw an old Siskel & Ebert where they reviewed it, so I watched it. I think it was on Screenpix, but it's off there now.
It was meh. It had a great opening premise: Roy Scheider is a government operative who had his wife with him, for some reason, on a foreign operation. She was killed when the operation went bad. Now months later, he's getting out of a sanitarium -- he'd say he was forced there by his agency just to make sure he's okay. They'd say he'd had a nervous breakdown.
He keeps insisting he's ready for work. They keep insisting he needs to take it easy, and they'll contact him when they think he's ready.
He starts getting agitated by the slights he thinks the agency is directing towards him, and then there's an attempt on his life. Or is there? He has a near-death experience, but was it an attempt on his life, or just an accident?
Is he just paranoid? Is his mind unraveling, like the agency says? Or is someone, maybe at the agency, trying to kill him?
Or is it both?
And why is Charles Napier here? That can't be good.
So that's the starting premise, which is great. But then the movie stumbles into another unrelated premise. The movie likes this new premise better. No one else does. Every reviewer I read -- everyone likes the starting premise more, and was annoyed the movie departed from it.
The movie is Hitchcockian and has some glorious old-time thriller melodramatic music. Really good stuff. It's just on the edge of being too much, but it works. The end sequence takes place on a waterfall at Niagra Falls-- total Hitchcock move -- and is decent.
But... Eh. A good first thirty five minutes and good last ten minutes. In the middle it was just okay.
Bonus, sort of: Christopher Walken shows up very briefly to unconvincingly play a head of the agency Scheider works for. He's too young at this point to play a division supervisor for a spy organization.
Even though I think this movie is kind of a miss, I almost want to recommend it anyway for the good stuff in it.
Coma. I never saw this movie, though I saw the trailer for it sixty-three billion times (approximately).
I also saw the main image they used to sell the movie sixty-three billion times (approximately):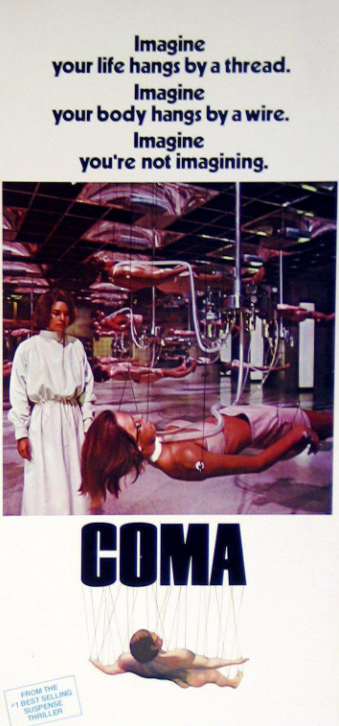 I thought maybe that image was probably just made up for the poster. They used to do that in the Old Times.
When I saw the movie, I thought maybe Michael Crichton, the director, made up the "bodies hanging by threads" image, because he's a sci-fi writer, and a director, and it's a very visual visual, if you know what I mean.
But no, I looked it up on Wikipedia, and that was apparently in the book.
Anyway, it's a decent movie. It starts annoyingly with some hard-to-sit through squabbling between Genevieve Bujold and Michael Douglas, mostly about Teh Feminism (it was 1978; and apparently there was a lot more of that in the book).
The fight is literally about whether or not Genevieve Bujold should get Michael Douglas a beer or not, and whether he should be allowed to get into the shower first.
Then they argue about hospital politics. This is ham-handed character development to establish that Bujold is idealistic and that Douglas is ambitious and wants to Play the Political Game.
But once it gets going it's pretty decent.
Because by now you've seen a lot of similar plots, you will be way ahead of the plot of this movie. Though I bet you at the time this movie came out, it was original.
Surprisingly good. Hokey and dumb in places. The plot only continues past the 60 minute mark because the main character doesn't call the police and show them where all the very incriminating physical evidence can be found. But this is a thriller, and such stupidities are required by the genre.
Unexpected Content Warning: has an abortion sequence.
Unexpected Cameos: Several actors who would later be big turn up in small roles.
The Domino Principle: Gene Hackman gets busted out of prison to do a political assassination of an unspecified person for unspecified reasons but It's About the Kennedys and Martin, Man.
This one's trash. It looks okay and Gene Hackman is fun to watch but not a lot happens and it doesn't feel like a global conspiracy of "They" controlling all of societal change through assassinations and targeted violence. It just feels like the four thugs we see pushing Gene Hackman around.
Not really a lot happens for a lot of the movie and there isn't a genuine sense of danger. Gene Hackman is openly defiant of the great powers of "They" who have him over a barrel and they just kind of dick around half-heartedly with him.
This is no way to run a global conspiracy. Where's the gusto?
I'm reviewing this just because it's a movie that always pops up on Amazon Prime and you might have considered watching it. Don't bother. It's just a waste. It's not horrible, just a waste.
Hanky Panky. I saw parts of this but never the whole thing.
This has the set-up I always like -- common man stumbles into espionage plot, gets blamed for a murder he didn't commit. North by Northwest, of course.
Gene Wilder is the amiable common man who's being hunted for the information he has -- except he doesn't have it. Gilda Radner teams up with him.
It's all kind of charming and cute but pretty slack and not very compelling. They do not dole out any information about what the actual Mystery Information they're hunting until just before the third act, and then, we only learn it's a "magnetic tape" that apparently contains government secrets. By the end of the movie, we don't learn anything more than that.
You might think, "So who cares? What does it matter what the McGuffin his?" Well, there's just nothing to detect or investigate or find out or learn if the screenwriters know nothing at all about the McGuffin except it's a magnetic tape with unspecified secrets on it. So while this kind of North by Northwest clone does tend to just be "a series of chases and escapes barely justified by the thread of a mystery plot connecting them," in this case, it's not even barely justified by the thread of a mystery plot. There is no mystery plot. There's just some (low budget) chases and escapes. With occasional mention of a magnetic tape.
Now a movie with Gene Wilder and Gilda Radner is not going to be without charm so it's not bad. It's just not great.
Oddly it's not really a comedy. There are a few comedic parts here and there. It's a... thriller-comedy, I guess? More of the former than the latter? But missing some of the key elements that make a thriller work.
It's free on "freevee," which is the new name of IMDB tv. Free with commercials.
Here's the only really funny part of the movie. This is the only full-on Gene-Wilder-freakout part.
Bonus: It's the eighties in the movie, which is always nice.

posted by Ace at
04:30 PM
|
Access Comments