« First-World Problems...
|
Main
|
Gun Thread: Day Before Memorial Day Edition! »
May 29, 2022
Food Thread:The Hamburger: Are You For Them Or Against Them?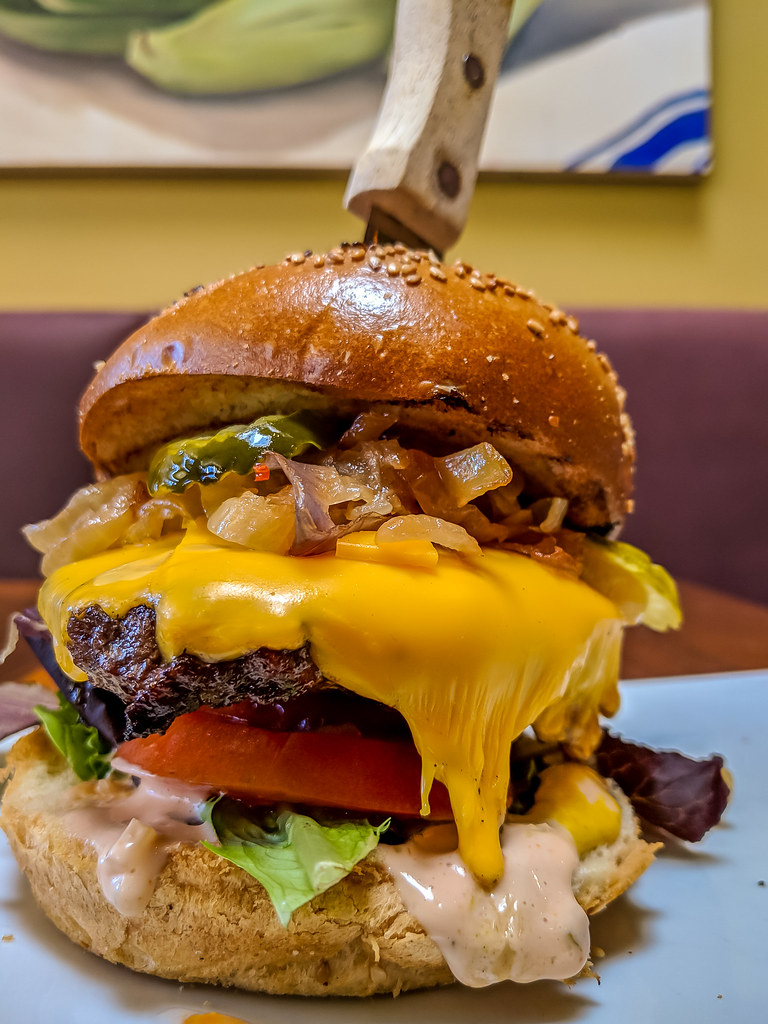 I hope all of you celebrated "National Hamburger Day" yesterday. Or maybe you are postponing this most important of secular holidays until tomorrow, when you grill (or smoke or barbecue) for Memorial Day. Or today...or Tuesday...or any random day when a burger would really hit the spot!
I make burgers every couple of weeks, and as a simple main course it is hard to beat with its extraordinarily pleasing combination of crispy or charred beef, fatty juiciness and the luscious mouth feel of a couple of slices of American Cheese. Yeah, I have entered a higher plane of consciousness when it comes to the cheese on my burgers...only the finest pasteurized prepared cheese product is good enough for my burger!
I won't refuse some good cheddar, or even a mild blue cheese, but plain old American Cheese really does hit the sweet spot of melty, gooey deliciousness. And if you can get a good char on the burger, or get it crisp in a pan, then you are well on your way to hamburger heaven.
But what about the bun? That is an often-ignored part of the equation, and while this might be heresy, I like a potato bun for most burgers. I will occasionally use brioche buns, especially when I am grinding my own and am shooting for a particularly fatty result. The brioche bun stands up to a bit more than the potato bun.
As for condiments? Caramelized onions of course (unless I forget), and that's about it. If I am making smashburgers I might briefly entertain the notion of a pickle slice, but tomatoes are right out, and don't even talk to me about lettuce. And your special sauce is mayo and catsup, just like everyone else's special sauce! Which I don't use except on the aforementioned smashburger, and then only under duress.
I wonder how maple syrup would be on a burger?
******
I have done the heavy lifting and have read this incredible drivel so you don't have to, unless you feel like being irritated (or entertained) by a dozen paragraphs of ridiculous extrapolation, nonsensical guessing and pure climate change hysteria.
The hamburger is an American staple: Climate change threatens it in profound and subtle ways
It's a mass of illogical and baseless supposition, with one goal in mind...to convince the ignorant and the disinterested that climate change is inevitable and that we must act now! That they use the all-American food...the lovely and innocent hamburger as one of the evils of man's insatiable thirst for the destruction of poor defenseless Gaia is pure manipulation.
Go forth and eat burgers!

******
The Barefoot Contessa
Tuscan Lemon Chicken
I mentioned in last week's Food Thread was good, although I didn't like it as much as some others at Chez Dildo who don't have sufficiently evolved culinary taste and really should just sit down and let me cook.
The marinade has a lot of lemon juice, which I think changed the consistency of the chicken a bit too much. And weighing down the chicken on the grill is intended to get as much contact as possible with the grill itself and aid in browning. Otherwise known as chicken-under-brick. Sure, it works, but flattening the spatchcocked chicken as much as possible beforehand will do pretty much the same thing and is easier. And the pan sitting on top of the chicken keeps too much moisture in the skin, so it doesn't get crispy.
But the marinade added some nice flavor, so I will probably use it, or a variation with less lemon juice when I make chicken.

******
This is Misanthropic Humanitarian's favorite cake, so if he shows up at a MoMe be sure to make one for him.
Bologna Cake
seems like a throwback to the 1950s or 1960s, which is a bit early for MisHum, based on his Zappa infatuation.
******
Commenter (lurker) "Huey Echo" is showing off again. I might have to move to East Texas just so I can steal stuff from Huey's garden. And larder.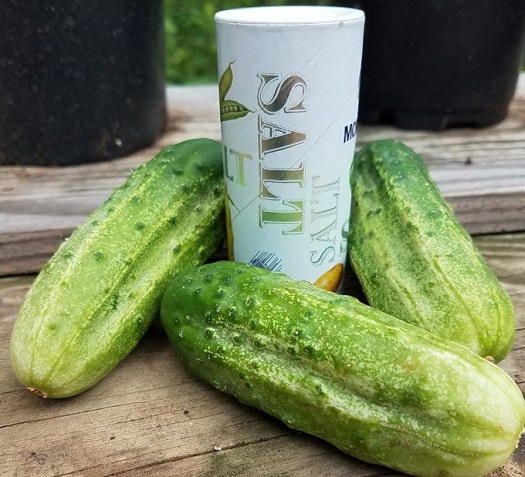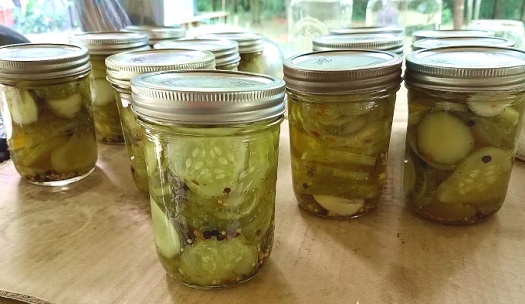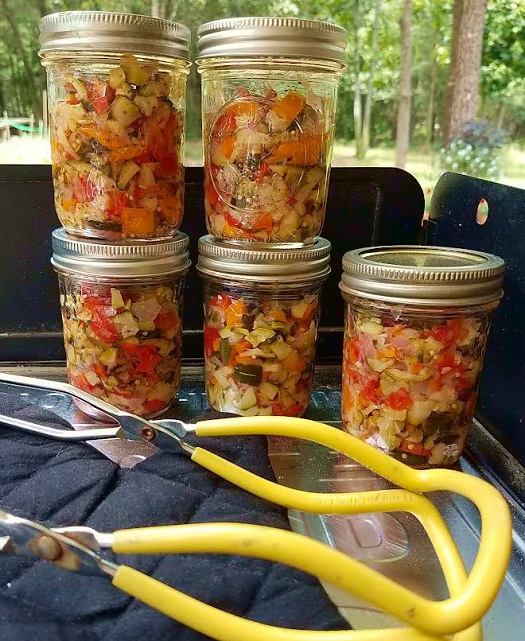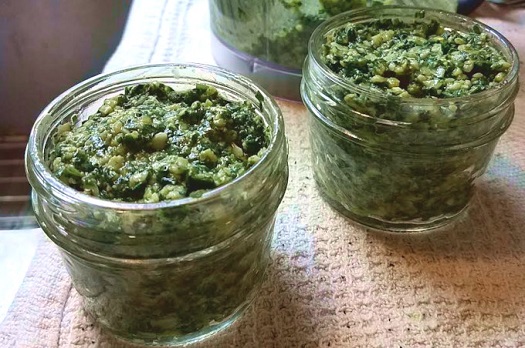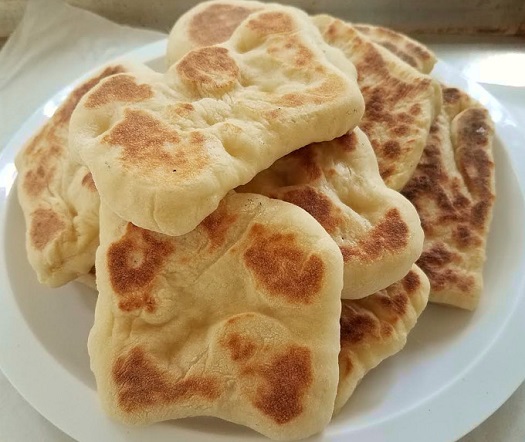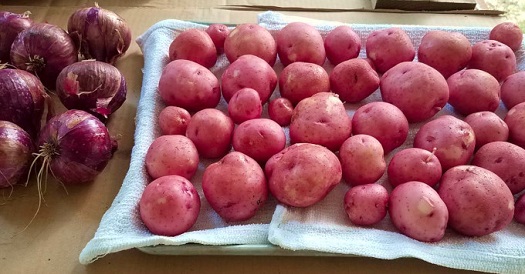 Not only does Huey grow and make some wonderful looking food, those photos are good! Certainly better than mine.
******
I'm sorry, but the guy is a fvcking lunatic. An immensely entertaining one, but still...
[Hat Tip: Biff Pocoroba]

******
Creamed Veggie Filled Pancakes With Canned Peach Garnish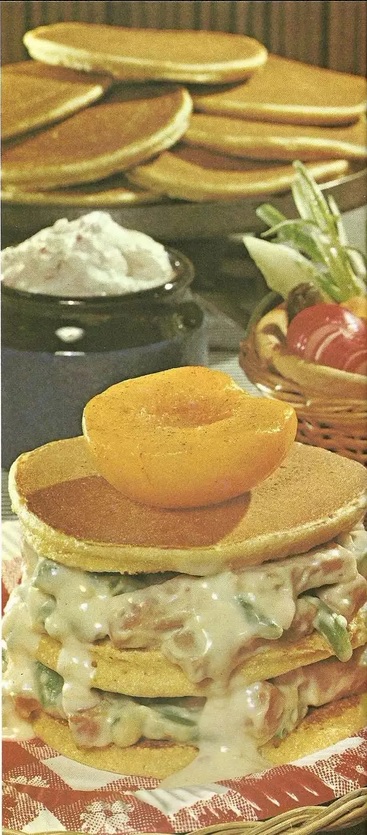 Go ahead...put maple syrup on those.

******
Romaine lettuce that is green, instead of the white crap they sell that has never seen a photon, pork rib roasts from the front end of the pig where all the good and fatty meat lives, carrots that don't taste like stalky chalk, spare bottles of Van Winkle Special Reserve 12 Year Old Bourbon, an herb garden that actually produces herbs (but no basil!), well-marbled NY strip steaks and elk backstrap to:
cbd dot aoshq at gmail dot com.
And don't think that you are off the hook with maple syrup and French Toast: I'm watching you...all of you! And I am watching you perverts who shake Manhattans and keeping a list for the Burning Times.

posted by CBD at
04:00 PM
|
Access Comments