« Texas Department of Public Safety Admits: Waiting an Hour Before Taking Out an Armed Madman in a Room Full of Children Was Not the Optimal Call
|
Main
|
NPC Media Downloads New Programming: "AKSHUALLY ASSAULT RIFLES ARE NAZI WEAPONS, *BEEP*" »
May 27, 2022
Battle Beyond the Libs of TikTok
Ian Miles Cheong @stillgray

At Anglia Ruskin University in Cambridge, female students will be at fault if they question the presence of a man in the women's bathroom: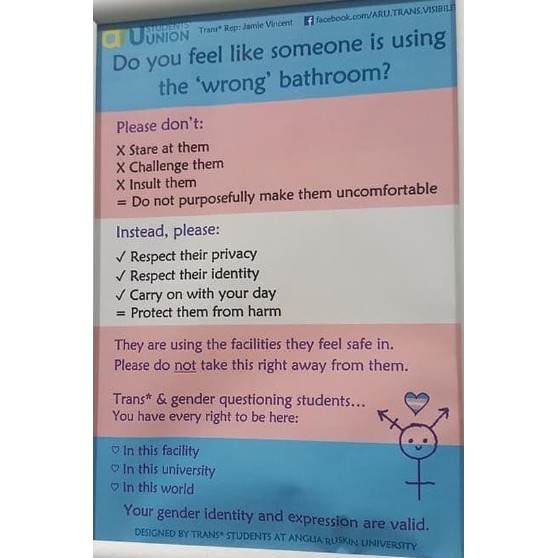 California teacher suspected of molesting four kids in classroom.
A substitute teacher for a Southern California elementary school was arrested on suspicion he molested four female students in a classroom, authorities said.

The alleged victims, ages 8 and 9, told investigators the teacher touched them inappropriately in separate incidents inside Adams Elementary School in Santa Ana, according to local police.
One thing we have to worry about is the mass panic effect we saw in the 90s. People could be primed for accusations, and kids might pick up on that. I don't have any particular reason to doubt the allegations here -- well, apart from the sheer brazenness of doing it in class, which recalls the McMartin false allegations -- but the conditions are right for that kind of thing.
On the other hand: a teacher distributed a sexual questionnaire asking students how comfortable they were with anal sex, then hid that material from parents.
This is sexual grooming. The left continues defending this, because teachers are a key part of their political coalition, and if teachers want to sexualize children, that's a small price to pay for reliable Democrat votes and election volunteers.
You'll never believe this, but a Texas school district told parents that teachers were not instructed to hide children's supposed gayness or trans-ness from parents, but then, whooopsie, an email inadvertently disclosed Oh Yes They Definitely Are Instructed to Hide Children's Sexuality From Parents, whenever teachers think parents wouldn't be sufficiently enthusiastic about the gender-bending.
More on that from the Daily Caller.
I know many of you are shaken to the core to learn that teachers are lying to you. What can you count on, if you cannot count on teachers unions and teachers bureaucracies to tell you the truth?
Thugs -- homeless thugs, Libs of TikTok says -- surround a vehicle and beat the driver and loot the car while the driver is still in the car. He races the car away in panic, and hits another car as he tries to escape. "Welcome to LA," Libs of TikTok says.

"@Ankeny_Hawks [High School] brought in drag queens to perform for students during school. The drag queens also spoke to students about gender identity and expression. Content warning for the drag queens. Also, apparently one student went on stage to do his own drag act.
The school is now claiming that the drag performances were arranged by the "Gay Straight Alliance" club -- the gay/trans recruitment club -- and was not authorized or approved by the school.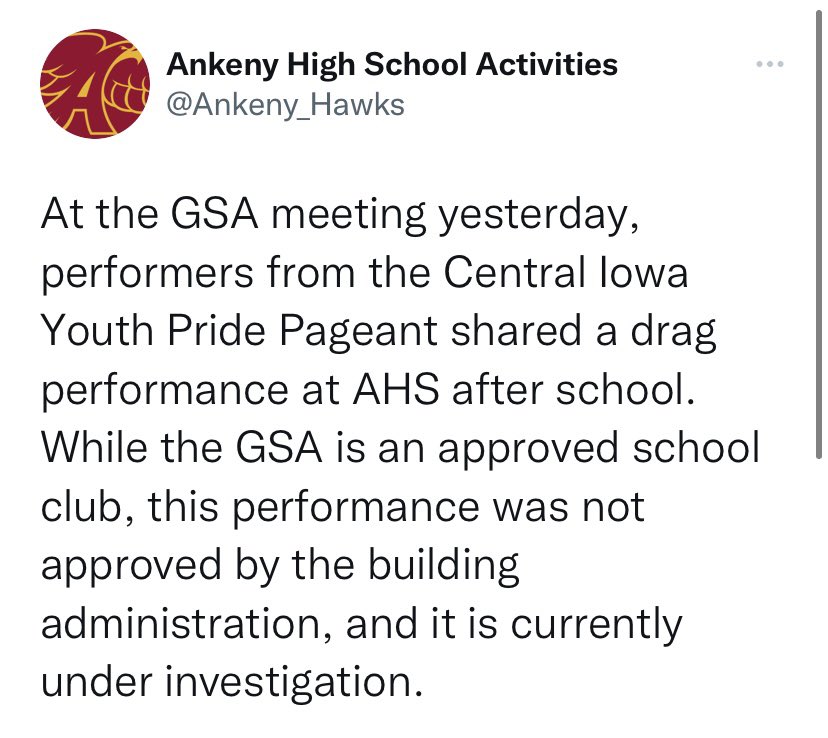 Maybe schools need to put their GSA Animal Houses on a short leash, huh? And disband them if they pull stunts like this, huh?
"The pride flag is the most important part of my classroom"
Teacher proudly sings "I could give a sh*t" as she posts a question about whether parents might object to the huge Black Lives Matter and Gay Pride Rainbow flag hung in the front of the classroom.

Victory: Queer non-binary teacher resigns from teaching rather than abide by new school rule that teachers must refer to students by the pronouns and names that the parents prefer.

Janine, someone with your qualifications would have no trouble finding a topflight job in either the food-service or housekeeping industries. Assuming you can pass a background and social media check, which I actually do not assume.
Licensed therapist is so happy that she could cry -- because her TikTok video convinced a father to allow his underage daughter to get her breasts chopped off. That's a victory you hang on the refrigerator.
ICYMI: "Trans queer dad is raising funds to put his young child on puberty blockers." What can I do to validate and affirm this pyrsyn and the choices xe is making for xis child?
"Teacher records conversation she had with 4-year-old students about gender and pronouns telling them 'I'm not a boy or a girl'"
A woman talks about being pressured into believing she was a boy, and the evils of trans pressure.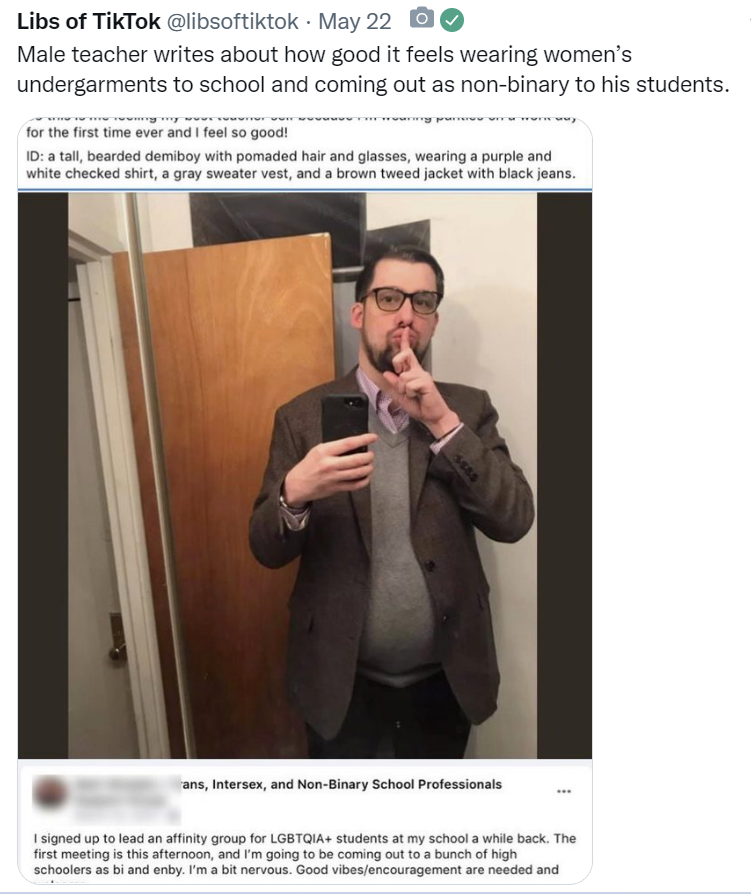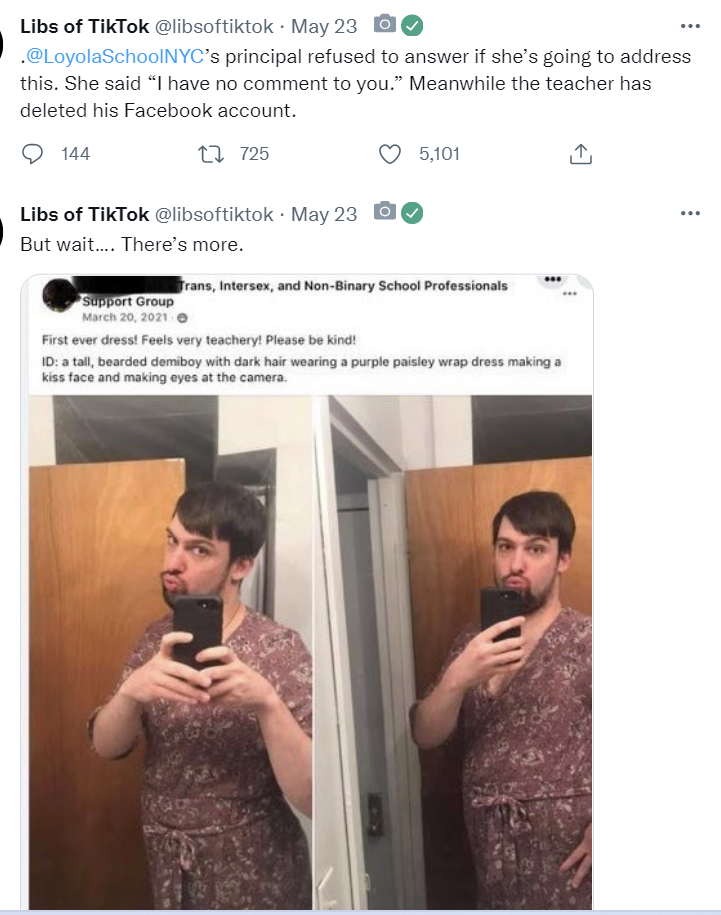 Libs of TikTok @libsoftiktok

@HCPSS is having "Pride Week" and one activity is a reading of the book Calvin for PreK-elementary. The school is also gifting the book to some students.

The book Calvin which they are promoting to 4-year-olds is about a toddler who becomes transgender and cross-dresses.

Madame, I don't want to hear about your nasty blown-out gray gymsock of a snizz, which at this point, is less a snizz than a snuzz.
Nor do I want to hear about the wan Low-T pseudogay goblinoid subcreatures who weakly service your snozz in between toking on each other's undersized genitals.
Thanks, Joe!

posted by Ace at
03:19 PM
|
Access Comments