« Netflix Cancels Critical Race Theorist Hustler Ibram X. Kendi's "How to be an Antiracist Baby" Cartoon Show
Oh, and Also: Batman's Gay Now
|
Main
|
Quick Hits 2: Judge Blocks Biden's Effort to End Title 42 by Monday »
May 20, 2022
Quick Hits 1
San Francisco's new archbishop has forbidden Nancy Pelosi from taking the holy communion due to her stance on abortion.
San Francisco Archbishop Salvatore Cordileone announced Friday that House Speaker Nancy Pelosi is barred from receiving Holy Communion due to her pro-abortion stance -- marking an escalation in a decades-long tension between the Roman Catholic Church and liberal Democratic politicians on abortion.

Cordileone has written to the California Democrat, informing her that she should not present herself for Holy Communion at Mass, and that priests will not distribute communion to her if she does present herself.


"A Catholic legislator who supports procured abortion, after knowing the teaching of the Church, commits a manifestly grave sin which is a cause of most serious scandal to others. Therefore, universal Church law provides that such persons 'are not to be admitted to Holy Communion,'" he says in the letter.
"Chaos!" says Chaotic Stupid congresswoman Alexandria Donkey-Chompers about NY's new congressional maps. It's worse than I thought -- the maps put four currently serving Democrat congressmen in the same district, and they're all bitching at each other over who gets to run and who has to move.
They're also all yelling "Racism!"
Miranda Devine previews some actions which Trump has charged a lawyer with taking against the 51 dirty spymasters who ran an op against America to foist Biden on the country.
First up: They were all required to pre-clear "intelligence assessments" with their respective agencies before publishing them.
But they didn't do that when they claimed the Hunter Biden laptop had "all the earmarks of Russian disinformation," of course.
The former president has sicced uber-attorney Tim Parlatore on the Dirty 51. On Wednesday, Parlatore launched the first stage of a multi-prong strategy to make those who signed the letter pay for the damage they have wrought to freedom of the press, election integrity and the welfare of the nation.

His goal is to uncover alleged communications between the Dirty 51 and the Biden campaign.

Parlatore began by filing five letters of complaint with the agencies that formerly employed the 51, including the CIA -- which counted 43 of its former officials among the group -- the National Security Agency, the Director of National Intelligence and the Department of Defense.

Each letter complains of "an egregious breach" by former agency employees "that appears to have been overlooked by your agency, as it has gone uninvestigated and certainly unpunished. Specifically, the unauthorized publication and dissemination of an intelligence assessment, purportedly based on classified information, that was used wrongfully to influence the outcome of an election."

It points out that each of the Dirty 51 was "bound by the lifelong obligation" to submit the letter to their former agencies for pre-publication security review to ensure it didn't contain classified information, a process that could take several months. The letter then would have been stamped with a disclaimer that the agency was not vouching for its accuracy.

"That would have destroyed the usefulness of the document," says Parlatore, "plus the process would have delayed it so long, it would not be useful" because the election would have been over.

...

The next step for Parlatore is to file a letter with the Federal Election Commission, requesting that the Dirty 51 letter be recorded as a campaign "in-kind contribution."

Then will come litigation against the 51 and the Biden campaign in US District Court, in pursuit of any link between Democratic operatives and the letter.
Piers Morgan's ratings hit lowest levels yet in the UK.
I'm guessing Morgan is doing some kind of deal where the does shows for both the US (Fox) and the UK (TalkTV), with some shared material and some material tailored for the local audience.
I don't know how he's doing in the US, but he's failing as hard as CNN+ in the UK.
Uncensored is struggling to keep up viewership, with an all-time low of just 10,000 tuning in on Wednesday night.

Piers returned to our screens with a bang last night, just over a year after sensationally storming off the set of Good Morning Britain.

He was hoping to 'cancel the cancel culture' in a brand-new, no holes barred weeknight show, with fiery guests such as Donald Trump and Caitlyn Jenner appearing so far.

But despite managing to draw in nearly 400,000 viewers on his debut show, new data shows his latest episode attracted its lowest figures yet.
I hate this guy.
New Zealand plans to fight the Inflation Fire by throwing stacks of paper money on to it!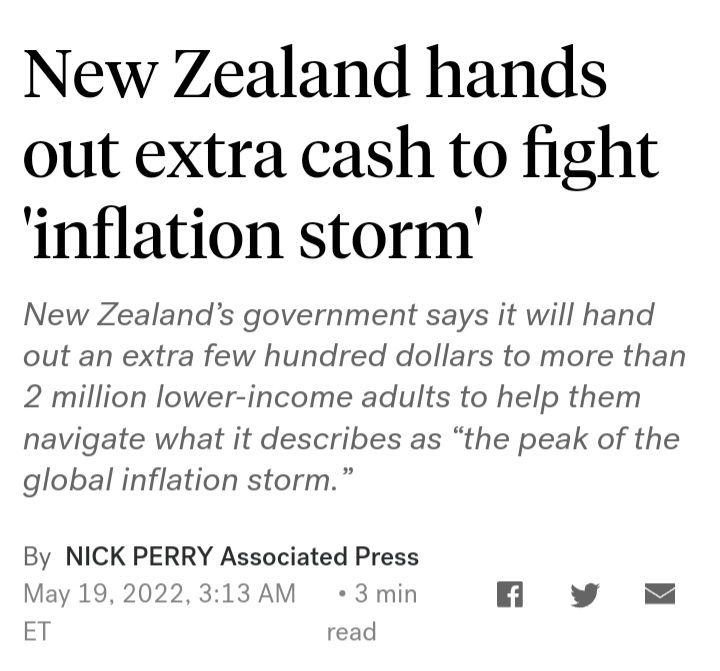 Tom Elliott
@tomselliott


@NPR setup a private snitch line for ratting out workers not obeying their anti-science mask rules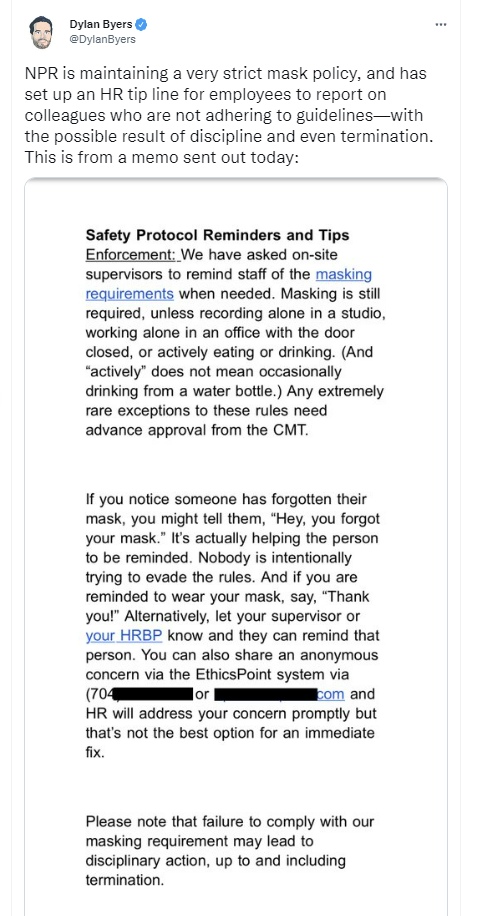 NPR's Snitch-a-Bitch Karen 911 line is perfect.
Two children hospitalized due to Biden's baby formula shortages.
They sadly will not be the last.
At least two children in Tennessee are being treated at the hospital due to the nationwide formula shortage.

According to WMC, neither doctors nor their families can find the formula these children need on store shelves.

Officials say both children are at Le Bonheur Children's Hospital in Tennessee, and they both have special medical needs and the normal formula they use is out.

"This is a crisis for us in health care," said Dr. Mark Corkins, a pediatric gastroenterologist at Le Bonheur Children's Hospital.
The children at risk are those with special dietary needs or allergies.
...

"This is not every child, not normal children, but literally the formula recall has led to these children requiring hospitalization," Corkins said.
Video report here.
When the Biden administration shut down the Abbott plant, they had no plan, none at all, for what would replace that production capacity.
He didn't have any plan or care what would replace the shutdown of US oil production, either, of course. At least that stupidity isn't killing babies.

That "Chicago Thinker" journalist, just a freshman at the U. of Chicago I think, grills Jen Psaki about her encouragement of "protesters" to march on the homes of Supreme Court justices.
She claims she didn't encourage the protesters, but she specifically said "I encourage them to continue doing so..."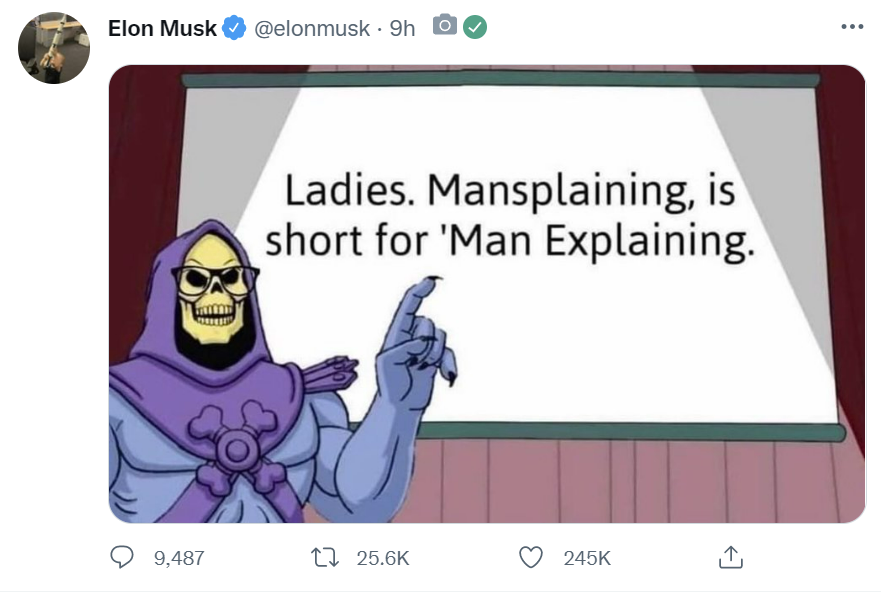 posted by Ace at
04:23 PM
|
Access Comments