« Notes of a Meeting Between FBI and DOJ Reveal FBI Repeatedly Lying to Justify Trump Investigation
Hillary Clinton's Toady Robbie Mook Admits Hilary Clinton Approved the Alfa Bank Hoax, But Claims She Didn't Order Sussman to Take it to the FBI
|
Main
|
Quick Hits 1 »
May 20, 2022
Netflix Cancels Critical Race Theorist Hustler Ibram X. Kendi's "How to be an Antiracist Baby" Cartoon Show
Oh, and Also: Batman's Gay Now
Before getting to that: When is Discovery/Warner going to cancel DC Comics?
DC Comics is dying. Its one gimmick is to announce a new character is Suddenly Gay every week.
The one character you'd've thought they'd have never made Suddenly Gay is Batman, the only character they have who reliably sells merchandise and comics and movie tickets.
Well, you'd've thought that.
But you'd've thought that wrong.
Because everyone is now gay in the DC Comics Universe.
Including, now: Bruce Wayne/Batman himself.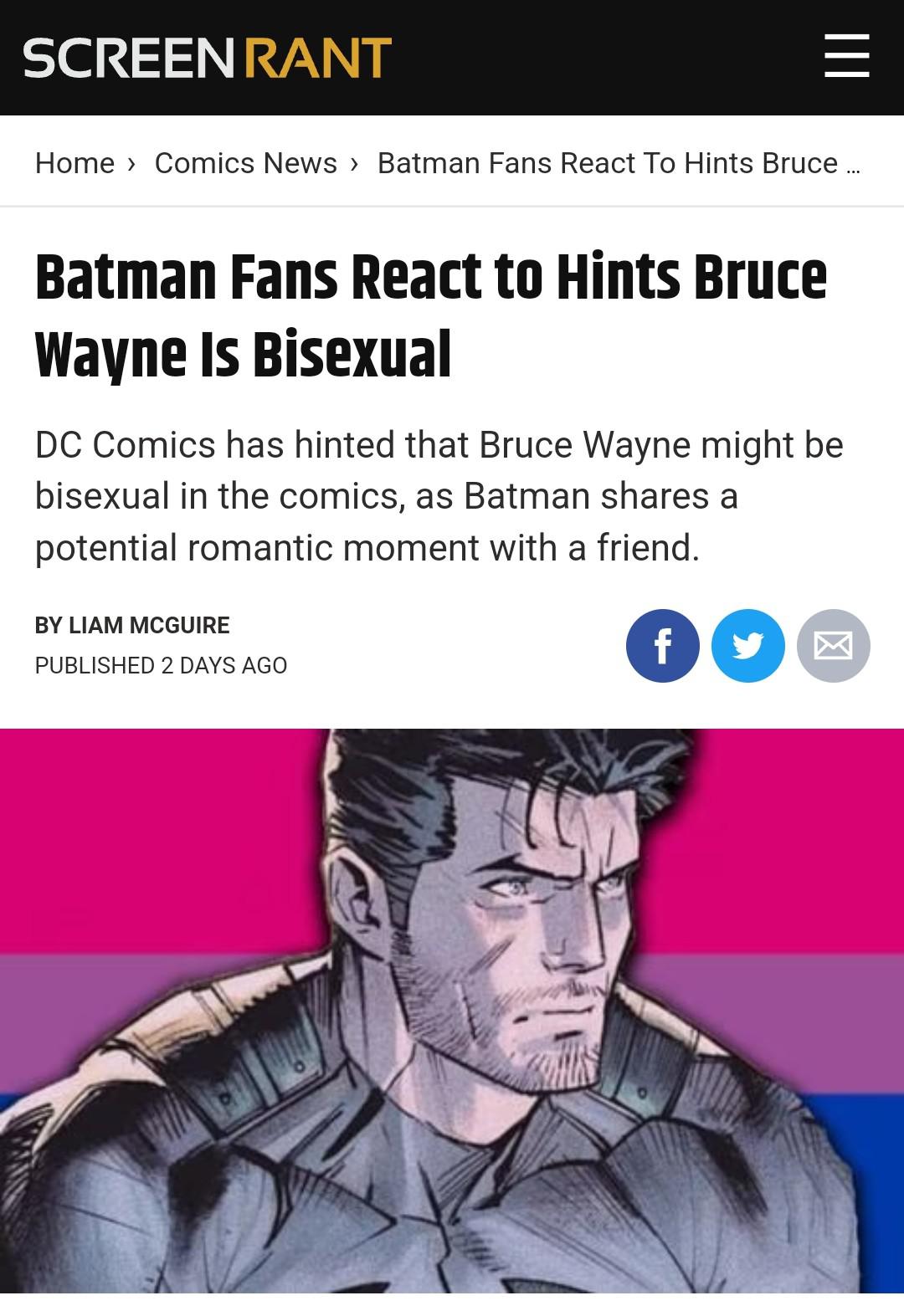 Not content to make Robin gay, Superman gay, Alfred gay (in a different chronology), Poison Ivy gay, Harley Quinn gay, Starfire gay, Vixen gay, etc., etc., etc., DC has just gone full LGBT YOLO! and had a young Bruce Wayne, while going "around the world" getting "instruction" in the various "skills" he needs to "beat up men" in the "night," leaning in for a smooch with a hot Latin guy who's "training him."
Now I know what you're thinking: Surely this is just another Wishful Thinking bit of nonsense from Clickbait bloggers. Surely DC wouldn't make Bruce Wayne gay.
Well... I don't think it's clickbait. It's open to interpretation, but I definitely believe DC intends this as the interpretation.
And they released these panels as a teaser to sell the upcoming comic. They knew people would talk about these panels. They intended it.
So you tell me.
Is this suggesting that Bruce Wayne is bisexual? I mean, look at them here. And the dialogue -- from a woman, no less.
"Gentleman -- am I... interrupting anything?"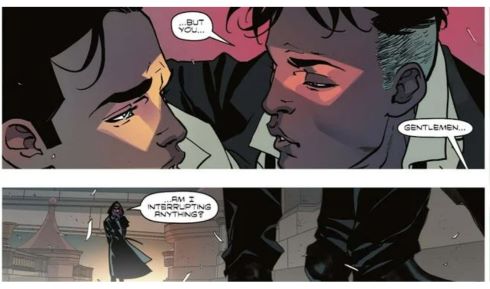 And the eyelashes. They have eyelashes like Disney Princesses.
The only word I can use to describe these two smoldering joyboys' Lash Game is: fierce.
So there you go. Batman is now gay too.
That's not an alternate chronology or an Elsewhere. That's flashback in the main universe's Bruce Wayne's history.
Anyone left? Is Killer Croc safe or are we going to find out that he holds Raves down in the sewer?
On to Netflix, which is actually attempting an emergency readjustment.
When your stock price falls 30% and you're slated to lose two million subscribers, you take a look at the Virtue Signaling racist crap you're spending money on and you say, "Nah."
Among those pricey shows ordered in the Era of Plenty? A cartoon based on noxious racist Ibram X. Kendi's "book" about how to... how to lecture white babies about their White Privilege and status as oppressors.
Netflix has pulled the plug on several animated projects, including "Wings of Fire," from executive producer Ava DuVernay; "Antiracist Baby," a series aimed at preschoolers; and "With Kind Regards From Kindergarten," a film tailored to youngsters.

The streaming service also scrapped "Stamped: Racism, Antiracism and You," a documentary intended to serve as a companion piece to "Stamped From the Beginning, which is a hybrid documentary and scripted feature that delves into race in the United States. "Stamped From the Beginning" is still moving forward and is currently in post-production.
If I had to guess: "Stamped From the Beginning" is a much, much cheaper show. Not only is it live action, which is already cheaper than animation, but it's also a mix of talking-head documentary, which is very very cheap, with some light "scripted" parts which will just be vignettes.
My guess? They decided they couldn't cancel all of the Ibram Kendi nonsense without being called "racisty racists who racist" so they said, "What's the cheapest piece of shit we have from this idiot that can keep in production?"
Sources at Netflix stress the decisions not to move forward with these projects were creative rather than cost related, meaning they would have taken place regardless of the company's slower revenue growth.
That's kind of even more of a knock, isn't it? That's like telling a girl you're breaking up with, "It's not that we want different things in life, it's just that I don't find you attractive or likable."
...

"Antiracist Baby," based on antiracist scholar Dr. Ibram X. Kendi children's book of the same name, was imagined as a series of animated vignettes set to music for preschoolers.
It was "imagined"? Really? Because I don't see much imagination there. "We'll run some cartoons with music, and it'll be for little kids!"
Wow, what a pitch! Will the cartoons have bright colors, too?
Kendi also wrote "Stamped: Racism, Antiracism and You," which will no longer run in tandem with the adult-skewed "Stamped From the Beginning." Those three projects were being made to examine racism for audiences of all ages.
Just cradle to grave, racism, racism, racism.
Netflix will continue funding stuff that people might actually like to see, like a Jurassic World and Kung Fu Panda cartoon. Which I assume will not be entirely about White Supremacy and Systematic Oppression (for preschoolers!).
I'm glad that Ava DuVernay is getting her heavily-gilded wings clipped: Ava DuVernay, a woman who had one hit, which was itself overpromoted, and has been given one deal after another, almost all of which have failed. She runs the "non-profit" ARRAY company, which specializes in placing "diverse" people in roles and staffing positions, and collects a lot of money for various projects. And while it's a "non-profit," the principles in a "non-profit" don't "work" for free!
She's really riding this George Floyd Guilt Train to undeserved wealth.
Discovery/Warner just cancelled "Naomi" on the CW, which DuVernay was producing, after just half a season. Naomi is one of DC's new, terrible heroes, who is basically just a Superman ripoff character, except, plot-twist, she's a black teenaged girl.
Superman is a bad character to ripoff. His powers are not all that interesting -- they were original 65 years ago, but now people just take them as the jokey, "generic" superhero powers.
They're also too strong, which makes him very hard to write for.
So why create an overpowered Superman clone?
For a simple reason: Because the virtue signalers at DC, and Naomi's creator, the white liberal Brian Michael Bendis, have one other trick, besides turning characters gay, and that is inventing derivative characters who are race and gender swapped versions of iconic legacy characters.
And they wanted to be able to say "the strongest and most powerful character in the DC Universe is not Superman, it is a teenaged black girl named Naomi."
Which is what they did began claiming.
In a stunning new display of her powers, Naomi just proved she's the current Justice League's strongest hero, as she just unleashed abilities she didn't even know she even had. In Justice League #74 by DC Comics, Nabu instructs Naomi that she can manipulate magic, putting her in a class all of her own among her fellow heroes on the superteam. She uses her newfound powers to take down one of the most terrifying threats in the DC Universe.
And no one cared. Because no one who's not 1, between 8 and 11 years old and 2, currently in a geek argument about superhero power levels has any interest at all in "who's the most powerful" superhero.
Hey, remember when Marvel decided that all it would take to make Captain Marvel super-popular was to make her the absolute strongest and most stunningest and bravest character ever?
So DC, which is even stupider than Marvel because they do all the same shit as Marvel after Marvel does it, and after they see Marvel fail while doing it, also decided to make Naomi super-popular by just saying she was the most powerful character ever, stronger than Superman and full of super-powerful magic that she didn't even know about too, just so they could say, "Our strongest hero is a black teenaged girl."
So they made a nothing character last year and gave her Superman's powers -- plus all of Shazam's powers -- but none either character's legacy, history, or historical impact.
Which is important stuff.
And then they rushed out a show for her, which promptly failed, because... who the hell is Naomi? Who cares?
They made her up last week. Here, I just made up a character. His name is Robert and he's Super-Gay and he can shoot Fabbo-Rays out of his eyes with the searing power of a billion pink suns. He's a Triple Omega Level Mutant and he can kill all of the DC Universe without even trying and also that's his thing, he doesn't even try. He gives no effs on a Cosmic Scale.
Also, he likes chai.
I can see a real "Will they/won't they" thing with Batman, seeing that they're both gay.
Give me a show on the CW. I'd like him to be a major player the next Justice League movie. I'm very proud to have created this diverse and exciting character that will bring needed Representation to the DC Universe.
Can we get some of these Netflix executives and put them in charge of the DC portfolio?
100 Riddle me this Batman:

Well groomed and wealthy,
Hangs out with young boys,
Folsom Street's the answer to:
"Where does he get those amazing toys"

Posted by: Bitter Clinger