« Daily Tech News 17 May 2022
|
Main
|
Mid-Morning Art Thread »
May 17, 2022
The Morning Report - 5/17/22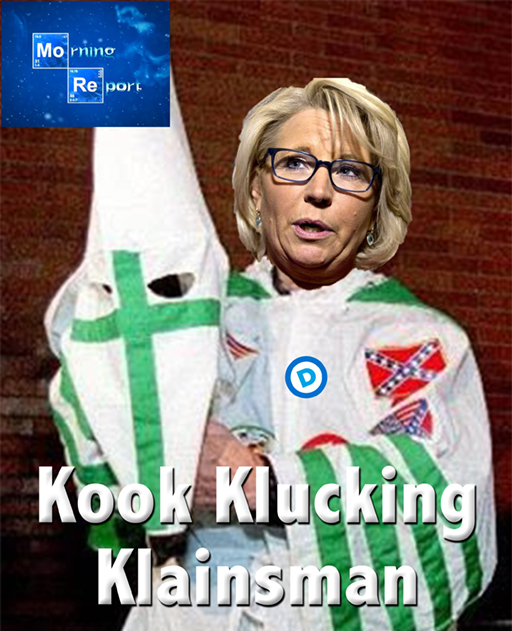 Good morning, kids. Tuesday and the Left keeps plucking the white supremacist, racist and gun control chicken even as it is beyond a shadow of a doubt that the shooter at the Buffalo, NY market was a disturbed Leftist - but I repeat myself - a "leftwing authoritarian" in his own words. No matter. The Democrats have lain waste to our economy, our national security, and our society in record time, and with a theoretical reckoning coming this November. But if it's flightless and has a cloaca, it's going to get it in the end.
More and more Democrats are getting frustrated and angry at what they along with the rest of us are being put through. And they're turning their guns - no pun - on their party. But you know how I know the Left is desperate? They're forced to resort to scum like Liz-ard Cheney and Adam Kinzinger to spew their lies.


With Republicans like Rep. Liz Cheney (R-D), who needs Democrats? On Monday morning, Cheney sounded like Nancy Pelosi as she tweeted a prime Democrat talking point: "The House GOP leadership has enabled white nationalism, white supremacy, and anti-semitism. History has taught us that what begins with words ends in far worse. @GOP leaders must renounce and reject these views and those who hold them."

Cheney was referring to the fact that Rep. Elise Stefanik (R-N.Y.), who replaced her as chair of the House Republican Conference, has criticized Democrat plans to "grant amnesty to 11 MILLION illegal immigrants." Cheney is picking up on the Leftist talking point that this means that Stefanik believes in the so-called Great Replacement Theory, the idea that there is a systematic plan to replace white Americans with non-white migrants. Since a mass shooter in Buffalo, N.Y. who identified as a white supremacist just murdered ten people, this must mean that Stefanik endorses white supremacy and likely mass murder to boot. Got it?

This is a new low even for Cheney, as well as for her fellow Republican-Democrat Rep. Adam Kinzinger (R-D), who tweeted Saturday: "Did you know: @EliseStefanik pushes white replacement theory? The #3 in the house GOP. @Liz_Cheney got removed for demanding truth.  @GOPLeader should be asked about this. Stefanik Blasted for 'Despicable' Facebook Ads Pushing 'Replacement Theory.'" Kinzinger linked to a September 2021 Newsweek article with that title, which acknowledged seven paragraphs down that the whole thing was a smear, for Stefanik had actually said nothing whatsoever about "white replacement"; it was apparently another one of the "dog whistles" that Democrats are so fond of finding. Newsweek quoted an editorial from Stefanik's hometown newspaper admitting that "Ms. Stefanik isn't so brazen as to use the slogans themselves," while claiming that "she couches the hate in alarmist, anti-immigrant rhetoric that's become standard fare for the party of Donald Trump. . . "

. . . And now the murderous rampage in Buffalo has enabled Leftists, and Cheney, to claim that not only are Republicans enabling white supremacy but also that their words lead to violence. Words did not lead to violence in 2019 when a self-identified Leftist gunman who said that he supported Elizabeth Warren murdered nine people; words only lead to violence and are only racist, for that matter, when conservatives say them, especially when they challenge core Democrat policies for which there is no adequate explanation.

Stefanik's office issued a statement hitting back hard: "Any implication or attempt to blame the heinous shooting in Buffalo on the Congresswoman is a new disgusting low for the Left, their Never Trump allies, and the sycophant stenographers in the media. The shooting was an act of evil and the criminal should be prosecuted to the fullest extent of the law. Despite sickening and false reporting, Congresswoman Stefanik has never advocated for any racist position or made a racist statement."
Fuck these two in the heart with a steak knife. In any case, as I said, no one's buying this, especially since this Leftist's manifesto clearly shows him to be a Leftist. But let's not let that stand in the way of a good story. It's obviously mal-, mis- and disinformation. Just like the Joo-hating, white-hating, Chinese-hating, America hating black guy who went on a shooting rampage in Brooklyn. You best believe he's a white-supremacist "Ultra-MAGA" man!
Pathetic. But typical. It's not going to work. Hell, if the potential for Roe v. Wade to be tossed didn't move the needle, this incident, horrid in real terms as it is, sure as hell isn't.
The End of America: 100 Days That Shook the World available here.


NOTE: The opinions expressed in the links may or may not reflect my own. I include them because of their relevance to the discussion of a particular issue.
ALSO: The Morning Report is cross-posted at CutJibNewsletter.com if you want to continue the conversation all day.
Follow us on Twitter: @CutJibNews
Follow us on Instagram: @Cutjibnewsletter

posted by J.J. Sefton at
07:28 AM
|
Access Comments