« Food Thread: [Oops...forgot a headline!]
|
Main
|
Sunday Overnight Open Thread (5/15/22) »
May 15, 2022
Gun Thread: The Gods Are Angry Edition!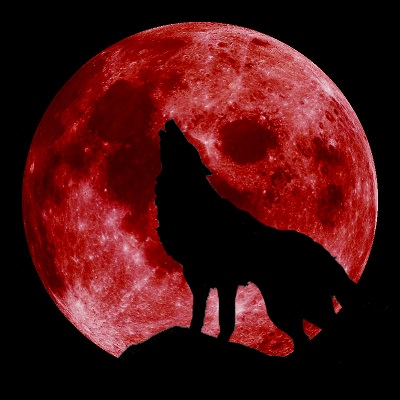 Something is happening to the Moon!
Howdy, Y'all! Welcome to the wondrously fabulous Gun Thread! As always, I want to thank all of our regulars for being here week in and week out, and also offer a bigly Gun Thread welcome to any newcomers who may be joining us tonight. Howdy and thank you for stopping by! I hope you find our wacky conversation on the subject of guns 'n shooting both enjoyable and informative. You are always welcome to lurk in the shadows of shame, but I'd like to invite you to jump into the conversation, say howdy, and tell us what kind of shooting you like to do!
I made a quick jaunt to the farm-o on Thursday to check on things. Things was good but I didn't hang around long enough to do any shooting. I was able to confirm the organic grass and weeds are vigorously growing, and I will need to spend a day or two beating that into submission on my next trip down.
A quick peek at the calendar tells us it's still May, dammit! In fact, it's not only May, but it's May 15th! Yikes! What happens after May? Well, June happens after May which menas the 2022 NoVaMoMe on Saturday, June 11th, is next month! Our pal bluebell is busy working her little fingers to the bone for the benefit of you people so at least you can show up and marvel at her extreme niceness! C'mon, man! Do I really have to beat you over the head with this? You know you like the blog because you are reading it, or at least you like looking at the pictures, so why not come out of the shadows and meet some of the faces behind the Nics? I don't care how big of a weirdo you are in real life, just come to the dang thing and meet some really very nice people. See below for details and registration info!
It's also MoMe season, with other Moron gatherings on the calendar in Colorado, Washington, Alaska and Texas. Holy Shitballs! It's a dang MoMe-palooza! Take a peek at the main page left sidebar, find a MoMe near you, and sign up to attend one. You won't regret it!
Programming Note: I'll be out of town on a secret mission this coming week so you may see some GT re-runs next Sunday. Thanks for your patience and understanding!
With that, step into the dojo and let's get to the gun stuff below, shall we?
******
Sig P239
I suppose it's time to feature a pistol again since we've had a bunch of revolvers lately. This week we have a 9mm Sig Sauer P239 which is in the rotation as a carry gun. Now a discontinued model, I bought this one used in 2012 and think it dates to around 2005. Never a fan of polymer guns, the all metal P239 is DA/SA, has Trijicon night sights and a single stack 8 round magazine. I added a Sig Short Reset Trigger (SRT) not long after acquiring it which makes the trigger reset, well, shorter. Sig charges $100 for the work but as a highly trained Sig Armorer, I was able to drop it in myself with minimal hammering, lost parts and cursing. As is my wont, I also added Hogue combat grips. It is very concealable and a great little shooter, and is probably my favorite 9mm in the WeaselCollection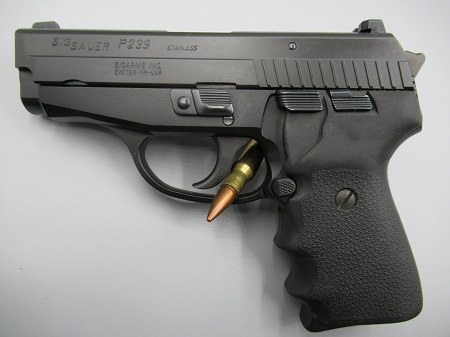 Left side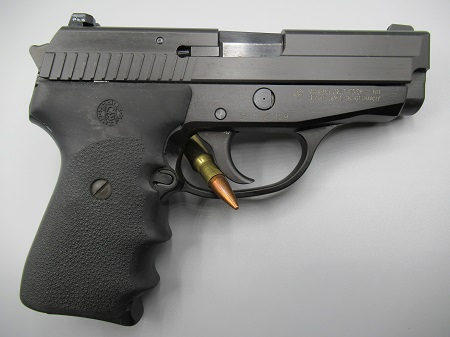 Right side
Here is a good review of the P239 from GunMag Warehouse, and another from The Truth About Guns.
What do all y'all think regarding the capacity trade-off a single stack magazine represents for concealability? How about polymer vs all metal guns in general?
******
First up our pal blaster sends in a Mother's Day range trip report.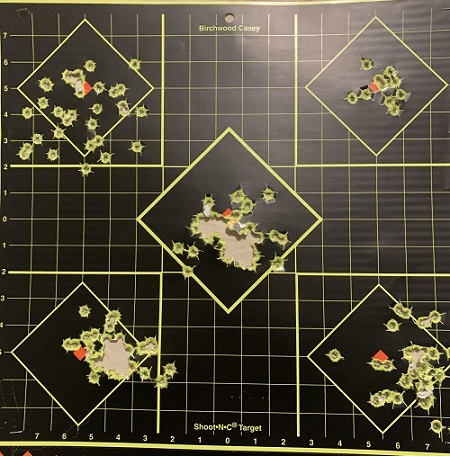 For Mother's Day sra blaster and I took two of the kids to the range to shoot her presents. One present was an Extar EP9 with the famous Gaialoop $25 red dot.

This was the result of one funstick per shooter. Ignore the upper right target.

I was in the center, 21 yo son on lower left - his second or third time shooting either that kid is a natural or the video games are better training than I imagined!. Lower right is 16yo daughter and it was her first time shooting. Upper left is mama and her group is uncharacteristically loose.

And to close the range gave her a rose as we were leaving.
Wow! Man, that's some shooting right there! I know sra balster is a shooter, but evidently the chirrun' are too! Must be in the DNA. Thanks for sending this in!
******
Lemon Squeezer
Next up, or pal
WTM
recently ran across this image on Quora, and decided to share a real classic with us!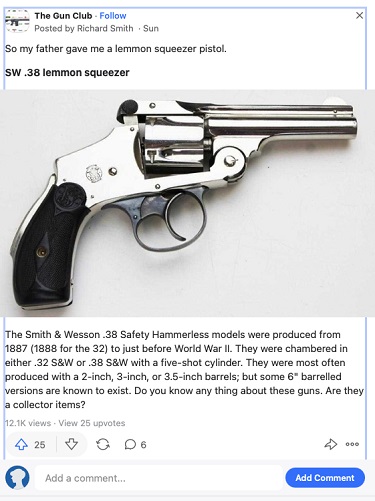 I am thinking that this is a firearm that relatively few of the morons have ever seen. So I went into the vault and dug mine out.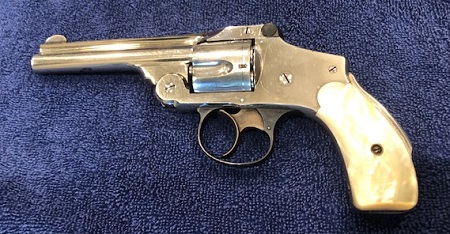 Yes, it's loaded. .38 S&W caliber. With original mother-of-pearl grips. It is indeed a collectors' item.

This was my paternal grandfather's gun. During the Depression, he lost his farm in east Texas and moved to Dallas, where he became a guard at the Dallas City Jail. He had to furnish his own weapon, and eventually this gun became it. He obtained it at a Dallas pawn shop.

I say "eventually" because his first gun as a guard was a M1917 S&W in .45ACP/Auto Rim. But it eventually got to be too much for him to handle (he had to qualify annually) and so he gave the .45 to my father, and my brother now has it. I got this one.

Pretty stout trigger pull, but I do shoot it occasionally. One of the few handguns I own for which I do not reload.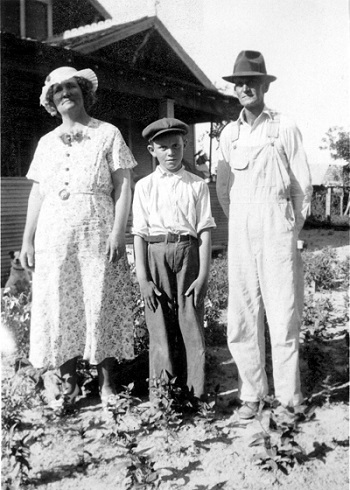 WTM 's father and grandparents in 1939
My paternal grandmother became a nurse during WWII, and she was on duty in Parkland Hospital the day JFK was assassinated. She saw JFK being wheeled into surgery and she immediately knew that he was dead - no one could have survived such a head wound. She then called my mother to tell her so, and so my mother was probably the first private citizen to know that JFK had in fact been killed by an assassin.
Wow, thanks WTM! That's a great example, and you're right - not something you see everyday! Also cool story regarding grandma and JFK.
******
Next up, our pal Lurker saw last week's Gun Thread and the Smith & Wesson Model 19, and passed along the story of one he was the boss of for a little while.
Checked out the Gun Thread today and saw the S&W 19-3. I had a very nice one in my hands for a few weeks. A friend died and his widow had me sell all his guns. The proceeds went to a local Conservation Club to support youth activities and hunter education. Youth activities include trap shooting and archery. Proceeds also bought a Mossberg 5 gun training set for hunter education. The S&W 19-3 in 6" was one of the prime guns in the collection. Two BAR, one 30-6 and one .308, along with a Walther Model 8 were the better guns of the 10.
That is a very nice looking gun, Lurker! Thanks for sending it in. Tell me, weren't you at all interested in buying it? Very nice of the widow to donate the proceeds to a worthy cause, and very nice of you to help her do so. Thanks again!
******
Ever wonder what was involved in re-boring a rifle? Here Larry Potterfield of MidwayUSA shows us how it's done.
Ever wonder how not to do it? Here is a longer video with a guy who must say a dozen times he's not doing it the right way. You decide.
******
Astronomical Happenings Not Involving Uranus
Q: Weasel, is there an eclipse of the planet of the moon tonight?
A: Why yes, yes there are!
Big doing's in the sky tonight with a Lunar Eclipse beginning at 9:32:05 EDT. As you all know, ette's are strongly encouraged to dance naked in the eclipsed moonlight, and that's not the only ancient tradition we must follow, such as shaking spears at the phenomenon to chase it away.
******
Gun Basics 101
Recently I received an email asking for information on "at home" laser training systems. We have looked at a number of them in the past, and here is the SEH gal with the original Mantis X product and the Mantis Laser Academy product. A SEH two-fer!
******
Cigar of the Week
Our pal and chief Gun Thread cigar correspondent rhomboid brings it with another excellent cigar review. Thanks rhomboid!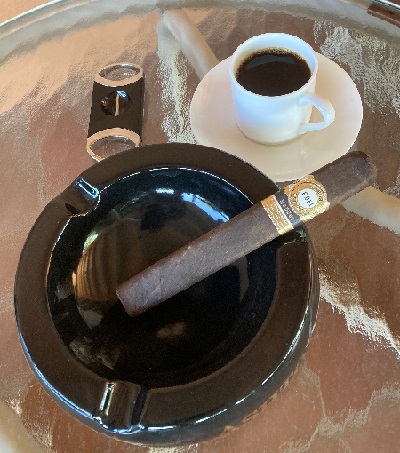 The Perla del Mar Maduro in Toro size. A box-pressed medium-bodied stick with a dark chocolate colored wrapper of Connecticut broadleaf, with Nicaraguan fillers. Nice mellow profile, some hints of cocoa to my palate. Easy draw and pretty even burn. Good candidate for those wanting to try a slightly stronger profile than usually found in mild Connecticuts. Shown here with Turkish coffee, a perfect pairing. A traditional line from Cuban days, brought back by J.C. Newman, based in Florida. They can be found online for $34/5-pack.
***
This week Cigar Vixen takes us on a tour of La Aurora factory in the Dominican Republic.
******
ATTENTION NoVaMoMe 2022!!
The social and cultural event of the season, NoVaMoMe 2022 is on the calendar! That's right, you people have a chance to meet many of your online pals on Saturday, June 11th beginning at 1pm until dark, or such time as it gets busted up by the cops. We have an exciting location in the Northern Virginia area which allows extended time for visiting. Admission is $25 which includes food and soft drinks, with a cash bar. This year the menu is BBQ chicken and pork with the usual sides and cookies for dessert. Appetizers begin just after 1pm and dinner is 3pm. Want to be one of the cool kids? Just send an email to novamome at protonmail dot cee oh emm, pass the rigorous screening process to obtain registration details, then sign up to attend! Easy-Peasy!
Each year, I spend a fair amount of time haranguing people to come to a MoMe. Any MoMe! I cannot overemphasize how much fun these things are, and how much we want YOU to come! We plan for the crowd in general but also consider the needs of the introvert lurkers and provide plenty of potted plants for those so inclined to hide behind. All kidding aside, you are completely welcome to slink-in, eat, drink and people-watch, and then slink-out. It is a 100% zero pressure event. If you can handle a backyard picnic, you can definitely handle this.
Win a Dream Date with Weasel!
Back by tepid demand, a separate raffle for the Gun Thread gift basket will be held. This fabulous prize includes an entire day of shooting and personalized one-on-one handgun & rifle coaching and instruction at Weasel Acres on a mutually agreeable date with yours truly. The lucky winner will be able to not only bring and shoot their own weapons, but also try out a variety of WeaselWeapons using WeaselAmmo!

We will end the day with dinner at a good Mexican place in nearby Appomattox. Pretty much a dream date with Weasel! The winner will be responsible for their travel to and from Central Virginia, hence the separate drawing.
Don't be a pathetic girly-man loser, register today!
******
Link-O-Rama
I'm really very seriously not kidding around anymore. Buy Ammo
AmmoSeek - online ammo search tool
GunBot - online ammo search tool
SG Ammo
Palmetto State Armory
Georgia Arms
AmmoMan
Target Sports USA
Bud's Gun Shop
***Mail Bag***
This week's mailbag entry is from our pal WTM. So true!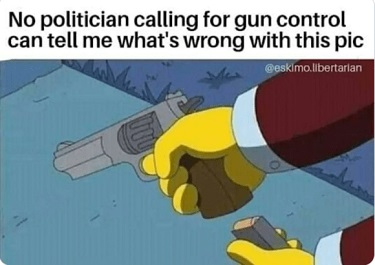 ******
Please note the new and improved protonmail account gunthread at protonmail dot com. An informal Gun Thread archive can be found HERE. Future expansion plans are in the works for the site Weasel Gun Thread. If you have a question you would like to ask Gun Thread Staff offline, just send us a note and we'll do our best to answer. If you care to share the story of your favorite firearm, send a picture with your nic and tell us what you sadly lost in the tragic canoe accident. If you would like to remain completely anonymous, just say so. Lurkers are always welcome!
That's it for this week - have you been to the range?


posted by Weasel at
07:00 PM
|
Access Comments