« Lori Lightfoot Tells Alphabet Army They're In Physical Danger From Supreme Court, "Calls [Them] To Arms" to "Fight" Even As Antifa Black Bloc Terrorists Menace Justices
|
Main
|
Despite Propaganda Media's Insistence That Inflation Is "Moderating," Producer Price Index Accelerates to 11% »
May 12, 2022
SUPREME COURT WILL ISSUE UNKNOWN NUMBER OF OPINIONS ON MONDAY
Lila Rose @LilaGraceRose


BREAKING: The Supreme Court has announced they will be issuing opinions this Monday.

That means we could have a final decision in Dobbs, the Case that should overturn Roe v. Wade, the ruling that has led to the slaughter of over 60 million innocent children since 1973.
Even if they're releasing some opinions on Monday doesn't mean they're releasing Dobbs.
Although it would make the most sense to hurry up and release Dobbs ASAP, putting that ahead of all other decisions.
SCOTUSBlog confirms, but says, next Monday.
Comrade Flounder says "next Monday" just means "this Monday." I thought that this Monday was this Monday and next Monday was, you know, next Monday. The Monday after this Monday.
I'm not good with dates or times or names or numbers or spelling or details or overviews or big pictures.
SCOTUSblog @SCOTUSblog

NEW: Next Monday will be a Supreme Court opinion day. Starting at 10 a.m. EDT, the court expects to issue one or more decisions in argued cases from the current term.
Via Sharkman, from the Supreme Court's own page: It's this Monday, the 16th: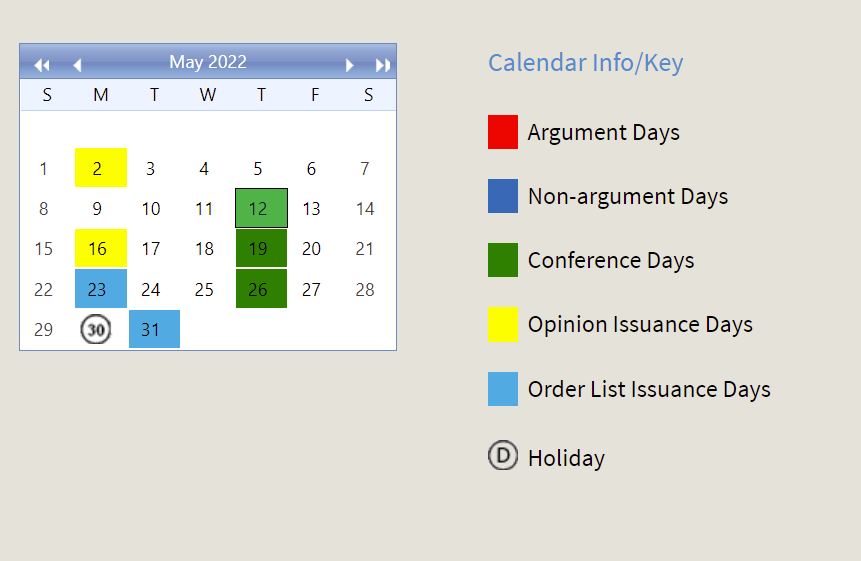 Meanwhile, Nancy Pelosi is deliberately putting the Justices' lives in danger by dicking around on a vote to give the Justices taxpayer-funded police protection. As of the moment, they have no more federal protection than you or I do. (Although the governors of Virginia and Maryland have stepped up this past week to assign their own cops to help protect them.)
The House is playing games with the Senate bill, inserting what they know is a "poison pill" which the Senate will reject, extending Secret Service protection to... the 50 clerks as well as the nine justices, which is silly and just results in the justices not being protected.
Which is of course the plan. The Democrats want to create the opportunity for their antifa/black bloc allies to kill their enemies.
Meanwhile, Democrats are sitting on the bill as a general matter, giving their antifa assassins as much time as possible to plot their attacks:
House Majority Leader Steny Hoyer (D., N.Y.) said Tuesday that Democrats are "certainly going to look" at the bill, but declined to provide a timeline on when to expect a vote. House Democratic Caucus chairman Hakeem Jeffries (D., N.Y.) told reporters on Tuesday that he has not even read the single-page Senate bill.

"I assume the appropriate committee will review it," said Jeffries, who is favored to become the next Democratic speaker.

The lack of urgency from House Democrats comes as leftwing protests have erupted outside the Supreme Court and the homes of conservative Justices Samuel Alito and Brett Kavanaugh in response to the leak of a draft opinion overturning Roe v. Wade. On Saturday, a pro-life clinic's office was firebombed in Wisconsin. Those incidents, Republicans say, mean enhanced security is necessary as soon as possible before things escalate.


...
One senior Republican aide accused House Democrats of "slow walking" the bill out of fear they do not have the votes for it to pass.

"Democrat leadership wants to stall this bill because they're convinced inciting frenzied protests against conservative justices is their last best chance to regain some energy before the midterms," the aide said. "They're enjoying this and have every intention of riding it out as long as they can."
We'll be staging our own Insurrection Trials, Nancy.