« Elizabeth Warren: What Kind of Anti-Democratic Shithole Do We Live In When a Majority of 49 Can Be Thwarted by a Minority of 51?
|
Main
|
Lori Lightfoot Tells Alphabet Army They're In Physical Danger From Supreme Court, "Calls [Them] To Arms" to "Fight" Even As Antifa Black Bloc Terrorists Menace Justices »
May 12, 2022
Biden Will "Address" the Baby Formula Shortage... By Giving a Statement Only to His Fervent Supporters in the Leftwing Propaganda Corporate Media, Who Will Then Spread the Propaganda to the Rubes
And this way -- by having no pictures -- he keep the story off TV. He keeps it a less visually compelling story. He gets to put out his propaganda without having his lying decrepit face getting associated with "shortage in vital food for babies."
No president wants to be personally associated with a scarcity in baby formula that may literally result in dead babies. (Dead babies beyond the intended number.)
And the corporate propaganda media is eager to play along.
John Roberts @johnrobertsFox

Correction - @JoeBiden WILL hold a @whitehouse
event on the baby formula shortage. There will be NO COVERAGE of the event. Press corps will get a read out in a press call after the event.

Pretty sure the decrepit, brain-damaged fake president will blame the shortages on Ultra-MAGA, Putin's embargo of baby formula, Rick Scott, and greedy corporate executives at Big Baby Formula.
Mollie @MZHemingway

Not good for transparency or journalism but from a national security perspective, not a bad idea to keep audio/video of him, given his undeniable problems, to a minimum.
Irene F. Irene @irenefingirene

Replying to @johnrobertsFox

There's gonna be two tables with mounds of white powder - one cocaine and one baby formula - they will unchain Hunter Biden and his decision will decide your babies' future
Damn now I really wish there were pictures.
10 I like the strawberry banana formula best!
Posted by: Joe Biden's statement

Meanwhile-- there's plenty of baby formula for illegal aliens at the border.
Just not for Americans.
As American families deal with a shortage of baby formula across the US, a Florida Republican lawmaker has released images of dozens of boxes of the coveted product at a migrant processing facility near the US-Mexico border.

Rep. Kat Cammack shared images of "pallets" of infant formula at the Ursula Migrant Processing Center in McAllen, Texas on her Twitter and Facebook pages Wednesday.

"The first photo is from this morning at the Ursula Processing Center at the U.S. border. Shelves and pallets packed with baby formula," she wrote in a tweet. "The second is from a shelf right here at home. Formula is scarce. This is what America last looks like."

Cammack's office shared several additional images supposedly from the same location with The Post on Thursday.

The Post was unable to immediately independently verify the location of the images or obtain additional information on the history and frequency of shipments, as well as the distribution of the formula.

...

The images of the infant formula come as Americans face a nation-wide shortage stemming from a February recall.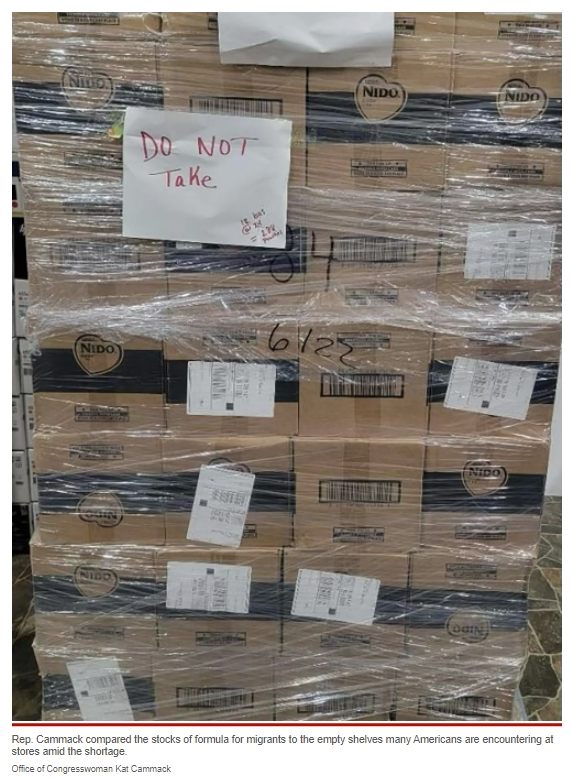 Her video is here.
Below: Biden screams again.

posted by Ace at
01:31 PM
|
Access Comments