« Wednesday Morning Rant [Joe Mannix]
|
Main
|
Computer Shop Owner Who Revealed Hunter Biden's Laptop and Was Defamed as a Kremlin Agent Sues Adam Schiff, CNN, Daily Beast and Politco »
May 04, 2022
True Conservative Evan McMullin: I Am a Pro-Life Utahan, Which Is Why I Strongly Oppose The Overruling of Roe V. Wade
Last month, Utah Democrats chose not to nominate an acknowledged Democrat candidate for Senate, choosing instead to endorse the " " " independent " " " candidate Evan McMullin.
In an extraordinary move on Saturday, Utah Democrats voted to back independent candidate Evan McMullin over Democrat Kael Weston to challenge the winner of the Republican primary later this year.

At the Utah Democratic Convention at Cottonwood High School in Murray, McMullin received 782 of the delegates' votes, around 57%, to Weston's 594 votes, preliminary results show.

It's an unprecedented measure for Democrats in a state with an all-Republican congressional delegation.
Evan McMullin was eager to accept his role as unacknoweleged Democrat candidate:
Evan McMullin @EvanMcMullin

ICYMI -- Over the weekend, Utah Democrats chose not to nominate a candidate and instead, join our cross-partisan coalition.
"Cross-partisan."
He means that in this heavily-Republican state, the Democrats are running a stealth Democrat candidate named Evan McMullin who claims to be an "independent" and who they hope can attract enough liberal former Republicans -- NeverTrumpers -- to beat the actual Republican, Mike Lee.
This is the technique the Democrats and the NeverTrumpers will be using throughout November to put their NeverTrump candidates across in Republican states -- after Liz Cheney loses the Republican primary, she'll announce an "independent" bid and Democrats will support it. Democrats have already announced as much, and Liz Cheney's camp is already talking that up.
Lisa Murkowski is already talking about not running as a Republican candidate but as a "centrist."
And in 2024, of course NeverTrump will launch a major well-financed (by Democrats) "independent" spoiler candidacy to make sure the Democrat beats Trump (or DeSantis -- they hate both, because neither is a liberal neocon).
And of course AllahPundit and the rest of the NeverTrump snowflakes will continue whining that the Republican Party is exxxxcluuuuuding them just because they're joining with the opposing party and running against actual Republican Party candidates.
So Evan McMullin is running as the Democrat in Utah.
But also as the, giggle, "True Conservative." One with "principles." LOL.
So what's he going to say about the leaked Supreme Court opinion overruling Roe v. Wade?
Well what he says is that he's a "Pro-Live Utahan" -- he has Principles and Will Never Retreat from past declarations -- buuuuuut that this ruling will cause divisions and so we shouldn't do that. We should all be united as Patriots for America while we pass "sensible legislation" that protects "women's health" and just support Roe v. Wade in the meantime, as True Conservatives do.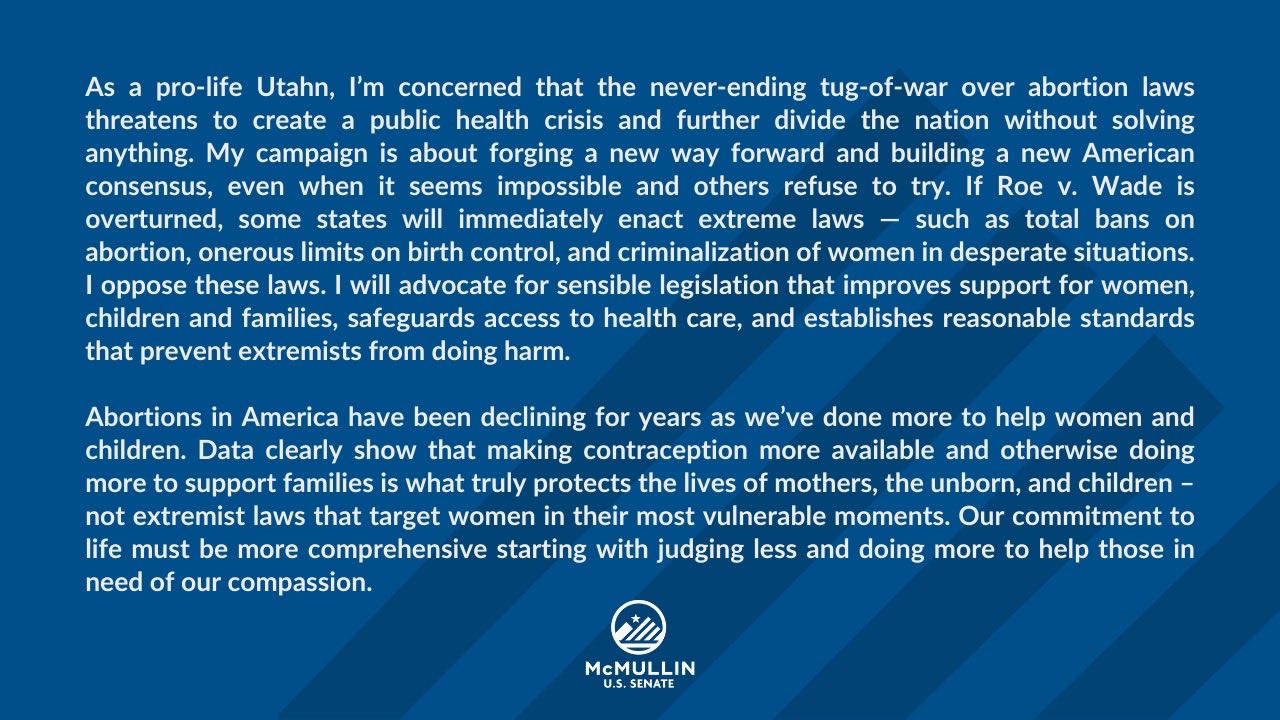 Incredible. Incredible.
And what was Evan McMullin's previous stance on Roe v. Wade, when he was pretending to be the True Conservative alternative to Donald Trump?
Of course, when he was pretending to be More Conservative Than Thou, he was all in favor of overturning Roe v. Wade, and in fact staked that out as a major point of differentiation between himself and Trump. (The man who actually managed to get Roe v. Wade overturned.)

I would say my claim that the GOP Establishment's pretense of being "pro-life," and of being "True Conservative," while in fact being pro-abortion and very, very socially liberal is looking more and more solid.
Remember, they said we couldn't vote for Trump because he wasn't really pro-life. I didn't really believe Trump was pro-life myself, but I knew that the GOP Establishment itself wasn't pro-life. They just lie about this to get social conservatives to support their very unpopular agenda of Corporate Service and poorly-conceived and badly-led wars.
So I thought it was just remarkable that people who were obviously pro-abortion down to their very cosmopolitan-liberal cores were accusing Trump of being a pro-choice cosmopolitan liberal.
And then Trump turned out to be pro-life in practice! I don't know if he's really philosophically committed on the issue, but, get this: It doesn't matter. He made promises and he kept them. I don't care if a businessman believes in a contract he signs with me; I just care that he honors the terms of the contract.
And Trump honored his contractual agreements a hell of a lot more than the "True Conservatives" of the GOP Establishment ever did.
Meanwhile, Mollie Hemingway reminds us that Mitt Romney is refusing to endorse sitting Senator Mike Lee, thereby signaling he really supports his fellow liberal NeverTrumper Evan McMullin.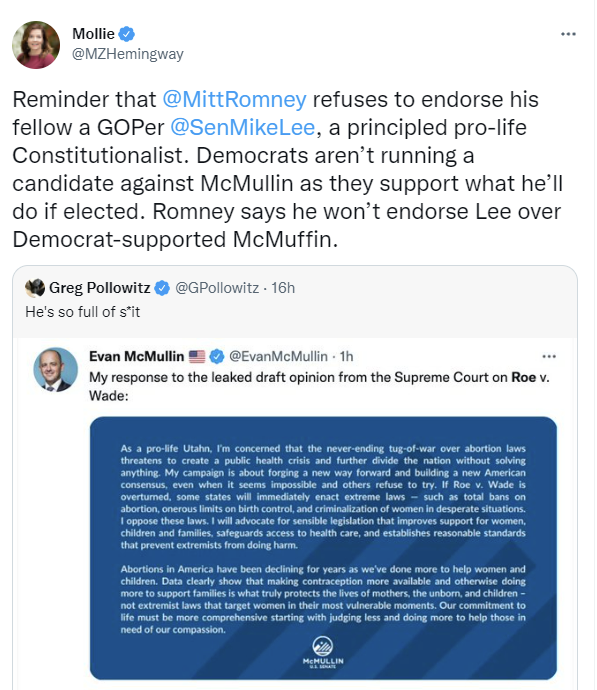 A little reminder of the liberal Mitt Romney's own history here: He ran for governor in Massachusetts stating that he fully supported abortion rights and Roe v. Wade. When he ran for President just a few years later, he claimed he'd lied to those Massachusetts yokels and had always been pro-life and against Roe v. Wade. Why, he'd been a stealth "severe conservative" all along, you see!
And yet he, like most of the rest of the pro-choice GOP Establishment, were horrified by Trump's position on abortion. Not that he was actually pro-choice, but that he would actually call their collective bluff and govern as a pro-life president.
And so now this True Conservative -- I mean, Severe Conservative -- is continuing to let Mike Lee dangle as the pro-abortion Democrat Evan McMullin threatens to win the seat.
Your daily reminder that the Conservative, Inc. grifter class was absolutely filled with urban cosmopolitan liberals who just saw conservatives and Republicans as marks for grift:

As I've said a thousand times: It is the fact that 80% of the "elite" of the party's apparatchiks were barely-disguised liberals that explains why no matter how often Republicans "win" elections, we never seem to actually win any policy victories. The GOP Establishment class of liberal gate-keepers makes sure that the conservative agenda can never actually gain any purchase in government or culture.

posted by Ace at
12:15 PM
|
Access Comments