« Daily Tech News 3 May 2022
|
Main
|
Mid-Morning Art Thread [Kris] »
May 03, 2022
The Morning Report - 5/3/22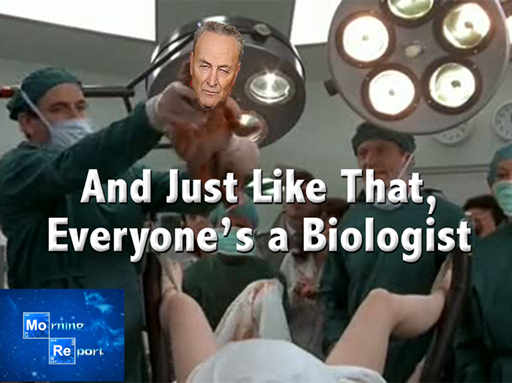 Good morning, kids. Tuesday and what I had planned on writing about this morning is right out the window. Evidently some future MSNBC pundit with the major book deal after the Kevin Clinesmith wrist slap for meritorious service - reading from his/her citation now - leaked a draft report from the Supreme Court, written by Justice Samuel Alito, that purportedly overturns Roe v. Wade in a brave attempt to preserve "our precious democracy" (*vomit*). The decision stems from a case before the court right now, Dobbs v. Jackson Women's Health Organization, No. 19-1392.
Breitbart contributor and legal eagle Ken Klukowski breaks it down with some granular analysis, but there is one crucial angle to this that I want to explore that dovetails rather well with our fundamental transformation into not just a gray, stagnant Euro-style socialist failure but a Godless, totalitarian police state that demands conformity and obedience or death.


. . . why this might not actually become the actual decision of the Supreme Court. It takes five votes on the nine-member court to make it a majority opinion. When cases are argued, the justices have a weekly closed-door conference on Friday at which they discuss the case, take a preliminary vote, and one justice from the majority is assigned the task of writing the opinion.

After that opinion is written, it is circulated to the other justices. That is when the negotiating begins, where justices say that they could join if certain changes are made, and others decide to dissent and organize that writing effort. Still, other justices join the majority judgment but write concurring opinions to emphasize some point important to them.

At any time during this process, justices can change their vote. And it happens. Often the cases do not grab headlines. But earthshattering decisions like the one upholding Obamacare in 2012, NFIB v. Sebelius, bears the hallmarks of being such a case.

This then appears to be an effort to intimidate a moderate conservative justice to switch sides, in which case this opinion would become a dissenting opinion, and a liberal justice's opinion would speak for the majority.

The threat here appears to be court-packing. In the 1937 Jones & Laughlin Steel case, two Supreme Court justices switched from years of their own precedents to reinterpret the Commerce Clause of the Constitution, fundamentally transforming the power of the federal government over the nation.

They did this in an unnecessary attempt to stop FDR's plan to pack the court with six new justices, for a total of 15. It was unnecessary because the plan was already collapsing, but the public intimidation convinced a couple of members of the court to virtually transform the nation.

Democrats have explored court packing over the past two years for the first time in eight decades. Doubtless many on the left will claim that now they have to do it.

Finally, the Supreme Court's credibility is at stake to see this through. If anyone switches their vote because of this, the court will take more than a generation to regain the trust of the American people.

To the contrary, the justices should double-down. This is likely a 5-4 decision, because this betrayal looks like an intimidation tactic to get one justice to change his mind. Since the decision is in many ways out, those five should stop the pressure by all signing the latest version of it, and publishing it immediately as a binding decision of the Court. Those with dissents or concurrences can publish them later if they are so inclined. But this shameful debacle and the immediate pressure campaign it is creating should end now, with the court handing down the decision in Dobbs.
With all due respect to Ken Klukowski, given some of the horrendous decisions the court has handed down over the years, the credibility of the Supreme Court, such as he and others perceive it, is an illusion. On top of that, its unintended and unprecedented elevation to that of an oracle whose proclamations are virtually irreversible and subvert what was supposed to be the precedence of Congress and more to the point the will and ultimate power of the people as laid out in the 9th and 10th Amendments (okay, stop laughing), only underscore my assertion. That said, for sure there is intimidation going on but it's considerably more than merely packing the court. Flashback to March 5th, 2020:
Sorry, Charlie: Your excuse for threatening Supreme Court justices doesn't cut it.

New York's own Chuck Schumer, the Senate minority leader, tried Thursday to walk back the direct threats he made to Supreme Court Justices Neil Gorsuch and Brett Kavanaugh — but he only dug the hole deeper.

"I want to tell you, Gorsuch. I want to tell you, Kavanaugh. You have released the whirlwind, and you will pay the price. You won't know what hit you if you go forward with these awful decisions," he huffed at a pro-abortion rally Wednesday. His goal: To intimidate the court to nix a Louisiana law requiring abortion providers to have admitting privileges at nearby hospitals.
Now set the Wayback Machine for the halcyon days of January, 2017 when this greasy criminal bastard threatened President-elect Trump:


The new leader of Democrats in the Senate says Donald Trump is being "really dumb" for picking a fight with intelligence officials, suggesting they have ways to strike back, after the president-elect speculated Tuesday that his "so-called" briefing about Russian cyberattacks had been delayed in order to build a case.

"Let me tell you: You take on the intelligence community — they have six ways from Sunday at getting back at you," said Senate Minority Leader Chuck Schumer Tuesday evening on MSNBC after host Rachel Maddow informed him that intelligence sources told NBC news that the briefing had not been delayed.
Well, we have seen up close and personal what the intelligence community tried and ultimately succeeded in doing to President Trump and the American people from 2016 all the way up to January 6th, 2020, right up to the present day. Phony evidence, entrapment scams and kangaroo courts that have destroyed the lives of Trump associates and advisers, as well as ordinary citizens who are still rotting in jail. Two, Ashli Babbit and Roseanne Boyland who were murdered in cold blood by agents of the State, while another committed suicide.
We also have seen and continue to see acts of political violence and terrorism, from the barrel of a gun aimed at Republicans by Dick Durbin/Bernie Sanders-linked James Hodgkinson, as well as mass rioting from Democrat-approved and even funded terrorist organizations BLM and Antifa. The thought of waking up having to put the flames out from the backs of your children must have crossed the minds of Republican state legislators who considered tossing the Biden electors in those swing states that were stolen from Trump. Ditto for John Roberts when he took it upon himself to declare that the individual mandate was a tax and therefore kosher. If not that, then perhaps his alleged hinky adoption or frequent flyer miles on the Epstein Pedo Express. I'd hate to think it was dreading being excluded from the D.C. cocktail party circuit.
Same deal is in play here and now. They're already figuratively gunning for Clarence Thomas via his wife Ginni being targeted by this January 6th kangaroo court. I'll say it here and now, if they thought they could assassinate Thomas and Alito they wouldn't hesitate to have them taken out. Given everything we have seen over the past five or more years, as well as the confirmed corruption of federal law enforcement and intelligence agencies, my assertion is very much in the realm of possibility.
That said, would that be a black swan event that would produce blowback? And that brings us to the other reason for this leak. The upcoming predicted electoral disaster that the Democrats are facing this coming November and perhaps into 2024. The Kalorama Klown Komintern via Sponge Brain Square Depends have done more destruction to every aspect of our nation and society in just 15 months than the years of the New Deal, Fair Deal, Square Deal and Great Society combined. Along with absolutely galvanizing the entirety of American-Americans, the Left is hemorrhaging black-Americans, Latino-Americans and every other solidly Democrat-voting hyphenate-American voting bloc it relies upon to always unthinkingly drag them over the finish line election after election.
The leaking of this decision is a political Hail Mary (no pun) meant to rally the true believers. Yet given all of the aforementioned, can their base alone - not including the 100 or so additional illegitimate votes for every one real one cast - overcome our base, motivated like never before? It should be noted that the sexualization and mutilation of children in the classroom via Jive Kampf crackpot race nuttery and transsexualism is driving much of the crossover voters away from Democrats. I would think abortion is also an issue that would do this as well, especially if it could be piggybacked onto the issue of perverse sexual politics. It seems to be a natural, but it requires the political will on the GOP's part to engage in. If history teaches us anything, it should be not to rely on that outcome. Especially vis a vis abortion. It has always been the kryptonite to establishment Republicans who did not want to fight the culture war. Yet as Breitbart stated, politics is downstream from culture. This, coupled with the deviancy are and should be winning issues.
Funny how the Left is screaming now to pack the court, to make it "legitimate" again. I guess it's only legitimate when the decisions it hands down affirm the Left's preferred policy positions. Just like we need a "Disinformation Governance Board" to ensure free speech. That is speech that affirms and agrees with the Left's preferred policy decisions.
I am hoping and praying that the intimidation does not work and that Roe is effectively overturned. It could also have some interesting ramifications insofar as the prospects for national divorce are concerned. How ironic indeed if the Left invokes the 9th and 10th Amendments and "states rights."
The End of America: 100 Days That Shook the World available here.


ABOVE THE FOLD, BREAKING, NOTEWORTHY
NOTE: The opinions expressed in the links may or may not reflect my own. I include them because of their relevance to the discussion of a particular issue.
ALSO: The Morning Report is cross-posted at CutJibNewsletter.com if you want to continue the conversation all day.
Follow us on Twitter: @CutJibNews
Follow us on Instagram: @Cutjibnewsletter

posted by J.J. Sefton at
08:29 AM
|
Access Comments