« The Morning Report - 5/3/22
|
Main
|
The Morning Rant: Minimalist Edition »
May 03, 2022
Mid-Morning Art Thread [Kris]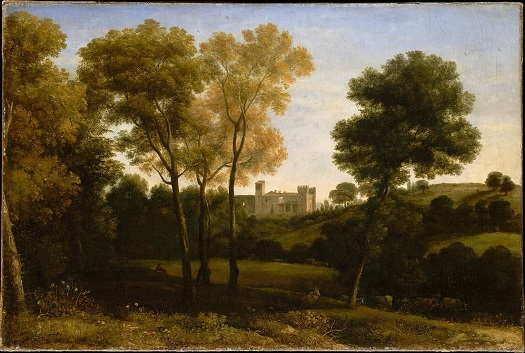 View Of La Crescenza
Claude Lorrain
During his lifetime, Claude Lorrain was one of the most sought-after artists. French by birth, he spent most of his life in Italy, inspired by the countryside and its mystique. He was employed by bishops, popes, lords, and kings, and was even commissioned by the Medici at one point. Lorrain's style was unique for the day, and because of his popularity, was constantly copied and forged. It became such a problem that Lorrain cataloged his own work himself as protection against fakes.
This work was painted when his style reached its mature phase. Lorrain's primary genre was gentle pastorals inspired by the Italian countryside, infused with a poetic, harmonic nostalgia. This work is unusual, however. In general, Lorrain's landscapes involve imaginations of a classical or Biblical world. This painting involves a real location. Instead of Greek temples or ancient Roman architecture, the building in this work is a contemporary country house of the aristocratic Crescenzi family located just outside Rome.
The castle is placed just off-center to the lower right. It is in low area at the foot of a hill surrounded by deep greens and pale blues. The sun is low in the sky off-canvas to the right. This puts the normally white façade in shadow, coloring it a warm grey. Its contours are silhouetted against the sky so the viewer can still see it and make out its huge, rich design. While in reality a large house, the building is rendered small and dim against the rest of the landscape. Its color, location in the near-center, and the framing of the trees and hills attract the viewer's eye, but its small scale, low tones, and neutral hues keep it from dominating the painting completely.
The rest of the painting is a scene of rolling hills and thick forest, all lush, full, and green. The trees stand tall. The sky is big and blue with hints of wispy clouds. Below the trees, in the rear foreground, a shepherd and a herd of cows relax in the shade. Part of the allure of Lorrain's landscapes are how peaceful they are. He created "ideal landscapes." These are visions where the elements combine in peaceful, lovely vistas that invite relaxation and quiet. Humans, animals, architecture, nature, colors, forms and shapes — these all meld together to create visual and compositional unity. The human form, which can easily dominate artwork, is small and in shadow here — off to the left, almost hidden. The horizontal forms and earth tones of the cows match the bushes and ridges they inhabit.
This work is quiet and serene. It is meant to inspire a slow, soothing study by the viewer. We are asked to get lost in its hills and fields. While the title of the painting mentions a specific place, the building should be seen as just a set piece. This work isn't about an explicit subject; it is about invoking a particular mood.

posted by Open Blogger at
09:30 AM
|
Access Comments