« Ace of Spades Pet Thread, April 30
|
Main
|
Saturday Evening Movie Thread - 4/30/2022 [TheJamesMadison] »
April 30, 2022
Weekend Hobby, Craft and Bodging Thread
Greetings all. Hope the weekend so far is an enjoyable one. To that end (we hope), let's head for the basement, garage, shop, studio or crafting space, make a mess and get creative.
First up, commenter Skip sent us these snaps of a beautiful dollhouse he created.
I started this doll house about 30 years ago with the inspiration from a Philadelphia newspaper Christmas article of open houses to visit. The great room is pretty close to a real house. Well from that the rest of the house came along as I wished. The project from beginning was for my niece who was about 6yo. It took more than a year, maybe two to get completed. Last I saw it maybe 15 years ago at my sister's but wondered the last few what shape it was, if still around? As it turned out recently brought it up with my mom and found out it was in her attic taking of space. Long ago she had it in a church art show and been at her house since. It needed some molding replaced, one porch post which I had still from original set, bathroom wallpaper was all there but off, and put in the kitchen tile as the original was ripped up. Finding out that my niece was getting it returned to her she told me to show pictures to her daughter and if she wanted it, she said yes.
It's good to know that a real heirloom piece like this will be passed down in the family. Really nice work, Skip!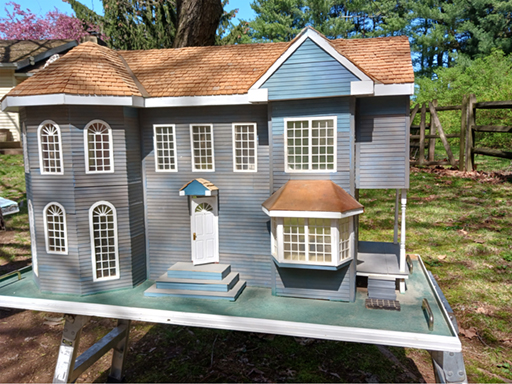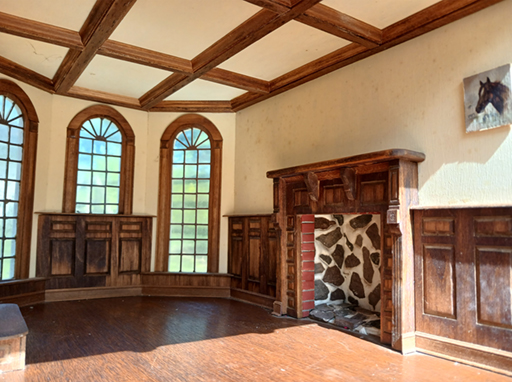 Neil Paskin from "down under" is one of my favorite makers, and is an outstanding woodworker and metalsmith. Here, he and a mate make two stunning kayaks from wood. It's definitely not for the faint of heart but if you're not rushed it might be something some of you braver woodworkers might consider.
Scale modelers these days have an embarrassment of riches in both tools and materials, to say nothing of 3-D printers where almost anything can be created in incredible detail (your CAD skills as well as the temperamental nature of 3-D printers notwithstanding). This guy, though is using only the most basic of tools to build a scale model excavator. This is just part 1 and so far I'm impressed with what he's got.
I've featured this Brit's beautiful OO scale model railroad in the past. Here he takes you step by step in how he weathers his steam locos.
Always admired leather crafters. My dad had some ability in this and he stitched the seats for those old mid-century modern butterfly chairs that I virtually lived in as a kid. This guy for sure knows his stuff.
There's working on your car and then there's this insanity. Still, it's nice having all the tools and skills to do something like this.
From the ridiculous to the more attainable, shall we say. Restoring an vintage toy car. There's something satisfying about watching old metal get sandblasted.
Long time followers of the blog know that CBD has tortured us with Lucian Freud's "Naked Man, Back View." This particular painting notwithstanding, I am a fan of most of his work, so here's a tutorial on how to copy his style of portraiture.

posted by J.J. Sefton at
05:00 PM
|
Access Comments