« Report: No One Likes Kamala's Nasty Clapped-Out Snizzbiscuit
|
Main
|
Mark Paoletta Blasts Democrats For Politicizing the Supreme Court; Shuts Hakeem Jeffries' Stupid, Ignorant Mouth Up For Good »
April 29, 2022
Elon Musk: Say, Has Anyone Noticed That the Left Has Gotten Very Extreme The Past Few Years...?
At least, that's what he seems to mean by posting this web comic. Many redpilled liberals post this. They all mean "The left has gone crazy and savage."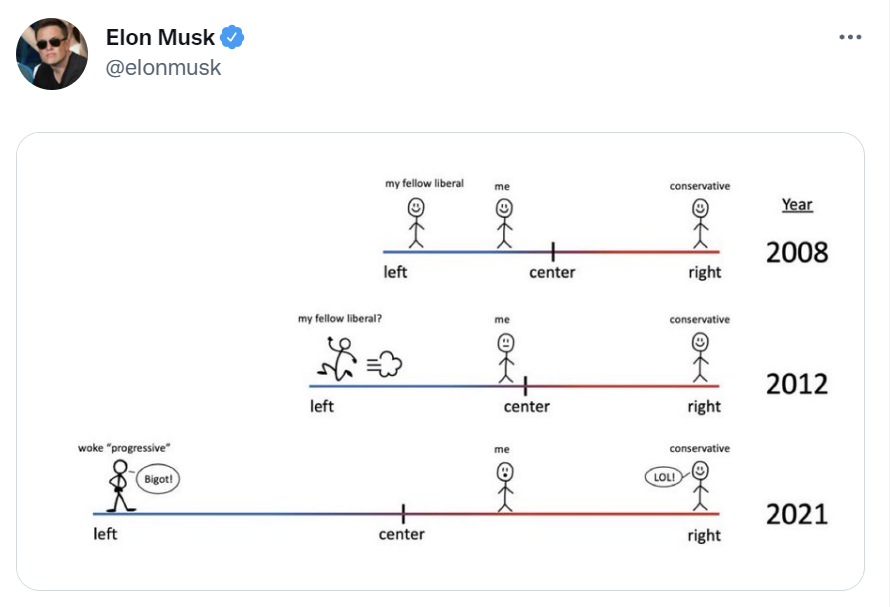 He also continued to pound Vijaya Gadde, posting this meme, which ridicules Gadde for constantly dismissing Tim Pool's examples of Twitter's leftwing bias, saying she'd need to see context and then, when he says that Twitter's idea of "context" is shaped by its leftwing bias, she claims she'd need to see an example of that.
And when he provides an example of that, she'll say she needs context, and...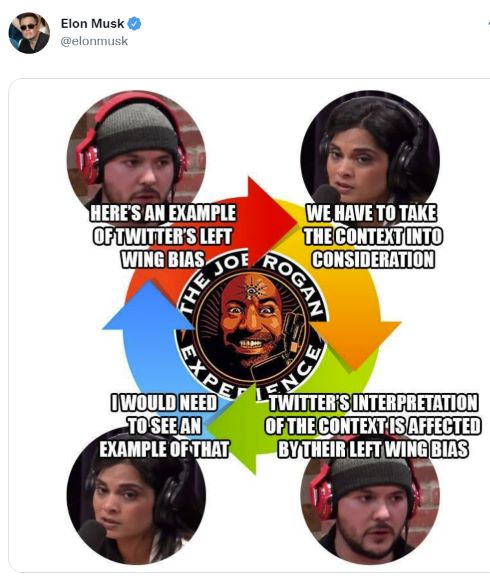 The cycle repeats forever. As it's supposed to. It's not supposed to arrive at any satisfactory answer; it's supposed to exhaust you. It's The Corporate Lawyer Runaround (TM).
I listened to that "debate" hoping there would be a debate. There wasn't one. Gadde just kept refusing to admit there was anything to be discussed by this endless cycle of claiming she couldn't answer the question without further information.
But it looks like Gadde is not long for Twitter World.
Here's a former Twitter executive shrieking that Gadde -- who has deplatformed many, many people, including the former President, essentially convicting them in a Court of One of being Insurrectionists or racists -- may not be herself criticized:
dick costolo @dickc

Apr 27
Replying to @elonmusk

what's going on? You're making an executive at the company you just bought the target of harassment and threats.
It continues to astonish me how blatant they are in asserting that there is an Aristocratic privilege that attaches to members of their classes that protects them from the slanders of the ruffians, but that this privileges works in one direction only. There is just no other possible way to explain this, how Taylor Lorenz may dox LibsofTikTok but that Tucker Carlson is forbidden to even mention Lorenz's name negatively on his show, etc.
They never explain the rules of who gets this privilege and who doesn't because if they dared explain the rules, you'd punch them in their fucking faces for a start.
It's a simple assertion of class privilege. They have it, you don't.
In more news from Space Daddy:
Dave Rubin @RubinReport ·

Hey @elonmusk, as long as your digging, check into how @nytimes, @forbes, etc., bought their Twitter followers to fake influence.

NY Times has 53 million "followers" and rarely gets 50 RT's.

I could post a 🍌 emoji and a pic of a 80's sitcom star and get more. (See next tweet.)
Elon Musk @elonmusk Replying to @RubinReport Yeah, I noticed that too. Pretty weird.
Musk hates bots, so people who bought bots to inflate their follower counts could be in for some embarrassment in the months to come.
As Tim Pool said, sagely: "Musk didn't just buy the company, he bought the evidence."
Yes, that is what has got to be freaking these people out the most. An awful lot of claims were made before Congress about not shadowbanning people, throttling accounts, etc.
That lie is about to be exposed.
And it's not like Twitter is the only one who lied about this. They all did it. Their employees migrated from company to company and shared tricks.
They all lied, and all their executives perjured themselves.
And I like this idea:

Jan Jekielek
@JanJekielek

@elonmusk, an idea: As Poland emerged out of communism, the @ipngovpl_eng [Institute of National Remembrance] did something incredibly powerful to facilitate societal healing: it made everyone's "dossier" (created by the security state) available to them. Logs/settings would be the equivalent here. How about it?
Elon Musk
@elonmusk
The extreme antibody reaction from those who fear free speech says it all

...

By "free speech", I simply mean that which matches the law.

I am against censorship that goes far beyond the law.

If people want less free speech, they will ask government to pass laws to that effect.

Therefore, going beyond the law is contrary to the will of the people.
People are overstating how "free speech absolutist" Musk is. He's said his idea of a good goal to reach for is one in which 10% of the most extreme left and 10% of the most extreme right are equally unhappy.
That's not absolutism. That's just moderation with balance.
Meanwhile: What man talks like this?

"My Tummy-Meter says this isn't good."
And here's Musk beating on Bill Gates for being both 1, Fat, and 2, Dumb.
Or at least for being kind of ignorant about many things.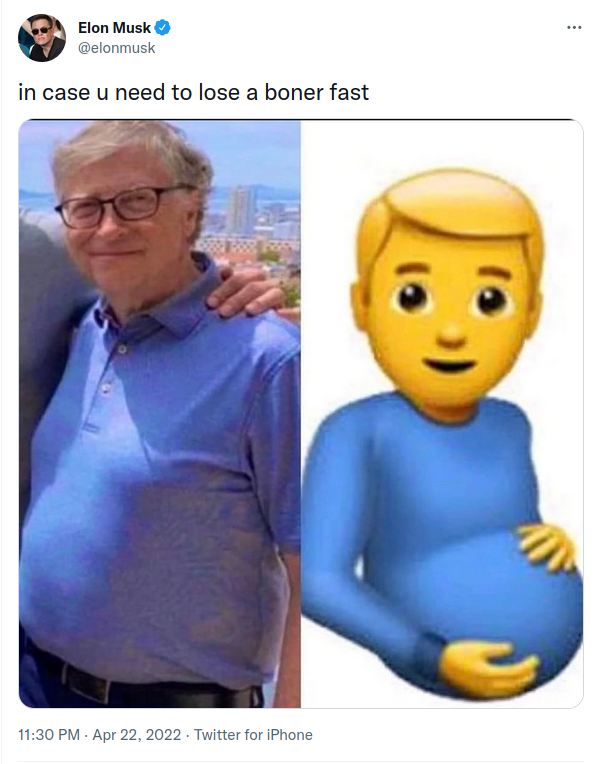 I think Bill Gates really needs to stop being treated as a smart guy.
He never produced great code.
All this asshole did is sign a great contract -- for him. And then he bought a very jenky program from another guy.
He wasn't even smart for signing that contract. IBM was just stupid.


posted by Ace at
03:32 PM
|
Access Comments