« First-World Problems...
|
Main
|
Gun Thread: High and Far Out Edition! »
May 01, 2022
Food Thread: Good Friends, Crayfish, And Beer: A Match Made In Heaven?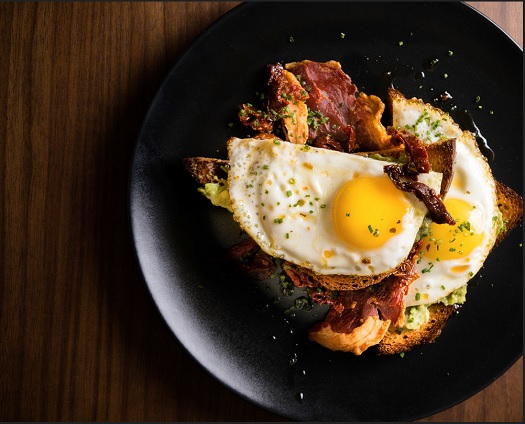 Nope. Absolutely no connection to anything going on in my kitchen. But fried eggs are always a good topper, and who can complain about bacon?
I was in Philadelphia for a few hours last week and went to my favorite center-city lunch joint, a fun bar called "Good Dog." They have a short rib grilled cheese sandwich on the menu that is irresistible. So good in fact that I asked the manager to take it off the menu so I would be motivated to try something else!
This isn't haute cuisine, but it is a well-run bar with a good kitchen and interesting beers on tap. I have never been there at night, so for all I know it is a horror-show after dark (though I doubt it). But for my purposes it is as good as it gets. I have never been a fan of long lunches and elegant dining before sundown, and this place has never seen a cloth napkin and a tablecloth, which suits me just fine.
******
$5/lb for chicken breasts.
$4/lb for butter.
$4.99/lb for asparagus (are you on f%&@ing drugs?).
$20/lb for skirt steak.
Thank you (ersatz) president Biden for the double whammy of inflation and recession. It's so gratifying that we have someone in the White House who is supremely competent at at least one thing: destroying the economy and the middle class.
The inflation numbers coming out of the incompetent hack bureaucrats who have overrun the deep state are nonsense...absolute, obvious, ridiculous nonsense.

******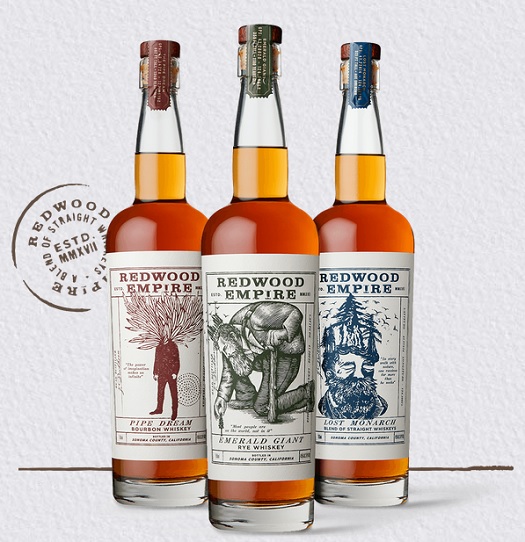 That's my old stomping grounds, so when I saw this collection of whiskies I was intrigued, but they seemed far too aggressively marketed and slick, especially for a region not known for its distilled drinks. Whiskey in California? That's almost as bad as salsa from New York City!
So I poo-pooed the whole idea and smugly walked off, comfortable in my whiskey superiority. But recently I saw it again, and I was curious, especially since the price had dropped a bit. I checked some reviews and was dismayed to discover that one of the bottlings seemed to be quite good. So throwing caution to the wind...I bought one!
And damned if it wasn't a pretty good bottle! The Lost Monarch is a fairly sweet high rye blend, in which they tout the rye's spiciness, which I did not find. But it is a nice, smooth drink with some complexity, and not deserving of my snotty dismissal.
There's a lesson to be learned here, but I am clearly not the guy to learn it.

******
I like the flavors in this catastrophe of a recipe, but it would be a sodden, sloppy mess if made with that much dressing! But the name?
Crack Corn Salad?
That is a keeper!
******
Our charming and lovely neighbors, who hail from Houston via a few other places (Louisiana!) invited us to a crayfish boil. And not that crappy, heavy-metal and coliform-laden crap from China. These came fresh from Louisiana and were lovingly coddled by our hosts until it was time to plunge them, screaming and struggling into a pot of wonderfully seasoned water.
Wow...that smelled divine.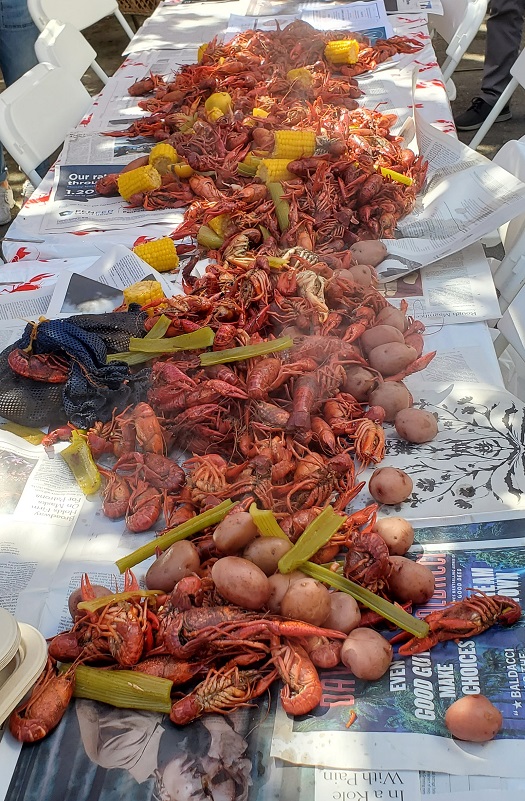 And it tasted even better. That's the first of three batches, which were all good, but slightly different because of a bunch of variables that are too geeky to discuss. But our hosts knew what they were doing, and I ate far, far too many for my own good.
But it wasn't just the crayfish that were delicious. Those lowly boiled potatoes were great! And there were whole heads of garlic that were delicious on some fresh crusty bread that one of the guests brought. The sausages were pretty damned fine eating too.
I discovered something about a crayfish boil. Drinking copious quantities of cold beer improves the entire experience! The seasoning is reasonably salty, and the liquor in the heads of the crayfish is in part the stock from the pot, so my consumption of salt can probably be measured in ounces! That's where the beer came in!
I didn't embarrass myself, so hopefully we will be invited again next year.

******
Our hosts asked that we bring an appetizer, which is exactly the sort of stuff I am terrible at! Oh sure, I can follow a recipe, but I have no originality at all when it comes to that sort of thing (bacon is an appetizer...right?). My range is narrow, with a few things that would not have been appropriate. So I asked shiv-master Bluebell for inspiration, and she came up with some very good suggestions, one of which was tailored made for the afternoon of casual eating!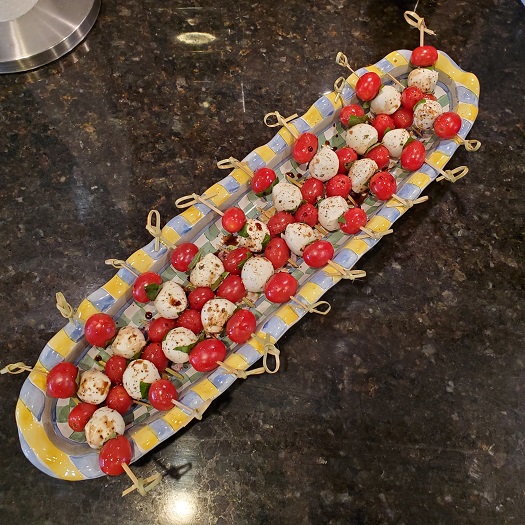 ******
******
Romaine lettuce that is green, instead of the white crap they sell that has never seen a photon, pork rib roasts from the front end of the pig where all the good and fatty meat lives, carrots that don't taste like stalky chalk, spare bottles of Van Winkle Special Reserve 12 Year Old Bourbon, an herb garden that actually produces herbs (but no basil!), well-marbled NY strip steaks and elk backstrap to:
cbd dot aoshq at gmail dot com.
And don't think that you are off the hook with maple syrup and French Toast: I'm watching you...all of you! And I am watching you perverts who shake Manhattans and keeping a list for the Burning Times.

posted by CBD at
04:00 PM
|
Access Comments