« Food Thread: Good Friends, Crayfish, And Beer: A Match Made In Heaven?
|
Main
|
Sunday Overnight Open Thread (5/1/22) »
May 01, 2022
Gun Thread: High and Far Out Edition!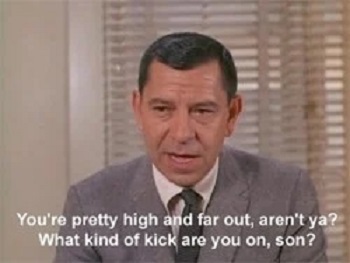 Howdy, Y'all! Welcome to the wondrously fabulous Gun Thread! As always, I want to thank all of our regulars for being here week in and week out, and also offer a bigly Gun Thread welcome to any newcomers who may be joining us tonight. Howdy and thank you for stopping by! I hope you find our wacky conversation on the subject of guns 'n shooting both enjoyable and informative. You are always welcome to lurk in the shadows of shame, but I'd like to invite you to jump into the conversation, say howdy, and tell us what kind of shooting you like to do!
A quick peek at the calendar tells us it's May, dammit! And we all know what that means, don't we? Don't we? Do not we know what this means? Are you high and far out? It means it is Buy Ammo and Go to the Range Month! That's right, all month long we celebrate the joy of shooting and our wonderful 2nd Amendment. So I encourage you all to a) buy ammo, and ii) go to the range! If you own a gun then dig it out of your sock drawer, run a patch through the barrel, pick up a box o' ammo and go shooting! You don't need to make a big deal about it, just go! If all your guns are at the bottom of the lake, just about every range will have rental guns, so take advantage of one of those. Seriously, it is pretty hard not to have fun shooting even if you suck at it.
Yikes! What happens after May? June happens after May which means the 2022 NoVaMoMe on Saturday, June 11th, is next month! Our pal bluebell is busy working her little fingers to the bone for the benefit of you people so at least you can show up and marvel at her extreme niceness! C'mon, man! Do I really have to beat you over the head with this? You know you like the blog because you are reading it, or at least you like looking at the pictures, so why not come out of the shadows and meet some of the faces behind the Nics? I don't care how big of a weirdo you are in real life, just come to the dang thing and meet some really very nice people. See below for details and registration info!
In addition to being Gunz & Shootin' Month, tis also MoMe season, with other Moron gatherings on the calendar in Colorado, Washington, Alaska and Texas. Holy Shitballs! It's a dang MoMe-palooza! Take a peek at the main page left sidebar, find a MoMe near you, and sign up to attend one. You won't regret it!
With that, step into the dojo and let's get to the gun stuff below, shall we?
******
Smith & Wesson and Colt Snubby Madness!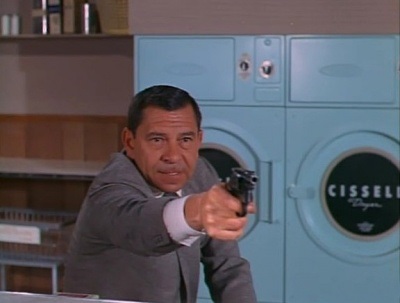 Clean out the lint traps when you're done, mister!
We've seen a bunch of Smith & Wesson revolvers here on the ol' Gun Thread lately, and last week I mixed things up by featuring a Colt Trooper Mk III. Although I am pretty much a Smith & Wesson guy if you peel back a layer and expose the Weasel soft white underbelly, you will find at heart I am just a revolver guy!
Q: Well then what the ever-loving holy Hell could we possibly have this week?
A: Snubby Madness!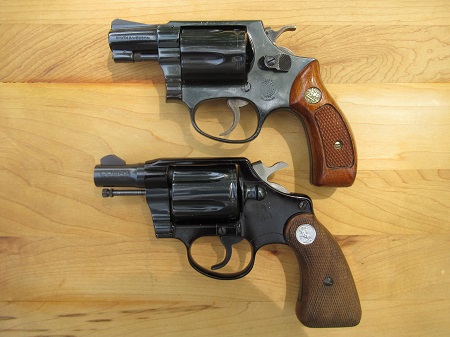 top - S&W Model 36, bottom - Colt Cobra
Why, we have a 1972 Smith & Wesson
five
round Model 36, and a 1972
six
round Colt Cobra, both in .38 Special and with 1 7/8th and 2-inch barrels, respectively. What a wacky prankster I am! I even amuse Sgt Joe Friday!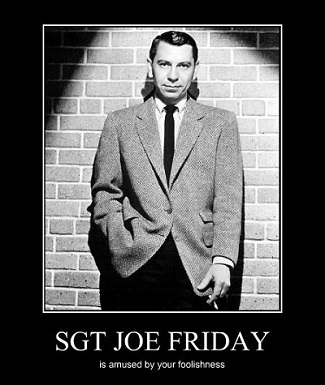 All kidding aside, these are very cool little guns and very bigly fun to shoot. Anyone who watched detective shows back in the day will probably have seen one or both at some point. Both companies made lots of variations of the snubby, and the size would make them good candidates for concealed carry guns, but these are in such great condition I don't want to risk banging (see what I did there?) them up. I'm not sure if it's just the nostalgia or what, but I am absolutely a big fan of these little guns. The tiny grips aren't particularly comfy for me on the Model 36, but then again, it's purpose wasn't for extended target shooting sessions.
Here are good histories of the Model 36 and the Colt Cobra.
Anyone else share my interest in snubbies? Have you ever purchased a firearm out of nostalgia, alone?
******
First up our pal fd shares a family heirloom.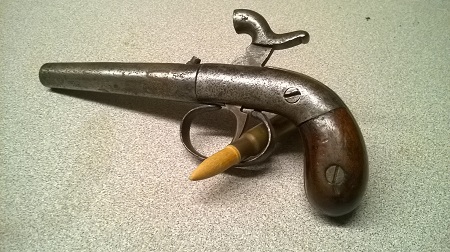 I inherited this from my Grandma's second husband, the man I knew as Grandpa. I don't know when or where he got it, he had it as long as I can remember. I played with it when I was a little kid. One time I talked him into letting me take it home with me to make a nice plaque to mount it on, and I also shined it up real nice and shiny. I don't think he really appreciated the buff job, but after 50 years or so the patina has come back.

No, it doesn't shoot those wooden bullets. That is a live training round though.
Very cool, fd! Serial number five? Thanks for sharing!
******
Next up, our pal blaster has been adding things to firearms!
After the trip to Weasel Acres I have become convinced that all handguns are going to have optics from this point forward. Not just talk. I did a thing. Adapter plate and green dot on the P226.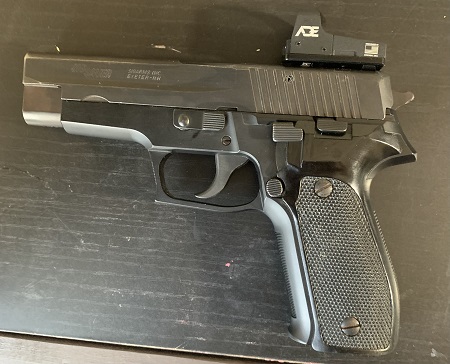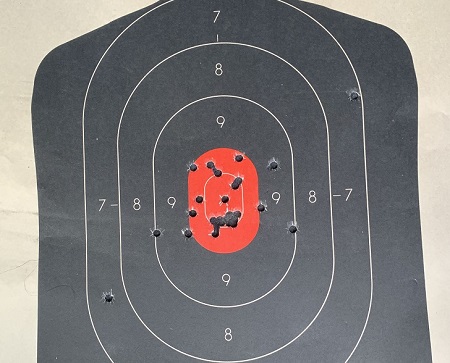 Does it work? That's a YES.

And it's a NO. As a system engineer I get that making changes to systems may affect things beyond what you want to affect. My P226 with the optic is not pleased with 115gn ammo anymore. About 1/3 fail to feed one way or another.

Shooting 124gn it's is perfectly happy. Also, I think the P226 was on the edge of happiness with 115gn before. Slide would not lock back when mag emptied and I blamed the mag. With 124gn locks back as designed.
Verrrrry interesting, blaster, and nice shooting! and I suspect you're 100% correct on the lighter 115gr load being the cause of the problemo.
There is a whole thing regarding National Match 1911s with slides that have had metal removed so they would function properly with lighter wadcutter target loads, however, the then weakened slides had a tendency to crack when using the heavier .45ACP ball ammo. The problem is the lighter springs for the target loads. The Colt National Match I featured a while back is an example of a gun with a lightened slide for competition, and there were a number of ammo and recoil spring combinations which were intended to address the situation. Here is an informative article on the NM 1911s which mentions the problem but doesn't actually suggest a solution.
I'm not suggesting you lighten the slide, but here is a link to Wolff Springs which has an entire section of their website devoted to different spring combinations for the 1911, and I suspect if you gave them a jingle they'd be happy to suggest a lighter spring for the Sig which might keep you shooting the more economical 115gr round. If you go this route just be careful when switching ammo.
Good luck and let us know how it goes!
******
Ax Weasel
This week we have an Ax Weasel twofer from our pal GWB
I wonder if there's any knowledge among you and the horde on this: If you mill out your own 80% receiver, but it doesn't work, is it still an actual firearm? I know a broken firearm is still a firearm for the purposes of most laws. But what if it never reached working status because you drilled the hole wrong or something? Did it go from 80% to 0%? And I'm talking you totally missed where the hole is supposed to go, not off by .1mm and you could drill it out a little more and drop in some JBWeld or something.
Weasel has no idea, and it's a very interesting question! Does it identify as a firearm?
Smart people: now is your time to speak up!
**
Since I'm looking at putting together a less standard AR in the near future I'm trying to take a good look at the different upper offerings and see why this one costs $300, this one $400, and this one $899. Also, folks have mentioned Bear Creek Arsenal before, and they have uppers that I'm looking for at a good price. But they have at least 3 at different price points (all under $400) and the title description for them gives me no reason for the price difference. So I looked a little deeper. One is forged, one is billet (the cheaper one). I understand that difference. One other difference that I do NOT get is one has for "feed ramp", "Single", and the cheaper has "NON-ramped". Is this a big difference?
Any of you AR guys and gals out there able to tackle this one?
******
Next up our pal Scuba_Dude sends us an excellent video on what it means to shoot in the Biathlon
Amazing. Nice find, Scoob! Thanks!
******
Our pal Gref sends us a great reminder on NRA Training Courses. https://www.nrainstructors.org/Search.aspx
I got an email from NRA today telling me there are many NRA-certified classes available around the country. You periodically get questions about where to find instruction for pistol shooting, reloading, etc. The NRA webpage at the link gives Morons a list of classes that may be taught in their area. The courses are not free. I need to sign-up for some of these. And to check-out their on-line courses and materials.
Excellent tip Gref! Thank you! Why not check out the link and see if there is something going on near you. In addition to the Competition Division, the Training Classes are something the NRA manages to do very well.
******
Gun Basics 101
This week the SEH gal follows up on her previous at home concealed draw practice video with one on at home reloading practice.
******
Cigar of the Week
Our pal rhomboid brings it with another excellent cigar review. Thanks rhomboid!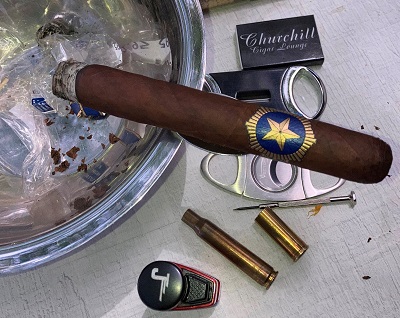 Visited a cigar bar with an old friend and came across something I'd read about, the Stillwell Star, from Steve Saka's Dunbarton Tobacco & Trust. Unique line of four different blends - a mix of premium cigar long-filler tobacco, and pipe tobacco. Saka's collaborator on this is the blending chief for Cornell and Diehl, a top pipe tobacco company. Friend and I picked the Aromatic (there are also an English, Bayou, and Navy No. 1056 - named for the destroyer Saka served on in the Navy). Small batches and top tobaccos, so they're not giving them away - $17/stick online. Special occasion cigar. Fantastic - smooth, rich, natural sweetness, perfect burn. Of course pipe smokers will enjoy these. Thinking I'll get a sampler of all 4 for special occasions. Also in the picture are my 45 Colt and 30-06 cigar punches, in this case we used a v-cutter on the Stillwells and a La Aroma de Cuba Edicion Especial, about which more another time.
***
What does the Cigar of the Week feature need? A Cigar Vixen, that's what!!
You're welcome.
******
ATTENTION NoVaMoMe 2022!!
The social and cultural event of the season, NoVaMoMe 2022 is on the calendar! That's right, you people have a chance to meet many of your online pals on Saturday, June 11th beginning at 1pm until dark, or such time as it gets busted up by the cops. We have an exciting location in the Northern Virginia area which allows extended time for visiting. Admission is $25 which includes food and soft drinks, with a cash bar. This year the menu is BBQ chicken and pork with the usual sides and cookies for dessert. Appetizers begin just after 1pm and dinner is 3pm. Want to be one of the cool kids? Just send an email to novamome at protonmail dot cee oh emm, pass the rigorous screening process to obtain registration details, then sign up to attend! Easy-Peasy!
Each year, I spend a fair amount of time haranguing people to come to a MoMe. Any MoMe! I cannot overemphasize how much fun these things are, and how much we want YOU to come! We plan for the crowd in general but also consider the needs of the introvert lurkers and provide plenty of potted plants for those so inclined to hide behind. All kidding aside, you are completely welcome to slink-in, eat, drink and people-watch, and then slink-out. It is a 100% zero pressure event. If you can handle a backyard picnic, you can definitely handle this.
Win a Dream Date with Weasel!
Back by tepid demand, a separate raffle for the Gun Thread gift basket will be held. This fabulous prize includes an entire day of shooting and personalized one-on-one handgun & rifle coaching and instruction at Weasel Acres on a mutually agreeable date with yours truly. The lucky winner will be able to not only bring and shoot their own weapons, but also try out a variety of WeaselWeapons using WeaselAmmo!

We will end the day with dinner at a good Mexican place in nearby Appomattox. Pretty much a dream date with Weasel! The winner will be responsible for their travel to and from Central Virginia, hence the separate drawing.
Don't be a pathetic girly-man loser, register today!
******
Link-O-Rama
I'm really very seriously not kidding around anymore. Buy Ammo
AmmoSeek - online ammo search tool
GunBot - online ammo search tool
SG Ammo
Palmetto State Armory
Georgia Arms
AmmoMan
Target Sports USA
Bud's Gun Shop
***Mail Bag***
This week's mailbag entry is from our pal JT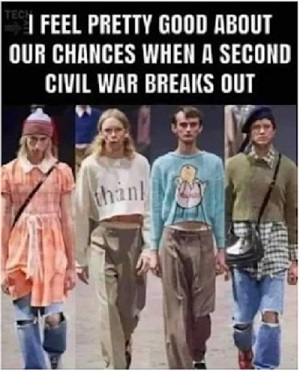 ******
Please note the new and improved protonmail account gunthread at protonmail dot com. An informal Gun Thread archive can be found HERE. Future expansion plans are in the works for the site Weasel Gun Thread. If you have a question you would like to ask Gun Thread Staff offline, just send us a note and we'll do our best to answer. If you care to share the story of your favorite firearm, send a picture with your nic and tell us what you sadly lost in the tragic canoe accident. If you would like to remain completely anonymous, just say so. Lurkers are always welcome!
That's it for this week - have you been to the range?


posted by Weasel at
07:00 PM
|
Access Comments