« THE MORNING RANT 4/25/2022
|
Main
|
Blacks and Hispanics Are More Conservative Than "Woke White Liberals" On Twitter, Democrats Are Warned by... Joe Scarborough, Mike Brzezinski, and Al Sharpton »
April 25, 2022
Joe Rogan Gained Two Million Subscribers Since CNN and the Left Tried to Cancel Him
Joe Rogan is alive and CNN+ is dead.
The podcaster claims the media frenzy over anti-vax conspiracy theorist guests and his past use of the N-word has netted him two million additional subscribers.

In Friday's episode of The Joe Rogan Experience, the comic and UFC commentator was asked by his guest, British political commentator Douglas Murray, about the uproar.

"You have been put through the wringer since we last met," Murray says. "They did a number on you. Wow."


"It's interesting, my subscriptions went up massively -- that's what's crazy," Rogan replies. "During the height of it all, I gained two million subscribers ... Yeah, [the media] went for it. It's also fortunate that the people who went for it were CNN. They're so untrustworthy and people know how biased they are and socially weird their anchors are."
Tater fails again. Tater fails at everything.
Tater, you seriously need to find some other line of work. I don't know what that would be. You're literally bad at everything.
I would suggest something that does not involve being on camera or Using Words. Probably some line of work involving a bucket. Try googling the Slop Sector of the economy.
They also discussed the Potato that led the charge -- well, the slow, labored walk -- to cancel him.
"I have a rule that I try not to be mean about people's apperances," answered Murray, continuing, "but," which caused Rogan to break out into laughter.

Murray then mentioned how he would have guessed Stelter was "56 or something," and was told to "look it up" on his phone. Afterwards, he "couldn't stop laughing for the rest of the evening." Stelter, age 36, was born in 1985.
Age 36? Wow, I didn't realize he was so much older than we are.
He doesn't understand us or our generation. Maybe that's the problem.
Fake news! Deplatform him!
I hear a lot of people getting confused on this: They had 150,000 subscribers, but an average of 10,000 daily users. People keep saying 10,000 subscribers.
Not that 150,000 subscribers is much better. A lot of those "subscribers" would be free "subscriptions" given to AT&T/Warner/Discovery personnel.
10,000 daily combined, cumulative users. Holy bananas Foster.
Tater claimed, after the service (it's not a service, it's an imposition) was terminated, that it was "too early to tell if it's a failure."
When you have to shout above the noise the carpenters taking down your sets, I think you can tell it's a failure, Tater.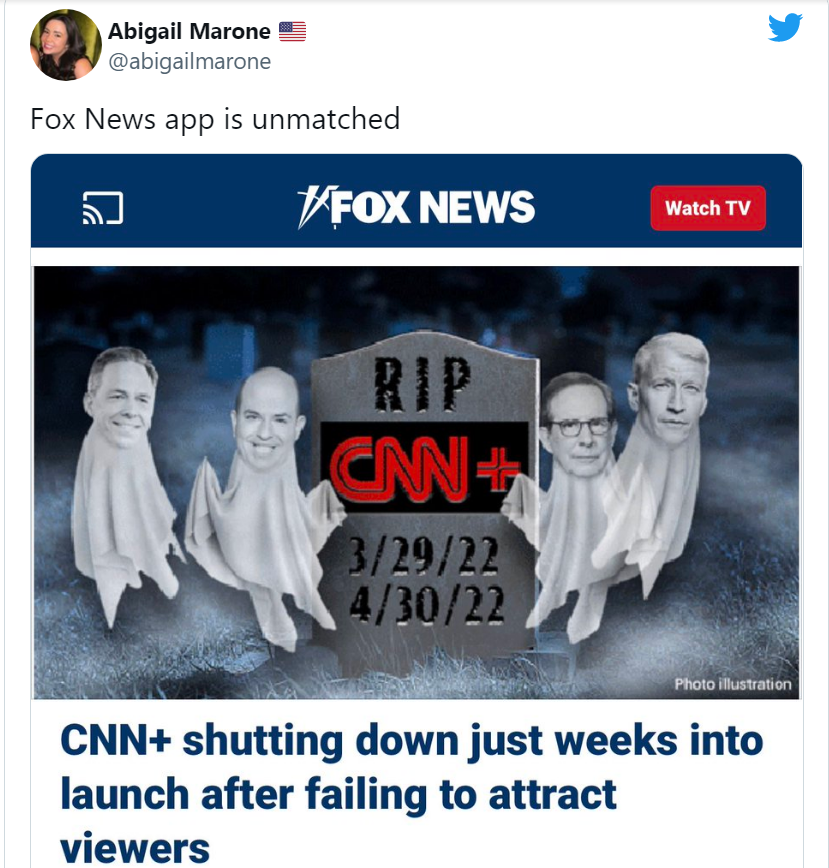 I'm getting the sense that Chris Wallace was not well-liked at Fox.
From Legal Insurrection's collection of mockery of CNN Minus.
Who knew those CNN Minus NFTs would actually be worth something?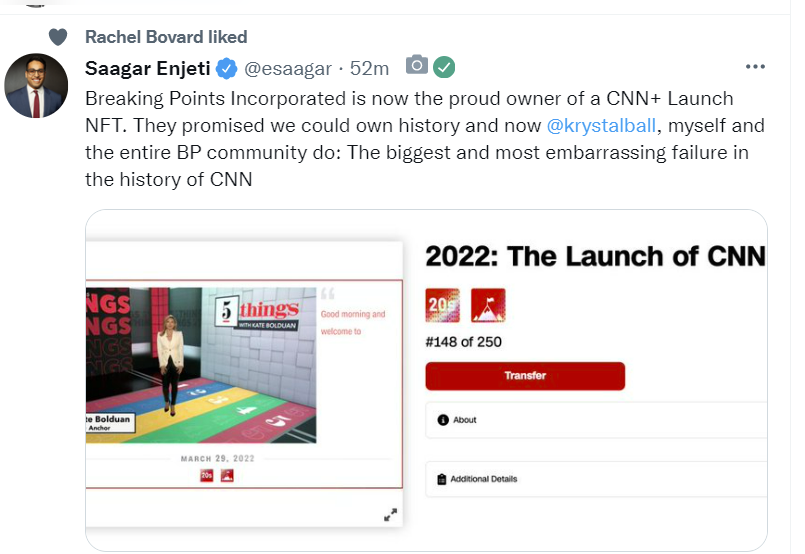 posted by Ace at
12:46 PM
|
Access Comments