« REUTERS REPORTER: TWITTER BOARD SET TO ACCEPT ELON MUSK'S OFFER
Greenwald: Corporate Journalists "Deeply Upset" By Reduced Censorship Could Just... Build Their Own Twitter.
|
Main
|
Joe Rogan Gained Two Million Subscribers Since CNN and the Left Tried to Cancel Him »
April 25, 2022
THE MORNING RANT 4/25/2022
Biden Sending Oil From Strategic Petroleum Reserve To Western Europe
21st century Western Europe is like a spoiled rich kid who has never had to dirty his hands or work for anything. It expects America to pay for its defense and fight its wars. It also expects its fossil fuel needs to come from somewhere other than Western Europe, so it outsourced its petroleum needs to Russia.
Being reliant on Russia for fossil fuels is suddenly looking like a very bad decision.
So Europe is going to drill baby drill, right?
Nope. It's once again looking across the Atlantic for some help from Uncle Sugar.
Even though Europe has cheered the Biden administration on in its war on American oil production (in the name of climate science, of course) it now desperately needs our petroleum products. But thanks to Biden, America is no longer producing a surplus of petroleum. We don't have excess oil to export any longer.
So Biden is draining our Strategic Petroleum Reserve and sending it to Europe.
Oil From U.S. Strategic Reserve Heads for Europe Amid Global Supply Crunch [Bloomberg – 4/18/2022]
A cargo of crude from the U.S. Strategic Petroleum Reserve departed a Texas port bound for Europe, a signal of increasing oil-market disarray as refiners shun Russian supplies and prices surge.

The ship, chartered by an affiliate of French energy giant TotalEnergies SE, is bound for the key European port of Rotterdam.
Having done so much to destroy our domestic oil industry, Biden is now draining our strategic oil reserve and shipping it to foreign countries.
This is impeachable malfeasance. He is intentionally destroying our ability to fuel our national defense in a major crisis.
Until Western Europe ditches its idiotic climate religion and shows that it is willing to defend itself and power itself, the US does not owe Europe one American life or one American barrel of oil. If Western European industry shuts down and its people have to shiver in darkened houses, that is the bed they have made for themselves.
*****
How Can I Invest In A Stock Fund That Mirrors Pelosi-Crenshaw Investments?
Congress isn't very good at governing, but our Congress-folk sure do excel at trading stocks.
Rather than ride the overall market with index funds, I wish I could invest in a mutual fund that mirrors the investments of certain Congressional stock trading savants. Specifically, I'd like to get a piece of the action in a Pelosi-Crenshaw mirror fund. But even an all-Congress index fund would outperform an S&P index fund.
Congressional Trading in 2021 [Unusual Whales – 01/10/2022]
On average, House Democrats and Republicans had returns at +14.7%. Meanwhile, Senate Democrats were at +15.4% and Senate Republicans just under +13%.

To compare, we can take the same transaction periods and estimate $SPY returns. Using this method, SPY returns were found to be only +13.6%.

This means that in 2021, on average, Congress beat the market.
Some members of Congress are such investment wizards that they should be teaching the hedge fund hotshots in Connecticut how to outperform the market.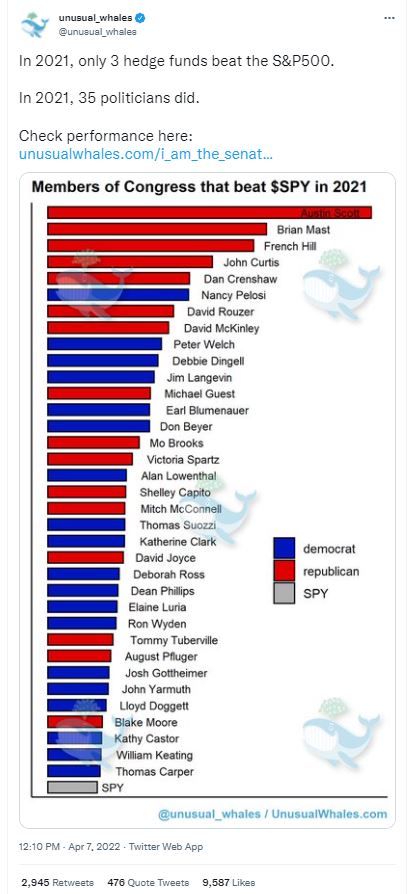 And what a surprise! Two of the top-5 stock pickers were Dan Crenshaw and Nancy Pelosi.
Dan Crenshaw became a DC swamp-creature so fast that I almost admire his sheer audacity. He quickly made it clear that his constituency is federal employees in Washington, not the Texans who elected him, and that his purpose in going to DC was to get rich.
Crenshaw on Congress Trading Stocks: 'You have no way to better yourself'
"If you want only millionaires and billionaires to run for Congress, then keep making sure we can't raise our pay," he added. "Just keep in mind that no one will run for Congress because you have no way to better yourself."
For those of us who invest our savings in the stock market to gradually accumulate wealth, it is eye-opening that Crenshaw is so forthright about padding his disposable income by trading stocks for short-term profit.
I've known several individuals who attempted to make money by day-trading or playing with options. Some took a beating, others lost an amount that they excused as "play money," but not one made significant money.
Crenshaw, Pelosi, et al are different. You wonder if some how they invest with knowledge that everyday investors don't have. But I better not go there, that might imply that members of Congress aren't completely ethical.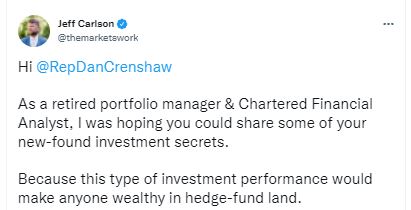 If Dan Crenshaw ultimately decides he just can't live on his Congressional salary, he can always take his talents to Connecticut.
(buck.throckmorton at protonmail dot com)


posted by Buck Throckmorton at
11:45 AM
|
Access Comments