« Biden Tells Democrats: I'm Ending Title 42 Come Hell Or High Water;
Texas National Guard Soldier Drowns While Saving Illegal Alien Trying to Cross Rio Grande's High Water
|
Main
|
Is Netflix Dead? »
April 22, 2022
Fired CNN Minus Employees Will Get Severance Packages of 90 Days to Six Months' of Pay, and Are Still Complaining
They live in such a comfy-cozy bubble-wrapped world that they're scorning this very generous lay-off package?
Must be nice.
Must.
Be.
Nice.
According to Axios, "About 350 of the 700 people that work for CNN+ will be laid off with pay and benefits for the next 90 days" and "any employee that doesn't find a new role with the network will be granted at least six months' severance." Reactions within CNN are, predictably, not great.
You could predict that?
That's the most generous lay-off package I've ever heard of -- I mean, as far as a widely-offered package, offered to everyone.
Six months' severance?!
"This is f***ing crazy, it is nuts," a CNN insider told The New York Post. Newly out of work CNN+ employees are "aghast and furious" that their leadership could muck things up so badly.

I'm aghast and furious that you're this entitled.
I really want you on the street. I'm angry that you're not already homeless and trading your pale flabby sexless pinhead molebodies for artisanal bread and craftwater.
As The Post explains, "Network insiders were horrified to learn that all junior staffers at the streaming service were let go. The roughly 300 staffers were offered six months' severance as well as first dibs on job opportunities within CNN, according to sources." Why someone would choose to work at CNN+ in the first place is a head-scratcher, but it seems unlikely that many would want to stick around in another department at CNN given the network's disastrous handling of its streaming platform.
Network insiders were horrified to learn that junior staffers were let go after a company was shut down?
What?
They're horrified to learn that after a company was shut down and mothballed,, the least-qualified people were all let go?
But also given "dibs" on job opportunities in the surviving company?
What did they think was going to happen?
Have they have even heard of a bankruptcy before? A downsizing? A consolidation? A closure?
What Planet of Millennial Media-Worker Entitlement do you live on?
Among many reasons CNN+ ended up as a cash-bloated failure, according to The Post's sources, is the way CNN+ "overspent on talent" as seen in ex-Fox News Sunday host Chris Wallace's $9 million salary and former MSNBC anchor Kasie Hunt's $1 million per year.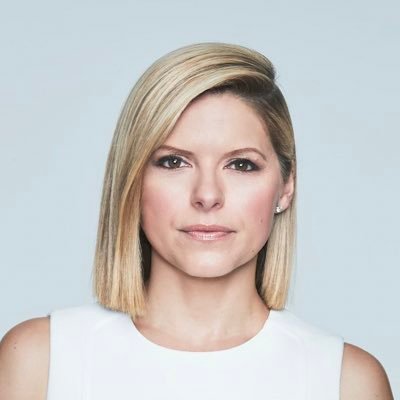 I glower at the mewlings of the underpersons.
"The big people will likely be saved, but what about everybody else, the people who do the real work?" another source pondered to The Post. "The producers, showrunners? Some will get six months' severance, others will not."
Producers, showrunner -- "People who do the real work." You know, like roughnecks and paramedics and steelworkers and porters.

The Post's source pointed out that a lot of finger pointing is aimed at the new executives of parent company Warner Bros. Discovery. "Many people left their stable jobs at CNN to go to CNN+, and then they pull it right after launch?" the source questioned exasperatedly.
Anyone who left a "stable job" to work at CNN Minus is himself not a stable person, or, I suspect, did not really have a stable job and was a few weeks away from being shitcanned.
"I just really wanted the chance to work more closely with Brian Stelter five hours a day."
Okay, pull the other one. You were being chased out of your current job for viewing CP, weren't you?
Following the internal announcement that CNN+ was headed for the trash can, The Washington Post reported that "astonished employees" called the decision "mind-blowing." WaPo also anonymously quoted a CNN employee who reacted to the news saying "[w]e expected them to cut off a few fingers, not the entire arm."
Trust CNN News. CNN News professionals have a really good bead on what the real world looks like and what real Americans' lives are like and how real economics work.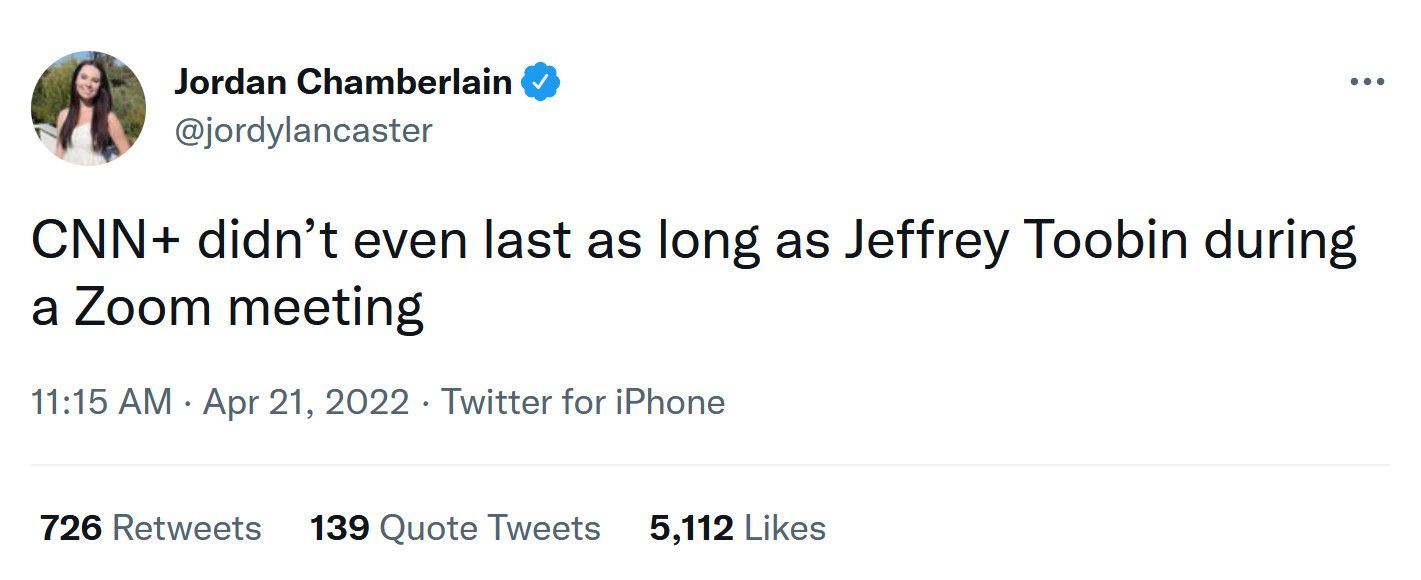 Tweets from Instapundit.
At Instapundit, Stephen Green quotes Steven Miller making the case that CNN must choose between its hyperpartisan "Resistance Warriors" reality and its Facts First Hard News self-image.
I say, with no insult intended to Miller, that this is the dumbest thing he's ever written. Of course CNN is not going to finally choose to either become "Facts First Hard News" and jettison Jake Tapper, Jim Acosta, Brian Stelter and Don Lemon and all the rest, or alternately embrace those hyperpartisan DNC Office Workers and stop pretending to be Real Journalists.
They never will. No one in the media ever will.
Their business is lying. Lies are their stock in trade and cheap pretense and laughable peacocking are their only skills.
But I do know that columns don't write themselves and sometimes you gotta just make a point. I choose to read this like a Marvel "What If..." comic. Like Oatu the Watcher introduces the alternative Earth 759 and asks, "What If... CNN were not a hellpit of Satanic lies* and posturing and DNC press releases and Jeff Zucker telling Jake Tapper what Snaky Chyrons to put up under his stupid big-nosed face and what Zinger Remarks to make to his guests through his Parrot-Diddle Earpiece?"
CNN, choosing to either get clean or admit it's got a problem? Stupidest thing I ever read, and I read The DaVinci Code.
* Update/correction, CNN does not tell Satanic Lies. Satan would not be this dumb.
Steven Miller's next column should suggest a less ambitious, more achievable goal for CNN: CNN should lie better.
Here's the headline: Advice to CNN: Don't Lie Harder, Lie Smarter.
There, I just did the hardest part of your next column for you. Don't say I'm not a giver.

posted by Ace at
02:33 PM
|
Access Comments