« Mid-Morning Art Thread
|
Main
|
Victims of Larry Nassar's Government-Enabled Sexual Abuse File $130 Million In Claims Against the FBI »
April 22, 2022
THE MORNING RANT: Buck Shots - 4/22/2022
*****
Dead Eagle Offsets: Wind Energy Company's License To Kill Bald Eagles At $29,623 Per Bird
ESI Energy has received permission from the federal government to keep killing bald eagles with its wind turbines, so long as it pays a tag fee of $29,623 per dead eagle going forward.
It first had to pay backdated fees for the eagles it had already butchered at its wind energy facilities.
Energy company to pay up to $35 million after turbines killed eagles [Washington Post – 4/09/2022]
An American wind energy company has admitted to killing at least 150 bald and golden eagles, most of which were fatally struck by wind turbine blades, federal prosecutors said.
The dirty little secret about "clean" wind energy is the avian slaughter it produces.
Rebecca Kujawa, president of ESI parent NextEra, criticized the government's enforcement policy, saying some animal deaths are "unavoidable" with wind turbines.
She's right. Wind turbines are a gruesome way of generating electricity. Estimates are that a million or more birds are killed in the US each year by wind turbines. And the crazy part is, despite the collateral damage of all those dead birds, it is still necessary to have fossil fuel backup for whenever the turbines are not killing birds generating electricity.
The good news is that when the wind isn't blowing and carbon-based energy has to be relied on instead, eagles don't get killed.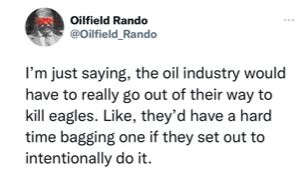 Generating electricity by killing eagles is a nasty way of producing something hailed as clean energy.
But the good news is that our government is now willing to sell "Dead Eagle Offsets."
Prosecutors said ESI will pay $29,623 for each bald or golden eagle killed by its turbine blades in the future.
Much like rich liberals can buy "carbon offsets" that allow them to live a jet-setting lifestyle, green energy companies can buy "eagle offsets" for only $29,623 per eagle that they kill.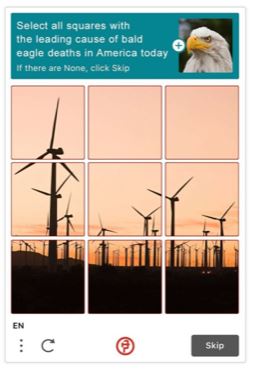 *****
Supreme Court Will Not Rescue High-Tax States From $10k Cap On State & Local Tax Deduction
The Trump tax cuts in 2017 left out one very significant group – high-income residents of high-tax states. Rich folks in blue states generally saw their federal tax bill go up, because Trump's tax cuts also capped state and local tax ("SALT") deductions at $10,000.
It's weird, you'd think all those tax-the-rich liberals in blue states would be happy about seeing their rich residents get taxed even more, but the Democrats in charge of those states howled at the injustice of it all.

So in response, blue-state Democrats cut their property taxes and state income taxes, right? Just kidding. They demanded that the rest of us go back to subsidizing their SALT taxes by getting the Supreme Court to overturn the $10,000 SALT cap. Well it's not going to happen.
The Supreme Court is not going to overturn the SALT cap. With everything else going on in the news this week, this significant story kind of slipped under the radar.
SCOTUS swats away SALT cap challenge that limits tax deductions in New York, Maryland [Fox News – 4/18/2022]
The Supreme Court Monday rejected an appeal from several states challenging Congress's cap on state and local taxes that can be deducted from federal taxable income.

New York led a group including Connecticut, New Jersey, and Maryland in trying to strike down the 2017 limit known as the SALT cap, which limits people to $10,000 of their state and local property and income taxes that can be deducted.
Like sand through an hourglass, there has been a steady stream of affluent blue staters picking up and moving to lower-tax red states over the past 4+ years. There is growing evidence that those who are fleeing poorly-run states in the Midwest and Northeast are voting Republican in the states where they land. So not only are they bringing their money, they're bringing more red votes to red states.
An ugly reckoning awaits blue states as their largest taxpayers flee for low taxes and freedom. This Supreme Court ruling may hasten the exodus.
[buck.throckmorton at protonmail dot com]


posted by Buck Throckmorton at
11:00 AM
|
Access Comments