« Under Pressure From Panicking Democrats, Weekend At Biden's Administration Puts Out Trial Balloon That They're Considering Delaying Title 42 Repeal
|
Main
|
Bad Dog Cafe »
April 20, 2022
Quick Hits: Aerial Insurrection Edition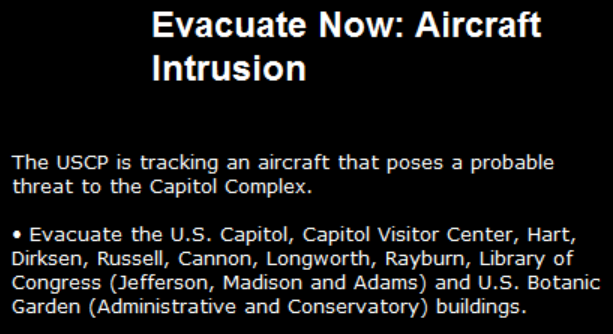 Sean M. Davis @seanmdav

Pretty sure it's the Army parachute team doing an event for Military Appreciation Day at the Washington Nationals game.

Capitol Police intel doing another bangup job here.

It took all of 30 seconds of Googling to figure this out.

Capitol Police have no problem digging up dirt on staff, visitors, or even on *pastors officiating funerals*--they apparently love using Google for that.

But this they missed? Shocking, criminal incompetence.

CNN+ is saved! Chris Wallace is interviewing Psaki tonight! Who wouldn't want to watch that?
Posted by: Anonosaurus Wrecks
Elon Musk can move markets:
Elon Musk @elonmusk


The woke mind virus is making Netflix unwatchable
Disclose.tv @disclosetv JUST IN - Netflix stock crashes over 30% at open. Yesterday, Elon Musk tweeted "woke mind virus is making Netflix unwatchable."
No but seriously, probably had something to do with this:

CNN
@CNN

Netflix lost 200,000 subscribers in the first quarter after it was expected to add 2.5 million. The company's stock sank in after-hours trading.
As many are joking: CNN should know about missing subscriber projections.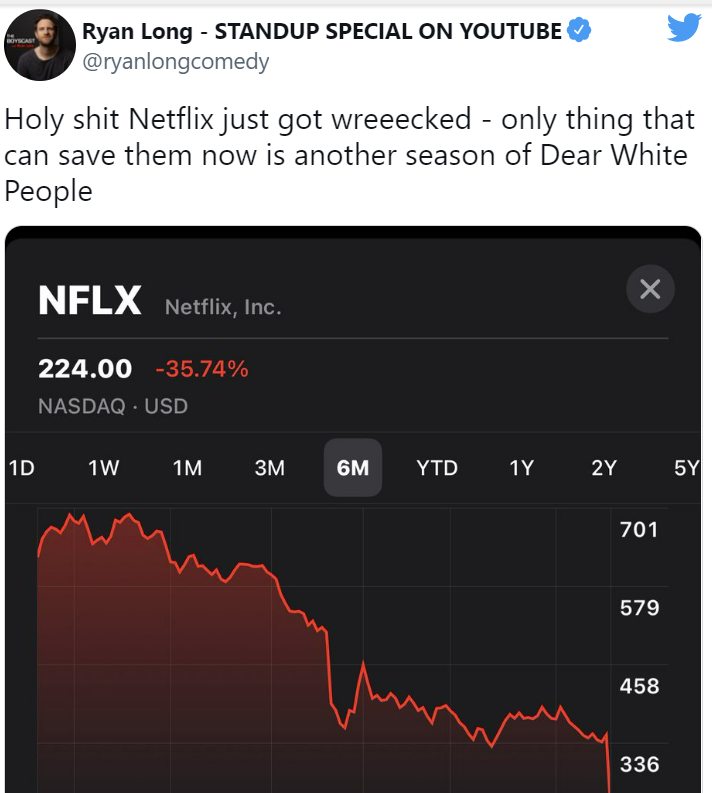 But is Netflix really that woke?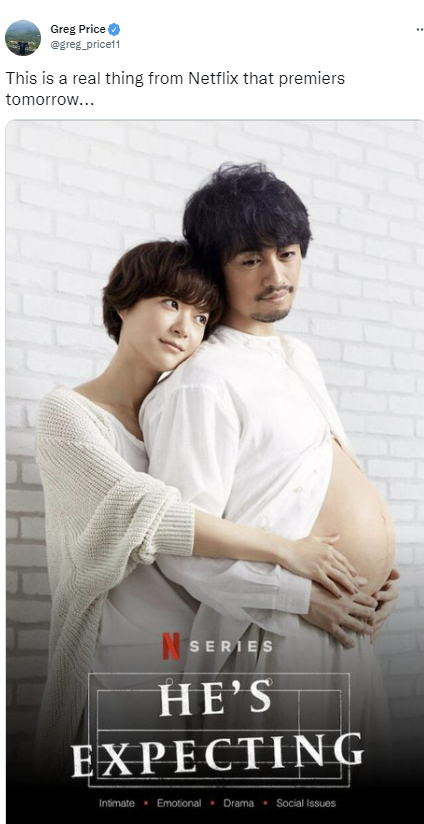 Well, at least it's not CP this time.
PolitiFact is Real News: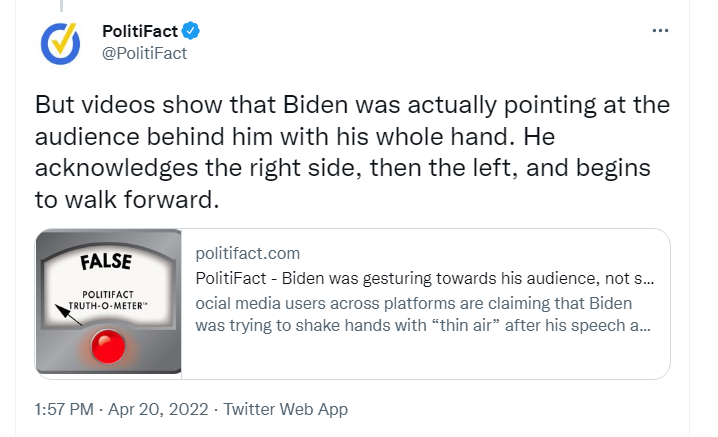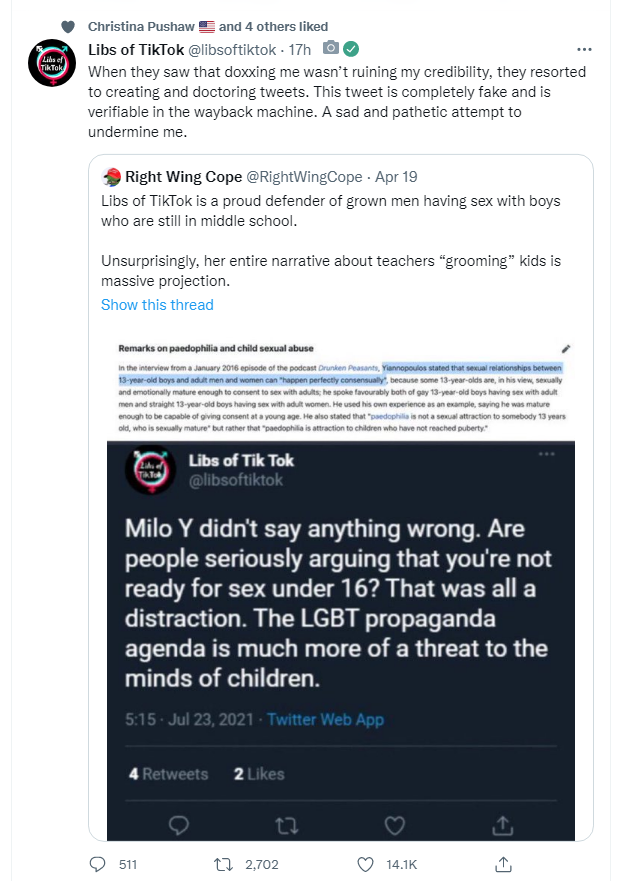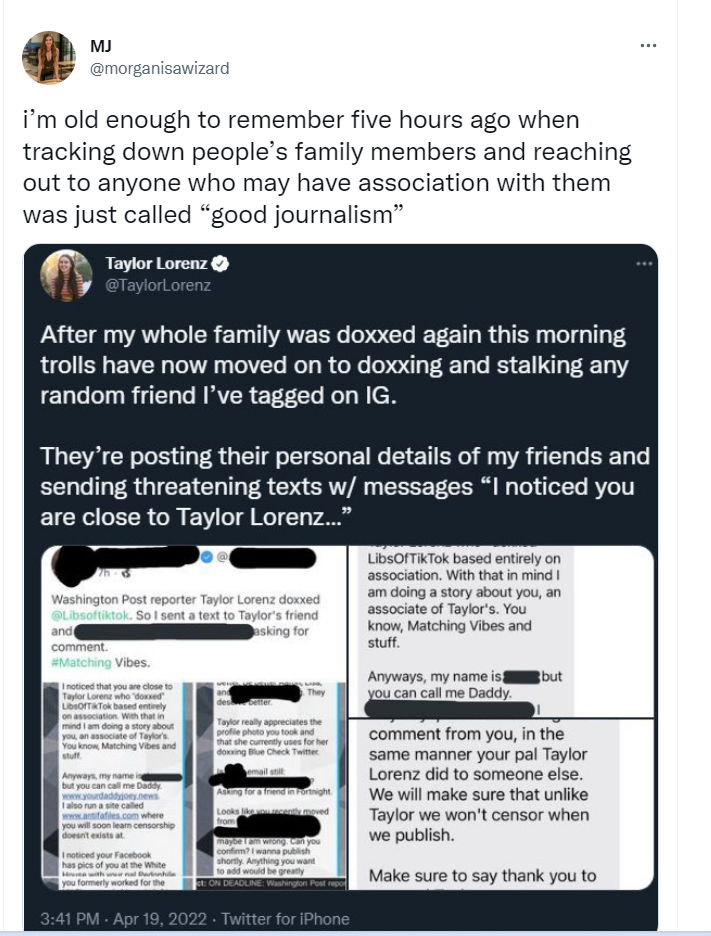 As the mewling paid corporatists of National Review whine "Disney's learned its lesson, let's back off and see if they've changed!," an actual insider who actually knows thing says, "Nothing has changed, they're still pushing full head for Team Transgender, keep firing all torpedoes:"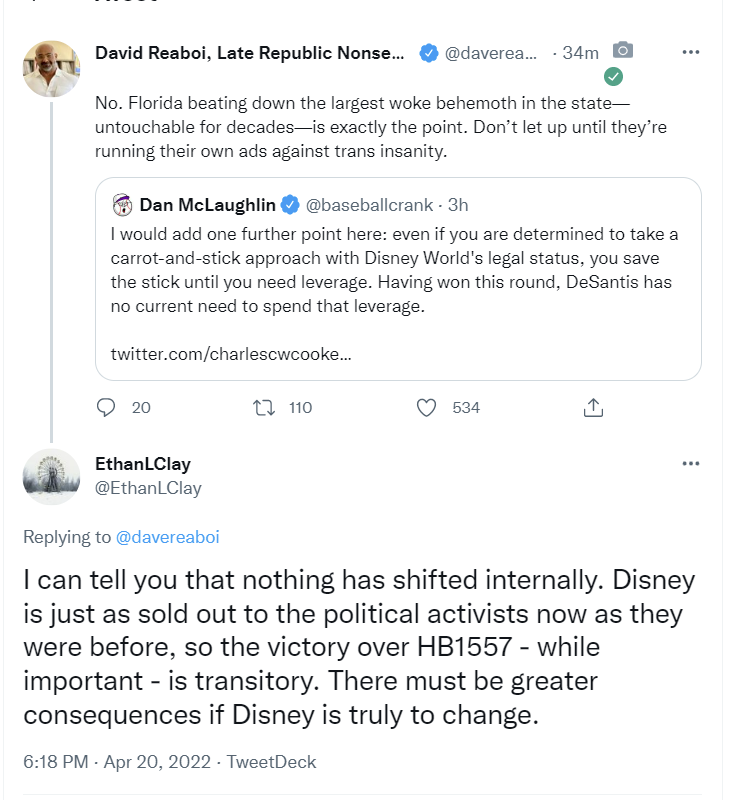 So gee, I don't know who to believe, a guy with actual insider knowledge, or guys who know nothing but corporate worship, discredited neocon ideology, and the signatures at the bottom of their donation checks?
Hmmm, tough call.

Below, Johnny Depp talks about being physically abused by Amber Heard, including the time she threw a bottle at him, which shattered, causing a shard to sever the tip of his finger.
I think a video of that was actually online. I think I actually saw it. I can't find it now, because YouTube is insanely protective of Amber Heard -- they of course assume anyone making a MeToo accusation is telling the truth and therefore must be protected from any contrary evidence. Like a video showing that person throwing a bottle at their supposed "abuser."
The Geek Culture bloggers can't even say her name -- they can only refer to her as "Aqua Lady," or they'll be demonetized.
PS, speaking of Elon Musk, supposedly she was cheating on Depp with Musk and he's actually the father of one of her children, which she told Depp was one of his. Sweet gal!
There's rumor that Discovery/Warner might reshoot the Aquaman sequel to remove this psychopath from the film.
And speaking of: All-around fruitcake Ezra Miller choke-slammed a pregnant girl in Iceland a couple of years ago...
And now he's been repeatedly arrested for assaults on different people the last few weeks, including, again, women.
This newest assault on a woman was, at least, semi-unintentional, I guess?
Miller was arrested early Tuesday morning after an incident at a private residence in Pahoa. Patrol officers responded to a report of an assault that occurred at a get-together in the Leilani Estates subdivision in lower Puna. According to the Hawaii Police Department, Miller allegedly became irate after being asked to leave and threw a chair, striking a 26-year-old woman on the forehead and resulting in an approximate half-inch cut. The woman refused treatment for the injury.
I mean, I assume he wasn't throwing the chair at her. Who knows what this bizarre lunatic toadling gets up to.
But the earlier assaults were not accidental:
Miller's first arrest came on March 28. South Hilo officers responded to a report of a disorderly bar patron, where Miller had become unruly and yelled obscenities while other patrons sang karaoke. Miller grabbed the microphone from a woman singing and lunged at a man playing darts. After being arrested and charged with disorderly conduct and harassment, Miller paid the $500 bail and was released from custody.

A Hawaiian couple filed a restraining order against Miller the day after the first arrest. The restraining order claimed Miller burst into the couple' bedroom and threatened them, and Miller allegedly stole some of the couple's belongings, including a passport and wallet. A judge dismissed the order on April 13 at the request of the couple.

According to Hawaii Police Assistant Chief Kenneth Quiocho, Miller had been the source of 10 police calls in Hilo since March 7.
Miller's status as an Alphabet Person -- he's gay, and he claims to be "non-binary," insisting that his pronouns are "they/them," which is why I call him "asshole" -- is rumored to be protecting him from the consequences that would normally befall a man who repeatedly hits women.
But maybe Miller's protection is about to run out. According to Rolling Stone, Warner Bros. has put Ezra Miller's projects on suspension as they hold emergency meetings to figure out what do with "them."
"Them" is still contracted to do two Fantastic Beasts movies and two Flash movies.

posted by Ace at
06:53 PM
|
Access Comments