« DeSantis Will Strip Disney of Special Rights, Also Announces Potential Shareholder Lawsuit Against Twitter
Update: Florida Senate Votes to Strip Disney of Special Zabaitsu Self-Governing Powers
|
Main
|
Tucker Carlson: The Political Take-Out Hit Against Libs of TikTok Was a Foreign Intelligence Operation Paid For By the Government of Germany »
April 20, 2022
Roland S. Martin Perfectly Encapsulates Ignorant Democrats' Conception of The Science (TM) of Masking
It's a Democrat Fashion Trend: Valerie Jarrett Posts Selfie of Her Wearing Mask Alone in Her Private Car
They're cult religious garb, to be warn ostentatiously for purposes of showing one's adherence to cult dogma.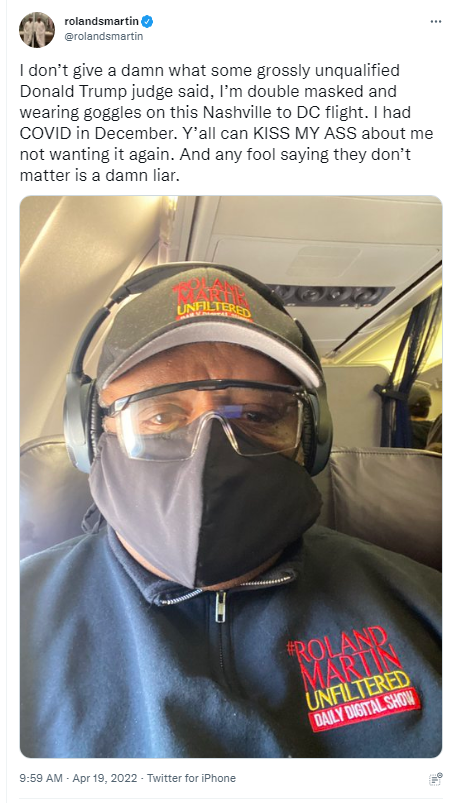 So righteously he thundered!
And yet, just two weeks ago...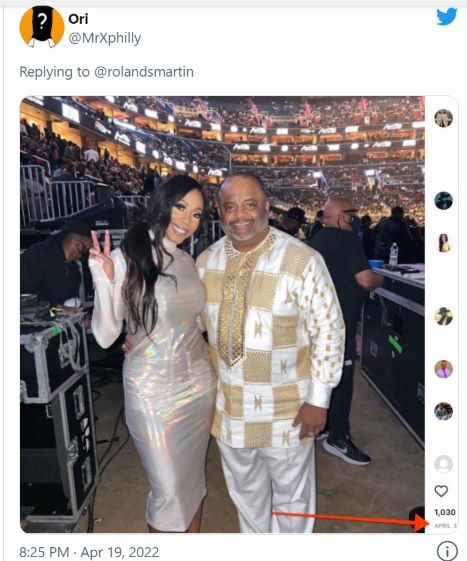 Democrats have repeatedly made mask exemptions for political events or meetin' celebrity situations or "when the music moves you" scenarios.
The Gods of Covid are strict, but not unreasonable.
Roland S. Martin more like Roland S. Moron am i rite?
Who is Roland S. Martin?
He is one of those very-bottom-rung black Democrat media agitators who is no longer employable due to his involvement in the leaking of debate questions to Hillary Clinton in her debate with Bernie Sanders.
I think Donna Brazille got the questions from him. I don't know if he deliberately leaked them or if he's just stupid and incompetent and allowed her access to the questions or what.
Jake Tapper sure thought he was in on it:
Jake Tapper @jaketapper

I'm really not in a place to be lectured by @rolandsmartin on journalism. And certainly not until he and TV One give a full accounting for how their town hall questions "ended up" in the Clinton campaign's inbox. Public has a right to know.
Wikipedia says he did leak the questions to Brazile:
In 2016, Martin was revealed to have leaked CNN town hall questions to former DNC Chair Donna Brazile, who then leaked them to Hillary Clinton's camp when he was acting as guest-moderator. According to Politico, in an email the day before the March town hall to senior Clinton staffers, then DNC Chair Donna Brazile wrote: "From time to time I get the questions in advance" and included the text of a question about the death penalty. An email later obtained by Politico showed that the text of the question Brazile sent to the Clinton campaign was identical to a proposed question Martin had offered CNN.
Huh. I always knew Tapper was a prick, but I didn't know he was also a racist. Posted by: Joe Mannix (Not a cop!)
He has all the classic signs, really.
Even though I say Martin is "no longer employable" by the media -- I'm sure they'll find a spot for him anyway. He's too stupid not to have a job in the corporate media.
If there's room for Tater, there's room for Roland S. Moron.
It's a trend!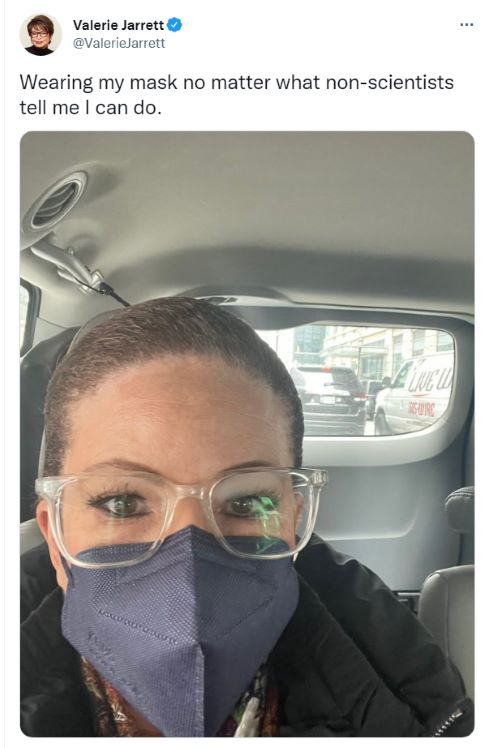 We have literally watched you guys ignore actual mask mandates whenever you think the cameras are off you -- in restaurants, in hair salons, in dance clubs, at birthday parties, at shows. At political events.
In a hundred venues where masking was definitely required by laws you imposed, you ignored masking laws.
Now a judge says "you can take off your masks" and you say "We're putting our masks back on"?
The same masks that you were always taking off?
And now you're going to pretend you wear masks in private cars?
Do you do literally anything else but lie?
Thanks to anonysauruswrecks.

Meanwhile, let's check in with another Noted Democrat Scientist.

Today's Bart Simpson Book Report topic is: "Space."

posted by Ace at
01:31 PM
|
Access Comments