« Wednesday Morning Rant [Joe Mannix]
|
Main
|
Roland S. Martin Perfectly Encapsulates Ignorant Democrats' Conception of The Science (TM) of Masking
It's a Democrat Fashion Trend: Valerie Jarrett Posts Selfie of Her Wearing Mask Alone in Her Private Car »
April 20, 2022
DeSantis Will Strip Disney of Special Rights, Also Announces Potential Shareholder Lawsuit Against Twitter
Update: Florida Senate Votes to Strip Disney of Special Zabaitsu Self-Governing Powers
Update:
Florida's Voice @FLVoiceNews


JUST IN: Florida Senate passes GOP bill to dismantle Disney's self-governing Reedy Creek Improvement District, 23-16
Zaibatsu delenda est
Posted by: Anna Puma
Zaibatsu (財閥, "financial clique") is a Japanese term referring to industrial and financial vertically integrated business conglomerates in the Empire of Japan, whose influence and size allowed control over significant parts of the Japanese economy from the Meiji period until the end of World War II. A zaibatsu's general structure included a family owned holding company on top, and a bank which financed the other, mostly industrial subsidiaries within them.
Update:
Greg Price @greg_price11

BREAKING: The Florida Senate just passed DeSantis' congressional map that creates four new GOP-leaning districts, wipes out Dem gains in redistricting across the nation, and removes Disney's self-governing power and special exempt status.

It goes to the Florida House tomorrow.
Original post follows.

Corporations will not rule us. This is not fucking Neuromancer.
On Tuesday, Florida Gov. Ron DeSantis announced that he is calling on the state legislature to consider legislation in a special session to end the Walt Disney Company's special protections after the company committed to opposing the recently signed Parental Rights in Education Act.

...

"I am announcing today that we are expanding the call of what they are going to be considering," DeSantis said during a press conference. "Yes, they will be considering the congressional map but they also will be considering termination of all special districts that were enacted in Florida prior to 1968 and that includes the Reedy Creek Improvement District."
Regarding Florida's congressional map: Florida's legislature submitted a map which was partisan and gerrymandered.
DeSantis rejected it, as not partisan and gerrymandered enough.
This is exactly what Democrats do when they have power and it's about fucking time we started acting like we're not ashamed to have power ourselves.
Proof that this is the right thing to do comes from the leftwing Florida propaganda corporate press shrieking that it's not fair and also "racist."
Gov. DeSantis' congressional map stacks the deck for Republicans

Editorial

The map is headed for a legal showdown if it passes through this week's special session.

Florida's congressional districts are already a problem. Too many voters of one political party or another are concentrated in awkwardly drawn districts. The gerrymandering leads to fewer competitive races, which undermines the democratic process. Unfortunately, it's likely to get worse.

Traditionally, the state House and Senate draw the districts for Florida's congressional races every 10 years. This year, the Legislature proposed a map with a couple more Republican-leaning districts than the current map, but that's not unexpected when Republicans have strong majorities in the state House and Senate. But Gov. Ron DeSantis didn't like the Legislature's plan. He vetoed it and touted his own map.


In Florida's congressional delegation, Republicans currently have a 16 to 11 edge over Democrats. The state gets an additional district this year due to its population growth, bringing the total to 28. The governor's map would further concentrate Democratic voters into fewer districts, favoring Republicans in 20 of the 28 districts. Democrats would win certain districts easily, but Republicans would win more.
Suck my dick.
Leftwing propagandists claim it's racist because some of the seats that Democrats would lose have black voters in them. Therefore: racist. I mean, obviously.
No seriously, the argument, such as it is, is that the map would affect districts where black voters are guaranteed to elect "their preferred candidate" -- that is, where they're guaranteed a black representative -- and therefore changing those districts is de facto racist. The new map changes boundaries so that black-dominated Democrat districts also have more white and Latino Democrat voters. The districts still concentrate Democrat voters into districts -- that's the point of a gerrymander, to cram all the other party's voters into as few districts as possible -- but now the racial make-up is a bit mixed so blacks aren't guaranteed black representatives.
DeSantis's plan severely undercuts the voting power of Black Floridians. There are currently four districts in the state where Black voters can elect their preferred candidates. His plan would leave just two.
See? Unless you racially gerrymander districts to guarantee a some races that they will only have representatives of their own race, that's racist.
It's anti-racist to insist on special racial rights and racial separatism!
Meanwhile, the Florida Retirement Fund owns stock in Twitter, and DeSantis says he might just sue Twitter's board of directors for putting their own personal financial and political interests above those of the stockholders by rejecting Musk's offer and adopting a poison pill which will prevent Musk from buying more stock at premium prices.
DeSantis says he's "looking at ways the state of Florida potentially can be holding these Twitter board of directors accountable for breaching their fiduciary duty." He says his is not a benign threat because his state owns shares of Twitter. "I didn't buy it [and] we have people that run the fund," said the Florida Republican, but he said Twitter has some explaining to do. "[Twitter] hasn't exactly been great on returns on investment; it has been pretty stagnant for many, many years. To me, I think that is probably an injury to the fund."

DeSantis wasn't done.

"The question is, why would you reject the 20% premium? I don't think that was a rejection based on financial concerns or business judgment," he told a news conference today. "They rejected it because they know they can't control Elon Musk, they know he will not accept the narrative, and that their little play toy of Twitter would not be used to enforce orthodoxy and to basically prop up the regime and these failed legacy media outlets."

He's talking about filing a shareholder derivative suit. In such a suit, any shareholder files a lawsuit on behalf of the company itself, claiming the board of directors is acting against the best interests of the company. (That's where the "derivative" part comes in -- the shareholder's right to sue derives from the company's right to sue its own board; the shareholder steps in for "the company.")
There is nothing exotic about this lawsuit. A shareholder can sue the board of literally any company he holds stock in, if he has grounds to do so. DeSantis has grounds. And he is the executive with the fiduciary responsibility over the shares the Florida retirement fund owns. Florida is a Twitter shareholder, so Florida can sue.
Leftwing Democrat Jared Polis, governor of Coloardo, called DeSantis an "authoritarian socialist" for refusing to allow Florida to become a Corporate-dominated feudal state, which has created a very predictable boomlet of "Polis for President" among the neoliberal grifters of NeverTrump Democrats.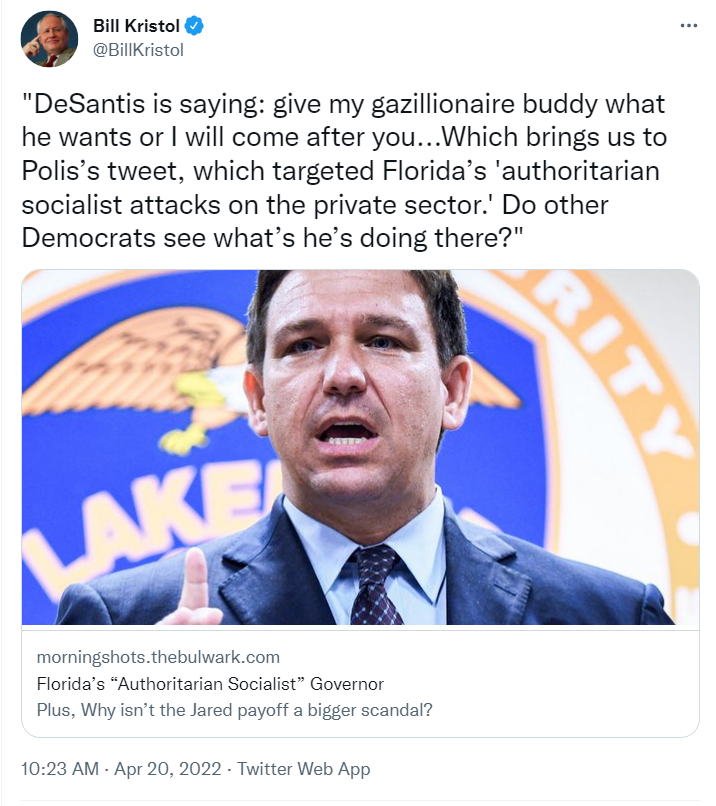 AllahPundit, the Noted Salon Hot 25 Blogger at the "conservative" site Hot Air, of course jumped on this bandwagon, claiming that Polis is a libertarian... you know, just like Allah is!
Polis is a unicorn in modern American politics in that he's an intriguing Democrat. He has a libertarian streak that's uncommon in his party and which showed itself most strikingly during the pandemic, when he refused to reinstate Colorado's mask mandate despite pleas from lefties to do so...

He's left-wing on most cultural matters but that libertarian streak combined with being pro-business (Polis was a huge business success at a young age before entering politics) makes him a little different from standard-issue progressives. And now here he is, picking a fight with the populist right's second-favorite politician by calling him a "socialist," of all things. Hmmmmmm.

Is Polis... thinking about 2024? Our president is a thousand years old; our vice president frequently seems lost in interviews. There's a huge vacuum at the top of the party potentially. Polis is smart, has experience as both a congressman and a governor, and could tout himself as someone who may have more appeal than the average Dem to swing voters because of his more centrist stances on masks and business. His one major potential electoral liability is that he's gay, since Americans may not want a gay commander-in-chief.
That only endears him to the sexual libertines and Groomer Allies of NeverTrump.
Yes, I'm sure Polis is a real libertarian, just like you, Allah. You know, the way you supported the state imposing vax mandates on corporations -- how libertarian! -- and then suddenly found your libertarianism again when DeSantis signed an order... forbidding corporations from imposing vax mandates.

Seems your own libertarianism is highly selective, and just tracks with left-liberal social policy preferences.
I bet that Jared Polis' own "libertarian streak" follows a very similar tack!

Exit Question: If AllahPundit starts openly campaigning for a Democrat for President, will Salem finally fire him and force him to take a job with the Cuckshed, where he obviously belongs?
Exit Answer: LOL, that's a trick question, AllahPundit has been openly campaigning for Democrats for six fucking years. Wake the fuck up, Chester! The corporate tools at Salem are "conservative" in the way most corporate tools are: they think "conservatism" exists only to promote the idea that the Corporate Tools should rule the world.

posted by Ace at
12:21 PM
|
Access Comments