« Mid-Morning Art Thread
|
Main
|
There Is Yet Hope Open Thread »
April 18, 2022
THE MORNING RANT: The Question Every GOP Candidate Will Be Asked; Hurricane Disinformation From NYT; More Woes For Non-Ownership Society
*****
Every GOP Candidate Should Expect To Be Asked This Ridiculous Question
There was a televised local debate a couple nights ago among three Republican candidates running in the primary for County Mayor where I live. The moderators were two local media members, including one from the Trump-obsessed daily newspaper.
The final question of the debate was: "Do you believe President Biden won the 2020 election fair and square? And if not, explain why." Did I mention that this race is for a county office?
This is a partisan media obsession, intentionally designed as a trap, for the purpose of weakening GOP candidates by making them come out as either "election truth deniers" or disloyal to Trump and his voters.
Pretty much every time I happen to catch a media discussion between any media member and any Republican, national or local, a variation of this question is asked.
The correct response is to reject the premise of the question.
When asked this question, GOP candidates should make clear the dishonest partisanship of the question, pointing out that no media member has ever challenged Democrat candidates to disavow Hillary Clinton or Stacy Abrams for claiming their election victories were stolen. Perhaps as condition of responding, the questioner should be required to proclaim right then and there that Abrams and Hillary were dishonest in their "stolen election" claims. Or GOP candidates could simply tell journalists that they will not answer any gotcha questions such as this that are never asked of Democrats. Principles, you know.
The GOP candidate might also want to turn the tables and ask questions of the journalist. "Are you trying to say there were no fraudulent ballots, or that there were no voters who cast multiple ballots, or that there were no ballot integrity issues involving absentee and mail ballots?" The questioner will of course respond that there was "not sufficient" fraud to affect the results.
This is when the GOP candidate has the upper hand. Here might be some hypothetical responses:
"How much fraud is OK by you and the rest of the media?"
"What is the threshold where 'not sufficient' fraud becomes 'sufficient' fraud?"
"Give me an exact number of fraudulent Democrat votes that would trouble you, since you have established that some Democrat vote fraud is OK."
"Why, other than you being a partisan Democrat, are you demanding that I consent to any level of Democrat vote fraud?"
"The purpose of your question is to normalize voter fraud by Democrats against Republicans. I refuse to do so. The acceptable amount of voter fraud is 'None.'"
Savvy campaign managers and speechwriters could come up with many other responses along these lines. Whether it's an election for Dog Catcher or Governor, every Republican candidate should expect to be asked this question. There is no reason for them not to be ready with a "reject the premise" response that highlights the issue of ballot integrity.
*****
NY Times Is Early Out Of The Gate With Disinformation Regarding Hurricane Season
Hurricane season is only a month and a half away, so the media is already gearing up to dishonestly blame climate change for every storm.
The NY Times ran this story just a few days ago.
Most Active Hurricane Season Was Also Wetter Because of Climate Change
Interesting. So last year's hurricane season was the most active season?
Well actually, no. the NY Times is referring to a previous hurricane season – the 2020 season.
Climate change contributed significantly to the severity of the ferocious 2020 Atlantic hurricane season, increasing both rainfall rates and rainfall totals, according to a study published on Tuesday.
Since we're headed into the 2022 hurricane season, why is the Times skipping right over the 2021 season to talk about the 2020 season? The answer, of course, is because 2021 doesn't fit their narrative.
Total global hurricanes in 2021 were way down. Actually, not just way down, but historically low. And truthfully reporting that fact just doesn't work when you're trying to peddle a weather apocalypse.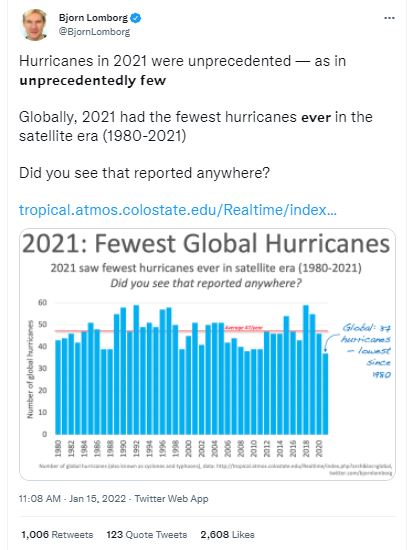 There were only 37 global tropical cyclones in 2021. That was the lowest in the 41 years since satellite records were started in 1980.
Well how about major hurricanes? There weren't a lot of them in 2021 either. There were only 16 Category-3 storms globally in 2021. The record low for Cat-3 storms in one year was 15. More than 30 Cat-3 storms is not uncommon across the globe in a single year.
Per our corrupt, agenda-driven media, when "extreme" weather events in one year are above-average, that is reported as the new normal. When those same "extreme weather" events are below-average, they are simply not reported.
It is just stupendously dishonest for the NY Times to continue to report on 2020's hurricane season as being the new norm while completely dismissing the record-calm season that followed in 2021. But stupendously dishonest is what we should always expect when the media reports on the global warming scare.
*****
Ongoing Hazards Of The Non-Ownership Society
Uber has let down Josh Blackman of the libertarian "Volokh Conspiracy" at Reason magazine.
I Can No Longer Rely On Uber - Uber is no longer a viable product for me. [Reason – 4/12/2022]
I've found Uber increasingly unreliable. Consistently, I am not able to find rides, and when I can, the fares are surged.

This morning, Uber told me the fare to the airport would be about $150! And there was an estimated wait time of 17 minutes! Who knows if a driver would ever show up.
Outsourcing your transportation to others is still libertarian, I suppose, so long as you're not relying on the government to be your common carrier, but being self-reliant for transportation by actually owning one's own conveyance seems more in line with the concept of personal liberty.
There's all sorts of data comparing the cost of car ownership versus hiring rides, but my car never "surge charges" me during peak hours, and the knowledge that my car is ready to take me anywhere at any time is priceless.
While on the topic of non-ownership…
Record-setting rent prices spiking nationwide [The Hill – 4/13/2022]
Rent prices in February hit a new high with a national average of $1,792 in the 50 largest metropolitan areas in the country, marking an over 17 percent increase from this time last year, according to a report.
That's if you can even find a dwelling to rent.
There's never been such a severe shortage of homes in the U.S. Here's why [NPR – 3/29/2022]
It is genuinely awful for people who need to rent a home and cannot find something affordable, if they can find anything at all. I have known people in that awful spot.
There are many people for whom home ownership obviously isn't right for them at a given time. But for millions who were persuaded that it is financially better to rent than own, it must be excruciating to ponder the home that could have been bought at a low-interest rate just two or three years ago, compared to what it would cost to buy a home now at a much higher interest rate– if a house can even be found to buy.
(buck.throckmorton at protonmail dot com)


posted by Buck Throckmorton at
11:00 AM
|
Access Comments