« Mid-Morning Art Thread
|
Main
|
Open Thread »
April 11, 2022
THE MORNING RANT – Buck Shots [4/11/2022]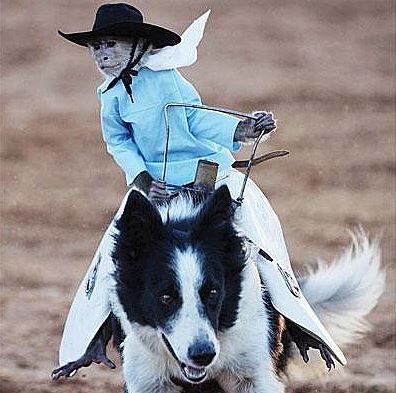 *****
Red Sox To Steer Portion Of Each Ticket Sale To Globalist Billionaires Carbon Credits
I miss baseball a little, and I was actually thinking of turning on the TV for some MLB games this year, until I saw this headline. Good grief, I am so sick of environmental preening.
Boston Red Sox plan to make games at Fenway Park carbon-neutral through purchase of carbon credits
The Boston Red Sox and partners announced this week a plan to neutralize the greenhouse gas emissions of fans attending games at the 110-year-old ballpark. They plan to use a portion of the price of each ticket to purchase carbon credits.
"Carbon credits." I thought that scam had played out back in the Al Gore era. Nope, the scam has now been updated to enrich all the usual players in global finance.
"A portion of the sale of every Red Sox ticket will be contributed to the Aspiration Planet Protection Fund which will help neutralize the climate impact of each fan attending a game at Fenway Park," Red Sox Chairman Tom Werner said in a statement.
What a coincidence, "Aspiration Planet Protection Fund" is being acquired by Interprivate III Financial Partners, Inc., which is part of Ahmed Fattouh's empire of private equity and hedge funds. Among the players in various roles in this arrangement are Doha Venture Capital of Qatar, Bernard Arnault (CEO of Moet/Hennessy/Vuitton), Steve Ballmer (former CEO of Microsoft) and plenty of other scrappy entrepreneurs who just want to save the world.
If the Red Sox want to make some stupid "save the world" gestures, how about they make the players forego all air travel and instead take a bus (preferably electric) on all road trips. Yeah, those West Coast trips will be hellish, especially if they have to keep stopping to re-charge the battery, but if the Red Sox want to save the world, sacrifices will have to be made. Or how about making their groundskeeping operations petroleum-free. The field can be mowed with a good old-fashioned, human-powered push mower.
But no, the Red Sox are going to set ticket prices such that a little vigorish from each ticket sale gets steered to the wealthiest people in the world.
Steering money from ticket-buyers to globalist billionaires who fly in private jets, and calling it "carbon credits" is amazing in its audaciousness. It's vulgar. It's dishonest. But it's perfectly emblematic of just how corrupt our ruling class is, and how corrupt the global warming hoax has become.
*****
Greg Gutfeld Now Solidly in First Place in Late Night Ratings
Move Over Stephen Colbert, Is Greg Gutfeld Officially The New King of Late Night TV? [Mediate – 3/25/2022]
The answer appears to be "Yes."
Gutfeld! pulled in its largest audience yet on March 15, bringing in some 2.37 million viewers.
By contrast Colbert was at 2.16 million, and the two Jimmys were at only about half of Gutfeld's ratings.
Gutfeld also topped his broadcast competitors in the key 25-54 age demographic, bringing in 446,00 demo viewers to Colbert's 406,000.
If executives at media companies cared about profits and ratings, they'd be tripping over themselves to lure Gutfeld away. Or to find another Gutfeld.
But the reality at ABCNNBCBS is that it would be career suicide for an executive to hire/promote/develop a highly successful show that had a non-leftist as host. So instead, they trot out all the interchangeable Jimmys spouting interchangeable left-wing insults for perfunctory audience clapter. The resulting last-pace ratings don't hurt anyone's career.
*****
"Conservatarians" for For Crony Capitalism
As much as I dislike so many of the frauds of Conservative, Inc., it is still painful at times to see people I once respected contort themselves into writing contradictory nonsense that is agreeable to their corporate, left-wing, funding sources.

I'm embarrassed for Charles C.W. Cooke that his political writing career has led him to this point. He is now making the case that granting a mega-corporation special privileges which are not offered to other businesses is somehow "libertarian." In Disney's case, those special privileges are the right to effectively act as a government unto itself, unburdened by the municipal governing bodies that neighboring small businesses have to deal with.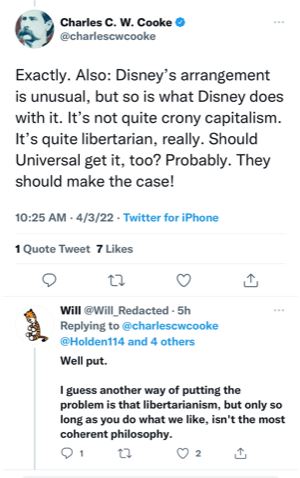 Disney's deal is so good, Cooke argues, that other monster entertainment companies should also get the same privileges. If it's good for Disney, let Universal get the special treatment too.
Well what about Darrell's Tire Shop, or Armando's Plumbing Supply? Why shouldn't they also get to be self-governing? Oh that's right, "Libertarian" and "Conservatarian" have simply morphed into deceptive terms for "government by giant corporations."
Cooke is also strangely principled in how these special "libertarian" privileges are granted and revoked: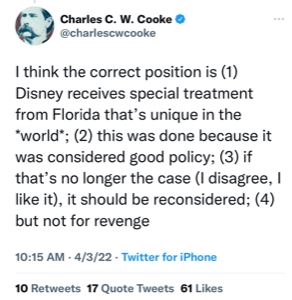 In Cooke's corporatist world, granting Disney special, self-governing status offered to no other company is "good policy," but terminating that unique special treatment is targeted "revenge."
The people of Florida, through their elected representatives and Governor, have passed laws prohibiting the sexualization of small children. Disney is trying to use its power and influence to interfere with Florida's efforts to protect children, therefore revoking its special privileges is good policy.
*****
A Quick Comment On The Greatest Of All Donut-Adjacent Pastries, The Kolache
I hope you all read Ace's exposition on donuts and related pastries (which he called "paradonuts") last week. When you consider that essay, along with his legendary Kaboom Cereal masterpiece, I think it is fair to say that Ace has carved out a unique and timeless literary oeuvre. What Steinbeck's writing was to the Great Depression, and Kerouac was to the Beat Generation, so will Ace's writing be forever celebrated regarding the complex literary topic of sugar-sweetened breakfast foods.
Here is a snippet:
Exhibit B: The Eclair. From the French for "lightning," the eclair was invented by a psychiatrist as a delicious alternative to electroshock therapy for schizophrenics. Because when you're eating an eclair, you can't deny the marvelous cream-filled reality you're actually present in.
I was unable to participate in the scholarly debate that ensued in the comments, so I am going to take advantage of this forum today to point out that…YOU ALL OVERLOOKED THE GREATEST DONUT-ADJACENT PASTRY OF THEM ALL – THE KOLACHE.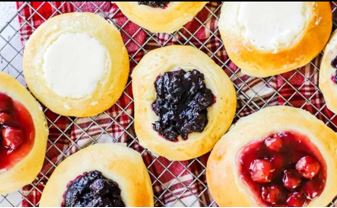 Once only found in small towns settled by Czechs, these delicious pastries have effectively become the state breakfast food of Texas. And now that Buc-cees* is busting out of Texas and colonizing the South, they're taking kolaches with them. [*Buc-cees is like a Wal-Mart-sized Stuckey's, with better food than you'll find in several entire states, about 100 gas pumps, and restrooms so clean you can eat off the porcelain.]
Kolaches are sort of like danish rolls, but instead of having a dollop of dehydrated jelly in the middle of its dried flaky crust, the kolache is a sweet, moist, yeasty roll, hollowed out in the middle, and full of fruit or cream cheese. If you read Ace's description of the, ahem, "pleasures" a cheese danish provides, just know that a cheese kolache is even better.
(buck.throckmorton at protonmail dot com)


posted by Buck Throckmorton at
11:00 AM
|
Access Comments