« Stacy Abrams Went From Having $109,000 to Having $3+ Million In Three Years of Making False Claims About Winning the 2018 Georgia Gubernatorial Election
|
Main
|
YES: January 6 "Insurrectionist" Found Not Guilty When Judge Takes Notice of the Inescapable Fact That Capitol Hill Police Officers Let Him Into Congress »
April 06, 2022
Peachy Keenan: Why Has Hunter Biden Rented a House in Malibu Directly Across the Street from a Rehab Clinic?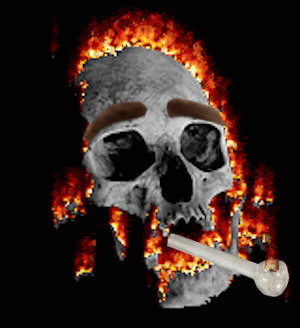 Flaming crack skull courtesy of "..." .
Pharisee French: "This just shows Hunter has turned his life to Jesus, Drumpf-tards!"
Posted by: Thrawn
Peachy Keenan @KeenanPeachy


Hey, did you guys see that story yesterday about Hunter Biden renting a pad in Malibu, and the big scandal because his security detail is renting the house next door for $30k/month?

Guess what? There may be a teensy bit more to this story...

2/ Some Malibu locals I know recognized the house in the Daily Mail photos here.

We know exactly where this is.

I recalled that this same neighborhood in Malibu had a famous celebrity drug rehab place called Promises. Ben Affleck went there a bunch. It's closed now. The house circled in red below is Hunter's house. These pix are from the DM story.




But I was curious -- why would Hunter move to this fairly out of the way spot up in the hills of Malibu, when he could afford a sick oceanfront pad on Broad Beach or the Colony with the other oligarch failsons?

Readers, She Persisted.

It turns out that Promises is now closed, but a NEW ultra-private celebrity rehab now operates in a house next door to where Promises used to be: Cliffside Malibu.



Here's a photo from their website. You can see the two rental houses in the background.
She means, the house Hunter is renting, and the very expensive house the Secret Service is renting next door to protect this drug addict, child porn user, undisclosed foreign lobbyist, tax cheat, and scumbag.
Here are the houses Hunter and the Secret Service are renting, again, via the Daily Mail: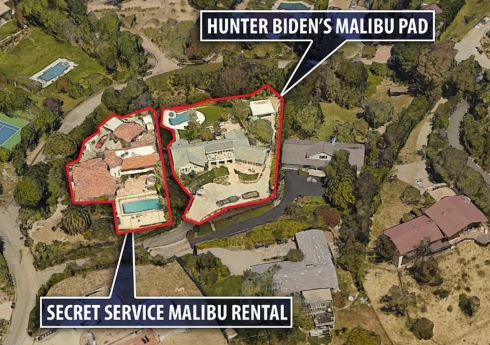 Here's a map with an arrow from the rehab center to Hunter's supposed location as reported in the Daily Mail.

TL;DR: Hunter Biden is living across the street from a super fancy, top-secret drug rehab facility.

I am not a reporter, but any westside LA locals could have easily figured this out themselves based on the Daily Mail's original story and a little familiarity with Malibu.

Cholada Thai, by the way, is delicious if you're ever up that way.


I draw no conclusions from this interesting coincidence. I have no idea what it means.

Probably nothing.

//End
Or, it means that Hunter is trying to get clean for his upcoming grand jury appearances.
Another story the leftwing propaganda media just missed.
Whoops!
Whoopsie!

Good question:
Funny. One "very private residential drug rehab" closes down, and a new one appears a few hundred yards away. Anyone else smell a scam? And if this place is "residential", why does Hunter need to live nearby? Posted by: Alberta Oil Peon
It could be that they don't want to admit he's in the rehab, so they have a deal where they set up a rental for a neighboring property, and have the staff visit you there. Maybe they have a "sober companion" type guy at the rental property to make sure you're not using.
But m says the area is lousy with rehab centers:
They're all over the place out there in those hills. Posted by: m
Joe Mannix is also skeptical, given the "residential" nature of the rehab clinic:
>>>Yup. If it's residential, the proximity of his rented house is meaningless. Unless it is all one huge and terribly expensive ploy to *mask* his time at rehab.

That's exactly what I would guess -- they're hiding it.
Hunter supposedly he quit drugs. He wrote a whole book about his journey to sobriety, saying he was now clean.
Plus the drug addict is now facing federal charges -- wouldn't want it in the news that he was back on crack and Russian hookers and loving it.
I find this all too coincidental to be coincidental.


posted by Ace at
02:26 PM
|
Access Comments