« Media All This Week: TRUMP MUST EXPLAIN "MISSING 7 1/2 HOURS OF PHONE RECORDS" ON JANUARY; DELETION OF RECORDS RECALLS WATERGATE
Media Today: Oops Nevermind the Records Are All There
|
Main
|
Florida Legislators Considering Repealing Special Law That Gives Disney Effective Self-Government On the Lands It Owns »
April 01, 2022
DOJ Threatens States' Attorneys General That Any State Restrictions on "Gender Affirming" Drugs Or Surgeries for Children, No Matter How Young, Violates Equal Protections Laws and Will Be Cause for Federal Action Against Them
Before getting to that: Biden asserted a lot of new "rights" for transgenders, willing them into being, he claims, through an Executive Order.
He's not even bothering to ask Congress to make this the actual law of the country.
President Joe Biden will publicly get behind Transgender Day of Visibility on Thursday by introducing a new universal gender marking.

AP reports fresh measures aimed at opening federal government to transgender people include a new "X" gender marker on U.S. passport applications beginning on April 11.

New Transportation Security Administration scanners that are gender-neutral are also planned as part of the administration-wide embrace of transgenderism and LGBTQI+ issues and people.
He's ordering an expensive program to recode TSA scanning machines because the current ones sound an alert when someone the system says is a "woman" turns out to have a big ol' dick on the scan.
We can't have that. We need gender-affirming weapons-and-explosives scanners.
Because that's the only thing that matters: Making transgenders comfortable in all situations, because otherwise, they will threaten to kill themselves for the one billionth time.
And among those comforts: Making sure that very young children have access to the full panoply of surgical mutilations that adults do.
Abigail Shrier @AbigailShrier

The Biden Administration has now determined that "gender affirming care" - including puberty blockers, hormones and surgeries - is a right of trans youth and "appropriate" and "necessary" for their health.

The Biden Justice Department will come after states that disagree.


The Administration now owns this absurd position at precisely the moment that many European countries (France, UK, Sweden and Finland) are backing away from these interventions, having examined a decade of evidence that *failed* to establish the purported benefits.

Here's today's press release from the DOJ: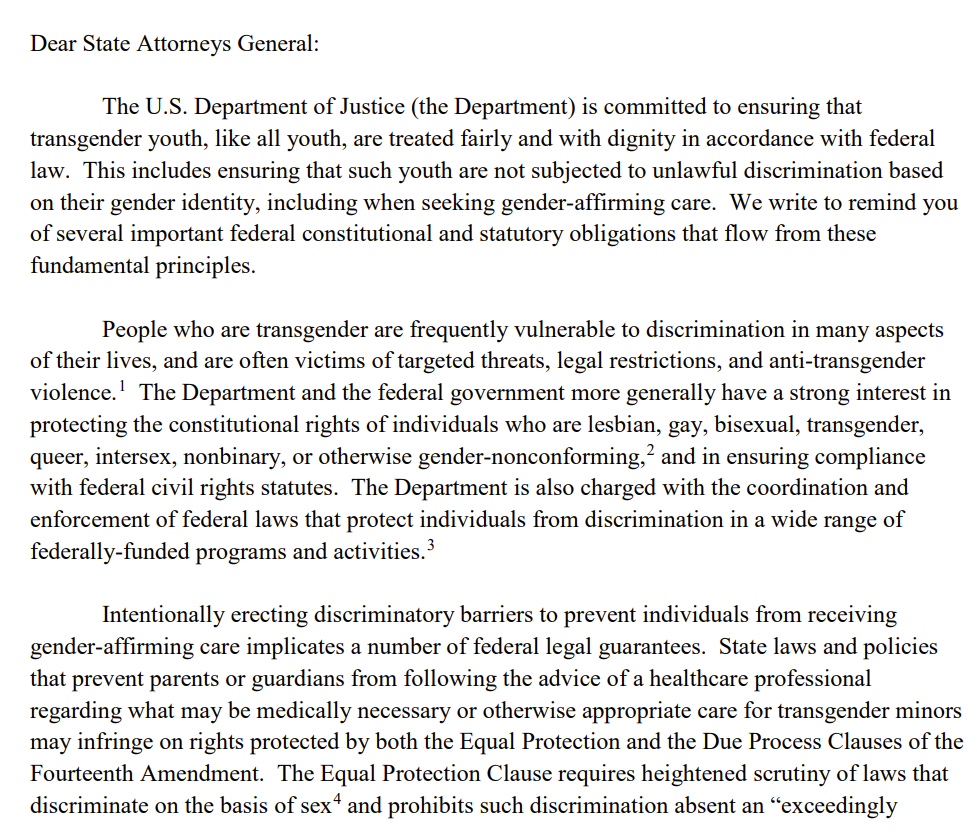 Biden also sent out his communications chief to threaten Florida over the Anti-Groomer Law, the so-called "Parental Rights in Education" law:

I wouldn't get too worried about Biden coming after AGs. Biden cannot get any of his radical, toxic, and highly unpopular agenda through Congress, so he very frequently asserts that his agenda is already encoded into the law in Penumbras and Emanations in other laws that may kinda-sorta suggest a slight implication of the agenda he favors.
The courts have been, thankfully, hostile to these efforts for Biden to assert Fake Law through wishcasting and tendentious readings of old statues, most of which have nothing at all to do with the subject matter he's claiming there's already a law for.
Speaking of, Josh Daws, host of the "Great Awokenings Podcast," had some interesting thoughts on the left's all-in efforts to evangelize homosexuality and transgenderism to very young children.
Last year, he wrote a thread about Paulo Freire's Pedagogy of the Oppressed, which is useful background to his new thread (and which he links in the new thread):
Josh Daws
@JoshDaws

Jun 21, 2021

This is a good explanation of Paulo Freire's Pedagogy of the Oppressed. Freire considered traditional education to be oppressive. He offered an alternative method designed to awaken a critical consciousness in students, i.e. make them woke.

Critical Pedagogy Learning from Freire's Pedagogy of the Oppressed


The whole goal of education, according to Freire, was the transformation of reality through critical reflection and action. In other words, turning students into social justice warriors. The left understands the power of education to direct political action.

This isn't a new phenomenon. Remember all those Linda Ellerbee specials on Nickelodeon in the 90s. Those were designed to turn kids into agents of political change. That sort of education has moved into the classroom.

🎶I believe the children are our future
Teach them well and let them lead the way🎶

Those aren't just cheesy song lyrics to the left. Children are the key to societal transformation.

Pedagogy of the Oppressed is the most influential book in modern education and predates Critical Race Theory by about 20 years. CRT is the flashpoint in this debate but the problem is much much deeper.

All educators have an educational philosophy. As parents we have a responsibility to know what that philosophy is and ensure it aligns with what we want our kids to be learning at school.

Christian parents (and fathers in particular Eph 6:4) have a responsibility to ensure our kids are being brought up "in the discipline and instruction of the Lord."

This isn't a one time battle at the school board meeting to ban CRT, it's a wake up call to take a more active role in our kids' education. Banning CRT isn't going to derail the left's designs for our kids. It's time to take responsibility for their education.
James Lindsey also frequently references Freiere.
I'm seeing a lot of people on the right share this meme.


While it may be a strong satirical response to those who get lost in nuance, it fundamentally fails to recognize why the left wants to talk to your kids about sexuality. Let's connect some dots.

The left doesn't want to diddle kids. They want to create little revolutionaries. To do that they need to sever the bond between students and the parents they believe are raising their children to be hateful bigots.
Actually, a fair number of them do want to diddle kids, but you're right, many just want to turn them into woke revolutionaries.
In order to sever the bond between parents and their children, the left is using a two-pronged approach. Critical Race Theory and radical gender ideology (properly known as Queer Theory) are not two unrelated sets of ideas. They are two parts of the same strategy.

CRT is usually the first set of ideas to be introduced. This is often enough to radicalize racial minorities, but it's merely step one for white (or white adjacent) students.

CRT instills in these students a negative self-identity as they're taught to believe they're recipients of enormous privilege that was stolen from others and that they are complicit in historic and ongoing injustice. In child terms, they're taught to believe they're bad.


Apart from the shame and guilt, this also gives them a worldview at odds with the one their parents grew up with and are trying to pass on to their kids. Step one is complete.
This can't be repeated enough: the point of "Wokeness" and CRT is to tell people who might oppose the left that they are Born in Sin due to their race or sex or sexual preference, but, fortunately, there is a special dispensation that will expunge their original sin: Becoming an "ally" to the various client groups of the far left and voting for the far left's agenda like their Place in Heaven depended on it.
From this flows another phenomenon: The only way for a working-class white person to advance his social standing is to denounce other working-class white people and attack and to denounce any values associated with working-class whites.
That's the only way for a working class white person to join the ranks of The Elect.
Once CRT is done tearing down these kids and leaving them with a negative self-identity, Queer Theory (QT) is introduced and offers them a wide assortment of positive self-identities to choose from.


Instead of living with the shame and guilt of being a member of the oppressive dominant culture, these students can be celebrated for coming out as gender nonbinary or pansexual.


In an instant, these kids can trade their negative self-identity and all the accompanying guilt and shame of being an "oppressor" for a positive self-identity as a much-venerated "oppressed" minority.


"But my school has Christian teachers and a Christian principal. They couldn't possibly have this agenda." Aha. This is where we turn to @joe_rigney and connect another dot.


desiringgod.org
Do You Feel My Pain? Empathy, Sympathy, and Dangerous Virtues

Empathy has become a more popular virtue than sympathy in recent decades. But the shift does not come without its dangers.

Hear me loud and clear on this. Most teachers love the kids in their classrooms and want only the best for them.
Disagree. Narcissists love no one but themselves, and these Woke Evangelists are hardcore, diagnosable narcissists. They love the thrill of literally "molding young minds."
These social-media-obsessed narcissists got into teaching because it seemed like a great way to pick up a lot of "follows" and "fans." They view children as an easy-to-recruit group of people they can recruit to be their fans and followers, as if the classroom is a TikTok or Instagram account.
But I'll let you go on.
They have had their empathy *for* these students weaponized *against* them by leftist activists promoting educational programs that sound nice and caring.


Highly empathetic teachers are being used to promote this agenda unaware of its insidious purpose. An example: I recently saw a teacher at a Christian school announce that she would no longer be using the words "mom", "dad", or "parents" in her classroom.

Her reason? She had just read a paper on the importance of making kids from non-traditional families feel included. She suggested replacing "Donuts with Dads" with "Bagels with Buds" or something of the such.


This sounds like a very considerate thing to do for kids who might feel different because they don't have a dad or live with their grandparents, but its purpose is to subtly chip away at the very idea of the normative nuclear family (a stated goal of the BLM organization.)


Christians who think that we can embrace the ideas from CRT and reject radical gender ideology need to realize how the former is used to prepare kids to accept the latter.

These are your kids we're talking about. The left wants them. They would love to sever your bond with them. They think your appeals to childhood innocence are an attempt to force heteronormativity on them. Seriously. They write papers on it. It's not a secret agenda.

@ConceptualJames has recorded a three-part series walking through this entire agenda by looking at primary sources. I highly recommend all parents invest the time to listen to them. 22/23
youtube.com
The New Discourses Podcast with James Lindsay, Episode 54


The meme I opened this 🧵 with is an easy response to the insanity we're seeing today, but it's not a great explanation. We should take the time to help people see how nice-sounding programs are being used in the classroom to create little activists and put kids in danger.
I disagree with the total pass he's giving malignant narcissist groomers, but a lot of what he says is true and important.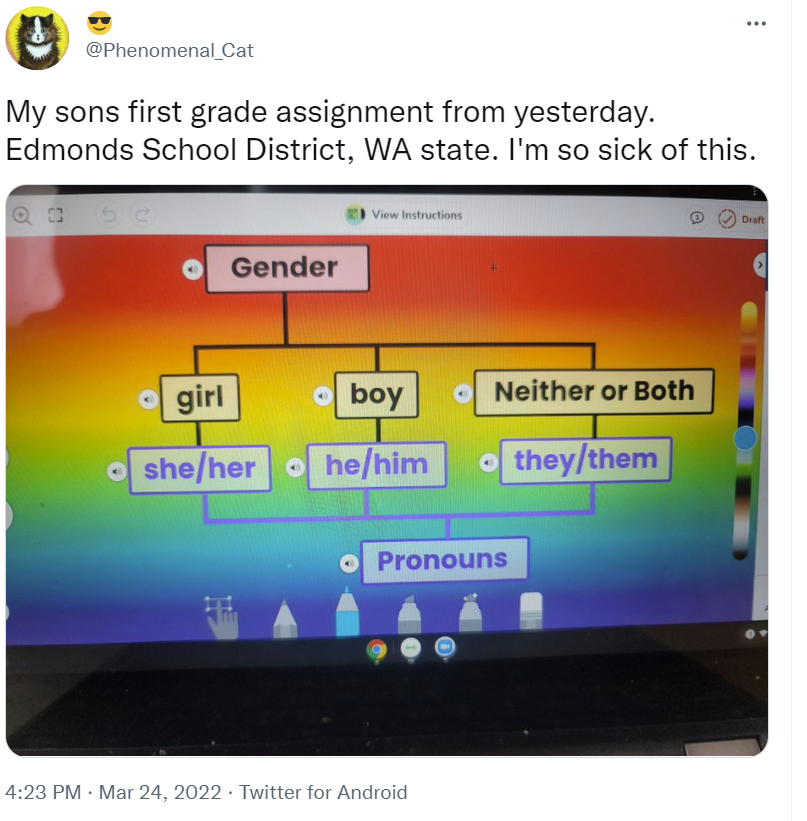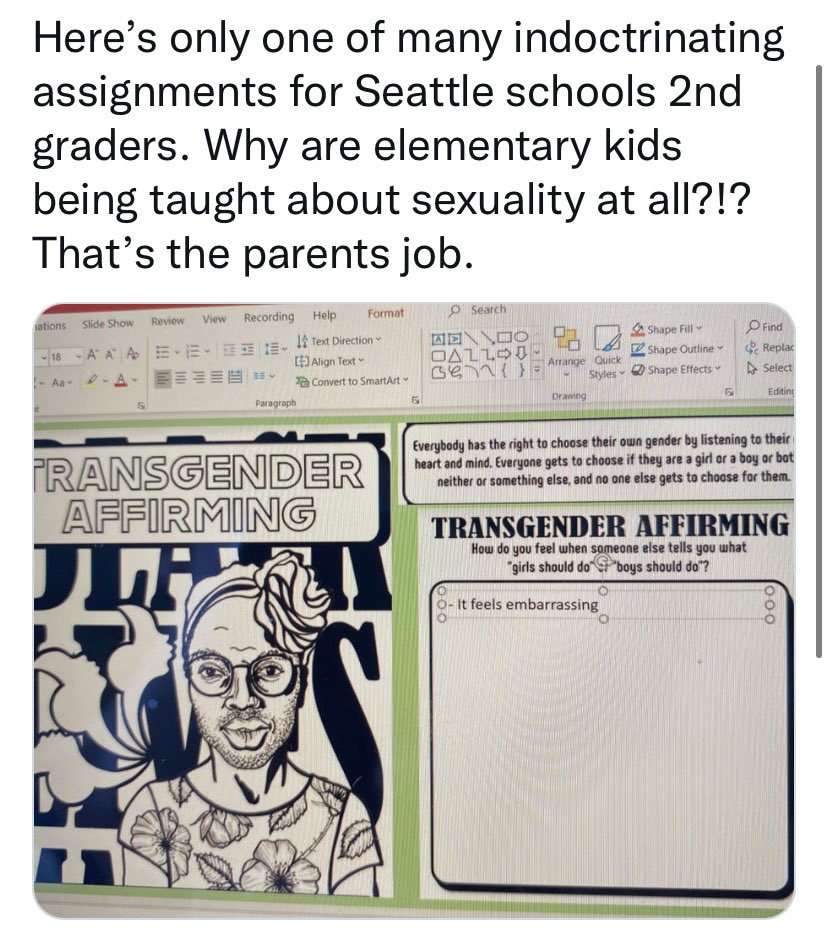 A lot of people on "the right" are either silent or actively defending the left's attempts to groom children.
The Democrat-supported Bulwark, of course, is taking the side of the Transgender Evangelists: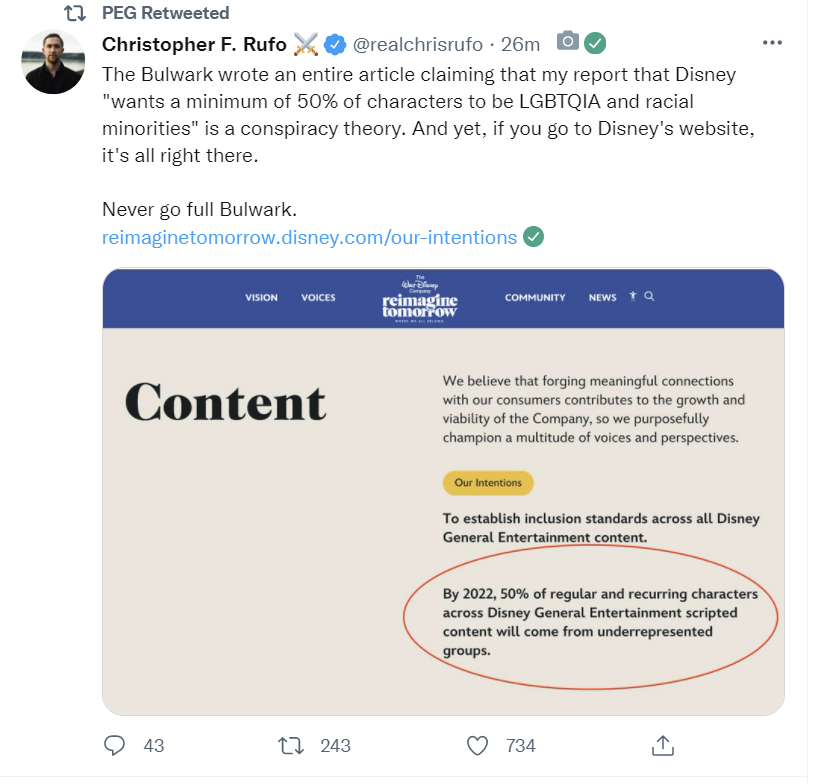 This is why I keep talking about a true purge. You know -- like William F. Buckley kicked out the Birchers. Something that the Bulwark and National Review types still get all moist about.
At some point, a political movement must say, definitively and boldly, that this group of people is so toxic to the movement and so antithetical to the movement's values that they must be denounced and cast out, if there's going to be a movement at all.
These are not fine little details we can bicker and negotiate over. These are fundamental, no-compromise points we must insist on -- and cast out all those who disagree, and say, with no uncertainty, that those who disagree with such basic, elemental points are members of the opposing party, the hard left.
Update: It was Charlie "3-Wives" Sykes who claimed that it's a conspiracy theory to claim that Disney wants 50% of all characters to be racial minorities, gays, or transgenders, without bothering to do the minimum of research necessary to see that Disney itself announces this goal on its own website.
What a shock that Charlie "3-Wives" Sykes supports a Hugh Hefner conception of sexual "liberation," huh?

posted by Ace at
03:40 PM
|
Access Comments