« FoxBusiness Reporter: Biden Is Considering Taking Away Staff and Resources from the Veterans Association to Divert Them to Providing Care for the Millions of Illegal Immigrants He's About to Allow to Rush Into the Country
|
Main
|
DOJ Threatens States' Attorneys General That Any State Restrictions on "Gender Affirming" Drugs Or Surgeries for Children, No Matter How Young, Violates Equal Protections Laws and Will Be Cause for Federal Action Against Them »
April 01, 2022
Media All This Week: TRUMP MUST EXPLAIN "MISSING 7 1/2 HOURS OF PHONE RECORDS" ON JANUARY; DELETION OF RECORDS RECALLS WATERGATE
Media Today: Oops Nevermind the Records Are All There
The Walls Are Truly Closing In, this time.

They do nothing but churn out fake news and disinformation, all day, every day.

And when people point that out -- they run to their Social Media Monopoly co-conspirators and lobby to get their competitors and critics deplatformed.

From the moment we learned the extent of the 1/2-hour gap in White House records of President Donald Trump's phone calls on Jan. 6, 2021, the question has been: How did this happen? Could it just be sloppy record-keeping -- that so happened to overlap with the most critical and problematic portion of that day (that is, the insurrection)? Could Trump have used burner phones? Or could someone even have engaged in Watergate-style tampering?

The answer isn't just a matter of curiosity; it could matter legally. Coverups, after all, can be used to prove criminal intent. And the Jan. 6 investigation is trending in that direction, with some recent validation.

All of the above-mentioned options are viable, given what we know so far. We know for a fact that the gap wasn't the result of Trump staying off his phone, as we have at least five phone calls in the public record that aren't accounted for in the call log. One of them appears in the White House daily diary -- a retrospective summary of the president's actions -- but, for some reason, not the call log. And it, for some reason, lacks the detail of the other calls in the diary, including the other party to the call.

Since the news of the gap broke Tuesday, we've been able to connect a couple of key dots:

1. That final call before the 7 1/2-hour gap -- at 11:17 a.m. -- appears to have been with then-Sen. Kelly Loeffler (R-Ga.), based on another document. And according to the same document, it was apparently followed shortly thereafter by a Trump call with Vice President Mike Pence at 11:20 a.m. -- a call that isn't recorded at all in either the diary or call log.

2. Another of the unaccounted-for calls -- a 2:26 p.m. call mistakenly made to Sen. Mike Lee (R-Utah) but meant for Sen. Tommy Tuberville (R-Ala.) -- appears to have come from a White House device.

That latter revelation comes courtesy of the Guardian's Hugo Lowell, who confirmed that the call to Lee came from a number listed as 202-395-0000. That number signifies it originated on an official White House phone.

Both of these suggest the gap didn't result from the use of untraceable burner phones. If the idea was to shield communications as the plot to overturn the election unfolded, why would the 7 1/2-hour gap feature a call from a White House device -- smack in the middle, at 2:26 p.m.?
And now: Ooops, turns out the records were available all along.
Gee, I just can't believe that an "investigation" headed by Adam Schiff is pumping out serial lies to the media -- and that the media is still eager to push these lies out to the public, despite their fantastically-compromised originator.
According to multiple sources familiar with Trump's phone behavior and the White House switchboard records, the January 6 log reflects Trump's typical phone habits. He mainly placed calls through the switchboard when he was in the residence but rarely used it when he was in the Oval Office. The fact the log does not show calls on January 6, 2021, from the Oval Office is not unusual, said the sources, because Trump typically had staff either place calls directly for him on landlines or cell phones. Those calls would not be noted on the switchboard log.


The six pages of White House switchboard logs for January 6, 2021, are complete based on an official review of White House records, according to a source familiar with the matter. There are no missing pages and the seven-hour gap is likely explained by use of White House landlines, White House cell phones and personal cell phones that do not go through the switchboard.
Jamie Gangel
@jamiegangel




CNN Breaking: The 6 pages of WH switchboard logs for 1/6 are complete based on an official review of White House records, according to a source familiar with the matter. There are no missing pages & the 7 hour gap is likely explained by use of WH landlines & cell phones link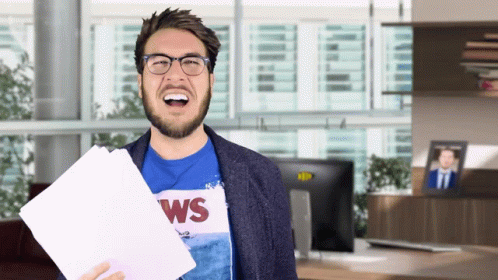 Lying media propagandists posting their Ls: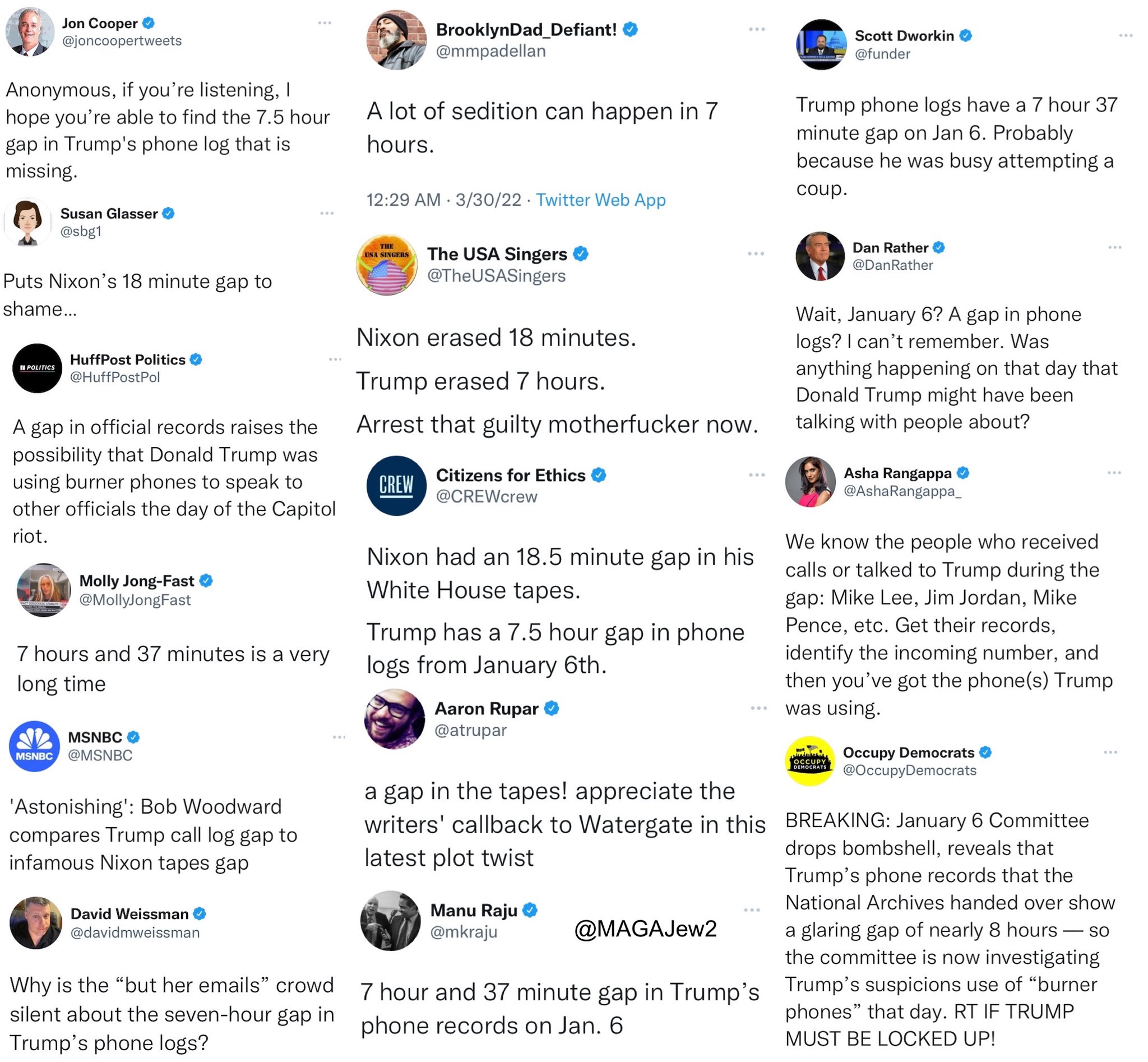 Jazz Shaw at Hot Air is dunking on the media for pushing yet another Fake News hoax.
Of course he... overlooks the fact that of course Hot Air was in the forefront of mainstreaming this Fake News: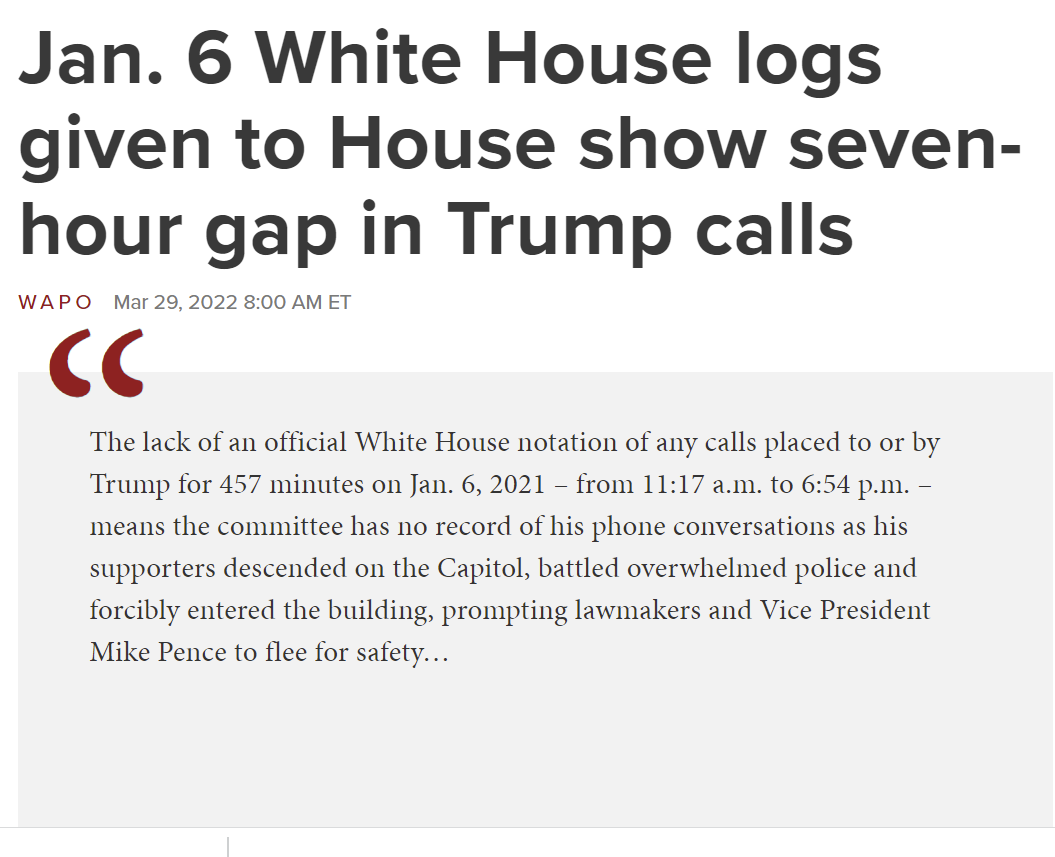 As I've asked before: Is anyone at any Salem Media property ever going to stop dunking on the disinformation peddled by the leftwing media and notice, just once, that a lot of this disinformation is coming from inside the house?
Or is everyone just going to keep pretending that AllahPundit is a Noted Conservative and that Hot Air really is "a website for conservative news and commentary"?
AllahPundit's a huge, huge fan of leftwing media "fact" checking. How about Salem Media assigns an intern to pre-Fact-Check each of AllahPundit's posts before publication>