« Food Thread: Rib Hubris? Rib Nemesis?
|
Main
|
Sunday Overnight Open Thread (4/3/22) »
April 03, 2022
Gun Thread: April 3rd Edition!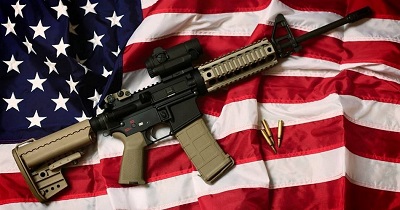 Howdy, Y'all! Welcome to the wondrously fabulous Gun Thread! As always, I want to thank all of our regulars for being here week in and week out, and also offer a bigly Gun Thread welcome to any newcomers who may be joining us tonight. Howdy and thank you for stopping by! I hope you find our wacky conversation on the subject of guns 'n shooting both enjoyable and informative. You are always welcome to lurk in the shadows of shame, but I'd like to invite you to jump into the conversation, say howdy, and tell us what kind of shooting you like to do!
I just rolled in from a weekend o' shooting at WeaselAcres. It was a Shoot-a-Palooza! Be sure to tune in next week for an epic trip report! Also, don't forget the 2022 NoVAMoMe is scheduled for Saturday, June 11th. See below for details and registration info. In fact, I think it's fair to say this is MoMe season, with other Moron gatherings on the calendar in Colorado, Washington, Alaska and Texas. Holy Shitballs! Seems like the western half of the country is pretty well covered. Take a peek at the main page left sidebar, find a MoMe near you, and sign up. You won't regret it!
With that, let's get to the gun stuff below, shall we?
******
Smith & Wesson Model 64
Back to Smith & Wesson revolvers this week, we have a nice example of the Model 64 snubby from the WeaselCollection. This is pretty much a baby with a manufacture date in the 1980s and is the gun I have in mind when thinking of a revolver for concealed carry.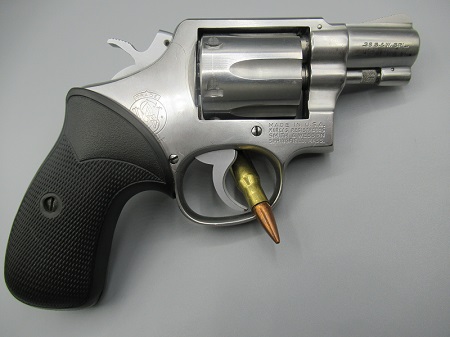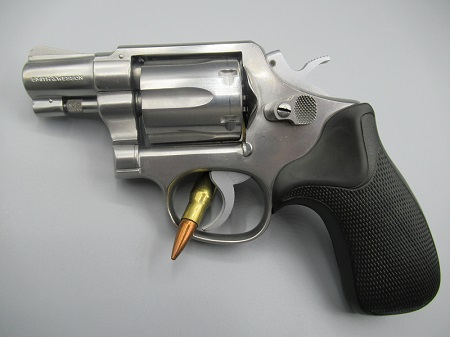 Even with the short 1 7/8th inch barrel, I think it's plenty accurate as long as I'm on my game.
Here is a deranged lunatic shooting the Model 64.
It's hard to tell from the video, but I'm about 7 yards from the target. Obviously I'm concentrating on creating a small group and not in some sort of high stress self-defense situation, but I think it shows what the snubby revolver is capable of.
What about you all? Anyone carry a concealed revolver? If so, what made you decide to do so?
******
First up, our pal Dino58, a reformed lurker, sends us a range report.
I've been a longtime lurker, and, since it was Lurker Day, thought I would give you a range report. Up at Rancho Momos, I have a view of the bottomland with about 650 yards clear. I have been teaching myself long range shooting with .22 Long Rifle. Here is the range.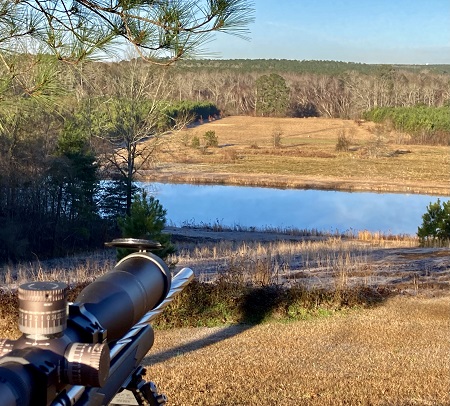 Just across the pond, on the right is an 8 inch plate at 200 yards. Up and to the left in front of the trees is another 8 inch plate at 300 yards. Finally, centered between the trees is a 12 inch x14 inch plate at 400 yards. The gear I am using is a Savage Mark II .22 LR, Vortex Razor 5-20x50 scope on a 20 MOA rail and an Atlas bipod. The latter was a Christmas gift from my son who is usually my spotter. This setup really has taught my son the difference between pulling the trigger for a 'bang' and pulling the trigger for a hit. Know what I mean?

It is really lots of fun and has made me realize how much I need to learn about calling the wind. I have found standard velocity CCI ammo works well on the closer targets, but when I want to reach out past 300 yards, I go to CCI Velocitors. Makes about a 20 MOA difference in the scope between standard velocity and the Velocitors at 400 yds. How high is the aim point? At 400 yds, I am at 56 MOA = 224 inches = 18.5 feet.
Here is the 400 yard target: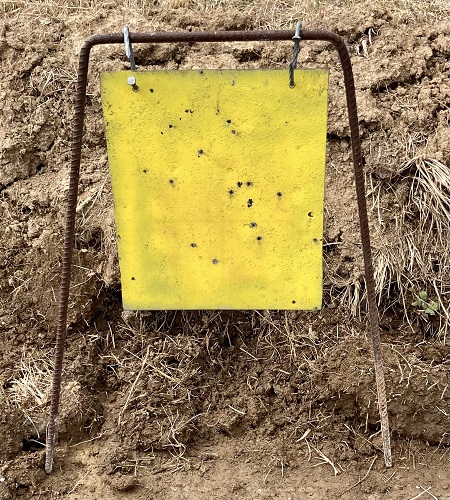 The 300 yard target is an 8 inch plate. Firehose works great for hanging the target. Rounds pass right through.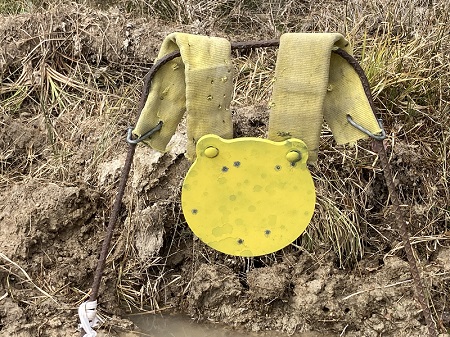 I'm not very familiar with .22LR ballistics beyond about 100 yards, but always recommend the Ballistic App when trying to determine elevation and windage for a new load or cartridge. Just plug in some basic data on the projectile weight and velocity, and you get a nice range card as the output. Lots of flexibility beyond the basics and the results are very accurate.
Nice setup and nice shooting Dino58!
******
Last week we featured a picture of mystery ammo sent by our pal
fd
. Here's the picure again.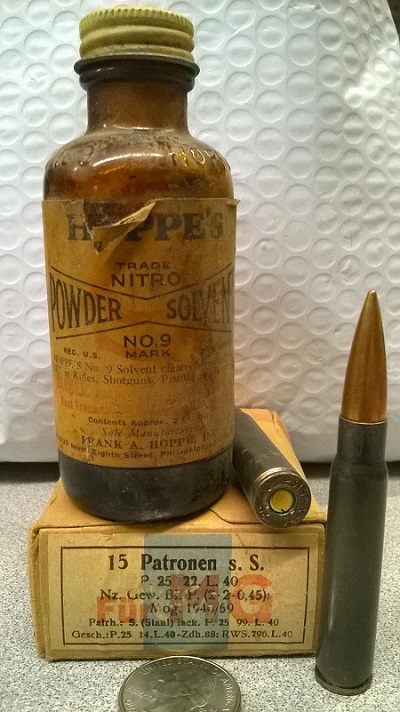 Several of you spoke up in the comments with an ID and here are a couple I received later.
First from our pal lurker:

That's a WW2 carton of 7.92mm (we call it 8mm in USA) Mauser ammo. The box says it's for machine guns (Fur MG&). That would be for the likes of the MG34, MG42, or various aircraft machine guns. 15 cartridges s.S (schweres Spitzgeschoss - heavy "spitzer" projectile). Standard WW2 German bullet. Probably 198ish grains. Nitrocellulose rifle flake powder (with size of flakes) All of the small print gives supplier names, dates and lot numbers of the projectile, powder, brass, and primer, and when it was all assembled and where. I don't have a lookup table for all that handy, but they exist. The case is lacquered steel. (Patrh: S. (Stahl) lack. ) Projectile P (I think that's Polte, the maker), Primer by RWS The dates seem to be 1940.

That's not a complete breakdown, the cartridge collector freaks can tell you factory names and dates and lot numbers for all the components.

I wouldn't shoot this stuff through any Mauser rifle; 1) machine gun loading is likely to be "hot" and 2) guaranteed corrosive primers will necessitate extensive scrubbing and cleaning immediately afterwards. Not worth the work.

I say, collectible but not shootable.
***
And also a note from our pal Mike in Sheboygan:
I am going to take a shot at identifying the cartridges you posted along side the Hoppe's #9.

I believe it is an 8mm (7.92x57) steel case cartridge made my RWS of Germany. Fur MG would indicate that it is a machinegun round designed for hand operated aircraft defense machinegun, possibly a MG15.
Nicely done to everyone making the identification. Y'all have big brains!
******
Next up our pal Jim shares some thoughts on sourcing ammo.
Ammobuy.com - A different format, and may be easier to use. Lessons learned: compare (ammo costs + S&H + tax) / (total rounds) can turn a bargain into a bust, just like eBay.

Cabelas & Bass Pro tips - on and off supply, if you see it and it's what you want, order it; 1,000 boxes can sell out in 2 hours. Absolutely do not rely on the ammo pictures; use the mfg stock number and look on (Winchester, Federal, etc) website for the specs. Orders over $50 ship free which can make the total much cheaper (especially rimfire) than competitors. May be limited to 5 boxes of an item per order, but you can order the same thing from both Cabelas and Bass Pro; ships from same warehouse, same stock, same day.
Thanks for the recommendations, Jim!
******
Laser Optics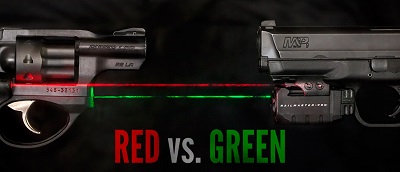 Lately there has been some discussion in the comments on laser optics, and our alert pal Hrothgar sends in a great article on red vs. green types
Do you have a preference?
******
Gun Basics 101
This week the She Equips Herself gal talks concealed carry with a Spring wardrobe in mind.
******
Cigar of the Week
This week we have a great offering from Cigars International, the Diesel Unholy Cocktail Robusto. I don't know about you guys and gals, but whenever I'm going to put something into my mouth and set it on fire, I want something with diesel in the name! All kidding aside, they are very nicely constructed, stout cigars. At around $4 each these aren't quite a daily smoke for me, but aren't going to break the bank, either.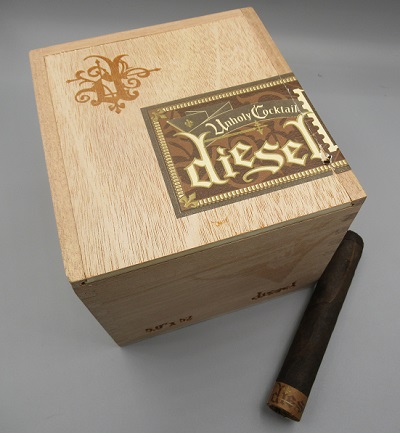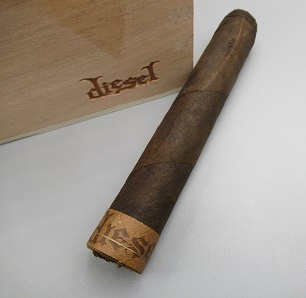 Who am I kidding about all kidding aside?
That makes me laugh every time!
******
ATTENTION NoVaMoMe 2022!!
The social and cultural event of the season, NoVaMoMe 2022 is on the calendar! That's right, you people have a chance to meet many of your online pals on Saturday, June 11th beginning at 1pm until dark, or such time as it gets busted up by the cops. We have an exciting location in the Northern Virginia area which allows extended time for visiting. Admission is $25 which includes food and soft drinks, with a cash bar. This year the menu is BBQ chicken and pork with the usual sides and cookies for dessert. Appetizers begin just after 1pm and dinner is 3pm. Want to be one of the cool kids? Just send an email to novamome at protonmail dot cee oh emm, pass the rigorous screening process to obtain registration details, then sign up to attend! Easy-Peasy!
Each year, I spend a fair amount of time encouraging people to come to a MoMe. Any MoMe! I cannot overemphasize how much fun these things are, and how much we want YOU to come! We plan for the crowd in general but also consider the needs of the introvert lurkers and provide plenty of potted plants for those so inclined to hide behind. All kidding aside, you are completely welcome to slink-in, eat, drink and people-watch, and then slink-out. It is a 100% zero pressure event. If you can handle a backyard picnic, you can definitely handle this.
Win a Dream Date with Weasel!
Back by tepid demand, a separate raffle for the Gun Thread gift basket will be held. This fabulous prize includes an entire day of shooting and personalized one-on-one handgun & rifle coaching and instruction at Weasel Acres on a mutually agreeable date with yours truly. The lucky winner will be able to not only bring and shoot their own weapons, but also try out a variety of WeaselWeapons using WeaselAmmo!

We will end the day with dinner at a good Mexican place in nearby Appomattox. Pretty much a dream date with Weasel! The winner will be responsible for their travel to and from Central Virginia, hence the separate drawing.
Don't be a pathetic girly-man loser, register today!
Link-O-Rama
I'm really very seriously not kidding around anymore. Buy Ammo
AmmoSeek - online ammo search tool
GunBot - online ammo search tool
SG Ammo
Palmetto State Armory
Georgia Arms
AmmoMan
Target Sports USA
Bud's Gun Shop
***Mail Bag***
Our pal WTM send this week's mailbag photo.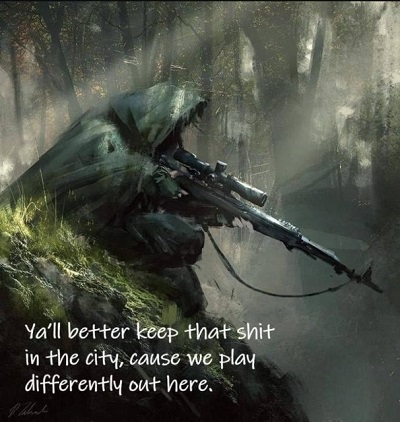 ******
Please note the new and improved protonmail account gunthread at protonmail dot com. An informal Gun Thread archive can be found HERE. Future expansion plans are in the works for the site Weasel Gun Thread. If you have a question you would like to ask Gun Thread Staff offline, just send us a note and we'll do our best to answer. If you care to share the story of your favorite firearm, send a picture with your nic and tell us what you sadly lost in the tragic canoe accident. If you would like to remain completely anonymous, just say so. Lurkers are always welcome!
That's it for this week - have you been to the range?


posted by Weasel at
07:00 PM
|
Access Comments