« First-World Problems [Joe Mannix]
|
Main
|
Gun Thread: April 3rd Edition! »
April 03, 2022
Food Thread: Rib Hubris? Rib Nemesis?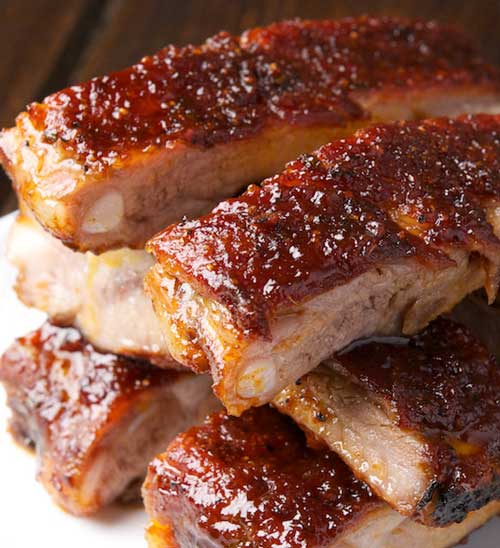 They sure look good! And I'll bet they taste as good as they look!
The pork ribs I made a few days ago looked that good, but that's as far as the comparison can go without veering into fantasy. Because while they looked good and tasted good, they were also tough! Weird but true.
I cooked them on my grill at around 250 degrees with the smoker insert filled with some cherry wood. I use a temperature probe to monitor the grill temperature, and it even graphs it on my phone, so I am confident that they cooked at the appropriate temp.
But...something happened, and I don't know what. I have been making ribs using Sous Vide for a few years, and they always turn out perfectly, so I got lazy and just assumed everything would turn out well.
And it didn't. The food gods are a fickle bunch, and they just love punishing hubris. Next time I am going to use this guy's technique. The Best Smoked BBQ Ribs You've Ever Tasted: Last Meal Ribs Recipe. Yeah...that's not hubris!
******
Food Prices Are Soaring. Civil Conflicts Won't Necessarily Follow
As we are facing a dangerous combination of war-induced shock to staple food supplies, rising oil prices that limit access, and high inflation that harms consumer purchasing power, while simultaneously emerging from two years of pandemic disruptions to supply chains that have still not been resolved, history suggests there is reason for concern.

However, it's far from certain that the worst cases will come to pass, for several reasons. First, high price volatility is not necessarily the same as high prices, and the effect of volatility on social conflict tends to be less severe.
Yeah...speaking of hubris. That is an academic, confidently pontificating about immensely complicated situations that have so many variables as to be almost perfectly unpredictable. And besides, he has a "first," but no second!
The reality is that the world's wheat (and other grains) supply has been disrupted, and the repercussions of that disruption are significant. One would have to be a fool to assume that price volatility is more tolerable than simply higher prices.
But what galls me is the use of agricultural inputs...land...for things other than its best and highest purpose. Growing corn to make ethanol with which to dilute gasoline is of course moronic and destructive and wasteful, and will injure those on the margins. But (supposedly) well-meaning conservationists whose virtue signalling with respect to the natural world is in direct opposition to the well being of mankind are the worst. Or maybe it is the animal rights activists, whose insulting conceit that the life of a domesticated animal is as important as the life of a human being is maddening and destructive.
Regardless of the hierarchy, the glory of the human mind has created the conditions to feed the world. That we waste that opportunity is a testament to how unserious we are.
< rant off >

******
A local steak house has something like this on their menu, and when I want to go out for dinner but don't feel like driving to Paterson to sell a pint of blood to pay for a steak, I order it.
Chicken Scarpariello with Sausage and Peppers
. It is an interesting combination of flavors, and if you don't bother with the expensive fingerling potatoes (dumb use of them!) it can be a very reasonably priced meal. I don't know of a good substitute for the Peppadew peppers...you'll just have to figure that out for yourself if you can't find them.
Well...I guess you could use chunks of jalapeno that you have pickled. Vinegar, salt, sugar and let it soak for a few hours.

******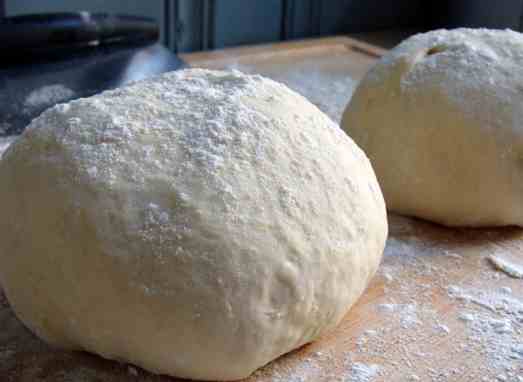 Make your own pizza dough. And then make your own pizza. It's easy, and unless you are lucky and have an excellent pizza joint in your town (I don't, and I live in NJ!), it will also be better and less expensive!
Here are two dough recipes, but there are plenty of others that are great!
Andrew Feinberg Pizza Dough
Roberta's Pizza Dough
And if you feel energetic, try this recipe for Detroit Pizza, which I think is the best pizza to make at home, since it doesn't require much in the way of technique or a super-hot oven. Just ignore their expensive seasoning blends and do it yourself.

******
My apologies to the Moron who sent me this or mentioned it in the comments; I simply do not recall your nic. Or maybe I found it another way...
But it sure looks like fun! Twice-Cooked Cabbage with Sour Cream and Bacon. Misanthropic Humanitarian tried it and gave it the MisHum seal of approval, and he is a cabbage aficionado, and I think he is pre-med too!

******
******
Here is an interesting outdoor cooking technique.
I think that some of you will be able to guess what the end result is before the end of the video.
******
Romaine lettuce that is green, instead of the white crap they sell that has never seen a photon, pork rib roasts from the front end of the pig where all the good and fatty meat lives, carrots that don't taste like stalky chalk, spare bottles of Van Winkle Special Reserve 12 Year Old Bourbon, an herb garden that actually produces herbs (but no basil!), well-marbled NY strip steaks and elk backstrap to:
cbd dot aoshq at gmail dot com.
And don't think that you are off the hook with maple syrup and French Toast: I'm watching you...all of you! And I am watching you perverts who shake Manhattans and keeping a list for the Burning Times.

posted by CBD at
04:00 PM
|
Access Comments