« Mid-Morning Art Thread
|
Main
|
Biden Endorses "Gender-Affirming" Surgical Amputations for Young Children on "Transgender Day of Visibility" »
April 01, 2022
THE MORNING RANT – Buck Shots [4/01/2022]
*****
The Church Of Covid's School Lockdowns Hurt Minorites The Most
In a country obsessed with white privilege and racism, can we please have a "national discussion" on how destructive two years of lockdowns and "remote learning" have been to minorities?
Literacy scores show widening achievement gap in D.C. during pandemic [Washington Post – 3/17/2022]
The overwhelmingly white, work-from-home, laptop class was able to maintain their children's educational progress through the Covid years by effectively home-schooling them. Children of those less privileged, on the other hand, pretty much missed two entire years of schooling. Sadly, elementary-aged children who fall several years behind in math and reading are generally doomed to never catch up.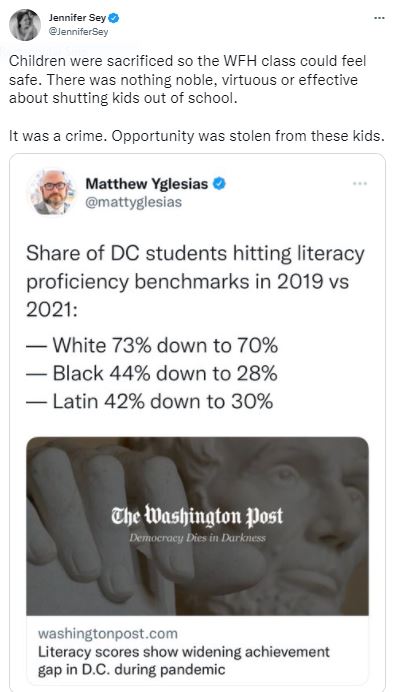 The gentry white leftists always shrieking about racism are the same people who locked minorities out of school for two years.
Once upon a time in parts of this country, the white ruling class sought to deny an education to children of color, so as to maintain a separation of economic status. We seem to still be living in such a time.
*****
A Victory Against Intrusive Government
We are winning some battles against out-of-control government employees at the state level. There has been plenty of press coverage about Ron DeSantis signing into law a bill that prevents Florida teachers from talking about sexual acts and orientations with little children. Here's another much welcome setback for rogue government employees, this one from Tennessee.
Judges strike down Tennessee law allowing warrantless searches by state wildlife officials
The longstanding practice of conducting warrantless searches on private property by officers with the Tennessee Wildlife Resources Agency ["TWRA"] is unconstitutional, a three judge panel hearing a case in Benton County Circuit Court ruled Tuesday.
My initial reaction to this story was disbelief. I had no idea that wildlife officials were going onto private property without a warrant, setting up surveillance cameras, and staking out property owners on the property owner's land.
In case there is any confusion, I detest poachers. I detest illegal hunting. I strongly support game wardens apprehending poachers and sending them to jail. Legally. If game wardens need to access private property to stop poaching, I strongly support that too…so long as they get a warrant. They are easy to obtain with a minimum of probable cause. But an officer who feels he has a general warrant to access anyone's property at any time is a dangerously powerful person.
Hunter Hollingsworth, a Benton County railroad worker, said Wednesday he felt vindicated after years of challenging multiple TWRA officers forays onto his property, where they secretly hid behind bushes to videotape Hollingsworth, his girlfriend and friends while they hunted and socialized. They patrolled his land and surveilled his movements.
One of the judges cited an incident in which a TWRA officer showed up without a warrant on Hollingsworth's property. Mr. Hollingsworth told the TWRA officer that he wasn't invited onto his property.
"When you bought your hunting license, you invited me," the officer told Hollingsworth.
I did a brief internet search and read several stories going back several years about this case, and I don't see anywhere that TWRA had cause to believe that Mr. Hollingsworth had violated Tennessee's game laws. It sounds more like Hollingsworth responded defiantly to TWRA engaging in routine trespassing on his land, after which TWRA used the power of their general warrant to harass and persecute Mr. Hollingsworth.
This is a welcome ruling.
*****
TVA Disappoints Biden By Choosing Reliable Energy over "Renewable" Energy
Still more bad news for the elites from out here in the hinterlands…
Largest Federal Utility Chooses Gas, Undermining Biden's Climate Goals [NY Times – 3/17/2022]
President Biden wants electricity generated from wind, solar and other clean sources. The Tennessee Valley Authority plans to invest in fossil fuels instead.
Demanding that utility companies provide 100% of electricity from unreliable "renewable" sources is as feasible as demanding that the palladium in batteries be spun from straw instead of being mined from the earth.
In its deliberations about replacing coal-fired generators, the T.V.A. found that solar or other zero-emissions sources would be less dependable and more expensive than gas, said Catherine Butler, a spokeswoman for the T.V.A.
Good on Ms. Butler for daring to speak the simple truth. Of course, trying to explain to journalists why "renewable" energy is neither reliable nor sufficient, is like trying to explain to your child why you can't buy her a pet unicorn.
"We have an obligation to serve, and ensure the lights come on," she said. "So, when renewables aren't available, natural gas will be available to ensure that reliable, resilient service is available to power our communities."
It's time to re-brand the "renewable energy versus hydrocarbons" debate. The question is will we try to replace Reliable energy with Unreliable energy. Choosing Unreliable energy would be civilizational suicide.
(buck.throckmorton at protonmail dot com)


posted by Buck Throckmorton at
11:00 AM
|
Access Comments