« Oregon Middle School Teacher, Who Is Openly Gay, Teaches CRT and "Normalizes Pronouns," and Opposes Florida's Anti-Groomer Law, Sent Nudes to a Middle School Student
|
Main
|
Quick Hits »
March 31, 2022
Turnkey Pedophilia: Leaked Documents Coach Teachers About How to Spot and Recruit LGBT (or LGBT-Persuadable) Students, and How to Hide All of This From Mom and Dad
Normalizing talking about sex with non-parent adults, and then normalizing keeping those Sexual Rap Sessions secret from Mom and Dad.
The absolute perfect hunting grounds for a child predator. Kids are being pre-coached that they're supposed to keep sex stuff secret.
EXCLUSIVE -- Imagine a scenario in which your child comes home from school and tells you that they now identify as "pansexual." Or, while telling you about the school day, your child mentions that he or she was told he or she was gay based on a test a teacher gave them. Or you discover he or she was recruited by a teacher to lead a gay and transgender student club but was instructed not to tell any parents because "what happens in the student club, stays in the club." These are the alarming contents of a packet distributed by the California Teachers Association regarding the formation of gay and transgender clubs in schools.

The packet acts as an instructional guide on propagandizing students with gay and transgender information. One of the most disturbing parts is the recommendation for these clubs in elementary schools, where children are 10 years old or younger. Another concerning section focuses on teachers proactively recruiting students to be leaders of these clubs. It provides a section for teachers to list the names of the students they think would be interested. This particular packet was from a previous California Teachers Association LGBTQ+ Issues Conference.


The packet also asks teachers to list supporters and enemies of these clubs. One section is dedicated to listing the names of allies who "would support this project." Another section is provided to identify any existential threats to the club and to list those who could be a "barrier to your success."

Additionally, the packet's suggested activities section is disturbing. It is indicative of the type of indoctrination parents must worry about when sending their children to public schools.

Additionally, the Kinsey Scale analyzes sexual perversions and other mature, if not odd, content. It emphasizes that "sexuality is fluid" and that human sexuality does not fit into "two strict categories." Moreover, it asks participants to describe their emotions behind having sexual intercourse with people of the same sex and other sexual fantasies. It's a completely inappropriate activity for teachers to do with students, regardless of age.
Turnkey pedophilia.
Those documents, and more, at the link.
And yes, obviously, there is a lot of child sexual abuse committed by government agent teachers.

The left went hard after the Catholic Church while being nearly silent about the massive levels of child sexual abuse committed by teachers because the Catholic Church is a political enemy whereas government school teachers are political allies- - they're the very core of the Democrat army, in fact.
But in fact: Teachers abuse far more children that Catholic priests ever had.
CBS News, from 2006:
Consider the statistics: In accordance with a requirement of President Bush's No Child Left Behind Act, in 2002 the Department of Education carried out a study of sexual abuse in the school system.

Hofstra University researcher Charol Shakeshaft looked into the problem, and the first thing that came to her mind when Education Week reported on the study were the daily headlines about the Catholic Church.

"[T]hink the Catholic Church has a problem?" she said. "The physical sexual abuse of students in schools is likely more than 100 times the abuse by priests."

So, in order to better protect children, did media outlets start hounding the worse menace of the school systems, with headlines about a "Nationwide Teacher Molestation Cover-up" and by asking "Are Ed Schools Producing Pedophiles?"

No, they didn't. That treatment was reserved for the Catholic Church, while the greater problem in the schools was ignored altogether.

As the National Catholic Register's reporter Wayne Laugesen points out, the federal report said 422,000 California public-school students would be victims before graduation -- a number that dwarfs the state's entire Catholic-school enrollment of 143,000.

Yet, during the first half of 2002, the 61 largest newspapers in California ran nearly 2,000 stories about sexual abuse in Catholic institutions, mostly concerning past allegations. During the same period, those newspapers ran four stories about the federal government's discovery of the much larger -- and ongoing -- abuse scandal in public schools.
If priests insisted on a right to have "rap" sessions with underaged boys about homosexuality, the left would be on a crusade to set fires to churches.
But when their political shock troops the teachers demand sexual access to children, they support it, and claim teachers have every right and indeed every responsibility to have "rap" sessions with kids about homosexuality and transgenderism.
And to keep it all secret from Mom and Dad.
BREAKING: Fourth grade teacher arrested, charged with attempted rape of two children Andrew Bert Hammond, a 50-year-old male and fourth grade teacher, was arrested during an undercover operation in Redmond, Washington.
That's a real picture, not some kind of "Free Candy" joke.
This is how they do it. They insist on acting in a childlike way to appear to be a peer to children, which then allows them intimacy with children.
Another adult man who just wanted to be "palz" with very young children.
Newsflash: We do not want teachers to be the "palz" of children. We want them to behave like adults in a position of authority over children -- authority granted temporarily and provisionally by parents, which can (and should) be withdrawn at the slightest suspicion of impropriety -- and respect both an appropriate physical and emotional distance from children.

The clamor of so many adults insisting that they have to form emotional bonds with other people's children is strange and sickening.
Even the non-pedophiles demanding the power to shape children's sexuality are toxic and should be fired.
A lot of teachers don't seem to want students -- they seem to demand fans, as if the children they are temporarily and provisionally entrusted with are just their TikTok followers, and the teachers are deserving of adulation and "likes."
Sorry I've been on this so much. It just keeps coming, and the groomers just will not stop.

More about the lefts' and government-agent teachers' insatiable desire for grooming below:

Libs of Tik Tok
@libsoftiktok


3rd grade teacher at @GracemorNKC teaches 8 year olds about gender identity and then "wonders if anyone [students] will change their minds" presumably about their gender.

These groomer teachers need to be fired.

The pictures she linked: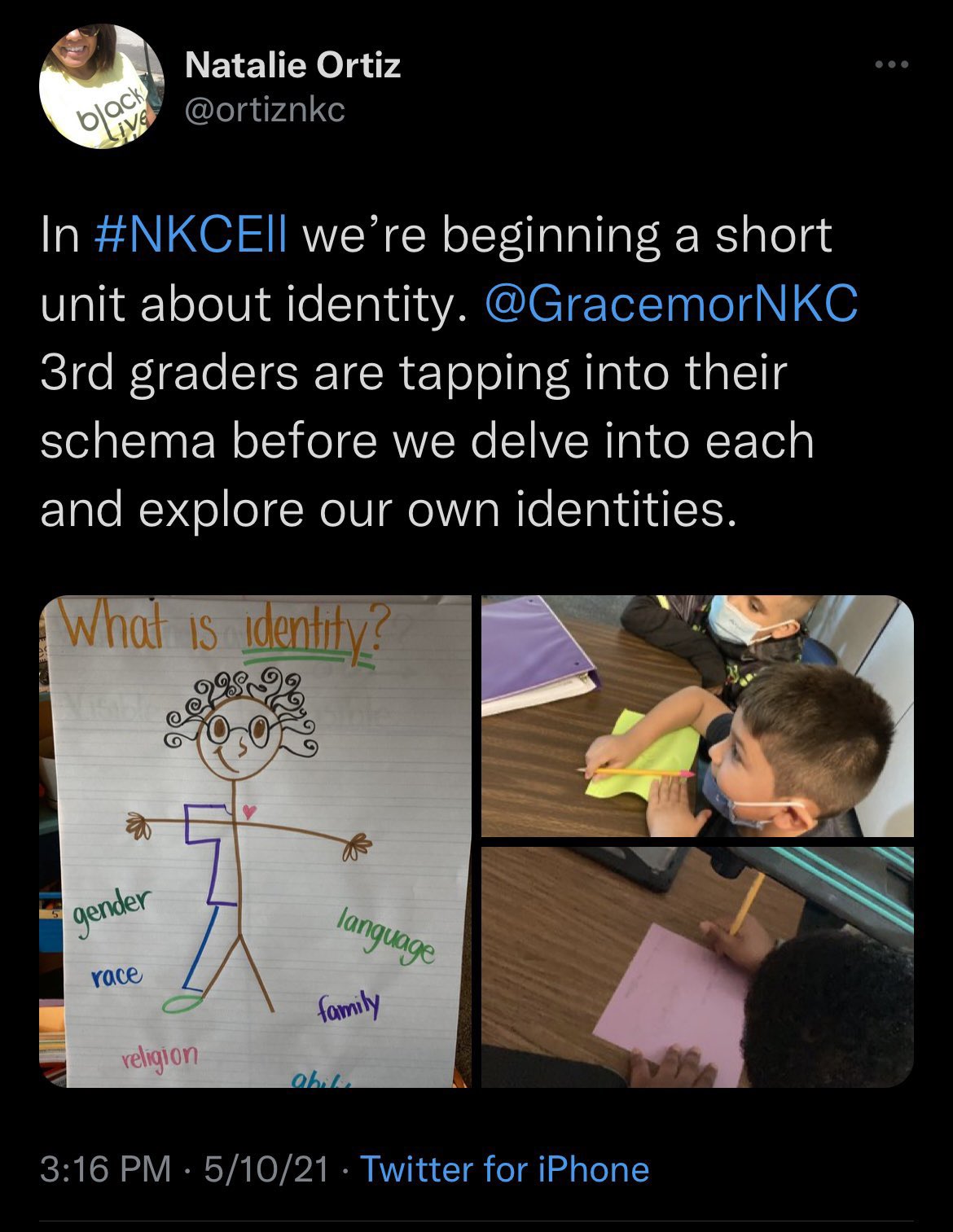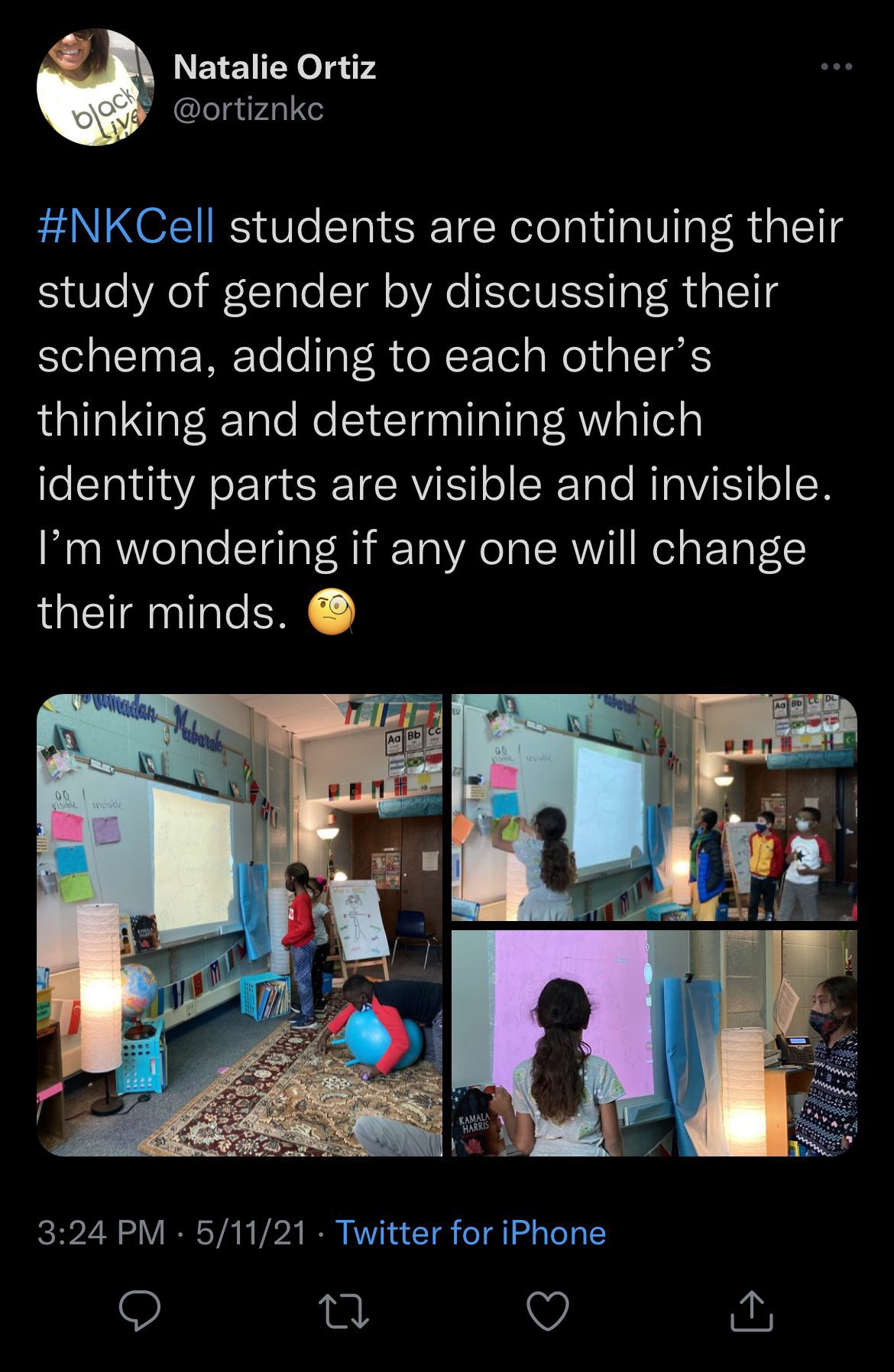 posted by Ace at
05:03 PM
|
Access Comments