ę CNN Is Already Planning Layoffs At Streaming "Service" CNN+;
To Raise Easy (?) Cash, CNN Will Turn Its First Half Hour of "Content" Into NFTs and Sell Them to Braindead Partisans
|
Main
|
Turnkey Pedophilia: Leaked Documents Coach Teachers About How to Spot and Recruit LGBT (or LGBT-Persuadable) Students, and How to Hide All of This From Mom and Dad Ľ
March 31, 2022
Oregon Middle School Teacher, Who Is Openly Gay, Teaches CRT and "Normalizes Pronouns," and Opposes Florida's Anti-Groomer Law, Sent Nudes to a Middle School Student
Keep cases like this in mind when they insist -- which they always do -- that students should never tell parents about what their groomer teachers are telling the kids about sex.
Every pedophile urges the "Don't Tell Mom and Dad" rule.
So do these state-paid groomers.
An Oregon middle school teacher is under investigation by local police after he allegedly sent a nude photograph to a student.

Dean Wright, a Judson Middle School teacher, was placed on paid administrative leave this week in response to the incident, District spokesman Aaron Harada said, according to the Salem Reporter.

In an email sent to parents on Monday, Judson principle Alicia Kruska informed parents of the incident.
Wait, they told the parents?
That's a violation of the Don't Tell Mom and Dad rule!
"Today, I received a report of an inappropriate image believed to be a Salem-Keizer employee circulating on social media," the email stated.

"Because of this concerning report, I wanted to make sure you had accurate information so you could address questions that your student may have."

Kruska did not specify who the employee was, nor specify what the image was. However, the image is reportedly a nude selfie. Kruska said that "it is believed that this image has been viewed by some students."
This man, accused of sending nude photos of himself to very underaged boys, posted a video showing what he was most proud of as a teacher.
It wasn't teaching kids reading or math.
It was teaching them about transgenderism and the myriad of mental-illness pronouns they use.
Of course, he has helped rewrite the school's social studies curriculum. Probably to emphasize queerness and gender fluidity.
Wright also once posted that any teaching of "black history" should be accompanied by "gay history," writing "If you want black history taught in school, then I want gay history! #pissedoff". Wright locked his Twitter account, though many of his statements have been archived.
After all: the important thing to teach students is that mental illness pronouns are "normal."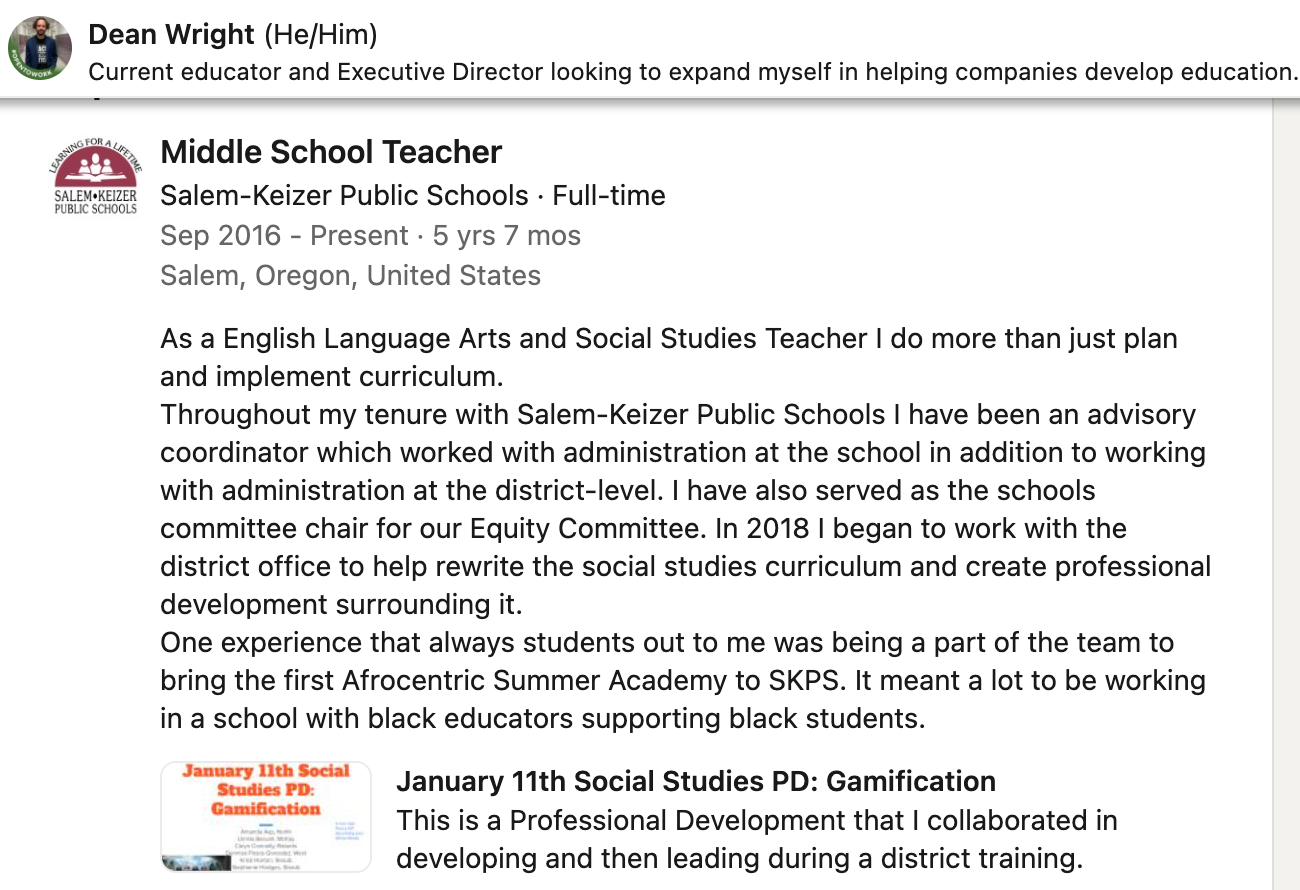 He's exactly what they've been warning you about:

Students aren't "fighting for their right to exist."
But pedophiles are.
Obviously not all gays are pedophiles. But also obviously: some are.
And some straights are too.
And these pedophiles are naturally drawn to professions that give them access to the object of their desires -- children.
And now, using the cover of "gay rights," they have set up a perfect system to abet and conceal pedophiles, wherein they can talk to very underaged children about sex and then forbid them from talking to their parents about their little Sexual Rap Sessions.

And we're supposed to go along with this system of Turnkey Pedophilia because if we don't, they'll call us "homophobic."
Well, do your worst. I don't care any more. I'll say it for you: I'm homophobic.
Now, about the Large Scale Grooming Operations you're running in the public schools. How about we now talk about that?

posted by Ace at
03:47 PM
|
Access Comments