« Daily Tech News 31 March 2022
|
Main
|
Mid-Morning Art Thread »
March 31, 2022
The Morning Report - 3/31/22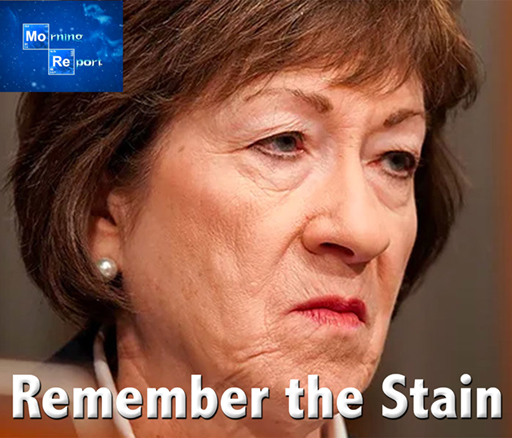 Good morning, kids. Thursday and there are just no words to describe how despicable a person Susan Collins is. Well, that's not true; in fact I could fill a dictionary with the expletives about her rolling around in my head, but what's the use?


"I have decided to support the confirmation of Judge Jackson to be a member of the Supreme Court," said Collins, who opposed the confirmation of Justice Amy Coney Barrett in the fall of 2020, objecting that her nomination was too close to the presidential election.

The GOP senator said that Jackson had reassured her that she would not bend "the law to meet a personal preference," saying that Jackson met Collins' personal standards for Supreme Court justices.

"In recent years, senators on both sides of the aisle have gotten away from what I perceive to be the appropriate process for evaluating judicial nominees," Collins said. "In my view, the role under the Constitution assigned to the Senate is to look at the credentials, experience and qualifications of the nominee. It is not to assess whether a nominee reflects the individual ideology of a senator or would vote exactly as an individual senator would want."
Oh, Susan Collins is "reassured" that an anti-American racialist, thanks to decades of indoctrination from pre-school through law school won't bend the law. This woman is either completely clueless or a bald-faced liar. I'm going to go with the latter. Whatever Jackson's "credentials" may be, her record of leniency to the point of granting de facto absolution to the most heinous of offenders is well documented. Worse, her affinity for dangerous crackpots like Calypso Louie Farrakkhan and Derrick Bell should not only disqualify her from the highest court in the land, she shouldn't even be allowed to clean the toilets of any court in the land.
Judge Ketanji Brown Jackson, who is President Joe Biden's nominee for the Supreme Court seat being vacated by retiring Justice Stephen Breyer, cited Critical Race Theory founder Derrick Bell and the controversial "1619 Project" as inspirations in 2020. . .

. . . Christopher Rufo, a journalist who has focused on revealing the use of Critical Race Theory in schools and the workplace, has noted that Bell did not merely treat "The Space Traders" as a thought experiment, but believed it represented the true state of race relations in America.

This isn't a speech from thirty years ago. It's from January 20, 2020. She endorses a book that was foundational to critical race theory and made the case that, given the choice, whites would trade African-Americans away to space aliens and banish them from the universe.

This isn't just metaphorical. Bell told NPR's Fresh Air he believed whites would make the trade in real life. He argued in the book that the history of slavery was not only "an example of what white America has done," but "a constant reminder of what white American might do."

Judge Jackson also cited the fraudulent "1619 Project" of Nikole Hannah-Jones and the New York Times, which won the Pulitzer Prize despite falsely claiming that the United States fought the American Revolution to defend slavery in the South.

Though she cited Hannah-Jones to make the observation that black Americans have fought hardest to give life to America's founding ideals, at no point did Judge Jackson disagree with the author's thesis that America was founded on slavery.
Putting aside her horrendous sentencing record, her attitudes on race alone insofar as regarding the Constitution itself, a document she is charged with defending yet she views as illegitimate because of her associations and avowed viewpoints, should have disqualified her from being admitted to any law school in the land, let alone rising to sit on a bench in judgement of others. Along with thousands of criminal drug addicts and serial pedophiles who she cavalierly gave wrist-slaps or advocated early release to - the driving force behind those decisions no doubt based on racial grievance and/or intersectional politics insofar as weaponizing criminals to "punish" white/non-urban citizens - she also has a giant soft spot for terrorists.
While serving as an assistant federal public defender in D.C. from 2005 to 2007, Jackson defended four suspected terrorist detainees captured after 9/11 on the battlefield in Afghanistan and locked up at the Guantanamo Bay, Cuba, prison. Among other things, she filed habeas corpus appeals to try to compel their release and transfer from Gitmo, where they were held by the U.S. military as enemy combatants, to the U.S. court system, where they could avail themselves of all the legal rights afforded American citizens. . .

. . . Jackson denies that she is against incarcerating or punishing terrorists and criminals. But in her testimony, she explained that incarceration is not always the best deterrent and that slapping criminals with harsh prison terms can make them feel "bitter" and "victimized" by the system, which could make them more likely to return to a life of crime when they get out. She said other judges are too quick to send defendants to the slammer — "locking people up and throwing away the key" — rather than helping them understand the consequences of their actions and treating them "fairly," no matter how bad their behavior. She said that as a judge, she has taken the time during sentencing to explain to them why their crimes hurt people. In a word, Jackson's judicial philosophy is empathy — she believes it's better counseling crooks straight than scaring them straight.
The excerpt is from a very thorough essay at Real Clear Investigations. No doubt, Susan Collins, or her flunkies, missed it. What the hell is she thinking? One has to wonder where she stands on the call to once again high-tech lynch Clarence Thomas because the Dems can smell another seat in their grasp if they can get him off the court. What's the fucking point; she's 70 years old and no doubt has a good 15 to 20 year left, destroying our lives and hectoring us with that grating, Down East nasal twang that can peel the enamel off of a dead man's teeth six feet underground.
Republican Congressman Don Young, who died last week at age 88 (God rest his soul and all that), epitomized America's transition from representative government to elected aristocracy.

Representing an Alaska at-large district, Young became a member of the House of on March 6, 1973, when Richard Nixon was president, America was still fighting in Vietnam and the retail price of gas was 39 cents-a-gallon.

Young was the longest-serving member of Congress. Elected to his 25th term in 2020, he helped to guide the Behemoth on the Potomac for almost half-a-century.

The Founding Fathers would have been appalled at the idea of legislators for life. When the Constitution was adopted, "public servant' was more than a euphemism.

Leaders were expected to serve because it was their patriotic duty. They would leave their farms, shops and offices for a term or two, and then go back home to live among those they'd governed under the laws they had fashioned.

Today, they make a pilgrimage to the Golden Temple on Capitol Hill and stay, and stay, and stay. . .

. . . And, there's also gold in them thar hills.

Members of Congress receive $174,000 annually – more for certain leadership positions. The House Speaker – in this case Granny Pelosi (who was embalmed during the reign of Ramses II) – receives $223,500. Senate Majority and Minority Leaders and the President Pro-Tem haul in $193,400. Members of Congress also get benefits, like an allowance for their staff – who do most of the real work, like actually reading the bills.

A Congressman can retire on full pension at age 62, after as little as five years of service. The amount is based the number of years they warmed a seat with their ample posteriors. Former Speaker John Boehner, who retired in 2015, receives $86,000-a-year, which compares favorably to the average annual Social Security payment of $19, 370. Oh, and Members of the Club also collect Social Security.

But it's not just the money.

It's the power – the power to write your ideology into law, to distribute largesse from the treasury to your favorite causes like green cultism, anti-white racism or killing babies in the name of women's rights. In the business world, you get to pick winners and losers with subsidies and tax hikes. And you get a warm humanitarian glow while you're pushing the rest of us around.
The "gold in them thar hills" that Don Feder refers to is a hell of a lot more than their salaries. That's nickel and dime stuff. With very few exceptions, you can bet your bottom dollar - now worth about 20 cents (and shrinking daily) thanks to Bidenflation - that the majority of everyone in DC is to a greater or lesser extent on the take.
God bless Donald Trump. He might have come to drain the swamp, but he never anticipated it was the size of the Pacific Ocean. And no sooner than he gave his inaugural on that glorious day in January of 2017, his hands were tied and his feet encased in "cement overshoes" as the boat cut its engines over the Marianas Trench. We can bitch and moan, and rightly so, about Democrats as well as the bureaucracy that did all it could to cover up Hunter's laptop (even now, this traitorous CIA scumbag John Sipher is crowing about it).
But filthy goniffs with delusions of grandeur like Susan Collins, who hide behind a transparent facade of impartiality, decorum and tradition and all that rot while supposedly being "conservative" is our biggest obstacle to even beginning to address the problem. She has got to go. They all have got to go. Meh, the total economic and societal collapse that is a very real possibility might do the job for us.
* * * * *
One final note, yesterday's news about Bruce Willis being forced to retire due to a diagnosis of aphasia saddened me, especially when you compare his career, and more so the way he carries himself as a person, to that of the repugnant spectacle of last Sunday's Academy Award show. On a personal level, I remember Bruce Willis from his days as a bartender at the now long gone Café Central on Manhattan's upper west side just before he, and another unknown actor and fellow bartender there named John Goodman, were on the cusp of their careers taking off.
Yet one incident stays with me to this day. Around 1994 or '95, my parents were shopping at Saks Fifth Avenue, and while riding by themselves in the elevator, the doors opened and in stepped Bruce Willis. My father was champing at the bit to tell him about "my son the screenwriter" while my mother shot my dad a look to leave the guy alone. Of course, Willis saw this and without missing a beat, broke the ice, introducing himself to my folks. After only about a 30-second conversation, he bade them good day as they went their separate ways when the doors opened onto the lobby. Beyond being polite, my folks say he was as warm and gregarious as he came across on the screen playing David Addison in Moonlighting. My folks went on about that for days.
Whatever his politics are (and the fact that he keeps it to himself is admirable in the extreme), he's a class act. I wish him all the best going forward.
The End of America: 100 Days That Shook the World available here.


NOTE: The opinions expressed in the links may or may not reflect my own. I include them because of their relevance to the discussion of a particular issue.
ALSO: The Morning Report is cross-posted at CutJibNewsletter.com if you want to continue the conversation all day.
Follow us on Twitter: @CutJibNews
Follow us on Instagram: @Cutjibnewsletter

posted by J.J. Sefton at
07:53 AM
|
Access Comments