« Daily Tech News 24 March 2022
|
Main
|
Mid-Morning Art Thread »
March 24, 2022
The Morning Report - 3/24/22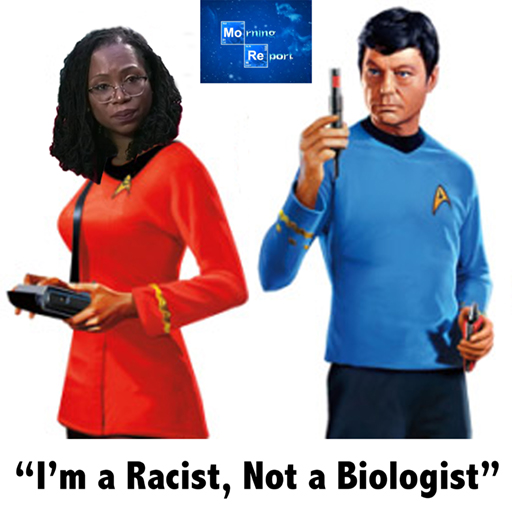 Good morning, kids. Thursday and the tragicomedy of the Kentanji Jackson confirmation hearings continues. The natural reaction to this farce is to laugh at it, but considering who this person is, where she came from and where she is likely headed, we're laughing all the way to the gallows. To someone who is old enough to remember a time of relative sanity, this woman would never have been allowed to come within a thousand miles of a courtroom except maybe with a bucket and a mop to clean it in the dead of night. Is it "racist" and "sexist" to make that statement? Well, like everything else the Left destroys because we have allowed them to control language, it depends on the context, and as the arbiters of absolute right and wrong, they've decreed that concept to be strictly verboten.
But, so long as this little corner of the interwebz is free, let me 'splain you. Thanks to garbage like affirmative action, which I thought had been rendered to the dustbin of history but has been reanimated into the form of Diversity-Inclusion-Equity - DIE - how do we know Judge Jackson has what it takes besides melanin, ovaries and most importantly the correct politics to have even attained a JD the old fashioned way, by earning it, instead of being graded on a curve? We don't. But let's assume she actually did make her bones by hitting the books and honestly getting good grades. Her record as a judge is beyond atrocious, as are her political beliefs.
But Psaki Psircling back to melanin, ovaries and politics, both Marsha Blackburn and Ted Cruz, among others, were batting Jackson around like a cat with a cornered mouse regarding the nature of sex, gender and what constitutes being a woman.


Joe Biden's recent Supreme Court nominee Judge Ketanji Brown Jackson, whom the president has admitted was nominated in part because she is a woman, stunned listeners on Tuesday when she refused to give a definition of what a woman is.

"I can't. … I'm not a biologist," Jackson said after Republican Sen. Marsha Blackburn asked her to provide a definition of the word "woman.

But for not knowing what a "woman" is, Jackson loves to use the word. Here are 14 times she invokes the fairer sex in just the first two days of her confirmation hearings, plus 34 times she's used the word in her legal opinions as a judge. . . "

. . . Repeatedly using a word she says she "can't" define is not a good look for a potential Supreme Court justice. Blackburn should ask Jackson: What did you mean by "woman" all of those times you said and wrote it?
Yes, it's all well and good. But had I been up there questioning this fool, I'd have had this exchange:
Senator Sefton: "Can you provide a definition for the word 'woman'?"
Judge Jackson: "No, I can't. I'm not a biologist."
Senator Sefton: "Judge Jackson, are you a woman?"
Judge Jackson: "Hummina, hummina, hummina, well, uh, yes."
Senator Sefton: "How can you make that determination if you're not a biologist?"
Judge Jackson: "Hummina, hummina, hummina, Norman! Coordinate! Get this cracka' Jew-boy out my face!"
At which point Dick Durbin would fling the gavel at me. Somewhere up in Heaven, Paddy Chayefsky is looking down on all this, trying to warn us that his oeuvre was meant as entertainment, not as an instruction manual. Meh, why am I getting worked up over this? In all likelihood, this nightmarish woman will take a seat on the Supreme Court. In a way, I feel sorry for her. Unlike so many who have wasted their lives in prison, dissolution or an early grave as pawns of a political movement and party that have abused them for generations, Jackson has had all the advantages of a system that created the likes of Clarence Thomas and Janice Rogers Brown, who by all rights should be sitting on that court right now were it not for the hideous, grotesque actions of Joe Biden and Dick Durbin among others who have the fucking gall to crow (no pun) about championing the first black woman to the SCOTUS.
It's not about race. It's not about sex. It's not about gender. It's not about trivial differentiators, or insane ones like transgenderism, that set a minority apart from, and against, the majority. It's all about politics and whom the Democrats can use as the means to obtain power, either at the ballot box or via a corrupted culture that is overturning society all by itself.
Still, all of this begs the question, how could Clarence Thomas have gone one way and Kentanji Jackson the other? Meh, so say by some miracle she doesn't make the cut. There are dozens, even scores of mind-numbed racialist automatons that think exactly like her, waiting in the wings.
Democratic pundits, worried about the midterms and Joe Biden's terrible approval ratings, are sounding the alarm: That dastardly "fringe" is hurting the party.

"This whole noisy, identity left" composing "15% of the party" has taken over (James Carville). "The Democrats have to step away from the super wokeness" (MSNBC host Donny Deutsch).

But what's the distinction between super wokeness and ordinary wokeness when the party's oldest and most mainstream members are all pushing ideas that would have seemed outlandish in the Obama era?

Biden offered a Fed nominee who said she wanted to deny credit to the fossil fuel companies that power America, and tried to put an actual Marxist in charge of the currency. Only 10% of the senators in the party spoke out against this.

The party's new legal superstar, Supreme Court nominee Ketanji Brown Jackson, can't offer a definition of a woman because "I'm not a biologist"? Being moderately woke is like being moderately pregnant.

Democrats now view everything in terms of who's being systematically oppressed. The reasonable view of racism is that there has always been racism in America. The woke translation is that America is defined by bigotry. From there you get to "I have no idea how to distinguish a woman" in about three intellectual moves.
And speaking of Justice Thomas, he has yet to be released from the hospital and there's no news on his condition.

Ugh.
The End of America: 100 Days That Shook the World available here.


ABOVE THE FOLD, BREAKING, NOTEWORTHY
"As stewards of public monies, it seems prudent that a state would not give public dollars to businesses which have established as their mission that certain key industries such as coal, oil, gas, mining, or agriculture should be cut off or penalized. But a reasonable bill to do just that did not even get a hearing in Idaho. Yes, Idaho. If that is not a blaring wakeup call, I don't know what is. And, if that does not tell you exactly what time it is, you need to wake up."
The Environmental, Social and Governance Threat

Kyle Smith: "Democrats now view everything in terms of who's being systematically oppressed. The reasonable view of racism is that there has always been racism in America. The woke translation is that America is defined by bigotry. From there you get to "I have no idea how to distinguish a woman" in about three intellectual moves."
It Isn't the "Fringe Left" Hurting Democrats — The Fringe IS the Dems

Victor Davis Hanson: "The prophets of the new world order sowed the wind and they will soon reap the whirlwind of an angry public worn out by elite incompetence, arrogance, and ignorance." (not to be "cruel" like my boss Ace, Dr. Hanson, but it's going to take a hell of a lot more than elections for the fiends who destroyed America to receive a true comeuppance, but, maybe, it's at least a start - jjs)
The Real "Reset" Is Coming
NOTE: The opinions expressed in the links may or may not reflect my own. I include them because of their relevance to the discussion of a particular issue.
ALSO: The Morning Report is cross-posted at CutJibNewsletter.com if you want to continue the conversation all day.
Follow us on Twitter: @CutJibNews
Follow us on Instagram: @Cutjibnewsletter

posted by J.J. Sefton at
08:44 AM
|
Access Comments