« Quick Hits 2
|
Main
|
American Ninja Firefighter Cafe »
March 25, 2022
Are These Something?
The new Netflix Marylin Monroe biopic, starring the extremely attractive Anna de Armas, got slapped with an NC-17 rating for sexual content.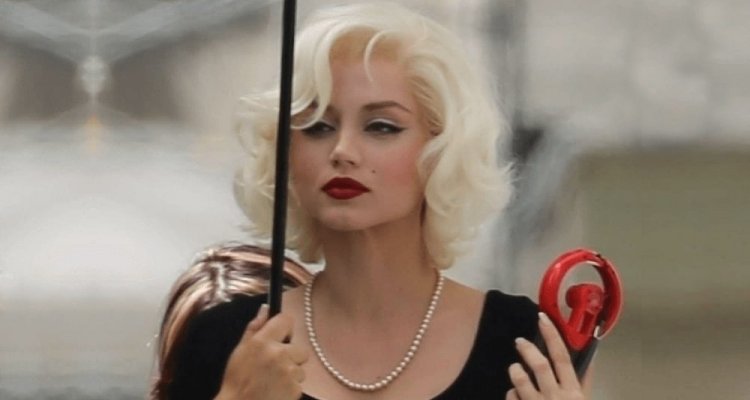 I'm not asking you if that's Something, I'm telling you it is.
Well, not really, but I thought I'd mention it. I think she should have added a little thiccness for the role.

Sharkman thought this looked good:
Clicking on that brought me to this pair of trailers, teaser trailer and main trailer, for Alex Garland's Men. He did Ex Machina.
Yeah I'm worried what the film might be getting at, with "Men" being the devil's creatures on earth, designed to punish women. Still, looks both gorgeous and creepy. I'd roll the dice on it.
I might as well mention a horror movie you never heard of: 2018's Ghost Stories.
I'm giving this a qualified recommendation. It's actually more of an anti-recommendation for most people.
The set-up is great. I was too young to have even heard of In Search Of..., but the premise reminds my parents of that.
A paranormal debunker is given the case files to three supernatural cases by an older, more famous paranormal debunker -- and the older man says, chillingly, that in all of his years of disproving frauds and hoaxes, these are the three cases he could not debunk.
That set-up is the framing device for presenting three separate "Ghost Stories."
So here's the good: The premise is great. The first two stories were so scary I had to turn the movie off a couple of times. Saying "Nope nope nope."
But then I was watching it alone and at night, so it was really a prime spook situation.
I loved the idea that this was going to be like the creepy Rod Serling narrated "docu-drama" Encounter With the Unknown, with the stories not being connected and not being forced into any movie-like resolution or arc.
That was a big selling point -- arcs are, when you think about it, a very cinematic and therefore kind of inauthentic structure to force a horror story into. Why does anyone have to grow? Why should there be any lesson here? Why should the characters have a realization, rather than just being left with questions and fears?
Why can't a movie just be about three horrific events with no logic or through-line to make sense of them? After all: senselessness is horrific. "Making sense" is reassuring and therefore non-horrific.
But about halfway through the movie, I realized: Wait, there's no way anyone would make a true senseless anthology horror movie. And I started fearing they were going to try to give some kind of bullshit sensible solution to it all.
I also realized, "There's way too much time left for just one more story, damnit, they're going to try to force some kind of overarching plot on to these disparate stories and probably ruin it all."
Which is what they did. The arc they force on this story is a good example of trying to be clever and just winding up looking like a douchebag. I think some sci-fi writer, maybe Jerry Pournelle, said, "The failure state of 'clever' is 'asshole.'"
And that's this movie.
So the ending is bad and undoes some of the previously-earned goodwill.
But at my advanced age of Nearly 29, and nearing 29 more and more every day, frankly, I've stopped expecting movies to be good or satisfying or end well.
I especially don't expect good endings for mysteries -- I don't even care anymore if they have a terrible ending. If the questions kept me interested, I'll give the nonsensical and contrived answer a pass.
So that's the way I view this movie: Overall, I'd say it's meh, but it has really good parts and since many movies don't even have good parts, for me, this is a recommend.
Like, to me now, if a comedy has three funny parts, then it's worth a watch, even if it's a bad movie overall, because most "comedies" have either zero funny parts or maybe one funny part.
Oh, and the first story is just a very classic -- or "cliched," if you want to use the negative term for it -- ghost story. It doesn't break any new ground in the haunting genre; it's just a well done recapitulation of the basic tropes we've seen a hundred times. It's just proof that the standard ghost story set-up works and probably will always work.
The second story is very good and very creepy and has a real David Lynch feel... until it goes off the rails and gets pretty silly and unsatisfying.
The initial set-up, that professional debunker thinks that these cases prove the supernatural is real, sets up the film to leave you with the unsettling feeling that maybe there are ghosts and malignant entities that want to hurt us.
(Sort of like Dr. Loomis telling us that Michael Myers is not psychologically disturbed, but Capital-E Evil -- when someone you expect to be the voice of reason and skepticism says "No, this has nothing to do with science or psychology, this is some Biblical Evil right here," you take that as more authoritative than a non-skeptic saying it.)
But the actual ending dispels that kind of creepy feeling that the supernatural is real and here to kill us. It all wraps up with an explanation that is supposed to "make sense" and dispense with the need of any supernatural explanation.
It Scooby-Doos itself, in other words. It was Old Man Wiggams all along.
And in doing so, it reassures us that our assumption going into this -- that ghosts aren't real -- was true.
Now I mean, I agree that ghosts aren't real, but... I think it would have been more effective to leave questions about the nature of reality dangling, instead of reassuring us, "Nah, it'll be fine, you were right all along."
This is a horror movie, after all. It's not supposed to be a defense of skeptical empiricism, right?
Still: Focus on the parts and you might like this one. It managed to spook me several times and kept me interested so that makes it a qualified success.
I really love this set-up. Wish they'd delivered on the premise instead of undermining it.
It was on Shudder when I saw it.
Apparently this YouTube reviewer liked it too. That contains spoilers.

posted by Ace at
06:43 PM
|
Access Comments