« The National Review's Deep State Simp Andy McCarthy Vouches for the Left Again: Defends Biden's Supreme Court Justice from Josh Hawley's Critique
|
Main
|
Have We Changed the Clocks for the Last Time? »
March 21, 2022
Twitter Locks The Babylon Bee's Account for Making a Joke -- Which Was Accurate In Its Premise -- that Rachel Levine is Their Pick for "Man of the Year"
Last week some media organization claimed that Rachel Levine -- a trans woman, which is to say, "a man," and Biden's Secretary of Health and Human Services -- was one of its picks for "Woman of the Year."
Despite, you know, being a man.
The Babylon Bee made a joke about it: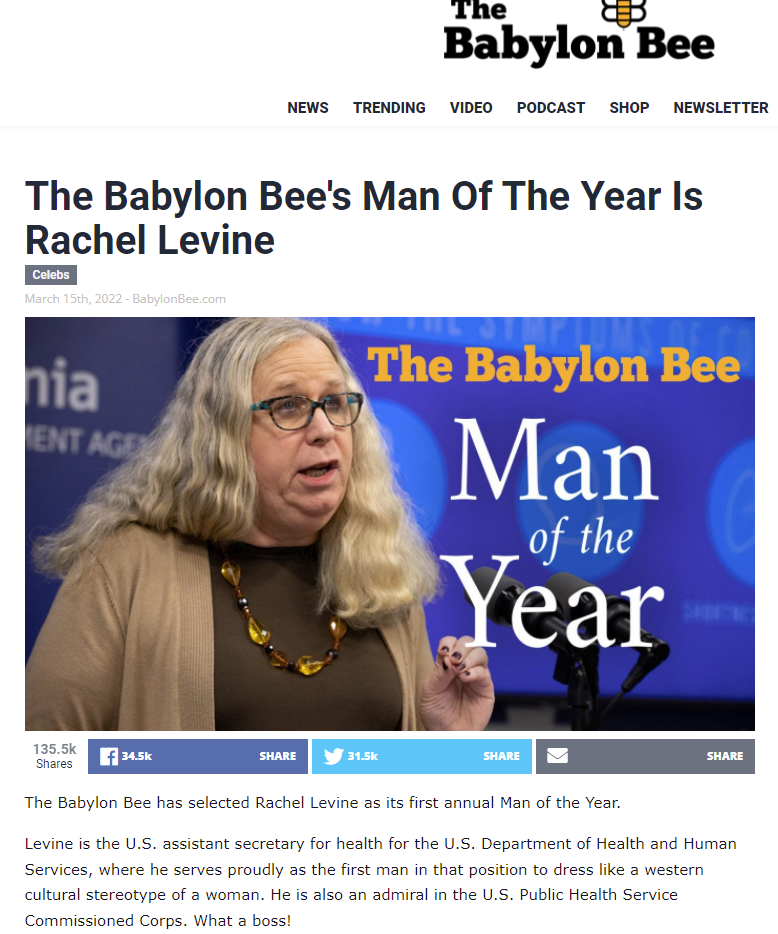 Twitter, a monopoly in the microblogging space, has decided that you are not allowed to note that it's kind of funny that a biological man is "Woman of the Year."
That is officially not funny -- and they have "fact" checkers to prove it, I'm sure! -- and also "hateful conduct."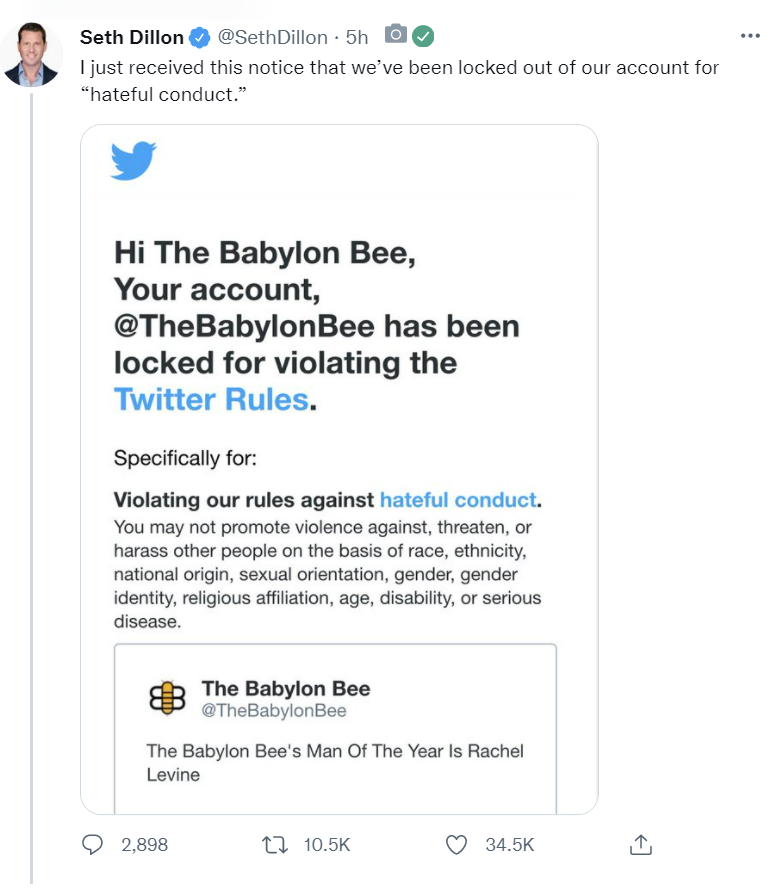 Anything that departs from the left's propaganda line is either "hateful conduct" or "dangerous disinformation."
In either case, censorship and suppression is the retaliation.
You Will Be Made to Silently Agree.
Twitter locked The Babylon Bee out of its account.
They demanded that the Babylon Bee delete the "hateful" tweet as a requirement for getting their account back -- which, by the way, was grown over years and with considerable effort by the Bee.
The Bee says they're not going to self-censor the truth.

Note that while their account is still up, they're locked out of it -- they cannot post their new stories.
So bookmark their site and sign up for email notifications and maybe send them some cash.
I think, unfortunately, economic reality will force them to delete the tweet.
Monopolies have extraordinary power to punish those who do not go along with their monopolistic demands.
That's why we previously thwarted monopoly power.
In a normal well-functioning market, if Twitter bans the Bee, they can just go to another company as their microblogging platform.
But you can't do that when one company holds monopoly power. Yes, they can go to Truth Social... but very few people are on Truth Social.
So the alternative to obeying Twitter is to just not have a microblogging platform that reaches people.
And Twitter's very status as a monopoly keeps others from being able to create viable alternatives to it -- the "network effect" always keeps Twitter as the monopoly bully, and always destroys any would-be competitors.
So that's why we usually say that a monopoly cannot use its monopoly power to squelch other businesses.
Until now. Now, when Conservative, Inc. has decided that monopolies using their monopoly power to squelch other businesses is a good thing.
National Review will keep on defending the tech monopolies, because -- have I mentioned this? -- they're taking money from the tech monopolies.
There are "conservatives" who believe that monopolies are "good" because they're "more efficient." They are usually dishonest and will not admit this belief publicly-- because that would make their pro-monopoly agitation weaker -- but they believe it.
Monopolies are good. Monopolies should be defended and encouraged.
And if a monopoly then uses its monopoly power to punish others economically -- oh well, small price to pay for "efficiency"!

Incidentally this is why my own Twitter account, which had like 70,000 followers or whatever, got suspended. I joked around with a conservative, calling him a "brother-humping inbred hillbilly mong0loid" or the like, and they suspended my account, and demanded I delete the tweet to get reinstated.
They also wanted a phone number for the account.
The latter is why I didn't bother. I had already stopped using Twitter for anything other than linking the site, and noted that you just don't get many hits from a twitter link. I could have gotten a burner phone or just started a Google phone account to give them a phone number, but... it honestly just didn't seem worth the bother of it.
I was willing to delete the tweet. I didn't care about a year-old joke, and I didn't have any political investment in using the word "mong0loid." That seemed to me like a viewpoint-neutral rule.
But in the Bee's case -- they are specifically censoring disfavored viewpoints.
And this is not a bug, but a feature.

They're coming for everyone. The left will not permit challenges to the left's cherished fundamental doctrines. And, over time, every whim of the left becomes cherished fundamental doctrine.
The "dissent" the left will permit to speak are its controlled opposition pets, like the Bulwark, the Dispatch, and of course the National Review.
All real conservatives, and all real opposition, will be banned.
And National Review will continue cheerleading. As the Tech Monopolies' censorship of all dissenting thought becomes more and more... efficient.

posted by Ace at
01:56 PM
|
Access Comments