« THE MORNING RANT – Covid Sharia For Cheerleaders at NCAA Tourny; An Ammo Dealer On The TN State Board of Education
|
Main
|
Twitter Locks The Babylon Bee's Account for Making a Joke -- Which Was Accurate In Its Premise -- that Rachel Levine is Their Pick for "Man of the Year" »
March 21, 2022
The National Review's Deep State Simp Andy McCarthy Vouches for the Left Again: Defends Biden's Supreme Court Justice from Josh Hawley's Critique
Before getting to that: Justice Clarence Thomas went to the hospital due to flu symptoms. It's not covid and apparently he's doing well.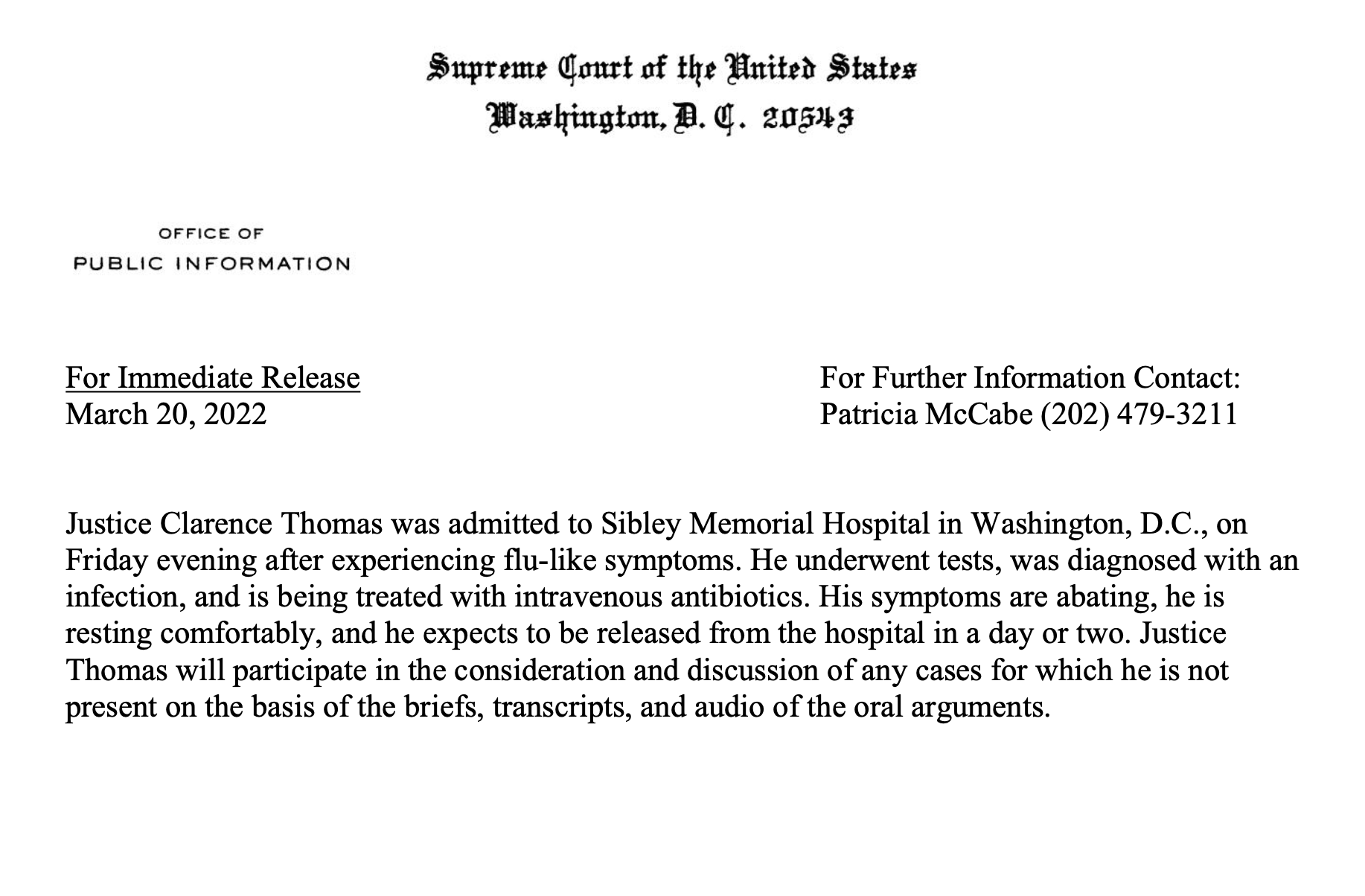 Josh Hawley laid out a case that Biden's nominee for the Supreme Court, Ketanji Brown Jackson -- a federal public defender; just what we need right now in this moment of decarceration madness -- has repeatedly shown herself to be soft of child porn.
Josh Hawley @HawleyMO

Mar 16


I've been researching the record of Judge Ketanji Brown Jackson, reading her opinions, articles, interviews & speeches. I've noticed an alarming pattern when it comes to Judge Jackson's treatment of sex offenders, especially those preying on children

Judge Jackson has a pattern of letting child porn offenders off the hook for their appalling crimes, both as a judge and as a policymaker. She's been advocating for it since law school. This goes beyond "soft on crime." I'm concerned that this a record that endangers our children

As far back as her time in law school, Judge Jackson has questioned making convicts register as sex offenders - saying it leads to "stigmatization and ostracism." She's suggested public policy is driven by a "climate of fear, hatred & revenge" against sex offenders

Judge Jackson has also questioned sending dangerous sex offenders to civil commitment. We have a civil commitment law in Missouri, and it protects children
Josh Hawley

It gets worse. As a member of the U.S. Sentencing Commission, Judge Jackson advocated for drastic change in how the law treats sex offenders by eliminating the existing mandatory minimum sentences for child porn

Judge Jackson has said that some people who possess child porn "are in this for either the collection, or the people who are loners and find status in their participation in the community." What community would that be? The community of child exploiters?

Judge Jackson has opined there may be a type of "less-serious child pornography offender" whose motivation is not sexual but "is the challenge, or to use the technology." A "less-serious" child porn offender?

In her time on the U.S. Sentencing Commission, Judge Jackson said she "mistakingly assumed that child pornography offenders are pedophiles" and she wanted "to understand this category of nonpedophiles who obtain child pornography."


On the federal bench, Judge Jackson put her troubling views into action. In every single child porn case for which we can find records, Judge Jackson deviated from the federal sentencing guidelines in favor of child porn offenders

In the case of United States v. Hawkins, the sex offender had multiple images of child porn. He was over 18. The Sentencing Guidelines called for a sentence of up to 10 years. Judge Jackson sentenced the perpetrator to only 3 months in prison. Three months.

In United States v. Stewart, the criminal possessed thousands of images of child porn and also hoped to travel across state lines to abuse a 9-year-old girl. The Guidelines called for a sentence of 97-121 months. Judge Jackson sentenced the criminal to just 57 months.

In United States v. Cooper, in which the criminal had more than 600 images and videos and posted many on a public blog, the Guidelines called for a sentence of 151-188 months. Judge Jackson settled on 60 months, the lowest possible sentence allowed by law.

In United States v. Chazin, the offender had 48 files of child porn, which he had accessed over a period of years. The Guidelines recommended 78-97 months. Judge Jackson gave him 28.

In United States v. Downs, the perp posted multiple images to an anonymous instant messaging app, including an image of a child under the age of 5. The Guidelines recommended 70-87 months. Judge Jackson gave him the lowest sentence allowed by law, 60 months

In United States v. Sears, the sex offender distributed more than 102 child porn videos. He also sent lewd pictures of his own 10-year-old daughter. The Guidelines recommended 97-121 months in prison. Judge Jackson gave him 71 months.

In United States v. Savage, the sex offender was convicted of travel with intent to engage in illicit sexual conduct, and also admitted to transporting child porn. The Guidelines recommended 46-57 months. Judge Jackson gave him 37.

This is a disturbing record for any judge, but especially one nominated to the highest court in the land. Protecting the most vulnerable shouldn't be up for debate. Sending child predators to jail shouldn't be controversial.

So far, the Sentencing Commission has refused to turn over all Judge Jackson's records from her time there. In light of what we have learned, this stonewalling must end. We must get access to all relevant records
The Washington Examiner's Conn Carroll notes that the usual leftwing claims have gone out that this has all been "debunked," despite none of it being debunked, and despite the hiding of Jackson's records. Which could debunk this -- or could prove it true.
Fast forward to this past Wednesday, and Republican Sen. Josh Hawley of Missouri has laid out a firmly documented case that, starting in law school, through her time on the U.S. Sentencing Commission, and as a federal judge, Supreme Court nominee Ketanji Brown Jackson has been soft on child pornographers.

Did the broadcast networks even take any time to read Hawley's well-documented case against Jackson?

It doesn't appear so. Here is how George Stephanopoulos, a former senior adviser to President Bill Clinton and now the host of ABC's This Week, questioned Democratic Sen. Dick Durbin about Hawley's facts this Sunday:

"In the face of these hearings, we are now seeing escalating attacks from Senate Republicans like Josh Hawley, who set out a Twitter -- series of tweets suggesting that Judge Jackson somehow is soft on child porn. It's been debunked by several independent fact-checkers. But what does that tell you about the confirmation fight ahead?"

Notice that his question assumes Sen. Hawley's claims have been "debunked" without ever even mentioning what the specific claims are, let alone bothering to look at them objectively.

Sen. Durbin, of course, agreed with Stephanopoulos's characterization, responding, "The independent fact-checkers like the Washington Post and CNN have discredited his claims already. They should have. There's no truth to what he says."

But you know who believes it has all been debunked?
The National Review's Andrew McCarthy. He rides to the rescue, to vouch for another leftwinger.
Another "straight shooter," says National Review's Deep State Defender Andrew McCarthy.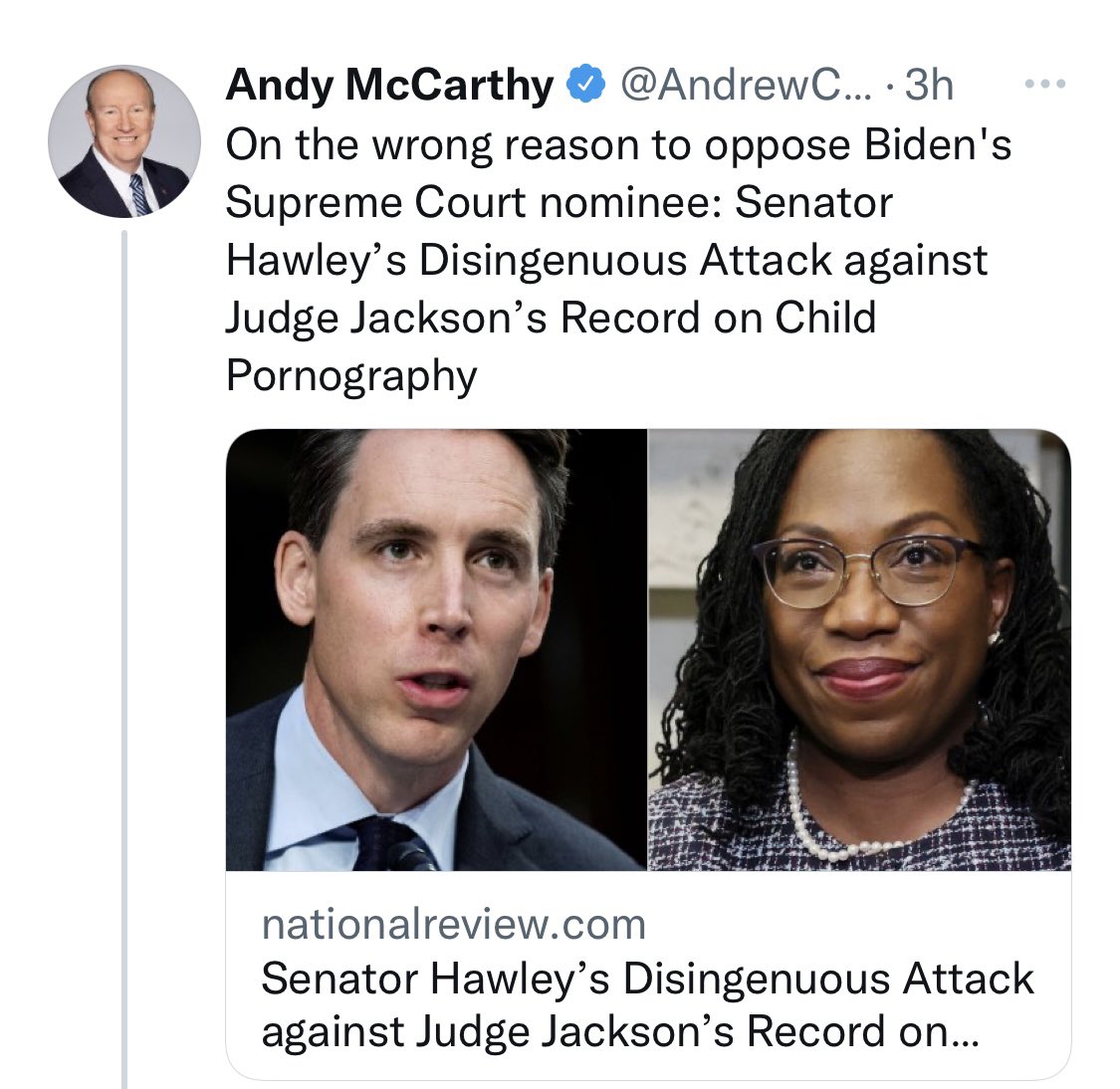 It's always repulsive when civil servants say "Thank you for your service" to each other, like they're soldiers.
But Andrew McCarthy really believes this. He thinks the federal civil service is a priesthood and he's always eager to Defend the Faith.
He really does believe that the primary goal of conservatism is to... defend and praise government workers.
13 Andy McCarthy is Leviathan's Gimp.
Posted by: Hobbes
Never trust a confirmed Company Man on any question involving the Company.
Leftwing demagogue and unhinged Democrat hyperpartisan Dick Durbin just glowingly cited Andrew McCarthy in defense of Jackson.

And National Review's Baseball Cvck is actually... proud that National Review is relevant again, at least for one day:

Advancing the left's talking points and knifing the right in the back is National Review's brand. It has been for a while.
As a bonus: Jackson has also repeatedly served as lawyer for terrorists.
President Joe Biden's Supreme Court nominee will face sharp questions from Republican lawmakers this coming week about the work she did as a public defender representing four Guantanamo Bay detainees.

Some Republicans say Judge Ketanji Brown Jackson has a record of "defending terrorists" and they plan to raise questions about it at Senate hearings on her nomination that begin Monday. The criticism comes even as prominent Republicans have previously defended those who represented Guantanamo detainees, saying ensuring everyone access to a lawyer is a fundamental part of the American legal system.

...

Already, the Republican Party has branded Jackson as a "radical, left-wing activist" and suggested her representation of Guantanamo detainees was "'zealous,' going beyond just giving them a competent defense."
Instapundit makes a great point: In the past, people would say, "You can't judge a lawyer for defending a specific client; all accused persons deserve representation."
But the left has proven that to be a lie: They have campaigned to get all lawyers to refuse to represent Trump, and also have stopped any law firms from providing pro bono work for the January 6 prisoners.
The left has decided that lawyers have an ethical duty to refuse service to some people accused of crimes.
Given that, we can and should criticize Jackson for deciding that terrorists were deserving of her counsel.

Conservative, Inc.
One hand always in your pocket, one hand always on the knife in your back.
Update: Now Dick Bluementhal becomes the second hyperpartisan Democrat to approvingly cite Company Man Andy McCarthy.
A friend comments:
Used to be we'd say NRO was AWOL in the war we're in; guess that was too generous.

Below, video from Day One of the hearings. Maybe Andy McCarthy will get more compliments from the far left.

posted by Ace at
12:28 PM
|
Access Comments