« Food Thread: The Highest Expression Of The Sandwich Art? Could It Be The Cubano?
|
Main
|
Sunday Overnight Open Thread (3/20/22) »
March 20, 2022
Gun Thread: Lurker Appreciation Edition!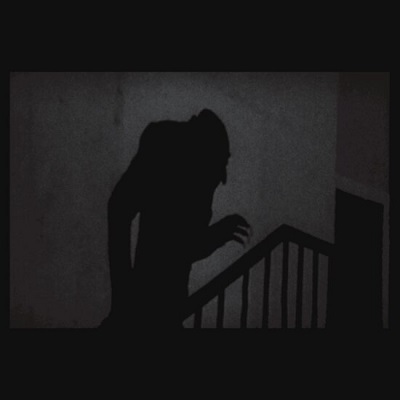 Creepy Gun Thread lurker in the shadows of shame
Howdy, Y'all! Welcome to the wondrously fabulous Gun Thread! As always, I want to thank all of our regulars for being here week in and week out, and also offer a bigly Gun Thread welcome to any newcomers who may be joining us tonight. Howdy and thank you for stopping by! I hope you find our wacky conversation on the subject of guns 'n shooting both enjoyable and informative. You are always welcome to lurk in the shadows of shame, but I'd like to invite you to jump into the conversation, say howdy, and tell us what kind of shooting you like to do!
Happy Lurker Appreciation Thread! A long-standing tradition here at the ol' Gun Thread is to celebrate our lurkers each and every March 20th, the date when The Great Lurker is said to have de-lurked and made their first comment sometime back in the early mists of the olden days. Lurker Appreciation Thread, or LAT as it is lovingly called, is simply chock full of ancient rituals and practices and is when many of our beloved and frequent contributors are said to have gathered their courage and dipped their toes into the land of Commenterdom.
Wacky hijinks aside, why not participate? I hope by now you realize no one is going to laugh and point and call you stupid very much. Start by just saying hello! As I try to say each and every week, and if you haven't figured it out by now, the reason this whole thing is fun is because of all the commenters. You guys and gals. Otherwise, it's just 3 hours of Weasel buffoonery and nobody deserves to suffer through that. Commenting is easy - just make up a name, or use your real one like I do, say howdy and let us know about your shooting interests! It's easy! Come to the light!
Don't forget! 2022 NoVAMoMe is scheduled for Saturday, June 11th. Registration details coming soon! (promise! soon! just working out some menu details)
With that, let's get to the gun stuff below, shall we?
******
Smith & Wesson Model 15
So I was on a 1911 tangent for a while, then switched to featuring revolvers a few weeks back. So far we've seen a 1947 K-22 and a 1948 K-38. As I mentioned last week, the K38 later became either the Model 14 or Model 15 after 1957, depending on the features, chiefly the barrel length and sights. This week we have a relative youngster from the WeaselCollection, a 1977 Model 15 along with a fairly concise and surprisingly correct article on the
Model 15 from Wikipedia
.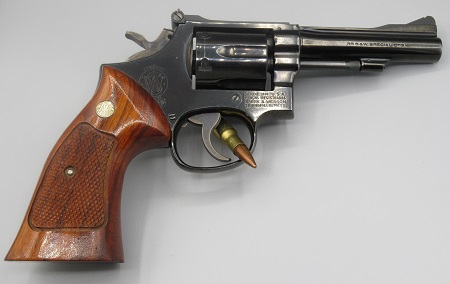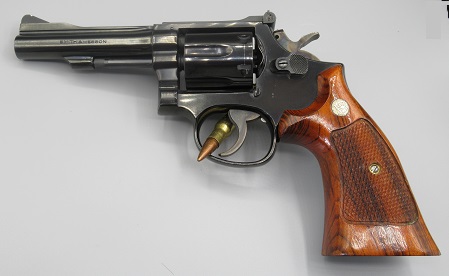 The Model 15 had a long career as a police and military sidearm, and I know many of you have carried one. The one pictured above has a 4" barrel and a target trigger, hammer and sights.
Is it fun to shoot? Are you a comedian? Of course it's fun to shoot, and like the K22 and K38, it's fun to simply look at and appreciate! The .38 Special cartridge is paired extremely well with this K frame work of art, and it really does shoot like a dream.
Did you carry a Model 15? Do you own one now or was it lost in a tragic canoeing accident?
******
First up, our ol' pal CBD took his bad self to the range and sends us the following report.
Last week I shot my H&K VP9 9mm for the first time in awhile. It has a red dot sight, so once I find the dot it is pretty accurate if I do my part. Which I didn't. I shot it okay but without much focus...I kept trying to find a comfortable position for my trigger finger, which is not a recipe for accuracy. It's almost as bad as tight socks!

So yesterday I decided to stop screwing around! I put on my best-fitting socks and brought the VP9 and a Walther PPQ .45ACP. Why the .45? Well, it's damned accurate, and if I shot like crap for a second straight week I would try to ease the blow to my ego with the Walther.

My plan was simple: concentrate on the basics, don't be in a rush, and don't fire until I was comfortable with the sight picture.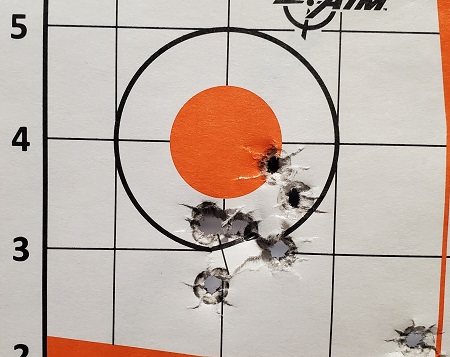 I began with the H&K, and forced myself to relax until I found the dot (and, more importantly, decide on a single finger position). That's the trouble, at least for me, with red dots on pistols...it's pretty difficult to find a consistent sight picture without taking about six weeks of bobbing my head like a pigeon. By taking speed out of the process I was able to find a consistent sight picture and control my breathing. The results speak for themselves. That is 10 rounds of 115 grain FMJ at 21 feet with a pistol that isn't famous for accuracy. I wasn't trying to shoot accurately, just comfortably and in control. The single flyer had nothing to do with me. I think somebody sneaked into the port when I wasn't looking and fired a single shot from my pistol.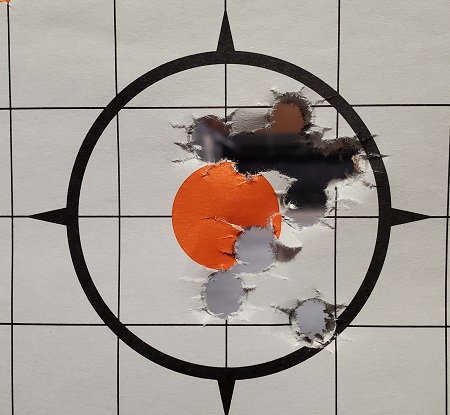 Next up was the Walther, and all I did was continue what I had done with the H&K. One thing I have noticed is that with my 29-year-old eyes it is getting tough to see the sights in a dark shooting port (that is one advantage of the red dots). It might be time for some tritium sights! But it is a very accurate pistol that is comfortable to shoot. No issues with finger position or finding the red dot. That target is 10 rounds of 200 grain SWC at 21 feet.

One of the problems with my shooting is that I get so wrapped up in the sheer fun of squeezing the trigger that I sometimes forget to do the little things that improve accuracy. The goal of course is to be able to do all of those little things while shooting quickly and just for the joy of it. That requires a fair bit of practice, which isn't the worst thing in the world to do!
Nicely done, CBD! One thing that cannot be overemphasized with shooting, or any complicated endeavor really, is that speed comes with practice. Whether it's shooting a handgun or making long range windage calls, practice logically, methodically and slowly at first and allow speed to come naturally. If you cannot do it slowly, rushing isn't going to improve your performance. Great job!
******
Next up our pal WTM has a range report!
I took my 14-yo great-nephew Isaiah and his new 1911 out today to shoot for the first time. Lower left was his first shot then he started working his way around the ten ring. I'd say that was pretty good at 20 feet.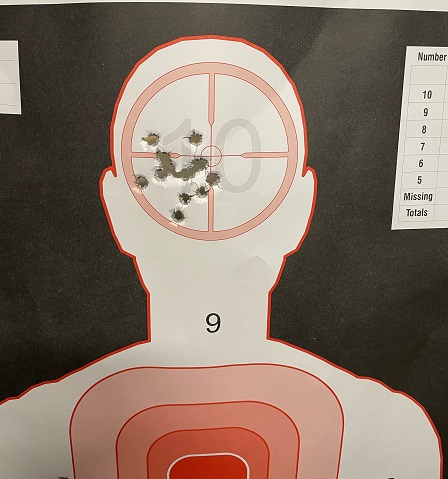 After this we went to the AR it's a Smith and Wesson MP 15 and will run 5.56 and .223. Today was .223 as that was what was available. At 30 yards he was deadly. I need to take him out doors next time.
Weasel loves to hear reports of taking young people shooting! Great job, WTM! Besides being fun and introducing the next generation of shooters to the sport, it reinforces all sorts of great personal attributes; maturity, responsibility, good sportsmanship, safe gun handling... the list goes on and on. Great shooting Isaiah!
Do you have a young person in your life who might enjoy a trip to the range?
******
Next up, our pal
blaster
sends a range report! It's a few years late, but who is counting?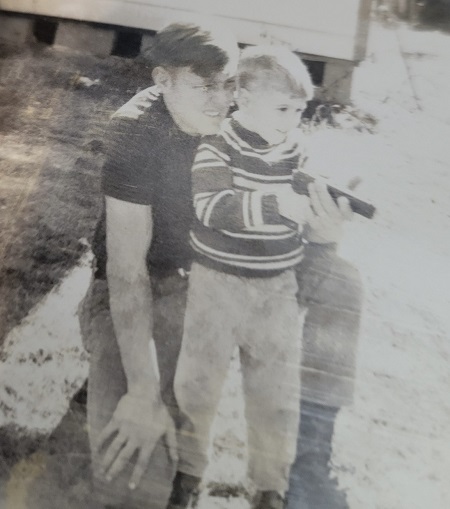 This photo is my first time firing a .45 automatic. This was just a few years ago as you can tell. My dad was in Vietnam and so this Lieutenant from down the street had me out in the backyard shooting his service pistol. The past is a different country.
Awesome picture and story, blaster! Thanks!
******
Next up our pal "John", if you can believe that's his real name, shares a picture of a real beauty!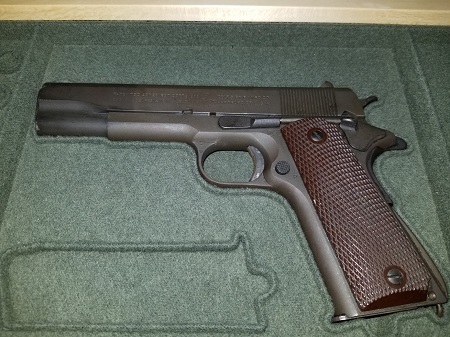 If we're sharing pics of WWII 1911s, here is my old warhorse. Trigger is FANTASTIC and a joy to shoot.
Weasel sure do love the 1911, and that's a nice one. Thanks John!
******
Next, our pal JTB has found a great deal.
Today's Ollie's Bargain Outlet flyer lists the Shooter's Bible, 113th edition, and the ABCs of Reloading, 10th edition, for $9.99 each. The sale started today. These both are the 2021 versions. They usually sell for about thirty bucks so this is a great price. Our local Ollie's didn't have the reloading volume in stock but I did get the Shooter's Bible. I'm going to keep an eye open for the Reloading book at that price. My copies of both books are decades old.
I'm not sure if Ollie's has an online store, so you might need to look locally for a physical location. These are both great books (with pictures!) at a great price. Thanks JTB!
******
Tax Refund?
Q: What do we do with a tax refund?
A: We buy ammo with a tax refund!!
Sure, you might not be eating regularly, the roof may be leaking, and your car might be on jack stands in the front yard, but let's keep our priorities straight, kay?
******
Gun Basics 101
You go to the 7-11 for some Slim Jim's and end up in a self-defense shooting. You're standing around trying to look casual until the cops show up, but what do you do with the smoking gun? The Armed Attorney offers some tips.
******
Cigar of the Week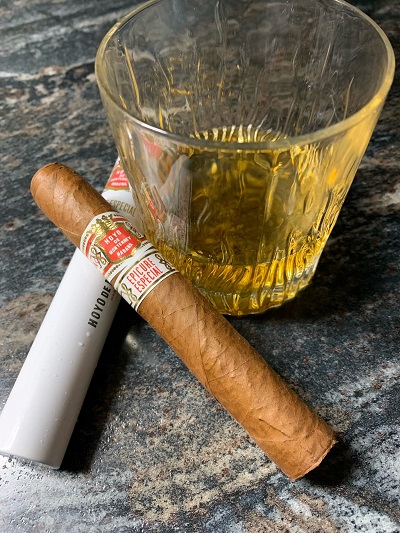 This week our pal Marty brings the cigar review!
My last trip to Cuba was in Feb 2020. I had Covid when I got back, but medical denied it, because "it didn't arrive in Canada that soon." Uh huh.

Anyway, the resort we stayed at had 2 cigar Sommeliers working the cigar bar and they were excellent. I'd go there after dinner every night and they'd suggest a few different cigars depending on what I was looking for, then suggest the Scotch to match it, or any other liquor you wanted.

One night, I saw one of the Sommeliers in the lounge area. He asked if I'd tried Hoyo de Monterrey Epicure Especial. It was a special run and they only had one left in the humidor. He highly recommended it. I tried it and it was heavenly! A mild cigar but a really, really nice smoke, easy draw and even burning. Pairs well with Glenfiddich 12, Auchentoshen 10 or Ballantine 12.

I offered any price for a box of them but there were none to be had. My last day I happened to be in the resort convenience store and found 10 of them in their humidor and grabbed them. They only get smoked on special occasions.

Hoyo de Monterrey Epicure No 2 is a very close cousin that is more readily available.
Mucho gracias, Amigo!! Sounds like a fantastic experience. Thank you! All you cigar smokers out there, please keep your reviews coming!!
******
Link-O-Rama
I'm really very seriously not kidding around anymore. Buy Ammo
AmmoSeek - online ammo search tool
GunBot - online ammo search tool
SG Ammo
Palmetto State Armory
Georgia Arms
AmmoMan
Target Sports USA
Bud's Gun Shop
***Mail Bag***
This week our pal Doof brings teh funny!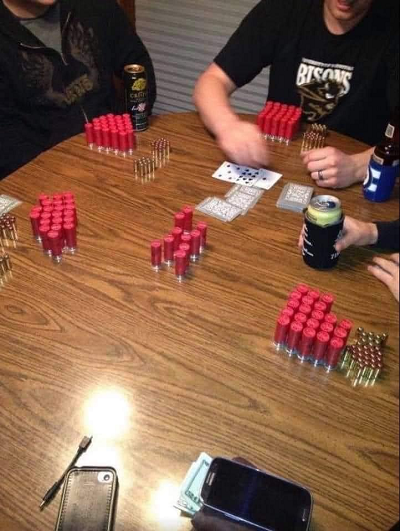 ******
Please note the new and improved protonmail account gunthread at protonmail dot com. An informal Gun Thread archive can be found HERE. Future expansion plans are in the works for the site Weasel Gun Thread. If you have a question you would like to ask Gun Thread Staff offline, just send us a note and we'll do our best to answer. If you care to share the story of your favorite firearm, send a picture with your nic and tell us what you sadly lost in the tragic canoe accident. If you would like to remain completely anonymous, just say so. Lurkers are always welcome!
That's it for this week - have you been to the range?


posted by Weasel at
07:00 PM
|
Access Comments